Cat Bradley : my trail running journey
Cat Bradley began her running journey at UC-Santa Barbara on the track before transitioning to the trails. She quickly became one of the best trail runners in the world by winning competitions like Rio Del Lago or UTMB. Cat now shares her trail-life story and the important gear that has helped her along the way.
August 8 2019
Night running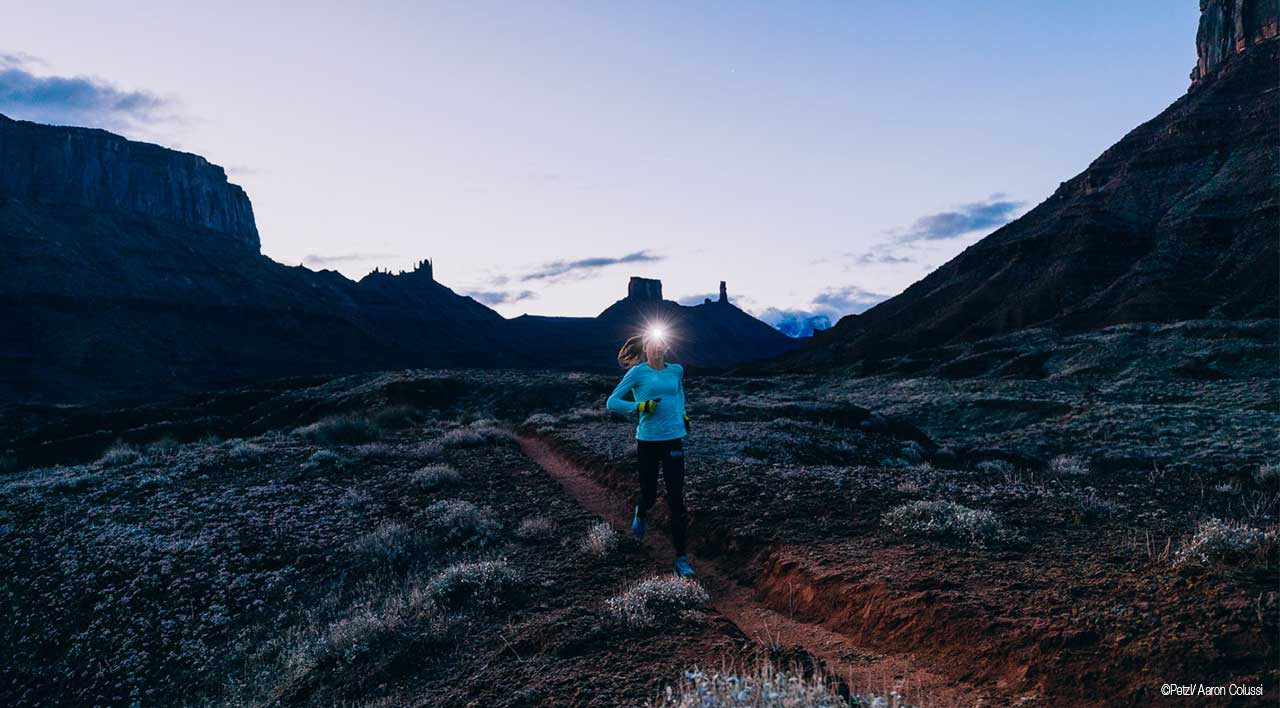 My running journey began as an 800-meter runner at UC-Santa Barbara, where I quickly realized that my spirit was not on the track, but in the mountains. Craving a little adventure and needing to do some self-exploration, I thru-hiked the Appalachian Trail with minimal experience. In fact, the warmest article of clothing I packed was my cotton track-suit coupled with a poncho, and I had no idea sleeping pads even existed. However difficult it was, my love for the trails was ignited and has guided my choices since.
My performance at the Bear 100 in 2015 (23:02, 7th fastest time in history) triggered a competitive side in a sport I had previously approached relatively casually. In 2016, I upped my volume from twenty miles per week, resulting in a season of podiums and a few wins.    
In November of 2016, I won Rio Del Lago 100, coming in under the previous 11-year-old course record. After a hard winter of training and dark mornings balanced with a full-time job as a kindergarten teacher, I was rewarded with a successful 2017 season, including a win at the Western States 100. Since I've been lucky enough to travel around the globe to train and race, collecting top results including a 2018 8th place and first American at the highly competitive Ultra Trail Du Mont Blanc (UTMB). 
Of course, hard training for these big events is key to my success as a mountain ultra trail athlete. However, I've found that if my training doesn't inspire me, burn out is right around the corner. That's why I make it a priority to get out on my favorite trails as much as possible for an equal mix of slow mountain slogging simulating long ultras, and hard pushes, chasing local Fastest Known Times (FKTs) on my favorite routes to mimic fast competitive racing. When training for a 100-mile trail race, I am sure to do a good amount of running in the dark to practice navigating technical terrain with my trusty ACTIK CORE lamp.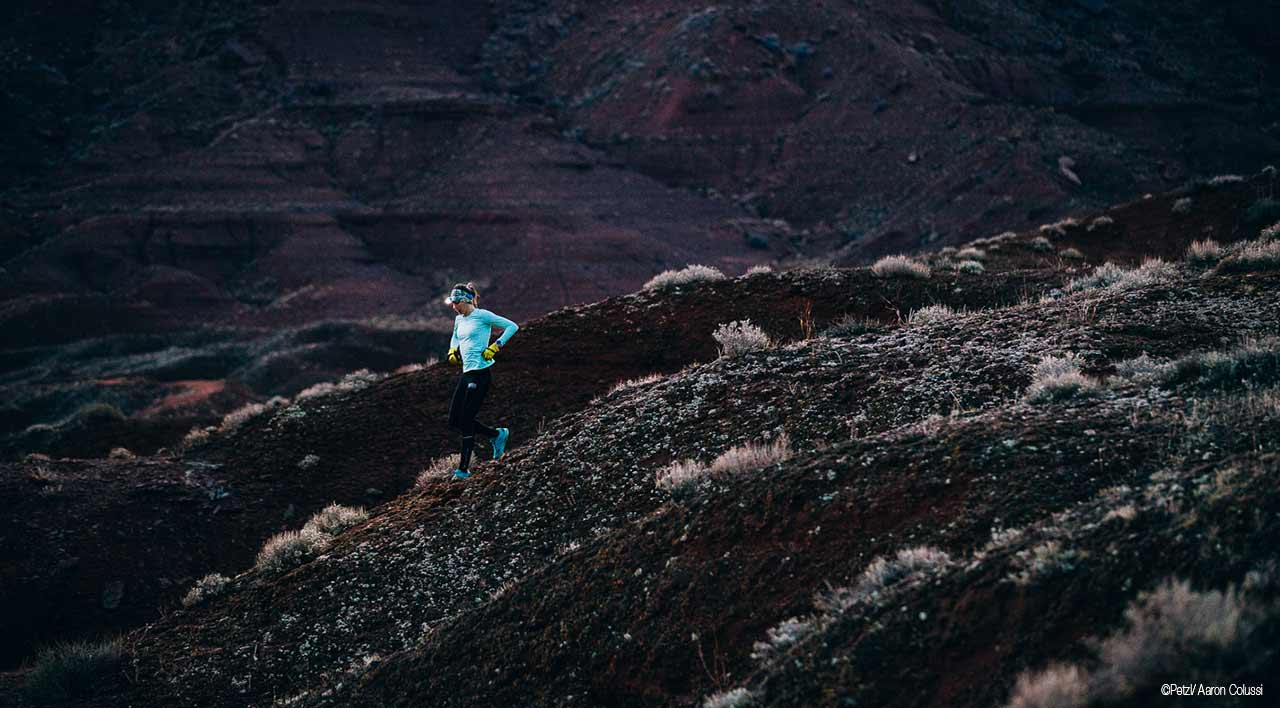 Gear is everything in mountain ultra trail racing. Without it, I would have been stranded in the backcountry a long time ago. Here's what's in my pack:
Suunto 9 GPS watch: I'm a data junkie. I like to see the route I ran on a map (map nerd!!), measure how fast I was able to complete it and compare it to past times. Plus, on the Suunto 9, you can load a route on your watch before heading out the door and use it to follow a trail you've never been on before without getting lost. Unless I'm in an offseason when I just run for fun, I never leave for my run without my watch. 
Salomon Running Shoes: Hugely honored to be a part of Salomon Running. They embody a playful and powerful approach to all outdoor sports, and in my opinion, have the most dynamic collection of trail shoes. From big lugs to no lugs, from sticky rubber to "I stick to EVERYTHING" rubber, from light shoes to stable shoes, from to neutral colors to not-so neutral colors and every combination in-between. Pick your poison. My favorites change depending on what I plan on running that day, but my favorites include the S-lab Ultra 2, a light, nimble shoe designed for big mountains and hard terrain, and the Sense Pro Max for when my feet need a little extra cush cush. 
Feetures PF Socks: Hi, my name is Cat, and I suffer from chronic plantar fasciitis. I know I'm not alone! I started using Feetures PF socks in the winter of 2017 after sustaining a 40% tear in my plantar fascia. Since I haven't left for a mountain adventure without them. They offer immediate relief when I put them on and have enough compression to support my arch for a long day of adventuring. 
Salomon Advanced Skin 5 set pack with soft flasks: Another critical piece of equipment for alpine training is a lightweight pack to carry your water, food, layers, and other supplies. For a long day in the alpine, I prefer a pack with 5-10 liters of storage capacity. The Advanced Skin pack doesn't bounce excessively and fits everything I need for a long day out.
Katadyn BeFree Collapsible Water Filter Bottle: Thanks to summer snowmelt, many mountainous routes feature abundant water sources along the way, be they creeks, waterfalls or sparkling alpine lakes. A water filter allows me to carry less weight and be confident I'll have water in the case of emergencies.
Snacks: There's nothing like a summit snack! To fuel my alpine adventures, I always am sure to bring a high carbohydrate fuel source to keep the dreaded bonk at bay. My favorite, easy to bring snack is an SIS energy bar although I also enjoy summit sour patch kids, brownies and savory rice balls. 
Petzl Headlamps: No matter how short the adventure or how early you head out, it's always essential to bring a headlamp in case of an emergency. However, as an athlete who can spend up to ten hours at a time racing by headlamp, it's essential to practice running in the dark to test gear. The ACTIK CORE headlamp, my headlamp of choice. It is a compact, water-resistant, rechargeable headlamp that is bright enough to ensure I don't smack my noggin on a tree or wander off the trail. I also always make sure to have a BINDI, Petzl's small, compactable headlamp, as a backup.