Alert: malicious acts carried out on ASPIR harnesses
Alert: Petzl ASPIR harnesses modified by malicious third parties are being sold online. They pose a mortal danger to users.
April 22 2016
Rock climbing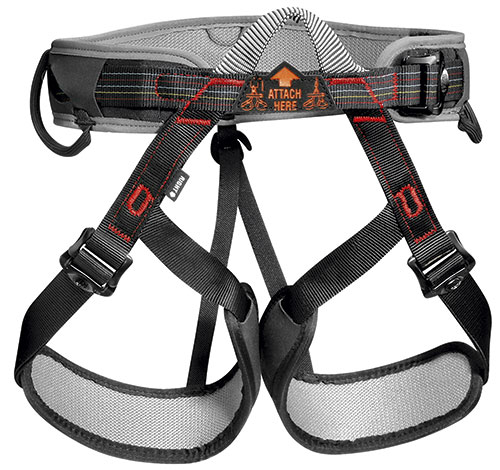 The facts
On April 6, 2016, Petzl was warned by authorities that modified Petzl ASPIR (C24) harnesses were being sold on eBay. These new or slightly used harnesses were modified by irresponsible third parties after reaching the market a first time. Modified products were seized, an immediate stop to the eBay sales was requested, and legal proceedings were initiated.
Warning: Risk of Death!
The waistbelt or leg loop security straps on the modified ASPIR harnesses have been cut, then stitched back together (see photos below).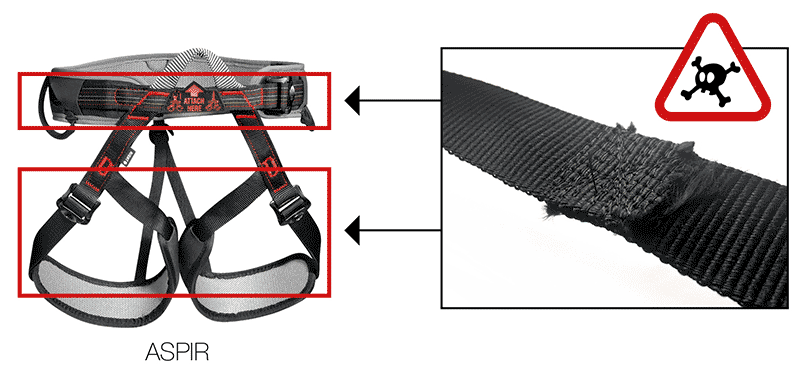 Stitching on modified ASPIR (C24) harness. This stitching is not present on original ASPIR harnesses.
These technical modifications greatly affect harness strength, rendering the harnesses non-compliant with our internal requirements and with regulatory requirements. Tests carried out on the seized harnesses showed that the added stitching can break under the slightest impact; breaking occurred at 2 kN (200 kg), instead of the required 15 kN (1500 kg).
Modified ASPIR harnesses pose a serious risk of death to users. They must be destroyed.
Do you own an ASPIR harness?
The harness was purchased from a dealer belonging to Petzl's official distribution network. You are in possession of an original Petzl ASPIR harness; it is compliant.
The harness was not purchased from Petzl's official retail network but from marketplaces such as eBay:
- check for any additional stitching by inspecting the entire length of the waistbelt and leg loop straps (see photos); if you have the slightest doubt, send us a photo for further guidance (aftersales@petzl.com) or contact your local Petzl dealer.
- if the additional stitching is present, stop using the harness immediately, destroy it, and inform Petzl of the destruction (aftersales@petzl.com).
How to be sure you're purchasing an original Petzl product?
Petzl-brand products are only sold through our official distribution and approved retail network. By buying your products from this network, you're getting the guarantee of purchasing an original Petzl product.
Modifying protective security products is prohibited.
The irresponsible modifications made to these harnesses are shocking and put users' lives in danger. For this reason, it is imperative that we warn our clients and our community about these reckless acts. Please pass this information on to those around you. 
To find the distributor and dealers in your country, go to our dealers section.