Zero Carbon Emissions for 100% of the Climb!
A project consisting of zero carbon emissions, three bikes, three legendary multi-pitch climbs….and two dogs! It was this journey between Switzerland and Austria that was taken by Nicolas Favresse and Sébastien Berthe, two ultra-motivated climbers, accompanied by Damien Largeron, who took photos. Nicolas tells us about their adventures.
October 16 2020
Multi-pitch climbing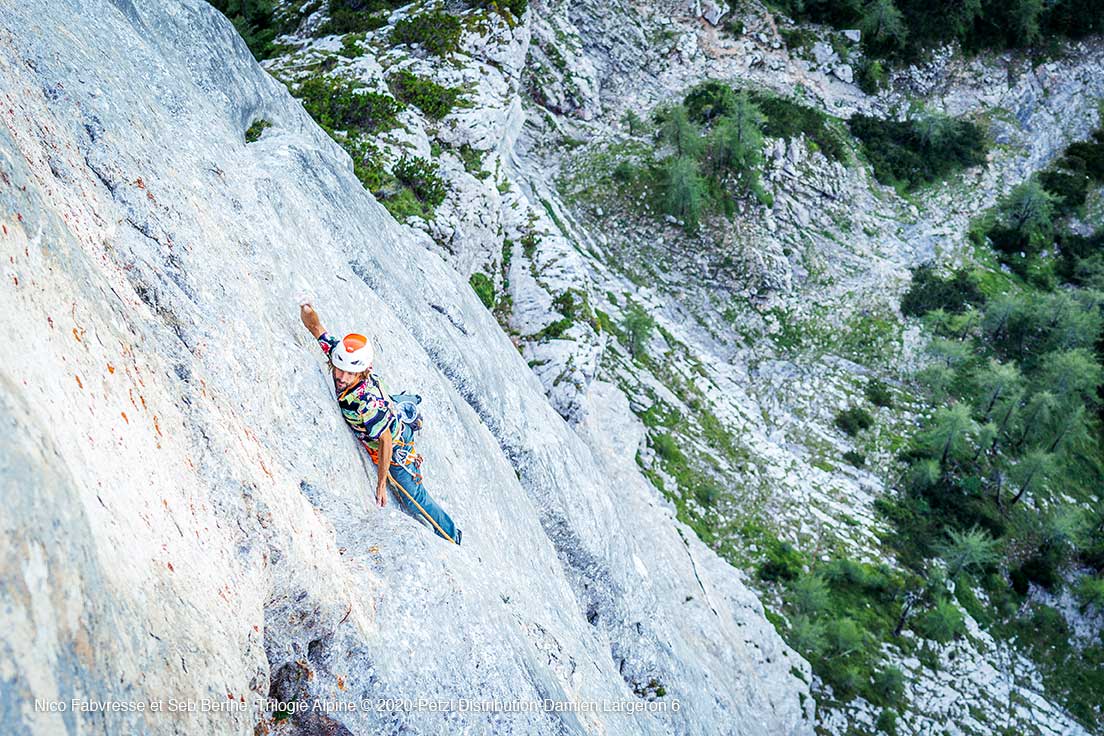 Combine passion and values, this is the choice they have made: "I want my climbing objectives to be in complete agreement with my ecological values", explains Nicolas. 
The objective: climb the three most renowned and difficult multi-pitches in the Alps, relying solely on bikes for transportation. It was with baffling agility that Nicolas and Sébastien sent Silbergeier (Rätikon, 180 m, 8b+ max), Des Kaisers neue Kleider (Wilder Kaiser, 280 m, 8b+ max) and End of Silence (Feuerhom, 350 m, 8b+ max), each of them in a single day! It was all done within two weeks, instead of the four weeks initially planned, which allowed them to finish off the month with a few "bonus" routes, as they like to say: Headless Children (Rätikon, 260 m, 8b max) and Odyssée (north face of Eiger, 1400 m, 8a+ max). 
Calm and with a smile on his face, Nicolas responds to our questions and tells us with passion about their adventure.
The preparation?
"Most of the preparations were done the day before: I bought a bike at the last moment! We didn't prepare the itinerary in advance. We decided to take the train to limit carbon emissions. Arriving in Turn, the train attendants did not want us to get on because our load was too big with the bikes and dogs, so the adventure began! This made us miss our connection and we ended up in Zurich looking for a place to stay at the last minute...which we found thanks to social media! Then we took the train to the foot of the Rätikon on the Austrian side, and it was time to bike."

The bike?
"I used to bike when I was a teenager! I ski and do a lot of cardio, which made it possible to be in shape for this kind of effort. It's much nicer than walking with a 30kg backpack, which is usually the case for remote expeditions. The bike did not impact us and our ability to climb the hard routes.  We limited our everyday travel in order to preserve ourselves.
What's nice about a bike trip is the connection with the environment. It's also an occasion to find yourself with limited means, which requires you to open up a bit more and rely on others. Many people throughout the Alps welcomed us and we were able to share so much with them...despite that there were three of us with two dogs!"
The dogs?
"That was my idea! I said that I would love to come on one condition: we bring the dogs. I had gotten my little pup just a few months before and Sébastien has a dog as well. So, we set off with one bike trailer each. I knew that would complicate things a bit...but wow! In the end, it was the most difficult part of our journey: the dogs were barking while we were putting forth a lot of effort, we had to carry treats, and it was more difficult to find places to stay. But it was great to see them free in nature, they played together a lot. That gave off a positive energy that really struck me."

The climbing?
As for the climbing, I really loved our duo: a lot of encouragement, a lot of teamwork. I felt 100% supported all the time. There was never negative competition, nothing but good energy and support no matter what happened! It was really a team effort. On these routes, the problem is the skin on the fingers (small holds on very vertical rock). It wasn't easy. Of the trilogy, I had only done Silbergeier once, 13 years before. At the time, I told myself that I could have done it in a single day, now I have! 
We progressed a lot thanks to the objective. We gave it up to 25 tries on certain routes and one time it took us 10 tries on a single 8b+ pitch!
Damien, the photographer, was motivated to follow us on his bike with all of his equipment. It was better for him to be with us, completely in the adventure. Since he was part of the team, we could completely ignore the fact that he was taking pictures when we were on the rock. It wasn't a huge set up, and therefore not very invasive.
The outcome?
It's amazing the reactions I have to this project that has touched so many people. It surprised me. Especially in terms of the ecological approach, people expect that from industry professionals: to be driving forces, to have another approach, to live beautiful adventures, but that are not on the other side of the world. It brings us to question long-distance travel to reach scenic landscapes and incredible nature, when the reasoning for this is not in line with our ecological values.
---
Go Further
Share our passion for climbing, follow us on Instragram!

 @Petzl_official