Petzl RopeTrip Salt Lake City: a rope access technician's firsthand experience
At the 2016 Petzl RopeTrip in Salt Lake City, Tom and his colleagues participated in their very first rope access competition. Tom works as a rope access technician for Remote Access Technology (RAT). During the team and individual events, he impressed us with his performance, and he missed the finals by just 35 points. In our interview with Tom, he talks about his daily routine as a rope access professional based in a small town in British Columbia, as well as his experience at the Petzl RopeTrip.
February 7 2020
Rope access and confined space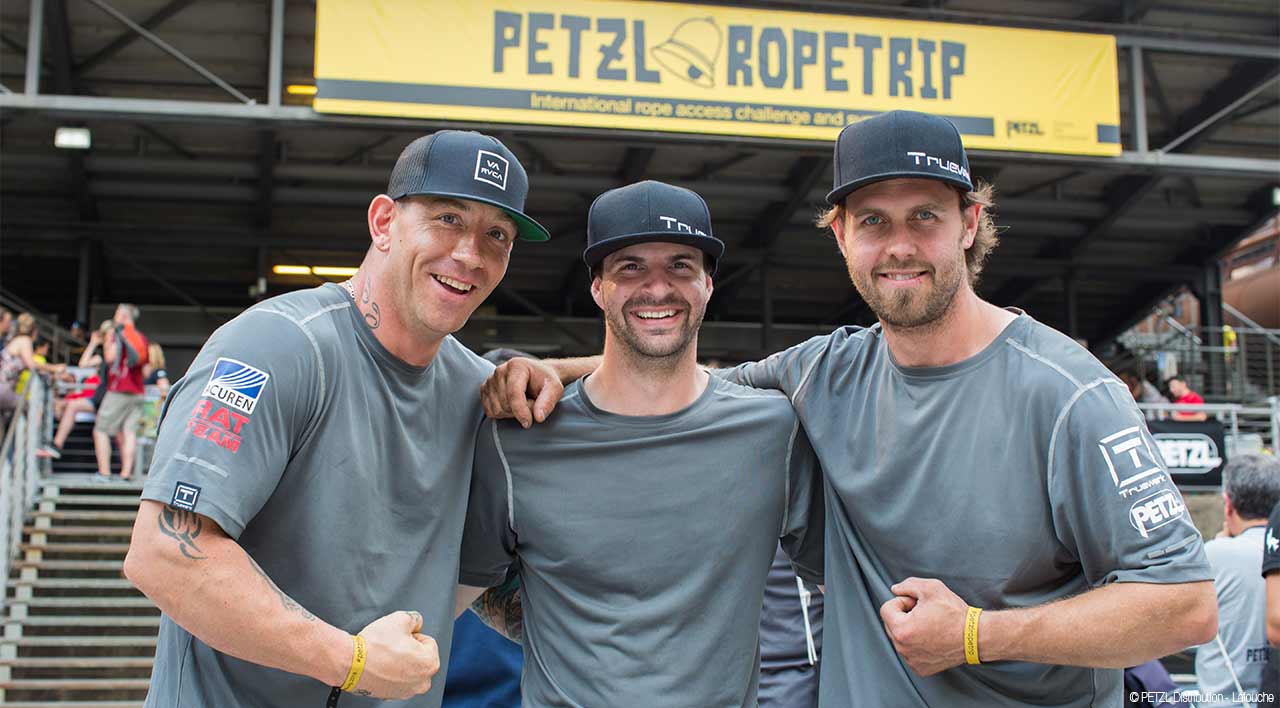 PETZL: Tom, where in Canada do you live?
TOM: I live in British Columbia (BC), two to five hours north of Whistler depending on the season. I live in a small old gold mining town out in the boonies. About sixty people live there year round.
PETZL: So you're based in the Northwest. Since you work for a rope access company, you obviously work in a wide variety of places. Do you travel a lot?
TOM: I do a lot of driving, but that's the beauty of working for a rope access company like Remote Access Technology (RAT). It's job by job and quite flexible. I normally just work in BC. It's not consistent work, only when a job comes up. I might work for a few weeks on a shutdown at a power station, and then have a month off to go mountain biking or skiing or to work on the house.
PETZL: We're kind of a long ways away standing here in the middle of Salt Lake City, at the Petzl RopeTrip. There seems to be a massive gap between the two. How did you end up here?
TOM: Well, the company that I work for, RAT, wanted to put a team together. My manager put my name forth since they were looking for a third person for the team. I've worked on quite a few jobs with them, always work really hard, and am efficient at what I do, so he recommended me as good person for the position. It all fell into place from there.
PETZL: Had you heard of the RopeTrip before?
TOM: Definitely. Yeah, I've seen it online before. It was pretty exciting when he rung me up and asked me if I wanted to go to the Petzl RopeTrip. Nevertheless it was still pretty grey coming into it this time. I'd seen what had happened on YouTube; I'd seen clips from the RopeTrip in Sweden but still had no idea whether this one would be the same or what gear we would need. Obviously we brought a lot more gear than necessary: rigging gear, extra carabiners and pulleys, and other bits and pieces.
PETZL: Did you do any training for the event?
TOM: Yeah, two weeks before the event I met Mikey for the first time. We organized amongst ourselves; I was working in Alberta on a stadium job at the time, and I managed to get away for a weekend to drive up and meet them in Fort McMurray, where they were working. We used the company training facility – the company has a training facility in the Fort McMurray area. We met there for an afternoon and got two or three hours of practice in together. We'd seen the one event where, I think in Sweden, they had a large plumb-bob that they moved around to drop onto a target, so we practiced that maneuver with a Rescue Randy dummy.
PETZL: Like the team challenge?
TOM: Yeah, similar to the team challenge. Then we just ran through a lot of the IRATA (Industrial Rope Access Association) rescues and rebelays. More than anything, we spoke to each other and got to know each other. I'd met our other teammate, Louis, once before on another job, maybe two years ago.
PETZL: Honestly Tom, the thing that impressed us the most was your performance in the individual qualifying heats. Did you spend time watching other competitors?
TOM: To be honest, I didn't really watch too many other competitors. We were doing a team event that morning, and then I watched Mikey's event. I had a good look when you guys demonstrated it on day one, and I got a plan in my head of how I wanted to attack it from the air.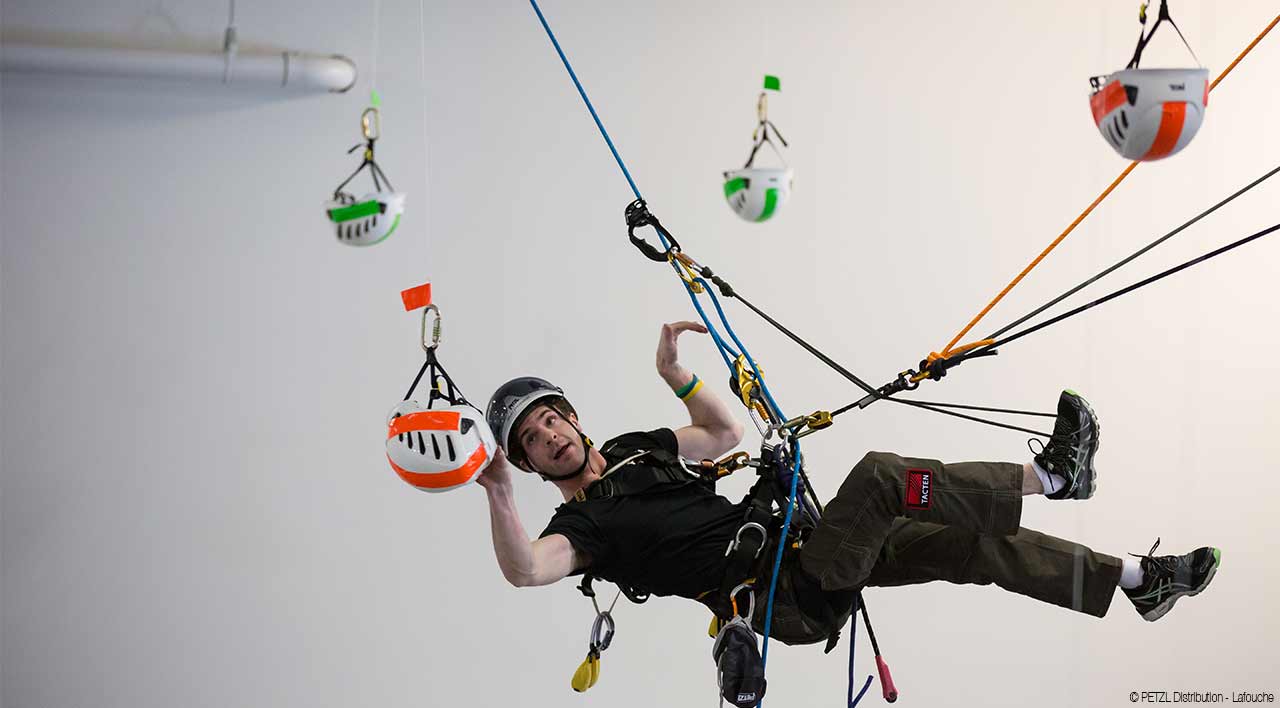 PETZL: Is there a difference between actual rope access work in the field and an event like this?
TOM: To be honest, this is almost the perfect event for me. I really enjoy climbing fast when I'm at work, trying to race the guy next to me; I don't like it when others climb faster than me. I'm a bit competitive that way.
PETZL: You're here at the event with support from RAT, on their dime without another official team sponsor. They could be earning more money from you if you were out working for them. How did that happen?
TOM: RAT is really good to work for. They're very flexible, especially with me working mostly in BC. Coming down here is really good for me and the company; it's good publicity if we do well. It's obviously not such good publicity if we do poorly. They've got a lot of faith in us and I think our being here benefits everyone.
PETZL: What about the rest of the event? What are your thoughts about the overall experience at the Petzl RopeTrip?
TOM: I think that the event has been amazing and in a fantastic location for this type of competition. The building is simply amazing. I've been really impressed with how everything has been run. All of the judges have been very professional, and everything set up very well and run smoothly. Missing the finals by only 35 points was not crushing, and it just makes us want to come back to the next Petzl RopeTrip.
PETZL: So the three of you plan to return to get those 35 points back?
TOM: Yeah, I think that we have a good chance of taking the title if we get a bit of practice in together. I think we did really well overall for our first time at this event and competing together.