A Day in the Life of a Climber in Patagonia
El Chaltén, a small village in the heart of Patagonia, Argentina, is the starting point for countless trails leading to Patagonia's summits. Located at the foot of the Fitz Roy range, it is the epicenter of climbing and mountaineering for the travelers who journey here from all corners of the globe. The month that Sean Villanueva planned to spend in Patagonia turned into a year… and what a year it was! It was a year full of accomplishments, but also of new friends, and shared experiences. Between adventures, Sean Villanueva took the time to tell us about his life on the southern tip of the world.
June 22 2021
Multi-pitch climbing
The Everyday in El Chaltén
I've been in El Chaltén for over a year now. I didn't think I'd be here for so long! In the end, I was able to really settle in. Patagonia is part of me, I feel like I belong here. I saw all four seasons. I've always traveled a lot throughout my life, and I rarely stay so long in the same place. But it allowed me to establish a routine, which I don't normally have.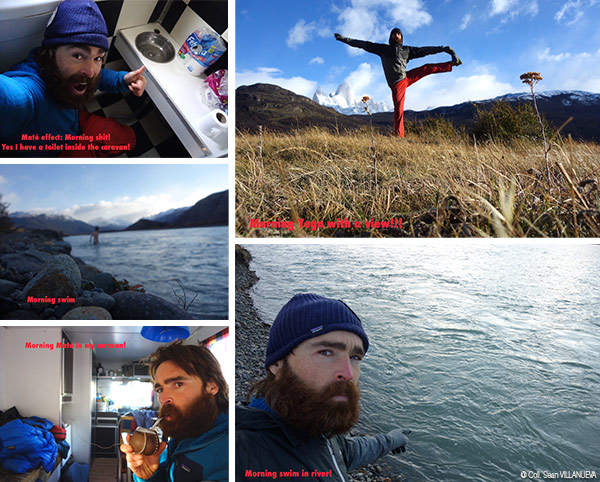 What's your routine like?
I live in a van that my friend lent me. In return, I do a bit of work on their land. We made a garden, built a greenhouse, I'm growing vegetables — it's been great, I had never done it before! I'm learning every day.
The van was a bit harsh in the winter. It got down to -20°C. But compared to a portaledge, it's very comfortable! Everything is relative. I quite like the harsh side of things. I wake up early even when it's cold, and I walk down to the river to wade into the cold water… every single day, even in the winter! I don't stay very long, sometimes 1 minute, sometimes 10 minutes. I love the feeling of cold water. It wakes me up, activates me, and gets my day off to a good start! I come out of the water feeling full of energy!  
Then, I go for a run to warm up, do some stretching, and a bit of yoga. I also hangboard a little bit to keep my fingers strong. Then, I eat and play a bit of music, like my Irish bagpipes! And of course, I have my tin flute! In the afternoon, I go bouldering or sport climbing.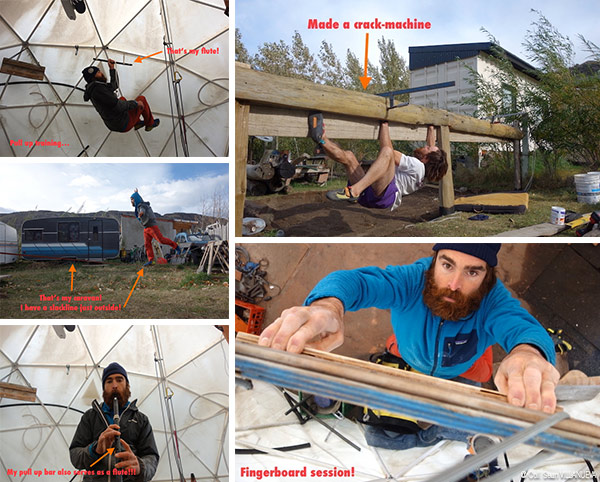 What do you do in the winter?
Ski touring! We spend our days in the mountains! Sometimes with up to 5 of us in a group. We set up our base camp and ski all around it. We also ice climb. The conditions were amazing this year!
Winter nights are long and the days are very short, the sun stays really low in the sky. So, I spent a lot of time in my van; I played music, I read, I had lots of time to reflect, think, dream. That's how the idea to traverse the Fitz Roy range in reverse came to me!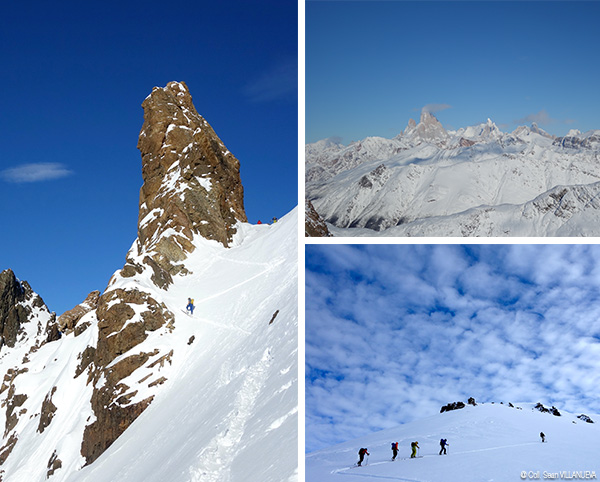 From route setting to another
La Chaltenense (500 m, 7a)
After traversing the Fitz Roy, I took a few weeks off to rest, but I wasn't too spent. Pretty quickly, after 2-3 weeks, there was another good weather window. I took advantage of it and opened a new line, "La Chaltenense", on the south face of Fitz Roy. A smooth and very obvious face, I was surprised that it hadn't already been established. But since it's on the south face, it's not often in good conditions. It's a large, 50-meter crack of technical offwidth climbing: double fist jams, knee bars, arm bars — techniques that few people enjoy. It was great to open such a beautiful line on such a legendary summit with John Griffin.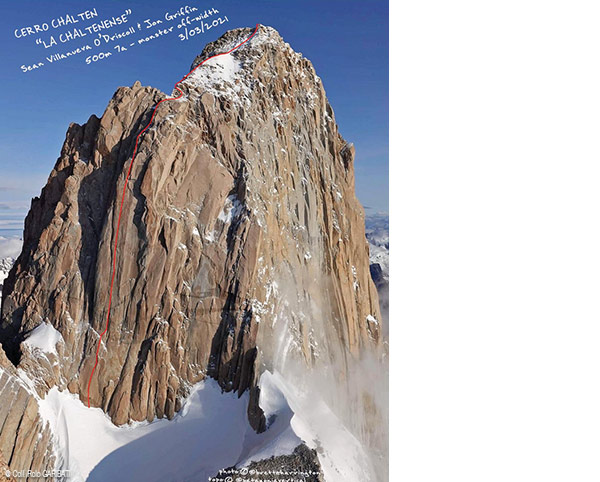 Chaltén Sin Clecas (450 m, 7b)
In December we also opened "Chaltén sin clecas". "Clecas"or "tick marks" are marks of chalk that some people leave to indicate where a hold is. In reference to this, I jokingly proposed starting a petition called "Chaltén sin clecas" to gather signatures against tick marks! Even if it washes away with rain, I think it's unfortunate. So, I decided to give it this name! It was the first route I established this season.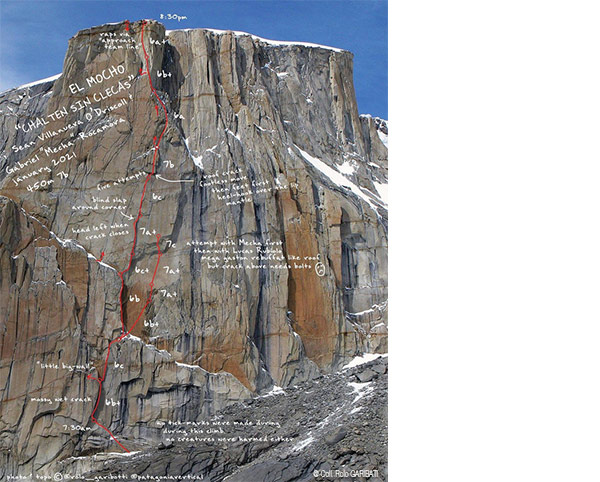 Chaltén Sin Chapas (450 m, 7a+)
Lastly, on El Mocho, I opened another line, "Chaltén sin chapas", meaning "Chaltén without bolts". I had already tried it once before, at the end of December, but I didn't finish it. So, I opened "Chaltén sin clecas" instead. Then I went back to this line that I failed to do, and we found a way! I found a small opening and it was magic! It's a very improbable line. One of the pitches is a red slab with a crack that cuts through it. Then, all of a sudden, the crack closes. It makes you think that there's no way to continue. In the end, I gave it a try and I found places to place protection every 3 meters.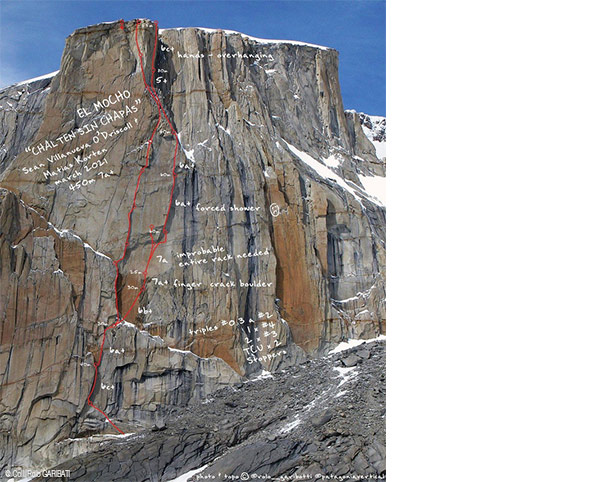 A Kind Community
Staying for a year has made me feel like I belong to this place. Living here is different from coming for just a month or two to climb. I feel like a local. I'm not just here to climb, I can go whenever I want! I generally try not to put any pressure on myself, but here even less-so.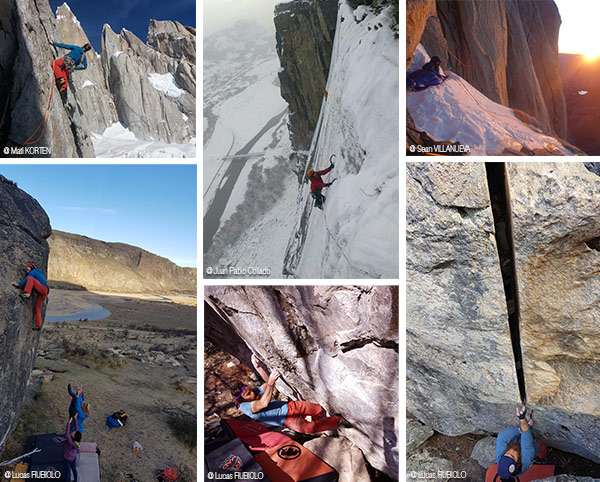 Quarantining?
I did feel like I was quarantining here in El Chaltén, but it's like being quarantined inside a big playground. The village was closed for 9 months, completely preserving it from the effects of the pandemic. In January, access was once again opened for national tourism. And with the tourists, the virus also arrived. We have to be more careful, but everything has remained open.
One Month vs One Year?
The climbing community is amazing: good energy, good vibes, a spirit of camaraderie. The bouldering and sport climbing are really good quality. This year, it was special because there were no tourists and it felt really calm. Most of the climbers here are Argentinian. They were really cool and accepted me into their community. I only planned to stay for two months, so I didn't have everything I needed to stay for a year. They helped me a lot with gear and clothing, etc. 
I would happily stay here… I love it! It has everything — there are so many different adventures to be had right outside our door, even when the weather is rough. But at some point, I have to return home… and I have other projects in mind!