TRAINING TO BE A ROPE ACCESS TECHNICIAN: THEIR STORIES
Louise, Lucie, and Myriam are in training to become rope access technicians. Some say it is a masculine job, but they are proving otherwise! Working towards their Rope Access Certificate of Qualification (similar to SPRAT in the US) with a team in training at the Baume d'Hostun, in France.
August 27 2020
Rope access and confined space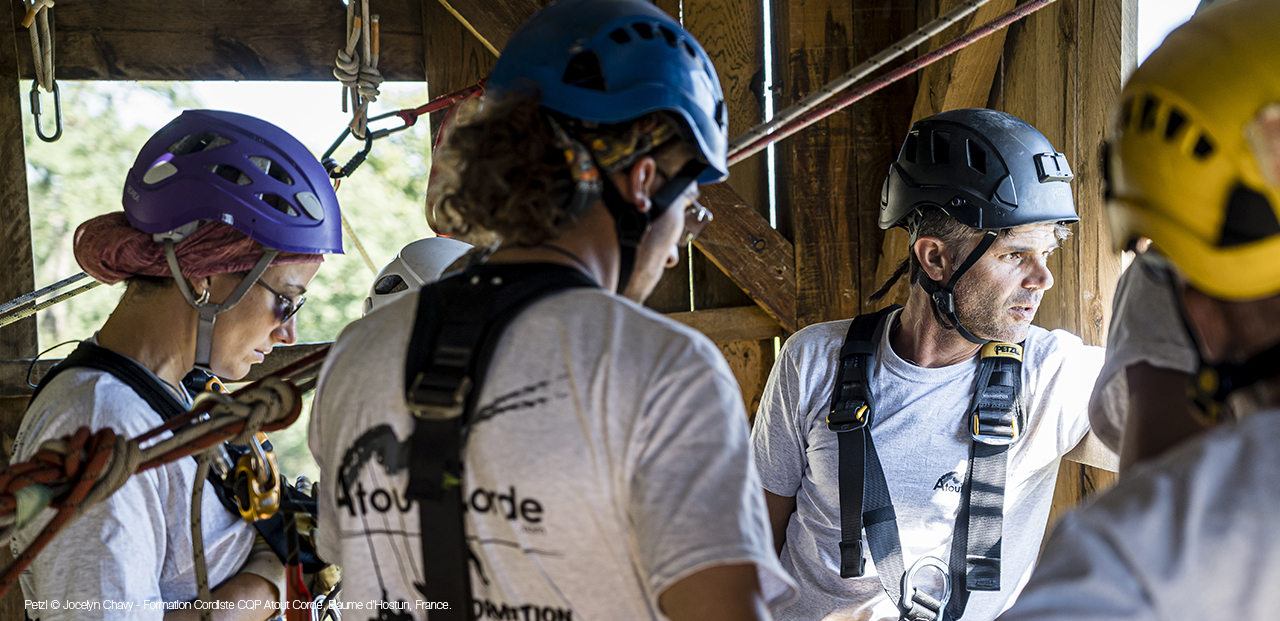 First steps in Rope Access training for the Atout Corde trainees.
"Pass me a RIG!" Louise says, turning to one of her colleagues at the training. "Have you installed your ASAP?" Lucie responds. You almost need a translator when you come across a group of rope access technicians. Peppered with technical terms referring to specific descenders (like the RIG), a mobile fall-arrest system (like the ASAP), or specific techniques, working at height isn't something that can be improvised!
Rope access work is a profession that requires training which, in France, can be completed at different levels through the Rope Access Certificate of Qualification course. For the first level, you don't have to be involved in the industry or have certifications in climbing or mountain sports, you just need to be in good physical condition, but having some experience with heights is preferred.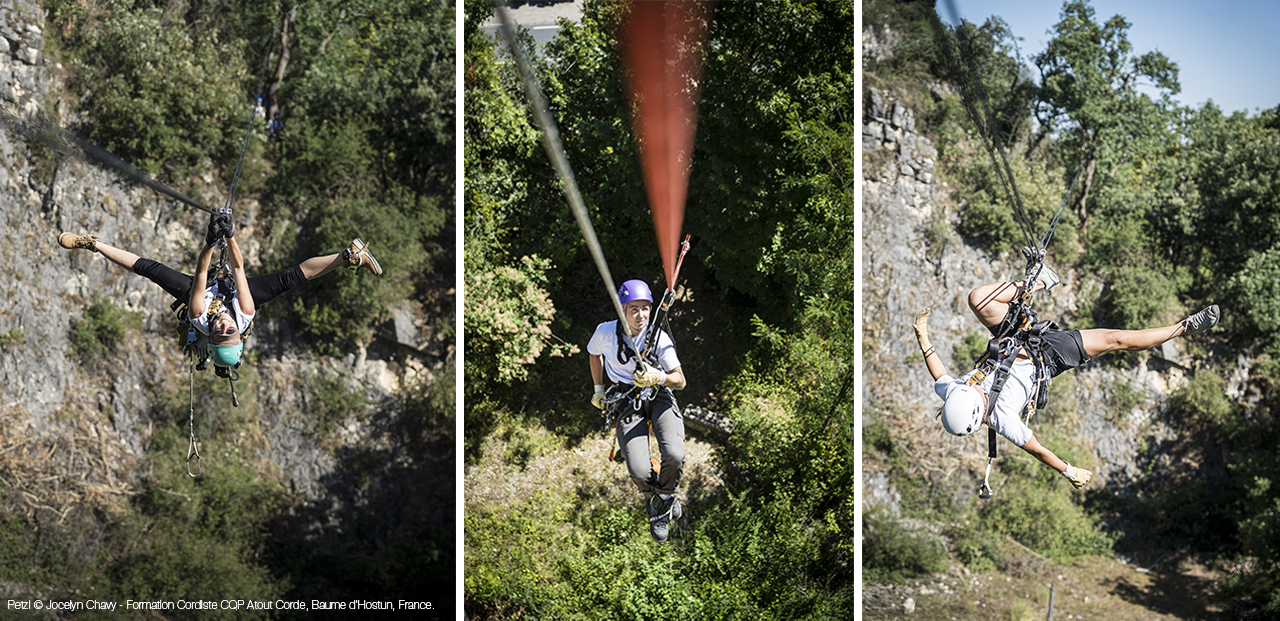 Three acrobats in rope access training.
No stranger to heights, Louise is a circus performer and has worked as a flyer for prestigious companies like Cirque du Soleil. "My dad is a mountain guide and I love climbing," Louise tells us. 
"As a flyer, I spend a lot of time high off the ground and I wanted to bolster my knowledge of equipment installation, whether that includes rope access work or other skills."
"Professionally, it's another string to my bow," Louise adds. Rope access is no longer a uniquely masculine profession; far from it, in fact. More and more young women like Louise or Lucie enroll in rope access training, often with the objective to become rope access professionals. 
This is the case for Lucie. Originally from Paris, she works seasonally at Super Dévoluy, a ski resort in the French alps. During the summer, she works "at the foot of trees" with her brother who is an arborist. "Becoming a rope access professional is a logical next step", explains Lucie.
"I work in marketing and communications, but I much prefer working outdoors, in the open air. That's why I decided to take the leap and get my rope access certification."
 
Hervé, an instructor at Atout Corde, demonstrating an exercise. 
In this case, the training is administered over five weeks by the specialist, Atout Corde. "It's actually very short", remarks the instructor, Hervé, who is tasked with transferring his knowledge throughout several modules. 
The first module covers equipment used in construction and on cliff faces (setting up anchors, installing lifelines and work stations). The second fine tunes the techniques used in urban and industrial spaces. Then, the third big module trains rope access rescue techniques and hauling heavy loads.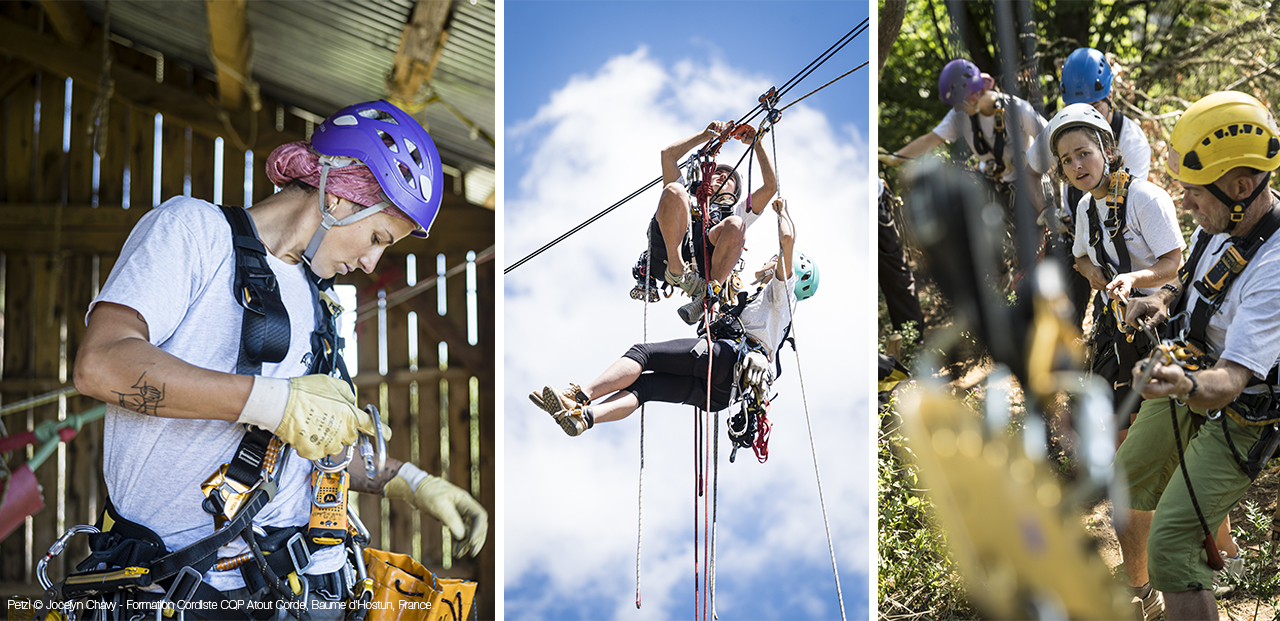 Trainees in action, working through tasks for the Rope Access Certificate of Qualification.
Finally, two shorter modules are dedicated to training for rescue at work, and to PPE inspection. All that to say that at only five weeks, the program is pretty dense. The trainees go out to cliff faces, to industrial spaces, and various work sites.
On this day, the program consisted of installing and crossing two tensioned lines: one horizontal and the other on a slope, to simulate accessing an area at height that is, in theory, "inaccessible". This task is a walk in the park for Myriam, who takes the opportunity to have a little fun while traversing the line.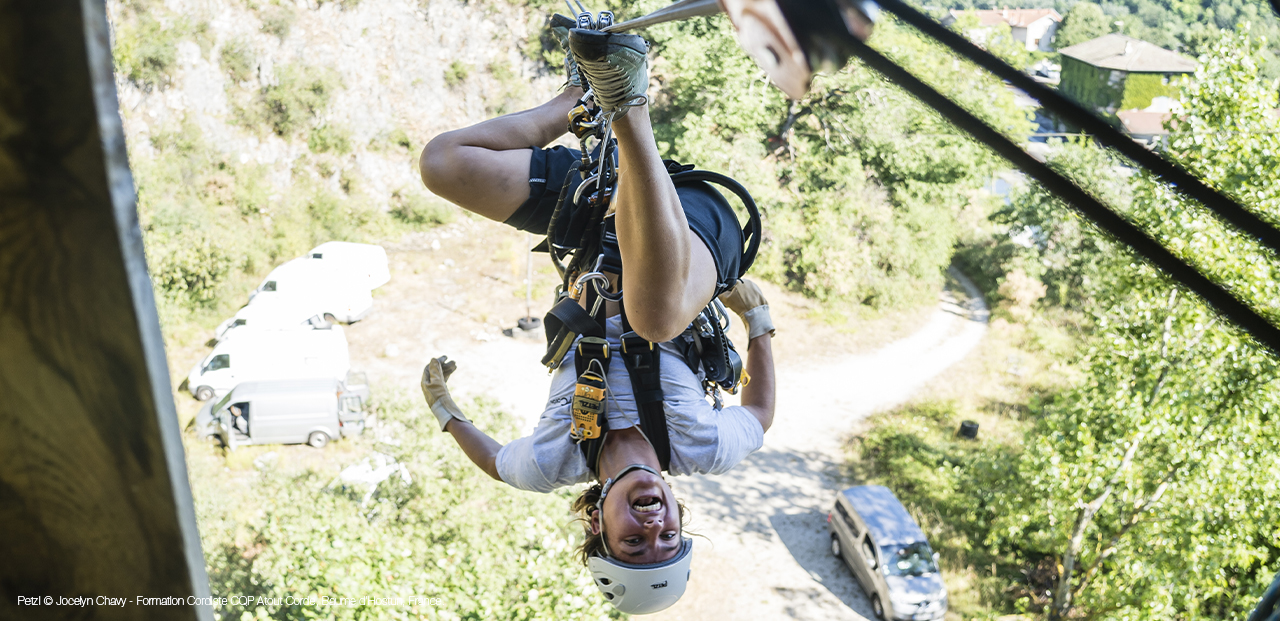 A moment of fun during the training. 
Working also as a professional performer, she specialises in aerial performances for circuses or independant companies. 
Aerial silks is a discipline of dance that consists of performing aerial acrobatics with long pieces of fabric hanging from the ceiling, often many meters off the ground. 
Why is she doing the Rope Access Certificate of Qualification? "Because I've seen some traumatic accidents in my discipline before", explains Myriam, who has become aware of the dangers inherent to her work. "In the future, I don't want to entrust my life to installations that I haven't verified myself or that haven't been put in place in accordance with specific regulations."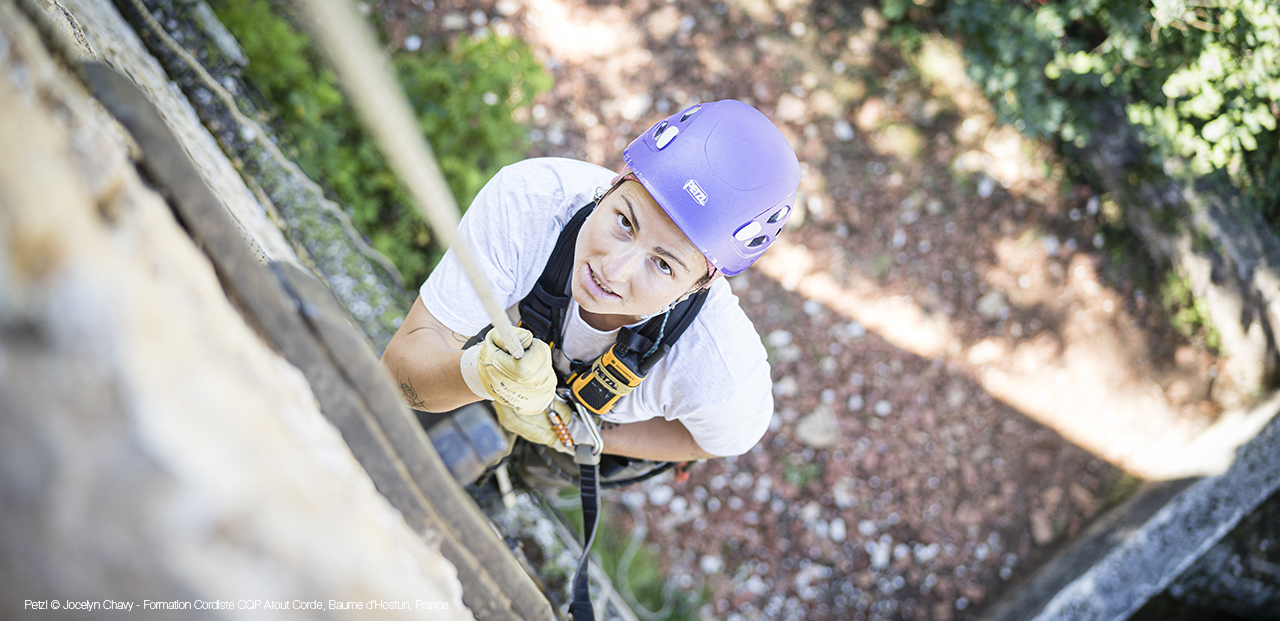 Learning how to properly progress on a rope in a professional setting.
Becoming a rope access professional is the technical Holy Grail for Myriam who spends a lot of time at height on a regular basis, but isn't familiar with how to progress on a rope, set up an anchor, or install a tensioned line.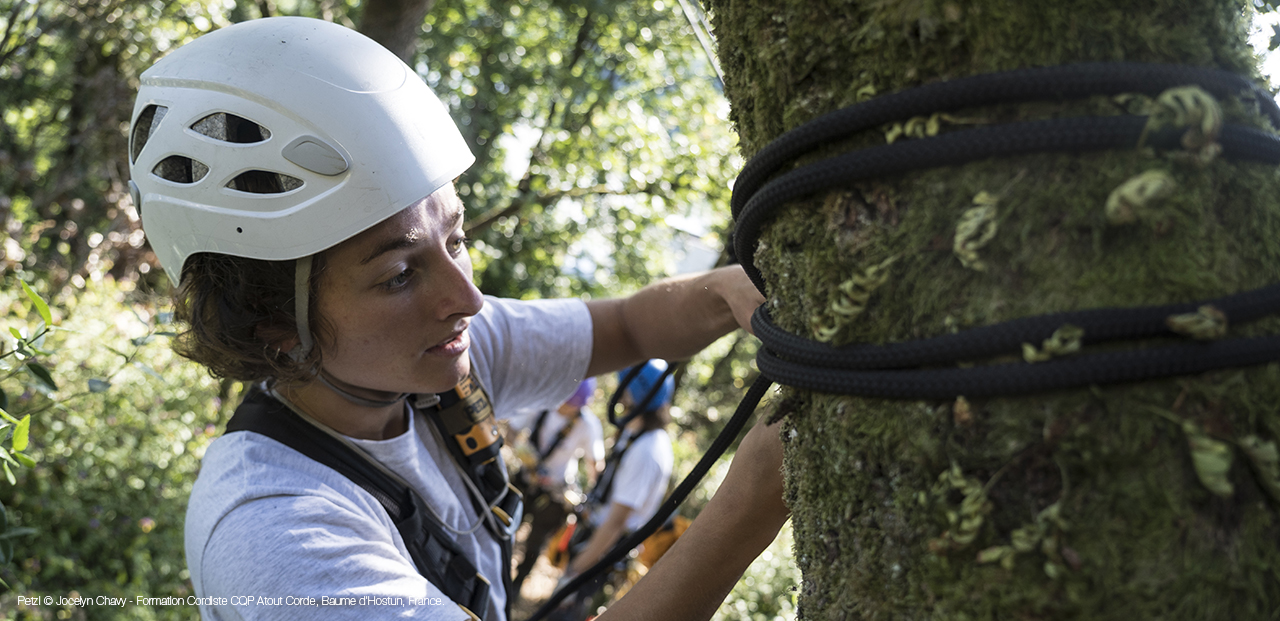 Each trainee learns the techniques at each workstation for installing a tensioned line.
When it comes to hauling a load of 100 kilos (~220 lbs), it is not biceps that solve the problem, insists Hervé, but teamwork and implementing the right tools and the right techniques, putting safety first. It's something that these young trainees, proud to learn this profession, will take with them to their future places of work...at height, of course.