Investigation of a visible surface mark on the head of the ASAP LOCK screw
February 12 2015
Rope access and confined space
Facts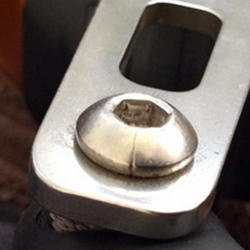 At the end of 2014, a screw with a visible mark that appeared to be a crack was reported to us.
Actions Taken for Investigation
Petzl sent samples of these screws to a metallurgic laboratory.
Petzl investigated the potential causes with its screw supplier.
Petzl tested the screw with excessive torque, which stripped the screw, while the head remained intact.
Conclusions of the Investigation
This visible mark on the head of the screw is the result of the manufacturing process. It is a surface defect of the screw head that does not affect its performance (see attached images in Annex).
This mark does not occur during use; it does not come about depending on usage conditions. It is important to note that this mark is superficial and is the result of manufacturing process.
Decisions and Customer Satisfaction
Petzl immediately initiated corrective action and instituted visual inspection of 100% of screw heads on the assembly line to ensure all new screws are unmarked. All products on the market are now supplied with a screw devoid of any marks.
The Petzl supplier has also added unit-by-unit visual inspection to its manufacturing process.
Petzl accepts that this mark may add confusion to inspection, but there is no risk for end users' safety. If a customer finds a screw with a mark and is concerned, Petzl can send spare screws on request. Please contact your country's after sales service for the replacements: contact form
Annex