Lowering a load with the cam deactivated
Warnings
Read the technical notice before viewing the following techniques.
It is important to fully understand the information provided in the technical notice before using this complementary information
Mastering these techniques requires training.
Consult a professional before attempting to perform these techniques on your own.
Before deactivating the cam, it is necessary to install a braking system that allows you to hold the load and control the descent. With the MICRO TRAXION in "simple pulley" mode, a REVERSO on the harness is a good solution.
1. REVERSO installed on the harness

2. Belayer taking the load and deactivating the cam
When the belayer takes the load onto himself, the tension in the rope allows the MICRO TRAXION's cam to be deactivated. Push the button, then release it to hold the cam in the raised position.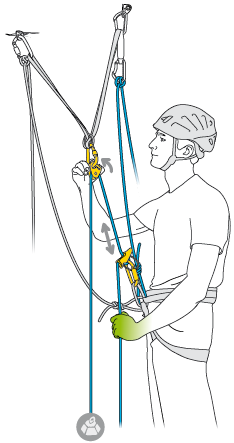 3. Lowering the load
The descent speed must be moderate, to limit the shock load in case the cam re-activates itself.
This can happen in case of vibrations, the cam pressing against the rock or equipment, or due to rope movements.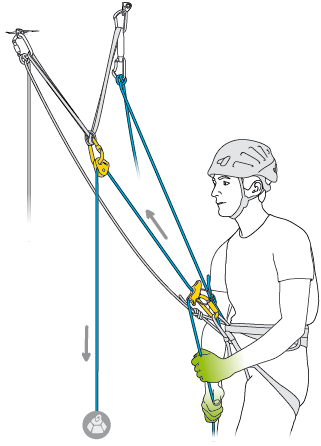 Warning: the pulley at the redirect point significantly reduces friction (about half the friction of a carabiner). In case of jerks during the lower, the belayer can be pulled toward the pulley, especially if his stance is unstable.