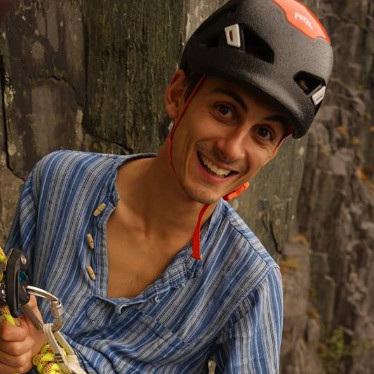 Franco has been climbing since he was 13 years old. Drawn into the outdoors it has always been movement over rock that has inspired him. He progressed rapidly, ticking his way through most of the hard routes in the North York Moors where he was based. As the routes got harder, they got bolder! And as a result, Franco became a master of the mind. many of his routes are incredibly dangerous and require a serious dose of mind control!
Are you a bold climber? Or are your ascents of dangerous routes calculated. How close to the edge do you go?
I'm one of the most scared climbers you'll ever meet. My imagination seems to go into overdrive when there are lots of unknowns. This means I struggle at proper onsight trad climbing. Occasionally I'll find a line that I really want to climb, whatever the cost. I'll begin working it and go through all the endless possible worries until I am satisfied that I could have a crack at setting out on a lead. On some of my more recent routes, and those I'm still yet to lead, the climbing is towards the limit of what I can physically boulder. So, when I set out, I am not able to pretend I know I'm going to do it, I just accept the risk of falling off. If I do the preparation right, there is no fear on the lead, just a completely relaxed state, where I can feel everything and feel entirely at peace with the world.  It's amazingly liberating. 
Have you always been into the bold climbs, or did you get into them because you ran out of safe routes? Is it in your nature?
Climbing was always first and foremost about the North York Moors for me. Bold routes became a necessity when we had climbed most of the established routes in the region. I think climbers who obsess on danger often have a strange relationship to risk, normally being pretty scared climbers. I think it's also a way to make climbing more interesting if you're not very strong. If I was capable of climbing font 8Cs, maybe I'd just do that instead. 
What's the closest you've been to really messing up?
I've messed it up a lot! I triggered an avalanche on Ben Nevis in Scotland on my first day winter climbing that took all 3 of us back down the mountain. I had a stupid time doing the American Direct on the Dru once, falling off while simul climbing on verglas. I've had some bad falls on Trad outcrops too, but I don't ever seem to hit the ground that hard. 
How much is danger part of your overall climbing experience - do you seek this buzz? Do you get much out of sport climbing in comparison?
I'm not really chasing the buzz. I'm more after a feeling of invincibility and permanence (of ideas and mind, rather than body that is). I think on 'Nothing Lasts' I pretty much achieved this. In this sense I feel like I've succeeded in my life's goal.  The routes are there for the next step and even the one beyond that. These are some of the most compact and sustained walls and slabs around, with next to no protection. Just abseiling them is terrifying. For each new level, the chances of failure become higher and the outcome of a fall simply atrocious. You start looking at some pretty poor odds, but then the possibility of what you can create is just other-worldly class. When I think about some of these last great problems, I get a feeling unlike anything else in the world. They're just outrageous in every possible way. 
Sport climbing is great. If I had been born elsewhere I would have been a sport climber. I do however find it difficult to do something and not to totally obsess on it, so I would struggle to be focussed on both trad and sport at the same time. Obviously sport fitness can help you on some trad routes, but if you're trying to do 3 really hard moves in the 'death zone', you don't want to be conditioned as a sport climber - you just want to be a flapping bag of tendons and bones, hanging on tiny crimps. The routes, the people, and the amount of climbing you get done in sport climbing is just great - I'd love another lifetime to try being better at sport!
You have excelled at 'high-balling'. Is this a different sport to the dangerous routes - what kind of mindset differences are there between these two styles?
I really don't think I have excelled. I've made a little progress with those routes that are moderately hard, but high, as opposed to the very hard, but not so high problems that most of the really good guys in the UK and Europe are doing. Doing the top of the 'Young' ground up was a really interesting experience, as this route had a bit of a mythical reputation in the North East UK. The ones I'd most like to see repeated are the highballs in the Moors, like the 'Futuristic Herring Gull', 'MYXOMOP' and 'The Magic Scoop' - mostly just to see if people confirmed the quality of them, as I think they're great.  There is a huge opportunity in the UK for someone who could get as strong as the top boulderers and then learn to fall off properly, as well as deconstructing highballs ground up. 
Highballing is a continuum between bouldering and Trad - that's why these endless debates about what grading system we should use are entirely without end. People use the term 'highball' to talk about anything from 4m to 20m. I think if you're ending up in a position where you can't fall off, you're evidently climbing a trad route. The mindset for proper highballing is more like BMXing, where you're most worried about limb injuries, but probably not death. This has a lot of crossover to short trad routes and is probably closer to outcrop trad than outcrop trad is to mountain trad. 
As you get older, do you feel yourself drifting away from these styles, or are you just as psyched, many people find bold routes hard to justify as they age?
This is a question I wrestle with all the time. These days I feel like I could happily tinker on just soloing the odd easy route and going for walks in Scotland or Cornwall. Most of what I love about climbing isn't things being hard. Even the appeal of hard routes is in making them feel easy. 
As a kid I always used to see these comments (e.g. "everyone does their boldest routes in their early 20s") and I promised myself that I wouldn't succumb to safety as I got older and would never stop headpointing.  I used to just look around and be amazed that people had the capacity to do these incredible lines (most of them still unclimbed), but yet chose not to. I've not fully stuck to the promise I made myself: If I had the mindset I had when I was 21 now, I'd be trying one of these ridiculous routes in Scotland or on the slate, which would be bordering on suicidal. 
I'm now in a place where I'm happier than I've ever been, life's going well, but I have this decision about whether I want to try and do this outrageous thing that will certainly be really special, but could end my physical enjoyment of this world. It's a real dilemma. You might say 'what have you got to gain?', but then equally, if you aren't pursuing excitement and the boundaries of the human experience, are you not wasting your life a bit?
Notable Ascents
Nothing Lasts H10 7a, the renowned arête project - the 'Sandy Crag Project' - at Sandy Crag in Northumberland. After 30 months, 100 sessions and 1 ground fall
The Aghori E9 7a, White Hill Nab's 'arete project', climbed via a very flexible crux sequence and then a runout technical arete.
Divine Moments Of Truth, E10 7a, at Kay Nest, North Yorkshire 
The Young at Callaly - ground up (very high ball!.) Franco is the first person who has taken on the top crux ground-up. Font 7C+/8A 
The Futuristic Herring Gull Project, Maiden's Bluff, North Yorkshire Font 8A. A highball slab, tackling the blankest section of the Yorkshire coast.