Winter Olympic Games in Sochi: Petzl provides ski patrol with lift evacuation
In May 2013, instructors from Petzl Solutions were invited by Petzl's distributor in Russia to run a training program for the Ski Patrol at Sochi's Rosa Khutor ski resort. The resort is located in the Western Caucasus, a wild mountainous region along the shores of the Black Sea. The upcoming Winter Olympic Games in February 2014will take place here.
February 2 2014
Ski lift rescue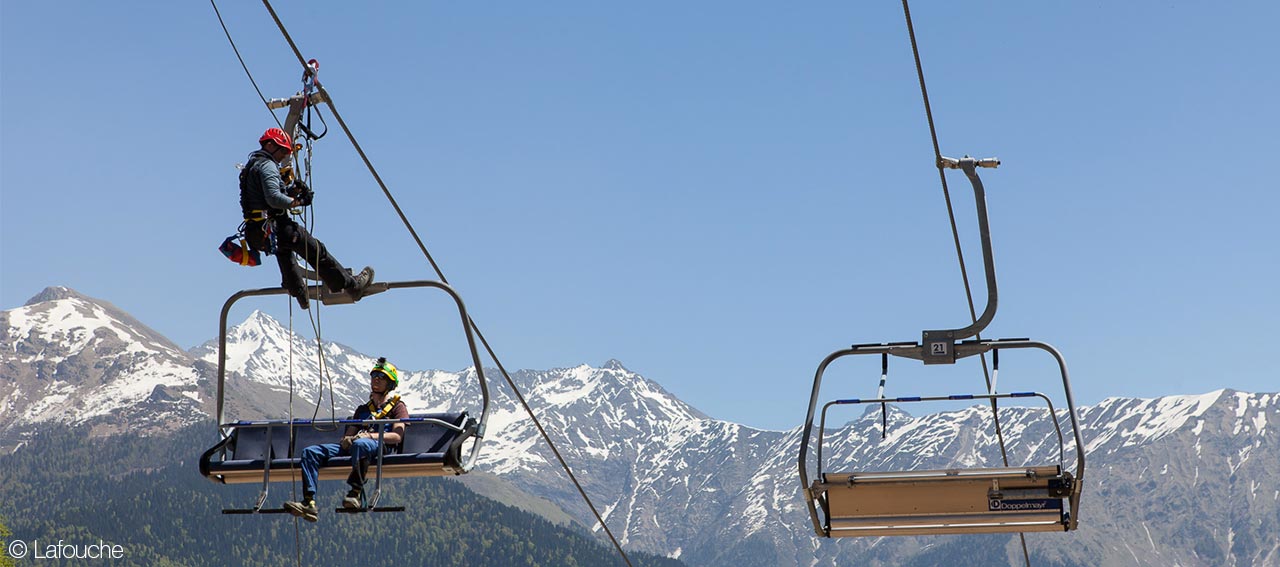 Forty-five kilometers from the coast, the resort of Sochi is busy putting the finishing touches on the buildings and the ski area that will be the centerpieces for the Olympics. Several ski lifts, including some still under construction, will round out the resort's uphill capacity and infrastructure.
Interview with Konstantin Tyabin, Ski Patrol director for the Rosa Khutor ski area.
This former paramedic and officer in the Russian mountain rescue services has worked as ski patrol director for the last four years. He started out as the area's lone certified ski patroller, and has since then put together a team of professionals. Today, the 26 patrollers are divided into two teams of 12 with one administrative person. Each team has a designated leader and takes turns patrolling the ski area in four-day blocks. They also handle search and rescue for the ski area's off-piste itineraries, buildings and infrastructure.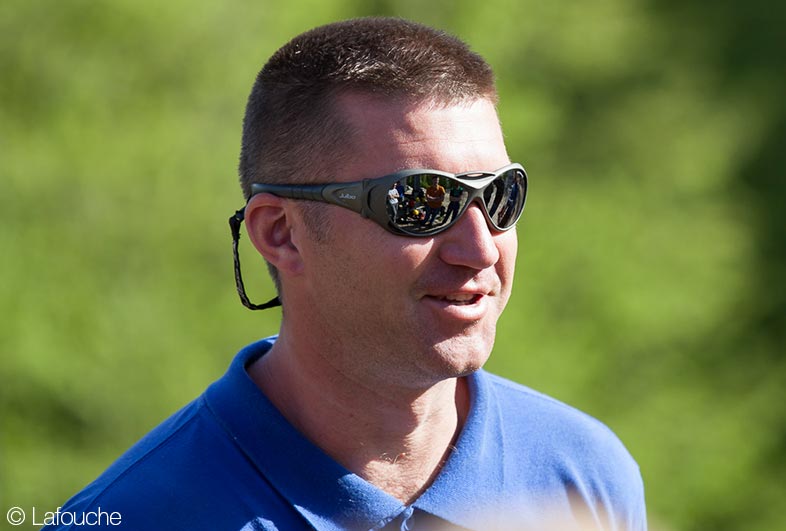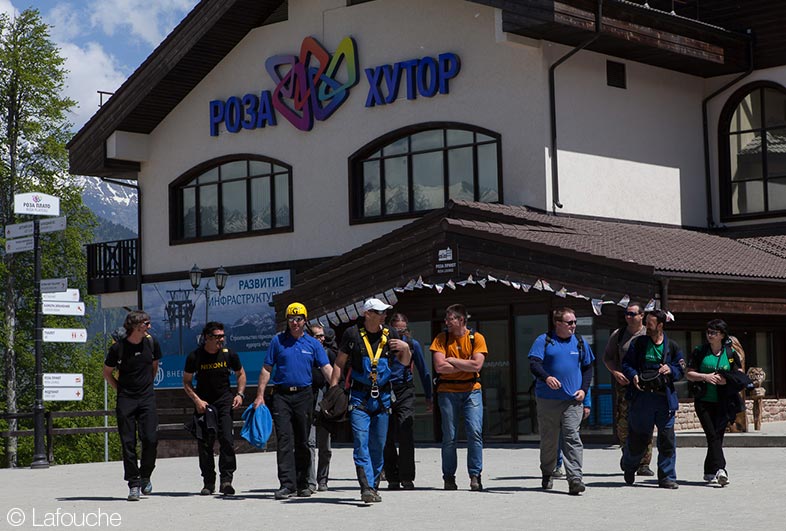 Seven years ago the Rosa Khutor ski area did not exist. At the time there was only one ski lift in Alpika Servis. During the 2013 season six ski lifts were in service including a 3 section gondola that brings guests from the valley floor to the top of the mountain. On average the ski area hosts 1000 to 2000 skiers per day, rising to as many as 6000 skiers per day during the peak winter vacation periods. Rosa Khutor will open eight new lifts for the 2014 Olympics, including one aerial tram.
During the season, Konstantin takes part in a daily meeting where ski patrol, the avalanche control team, and the ski lift operator determine together whether or not to open all or only part of the ski area.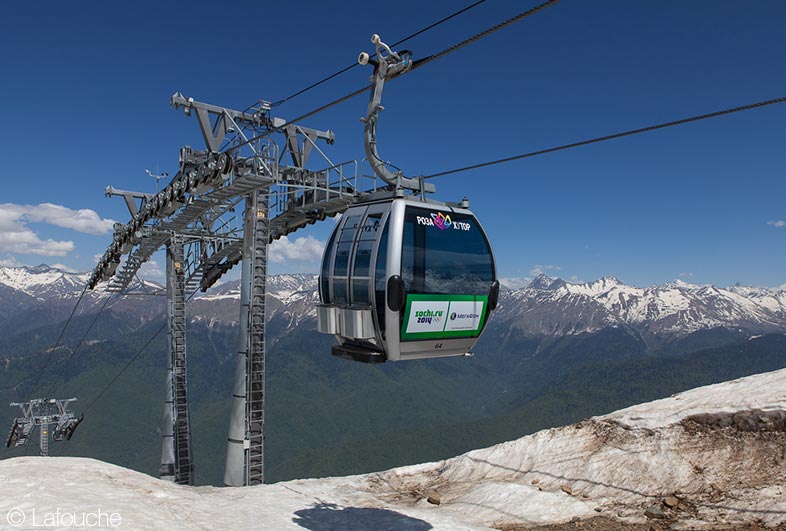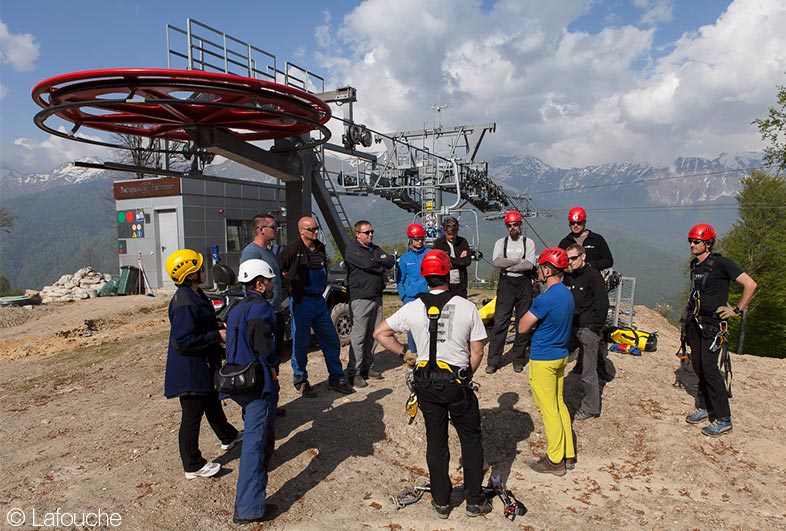 Have there been any ski lift rescues or evacuations in the past?
In 2012, the first section of the gondola broke down, requiring the evacuation of 67 passengers. The rescue went well and according to established protocol.
What impact have the Olympic Games had on your team?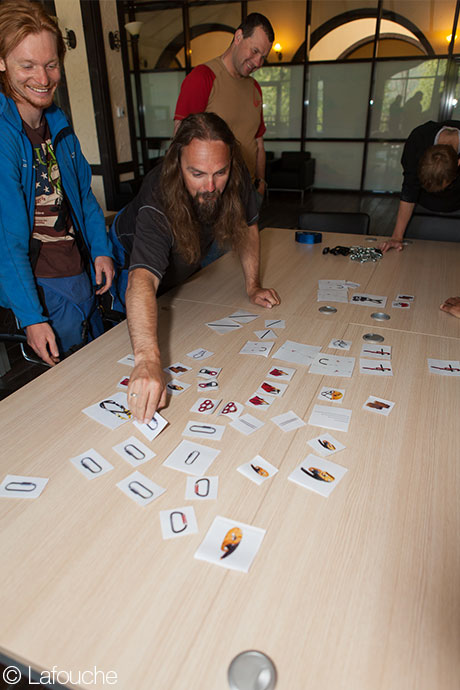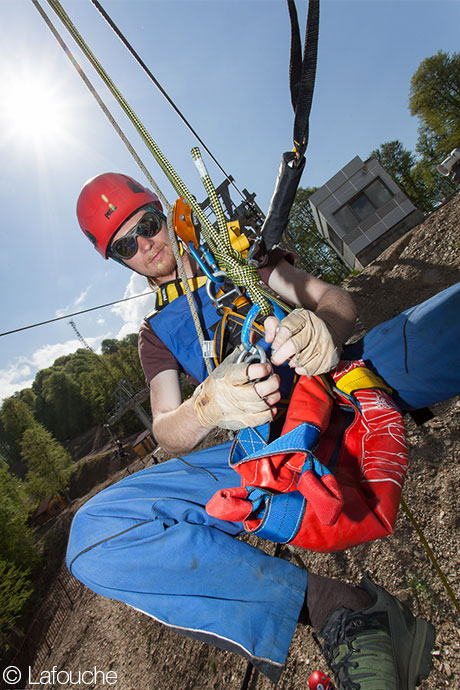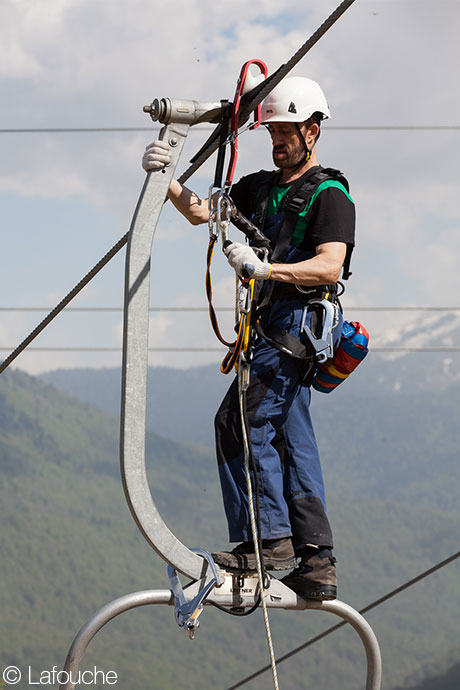 A huge amount of work has gone into preparing our team of patrollers to work with the new and expanded infrastructure (runs, snow parks, lifts). Our responsibilities have significantly increased and we need to be ready for the high demands that go along with organizing the Winter Olympics. Of course there is a lot of pressure, but this is also a unique opportunity for me and my team. This is the fruit of four years of hard work to build a highly-qualified team and to prepare everyone for this momentous occasion.
How has your team benefited from training by the Petzl Solutions team?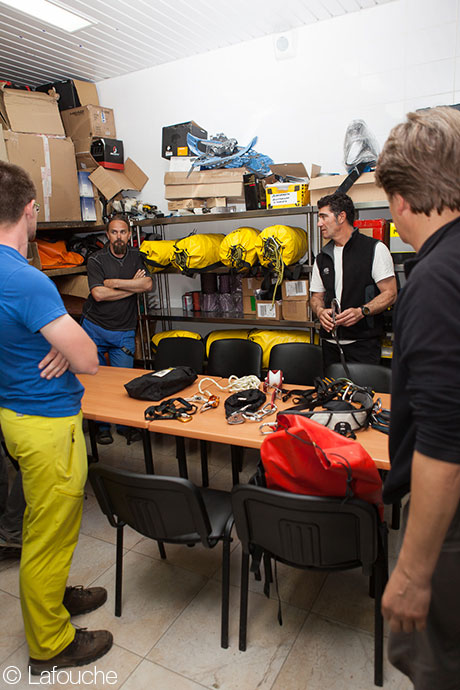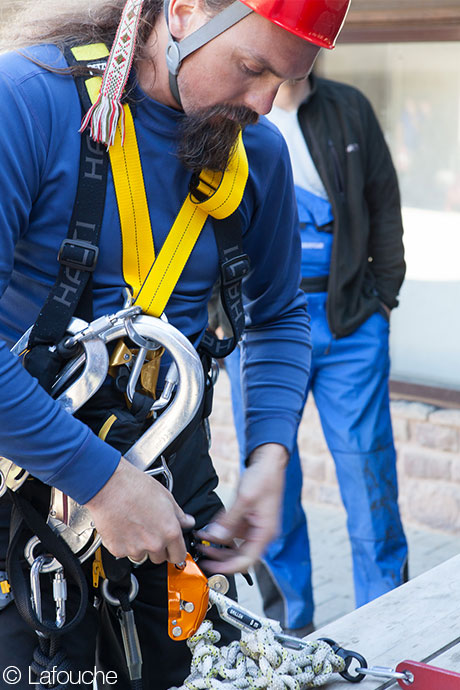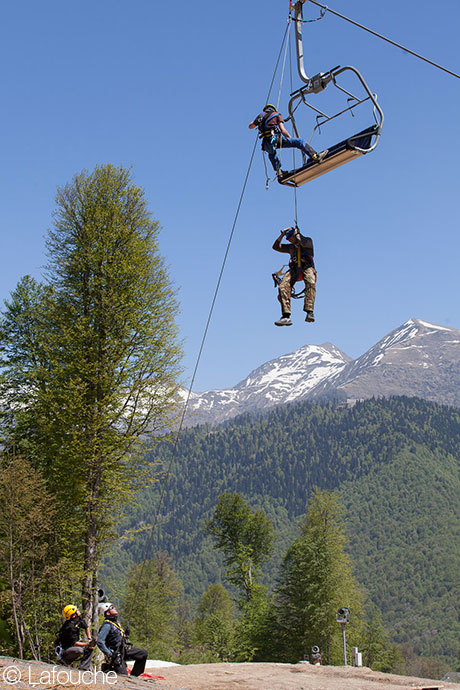 First, it was a great idea to be able to work directly with the manufacturer and their technical team. It was easy for us to work with the Russian distributor and Petzl trainers. The training program was customized to our team's needs; we exchanged ideas and put a lot of work into building a program that was well-adapted to our resort. This allowed us to gain a broader understanding of the techniques used in other countries and to learn that we weren't the only ones who had trouble handling evacuations. We are now part of the world family of ski patrollers! We would like to continue this collaboration in the future, and why not offer training here in Sochi for ski patrollers from elsewhere in Russia. The idea of one day becoming a Petzl Technical Partner is motivating through the concept of shared knowledge and experience from all over the world. This type of training should occur on a regular basis. Once our training program is over, we plan to integrate the new techniques into our evacuation plan, use them during practice exercises, and invest in the necessary equipment. I am confident that the entire team will be more than ready for the opening ceremonies of the Olympic Games.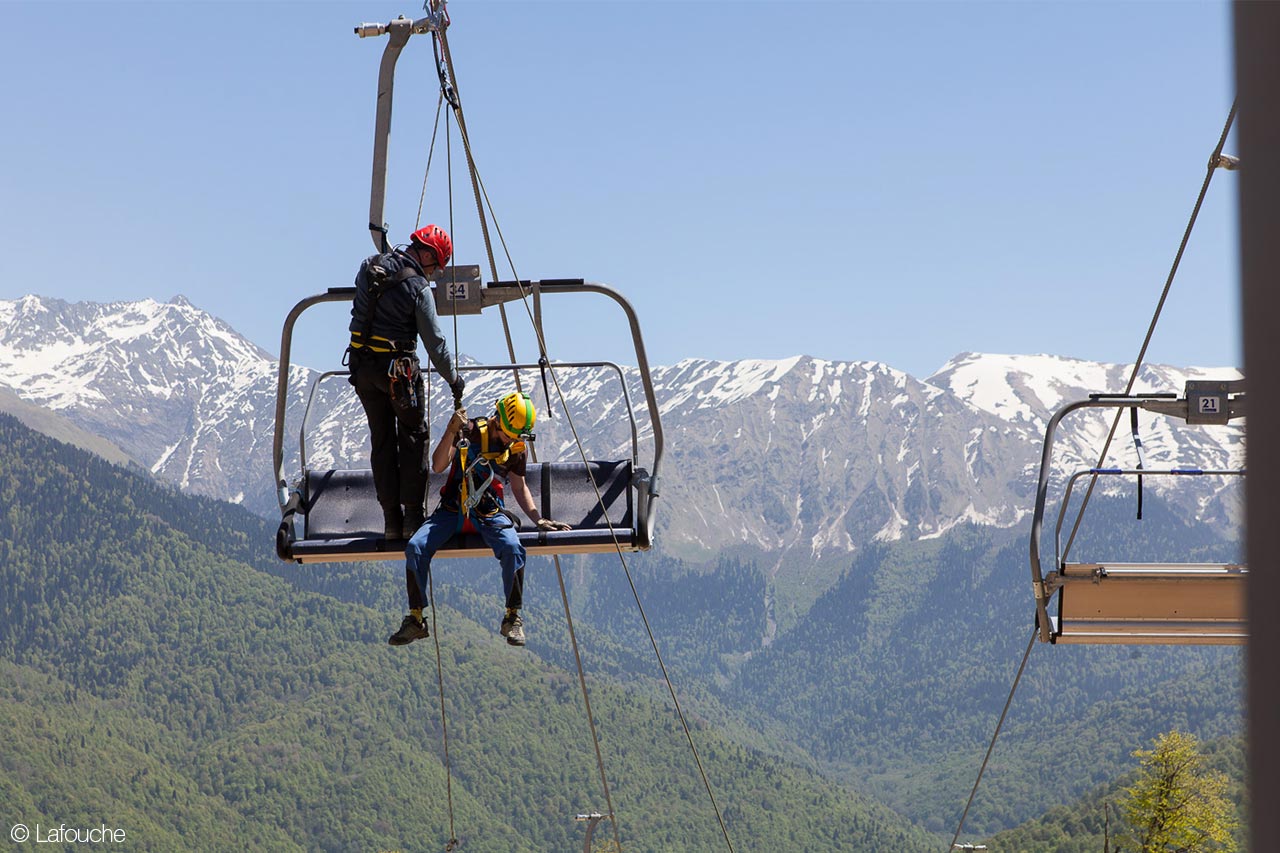 Petzl Solutions "Ski-lift rescue" training program:
Day 1: contact with Konstantin, scout out the site, and decide which areas will be used for training.
Day 2: participants and trainers meet each other, introduction to the area's cable transport apparatuses.
Patrollers demonstrate the techniques they use.
Petzl Solutions trainers demonstrate their techniques.
Discussion and exchange of ideas on equipment, techniques, and strategies.
Day 3: Share information in the regulations involved in ski lift rescues.
Classroom work on new solutions and techniques, brainstorming session using training tools (product magnets).
Work with actual equipment in order to implement solutions.
Trial work in the field by all participants.
Day 4: Exchange ideas on the ground with the equipment in order to come up with a single solution for patrollers to adopt.
Apply techniques in the field.
Meal at the ski area's summit and overall debriefing of the training program.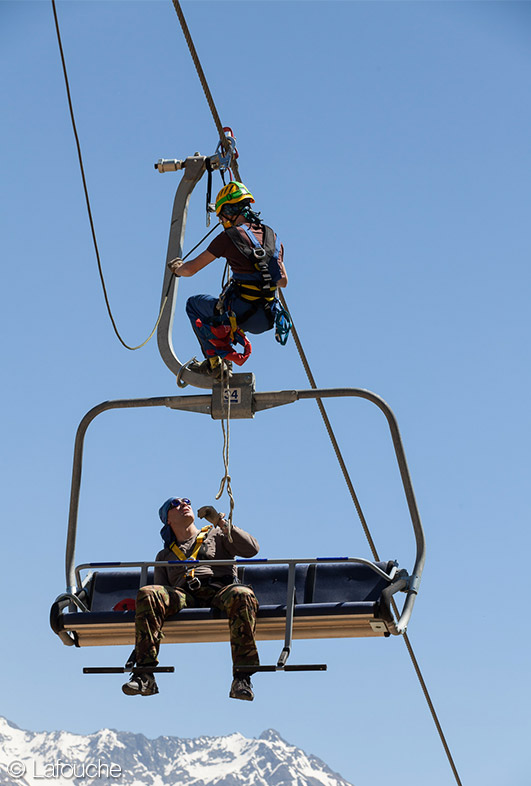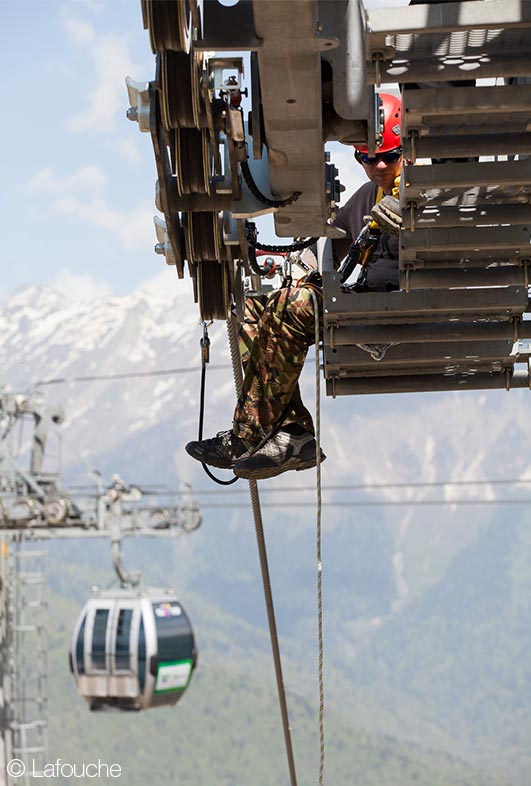 This was the training program's first roll-out directly with the end user. It took three months to prepare, to experiment, to perfect, and to put together the program's training materials. This training program will now be rolled out at every Petzl Technical Institute and with Petzl Technical Partners in anticipation of an urban-specific lift rescue training program planned in Hong Kong.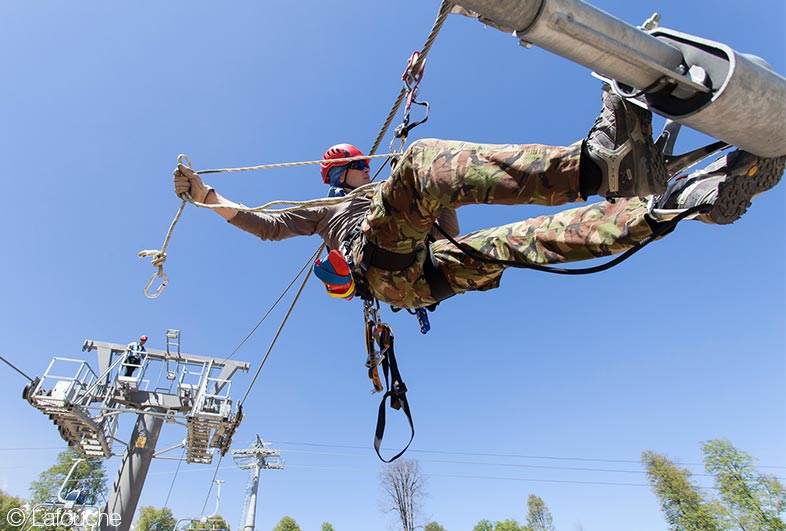 Chris Blakeley, trainer, Petzl Solutions
Training provides a great opportunity to exchange ideas with a motivated team. We worked well with them and came up with a versatile solution that provides a good fit with the site and its specific limitations.
Being in direct contact with the end-client was important and was made easy through collaboration with our local distributor. The team now has all of the tools necessary to perfect their evacuation plan and techniques. The need for proper training in Russia is growing quickly, and our distributor is committed to creating its own Petzl Technical Institute. We really appreciate that the roll-out of our training program has generated such widespread interest in becoming a Petzl Technical Partner.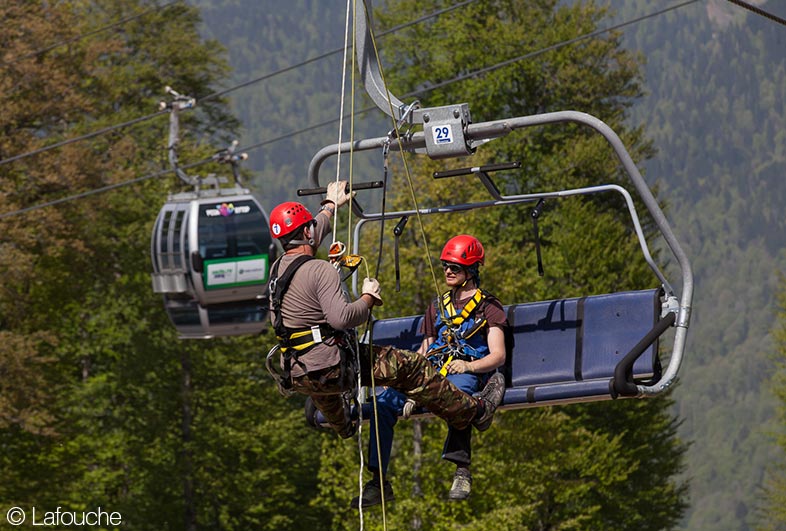 Jean-Charles Bonsignore, trainer, Petzl Solutions
We were thrown into the deep end right away for this first Petzl Solutions training program created for and conducted in the field. The program's curriculum covered every aspect of ski lift and cabled transport. This provided users with a much broader view of evacuations, and consequently, the possibility of adapting technique to the local terrain. Our goal at Petzl Solutions is not to show up and impose one specific methodology. We talked about the techniques the client is currently using, and then brought new ideas to think about as well as practical tools to optimize safety, efficiency, and use of Petzl tools. In return, we were able to add to our own knowledge base for using Petzl products in order to share this information with other users.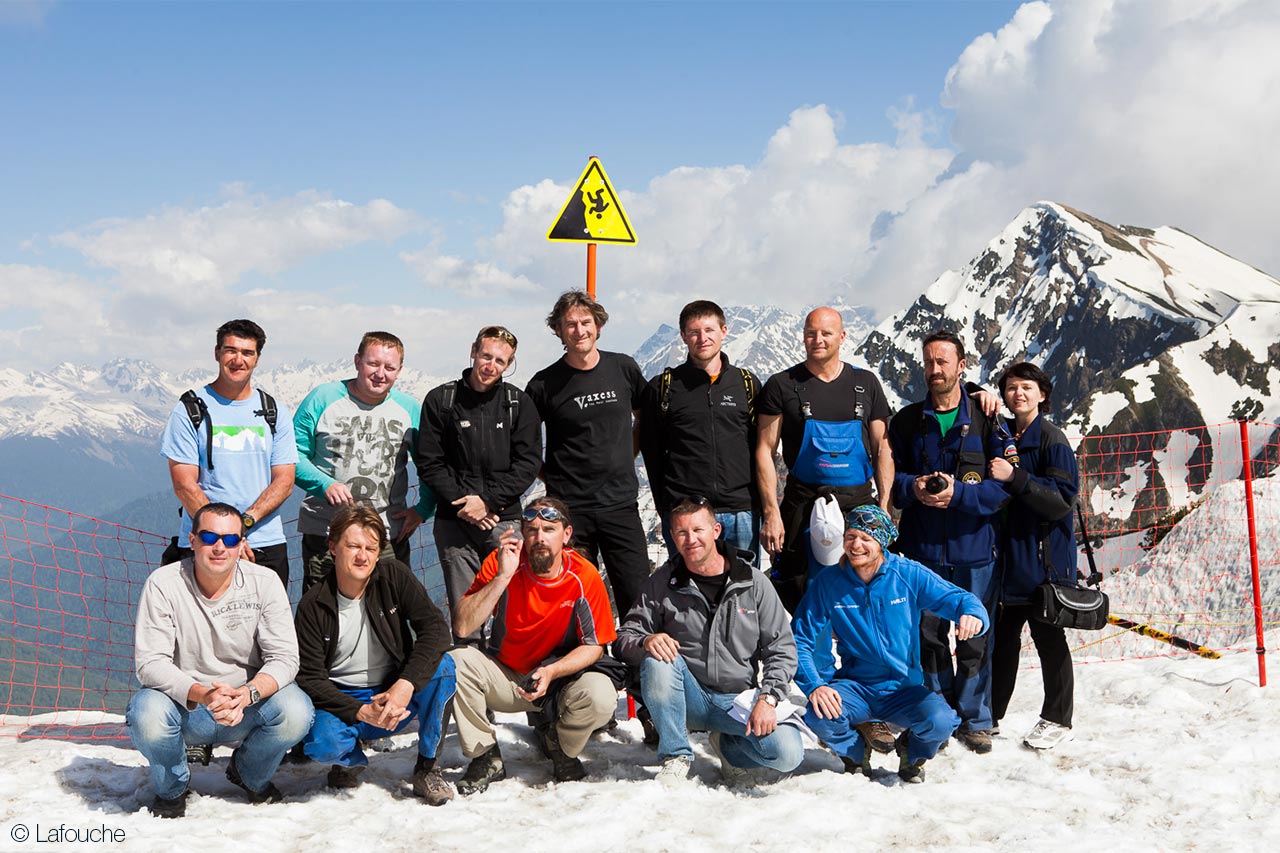 Training program participants: Tyabin Konstantin, Vorontsov Vladimir, Seleznev Sergey, Ivasheenko Vasiliy, Yakushenko Alexander, Povarov Eugeniy, Davidov Vladimir, Alekseev Mikhail.
Included in this article