Organizing Gear for Multi-Pitch Climbs
When prepping for a multi-pitch, the amount of gear you need is more substantial than for a single pitch. All that gear takes up space and it's important to make sure it's well-organized on your harness, giving you easy access when you're on the wall. You'll save time and energy, focusing all your attention on the climbing itself!
June 29 2021
Multi-pitch climbing
Hayden Jamieson and Heather Weidner at the top of "Pillar of Wisdom", 5.10, Wadi Rum, Jordan
To make sure that you're setting yourself up for the best experience possible on your multi-pitch climb, start with the essentials: get a harness that will get the job done right! To do that, it needs to meet two important prerequisites:
1. Comfort when hanging — there's a chance you'll spend a few hours hanging at anchor points throughout the climb.
2. Lots of gear loops (at least 4) to carry all the gear you need for a multi-pitch.
What gear do you need?
Since we're covering the question of necessary gear for multi-pitches, here is a useful (though non-exhaustive) gear checklist: 
For each climber:
• Helmet, preferably ventilated
• Harness
• Belay device for belaying and rappelling
• Friction hitch
• Locking carabiner for belay device, friction hitch, anchor building, and other various uses
• Double lanyard, like the DUAL CONNECT ADJUST
For the team:
• Dynamic rope
• Quickdraws of various lengths
• Sewn slings of various lengths
• Possibly a rack of nuts or cams, depending on fixed gear on the route (or lack thereof!)
• Possibly a hammer and various pitons for adventurous terrain
Lise Billon in Verdon
Organizing Gear
If your gear is well-organized on your harness, you won't have to spend time searching for it! Everyone has their little habits, but in general, the first pieces of gear we rack are the ones we need the most: quickdraws. We recommend organizing them by length, with the shortest in the front and longest towards the back, and most importantly, all the quickdraws facing the same direction (gates facing the same way). 
On the back gear loop: on one side, carry the belay device, friction hitch, locking carabiner, and the lanyard carabiners; on the other side, rack the nuts and/or cams, and slings. If you're heading up a route where you know you'll need multiple slings, placing them individually on carabiners can save you from having to fumble around with gear on the wall, as well as precious time.
If the backpack you bring doesn't fit two pairs of approach shoes, plus everything else (clothing, water bottle, first aid kit, etc.), you can use the fifth gear loop in the back to carry them. If you don't have a rear gear loop, put one shoe at the very back of each back gear loop on either side; this keeps your chalk bag easily accessible.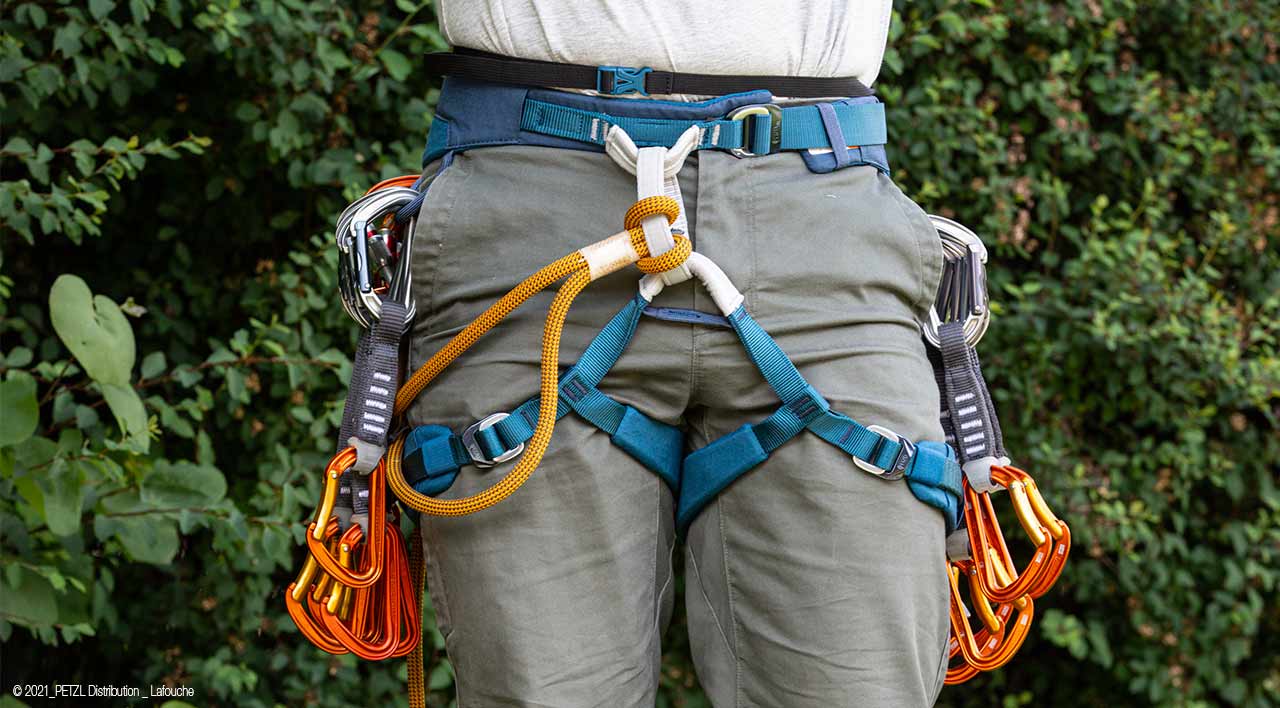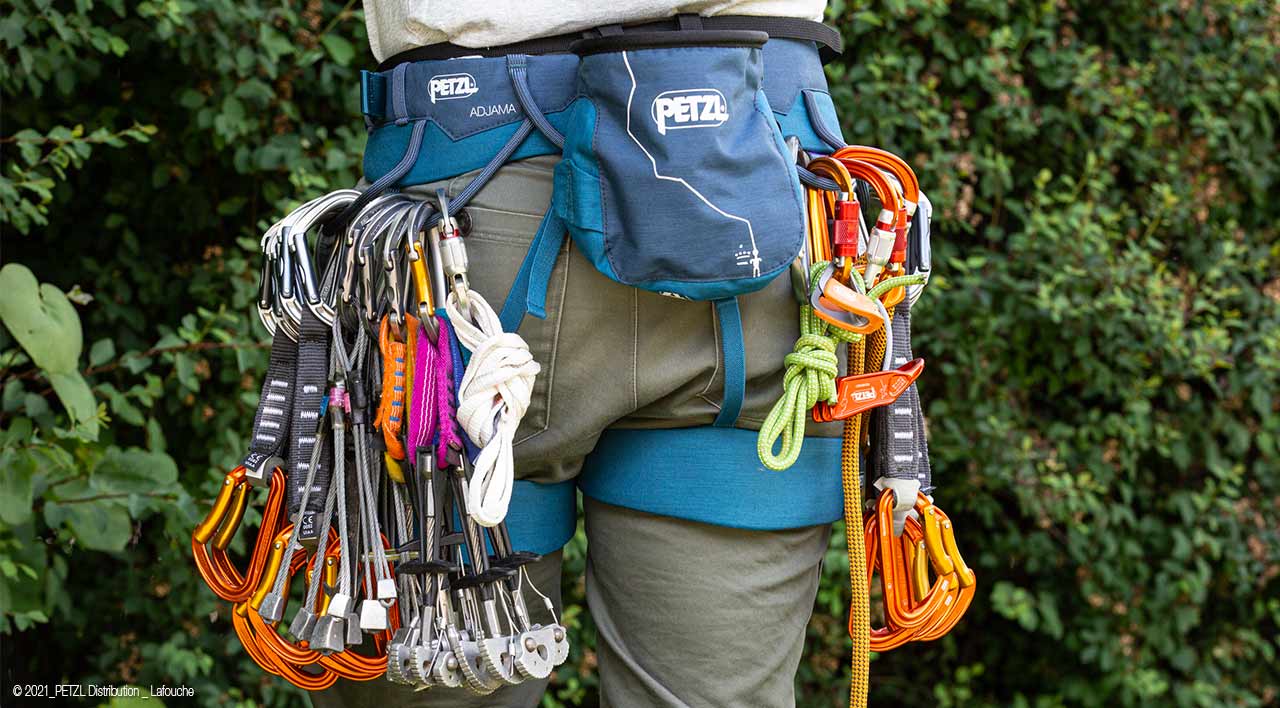 A Few Helpful Tips
If your gear loops feel too bulky, the slings can be carried over your shoulder, bandolier-style. If you choose this method, avoid crossing them over one another, to make sure you have easy access to each sling. 
Having a topo guide to the route you're climbing can be crucial. One practical and lightweight solution is to print it out, fold it up, and slide it into a small, plastic pouch attached to your harness.
Now you're ready to take on the multi-pitch climb of your dreams! All that's left is finding the right weather window and the ideal climbing partner to go with you!