Tips, tactics, and techniques for ski mountaineering
For ski mountaineers, carrying the right gear provides access to an endless playground of incredible summits and mind-blowing descents in the high mountains, on glaciers, or in the steeps. Ascents often involve only slightly technical climbing, like a moderate snow route to the summit, since the goal is to descend on skis. Nevertheless, this relatively easy terrain still requires carrying and being prepared to use the essential gear when necessary.
February 1 2017
Ski touring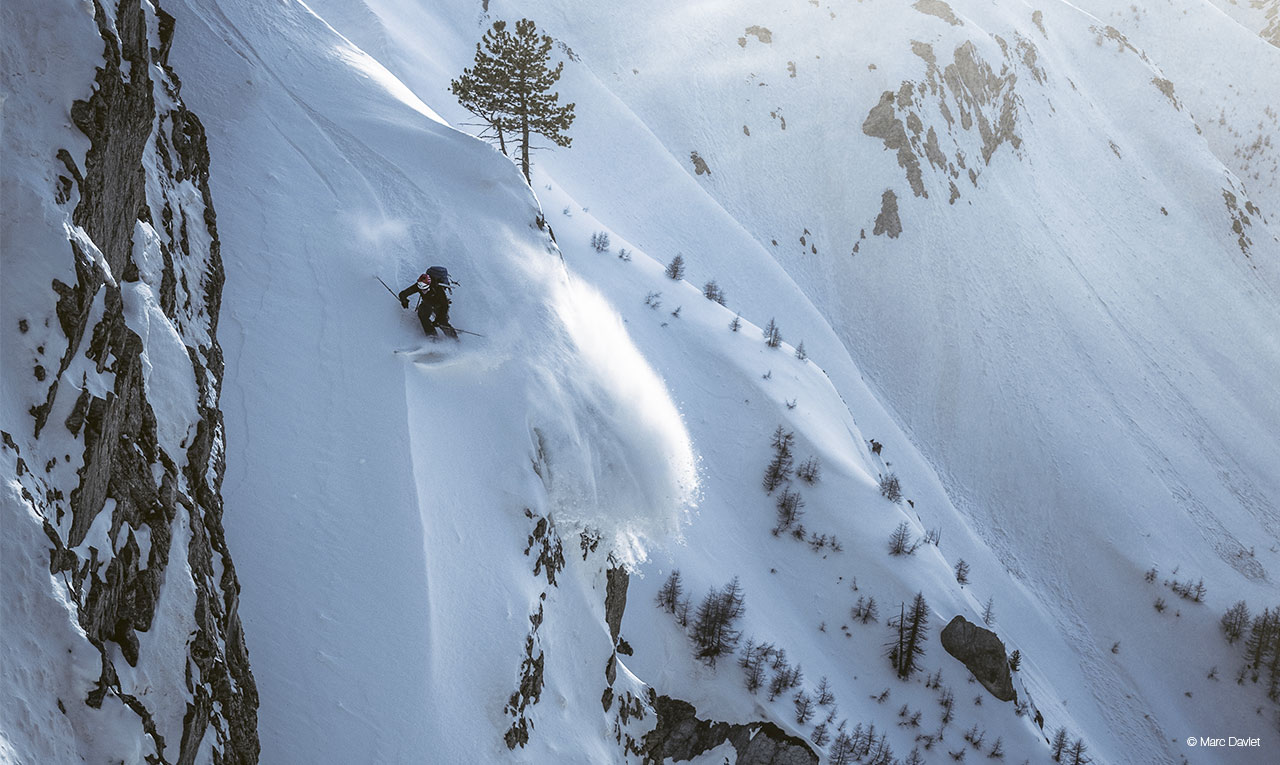 Quick access: 
---
Preparing your pack: gear for both the ascent and descent
Choosing the right gear should allow you to climb the peak you plan to descend as well as to deal with any potential difficulties. Carefully review your objective before leaving to see if you will need a dynamic rope for belaying on the ascent, or if lightweight cord will suffice to pass over any potential obstacles on the descent. Remember to bring extra slings or pieces of tech cord to be able to make an improvised anchor if needed. Choose lightweight aluminum crampons if there is only snow on the route, otherwise take steel crampons on routes where you will encounter ice and/or rock.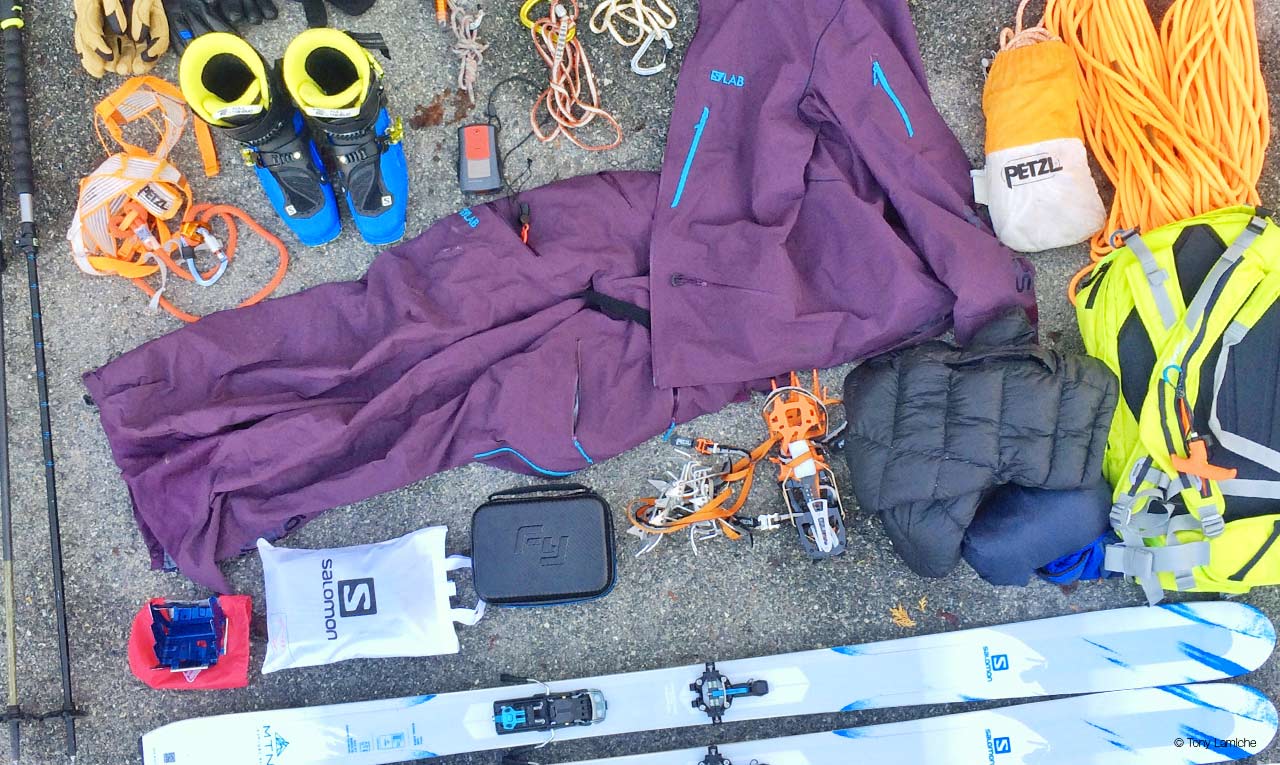 What gear should always be in your pack? 
The essentials to carry:
Warm clothing, gloves, an extra beanie,
A ski or climbing helmet,
Sunglasses and goggles,
Sunscreen,
A first aid kit, survival blanket, an e+Lite emergency headlamp.
The requisite technical gear:
A lightweight ice axe (or two technical ice axes depending on the ascent),
A lightweight harness,
A pair of crampons,
A RAD SYSTEM that includes a lightweight static rope and the necessary gear to set up a hauling system OR a dynamic rope and the proper crevasse rescue gear (progress capture pulley, rope clamp, carabiners, slings),
A tether,
Two medium-sized ice screws (or longer depending on the ascent),
A few slings and locking carabiners,
A high-performance headlamp for the early-morning approach or a late return (planned or unexpected),
And of course the requisite snow-safety gear: transceiver, shovel, and probe.
---
How to properly use your ice axe and crampons
As soon as you venture beyond classic off piste descents, you may need to climb a steep couloir or traverse along a ridgeline before clicking into your skis on the summit. Ice axes and crampons are essential tools to keep you stable and secure throughout your adventure.
How to properly use your ice axe when skiing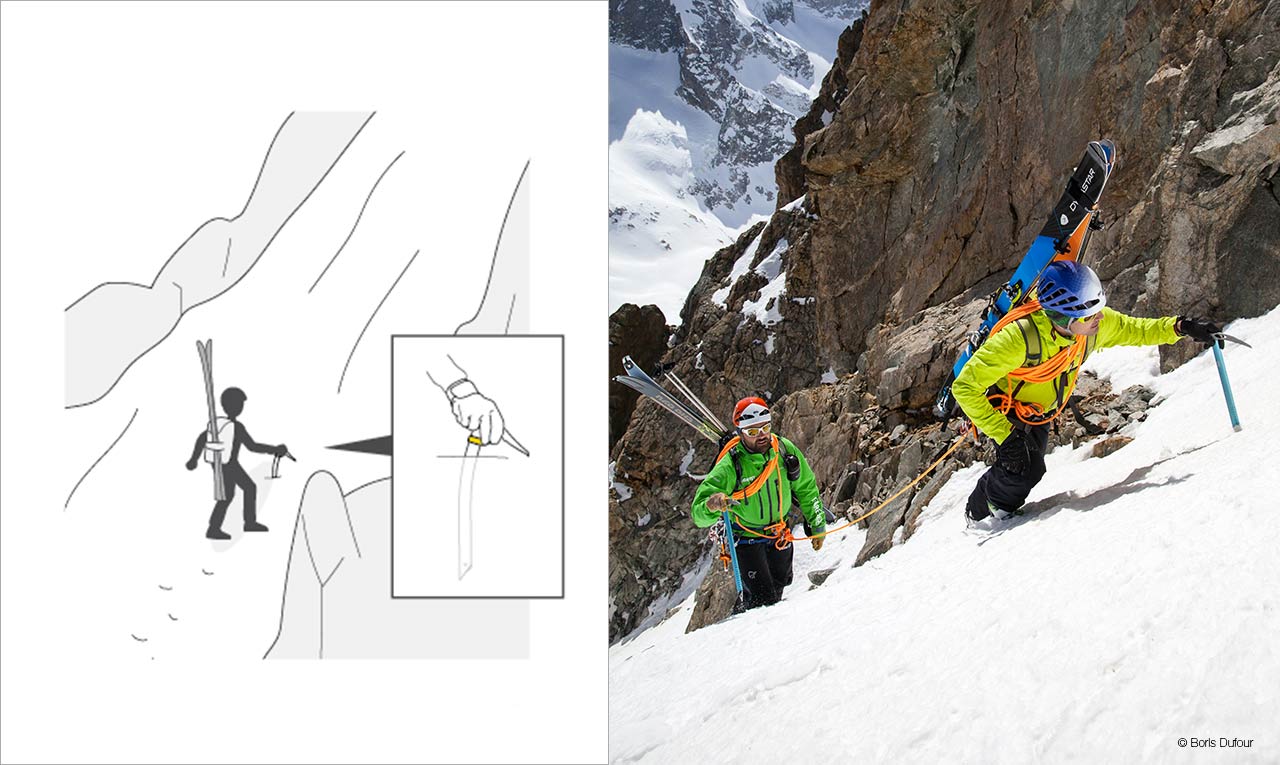 How to properly adjust your LEOPARD LLF and IRVIS HYBRID crampons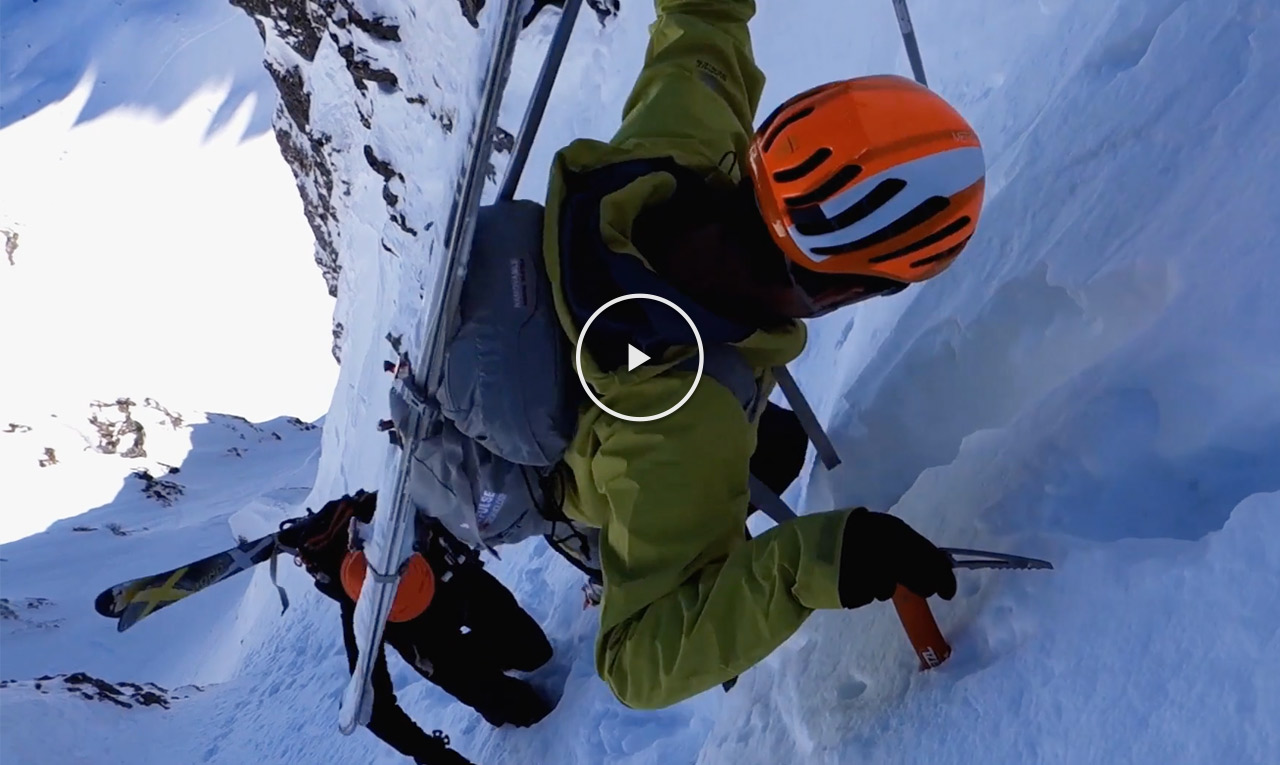 ---
The RAD SYSTEM multi-purpose kit
Many incredible ski descents are difficult to access or exit due to a steep overhang or headwall at the top or a cliff at the bottom. Bring the RAD SYSTEM with you, a multi-purpose kit for crevasse rescue, rappels, and roping up on a glacier, to easily move past any obstacle.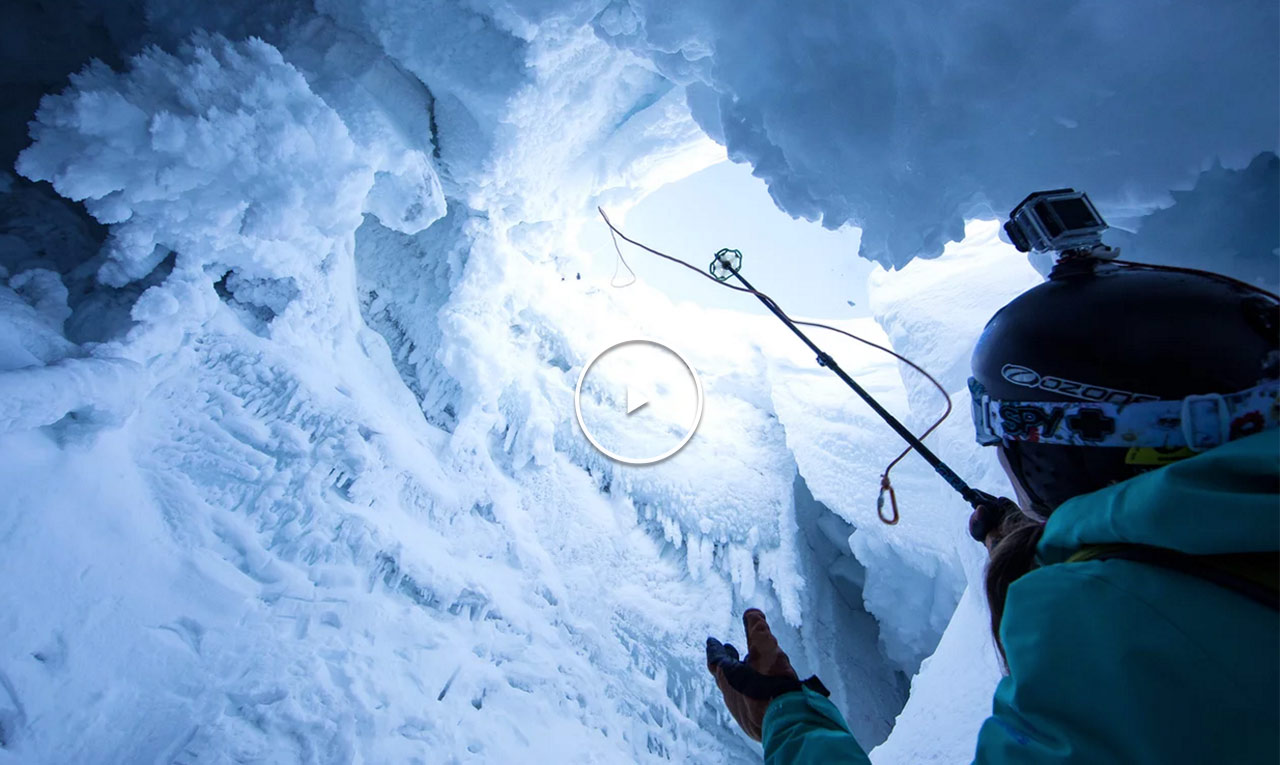 Further explanation about the RAD LINE static cord in the RAD SYSTEM:
When you carry a rope with the intention of using it as little as possible, it should be lightweight and easy to pack. These were the key requirements when we designed the RAD LINE: lightweight and compact. The necessary trade-off: a static cord. When compared to a dynamic climbing rope, the RAD LINE will not absorb the force of a fall.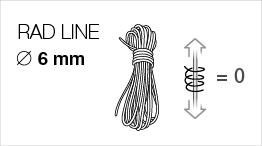 The RAD LINE is not designed for stopping falls, except for a crevasse fall, which represents a specific and unique situation. Several tests support this conclusion.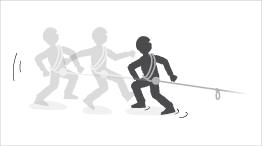 View the tech tip for glacier travel and arresting a crevasse fall using the RAD SYSTEM >
The situations for using a RAD LINE are clearly defined in the technical notice. There are a few common situations in the mountains when the RAD LINE should not be used since the force is too high in the event of a fall.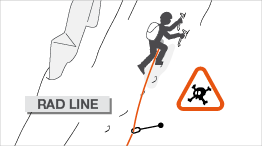 View other climbing situations that are incompatible with the RAD LINE hyperstatic cord >
---
Self-rescue techniques
Getting past a difficult move, rappelling, glacier travel, so many techniques that you need to learn when skiing off piste, in the backcountry, or in the high mountains. Here are Petzl's tech tips to ski safely!
Getting out of a difficult situation
The goal of a ski descent is, of course, to ski and to leave the rope and crampons in your pack. However, conditions may require both, and knowing how to handle the situation effectively will allow you to avoid any unnecessary risk.
How to switch from skis to crampons on a steep slope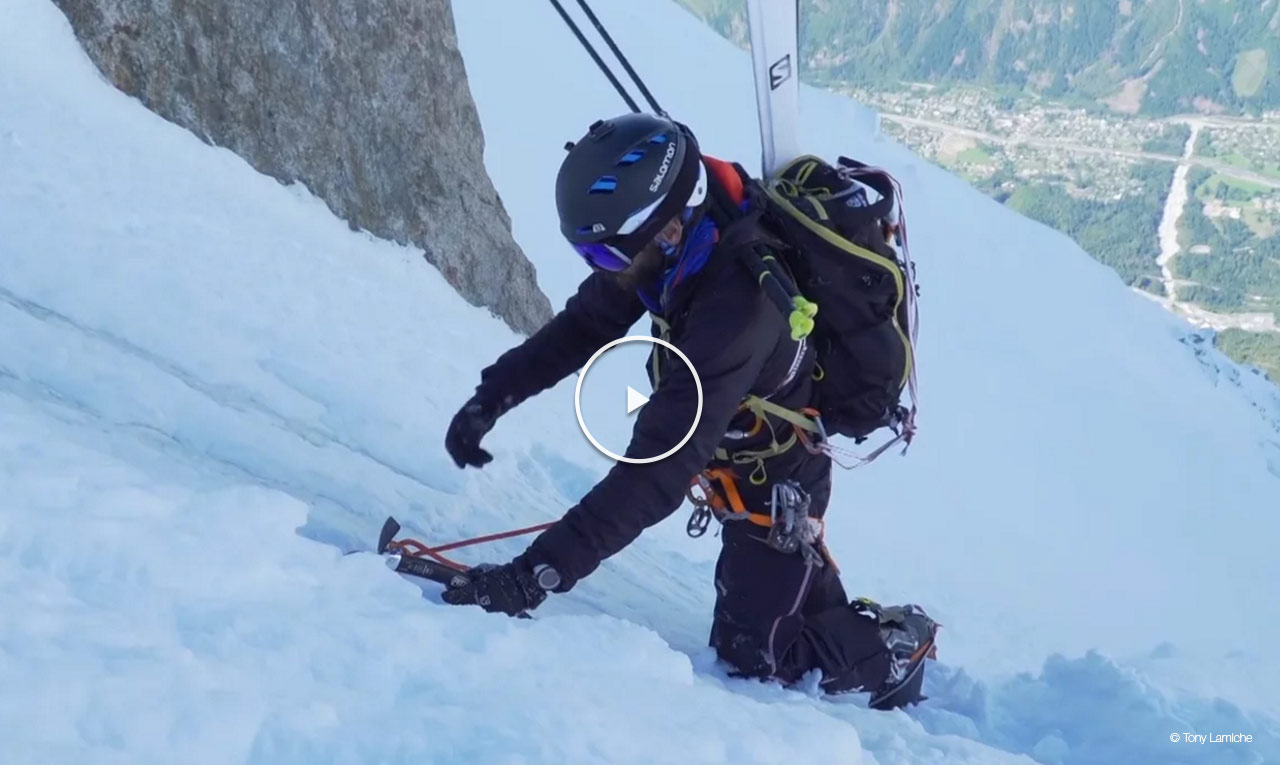 How to help a partner in trouble on a ski descent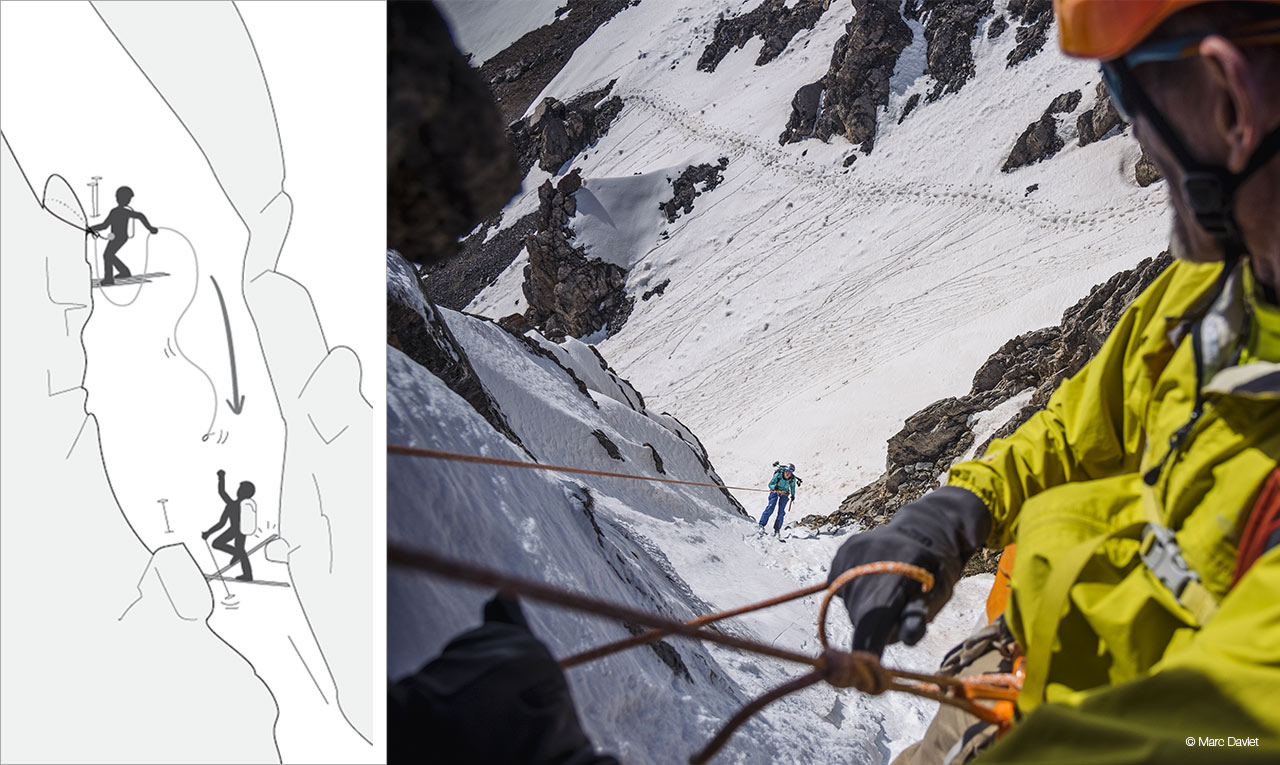 Rappelling
You can use the RAD SYSTEM to rappel. This is one of the primary uses for the RAD LINE, the hyperstatic cord in the RAD SYSTEM. This small diameter cord should only be used in certain situations.
How to rappel using the RAD SYSTEM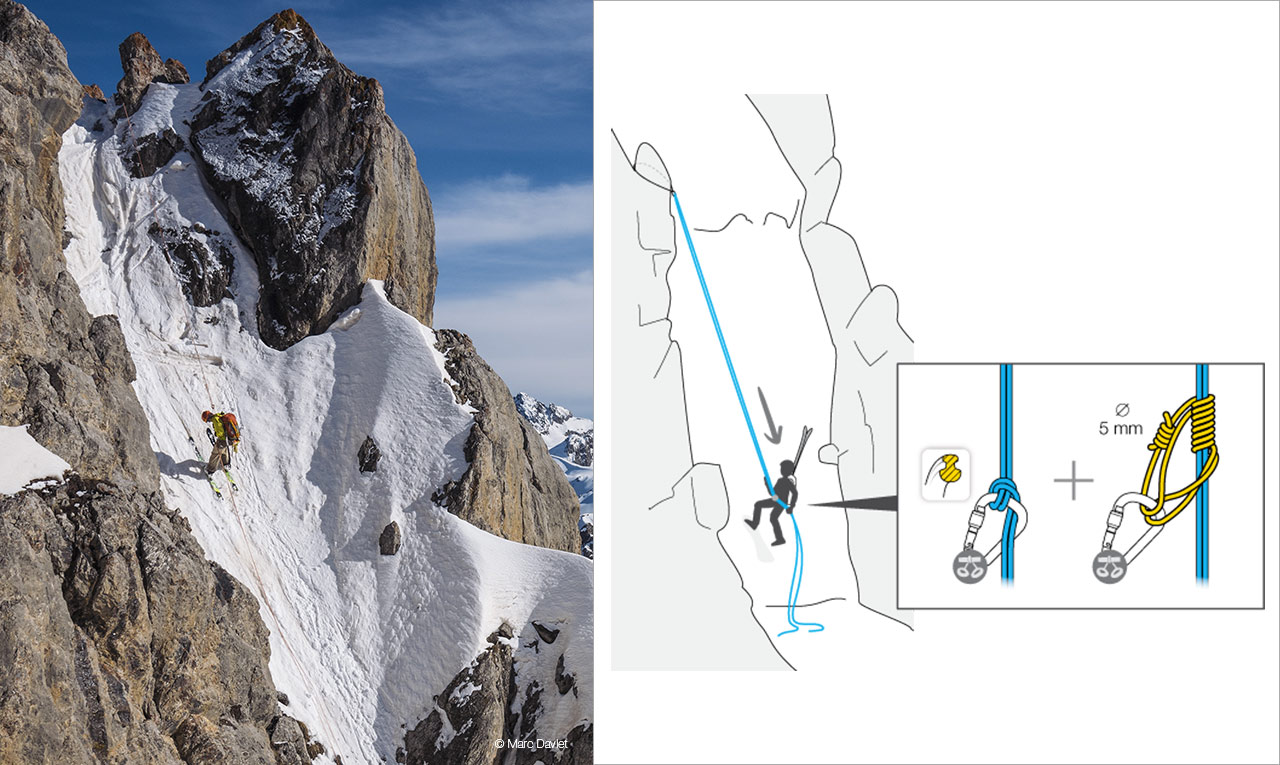 Glacier travel
While skiing on a glacier with seracs all around you is an amazing experience, do not let the beautiful setting steer your attention away from the inherent complexity and hidden dangers. 
Who should carry the rope in a group of skiers? 
When the rope is in your pack, it should be readily available for use in the event of an incident or accident. If the person carrying the rope falls into a crevasse, what will you do?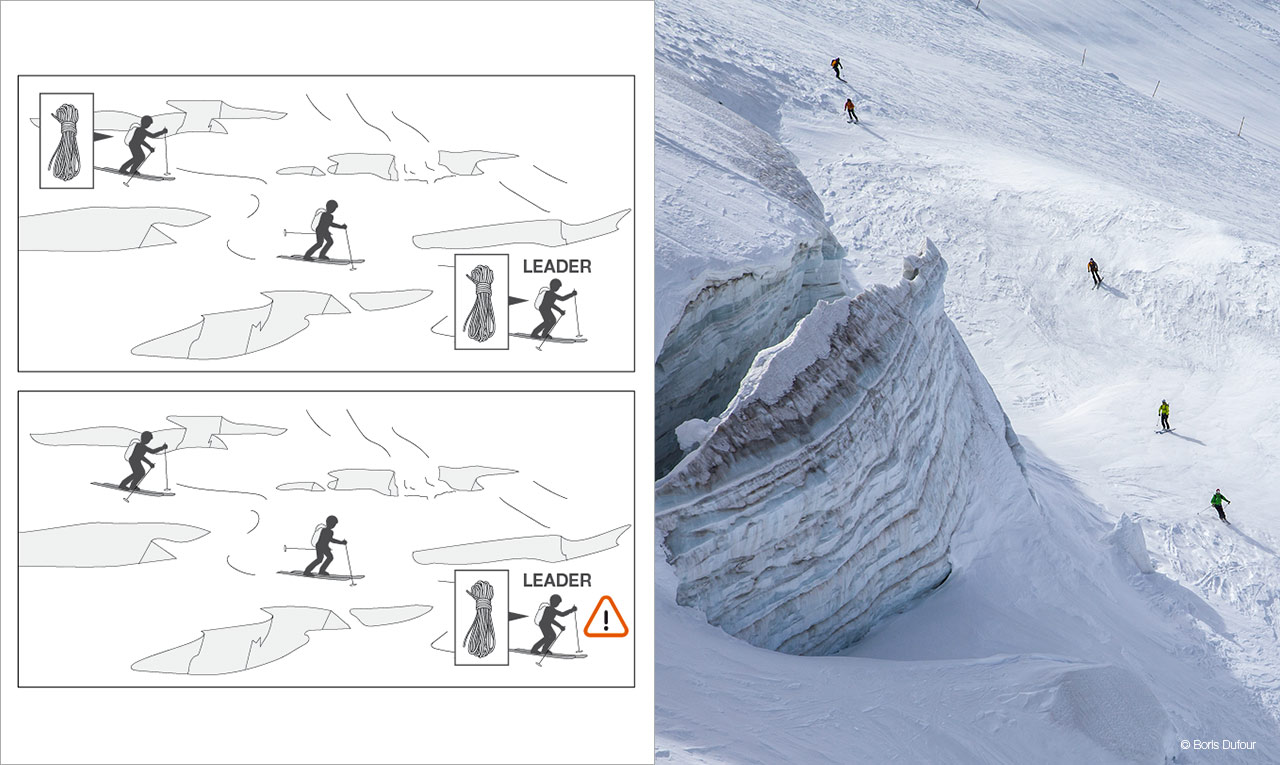 How to set up a haul system for crevasse rescue
Knowing how to set up a haul system will allow you to rescue a friend who has fallen into a crevasse as well to raise them if they are trapped on a section of ice without any edge hold. A hauling system can be quick and easy to set up as long as you know the basics!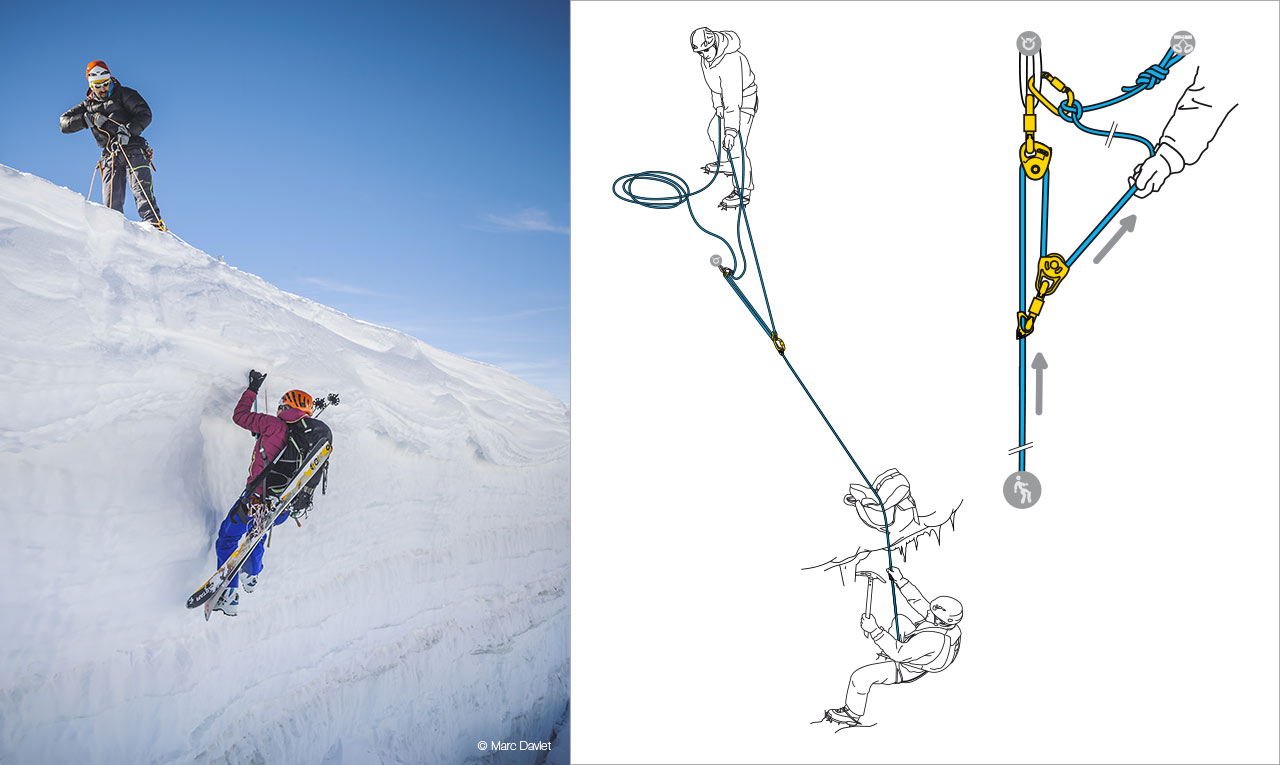 View the full tech tip for illustrating the primary haul systems to use >
---
Read all tech tips for skiing
On each activity page, all tech tips are organized by chapter: basics, descent, progression……
View the activity page for skiing >