Reinventing Ski Touring
Over the last few years, there's been an awakening in environmental conscientiousness, and it's been reinforced by the current health crisis. If the natural world is to remain our playground, how can we adapt our habits and behaviors to be more respectful? How can we reinvent the way we recreate? We spoke with Vivian Bruchez, mountain guide and professional skier, known for his steep descents. He tells us how he has approached this shift.
February 25 2021
Ski touring

 
The Age of Reason 
Vivian sees this need for change as anything but negative; in fact, he is at peace and even more motivated by the new developments in his favorite sport, steep skiing. He explains how he reevaluated the different options for excursions in his backyard. Above the Chamonix Valley, there is no shortage of opportunities! 
"Everything starts with the age of reason", says Vivian. As a father and experienced skier, the current global challenges we are facing have prompted him to take action. He recognizes that the Covid crisis disrupted the world in terms of our impact on the environment. "The planet is my life! It's my passion, I need nature to live." The challenge is to keep this in mind while staying active. "I'm even more motivated to be further involved in my activity, but in a different way. For example, I dream of riding all around the Alps on a non-electric bike!"


Accessing Lines Via Electric Bike
"Skiing close to home, okay, but you still have to get there somehow, even if it's only a few dozen kilometers away!" Vivian explains, "I've been thinking about this for a while, I wanted to get an electric bike to access different areas. Electric, because it's necessary in order to do these excursions in a single day. Finally, being in quarantine pushed me to bring the idea to life! The mission started when we left the house at 1 am and rode through the night to arrive below the summit in the early hours of the morning".
"I find so much pleasure in doing this. I'm rediscovering my sport by adding another activity: biking. It's really something to say that after the day's descent, we still have work to do, biking to get home! It's a new vision in the discipline. It's perfect for spring and autumn when you have to go look for snow."


A Different Outlook
"It's a real journey." The skier is approaching the sport from another angle: leaving before dawn, making the first tracks before sunrise, accessing an incredible atmosphere, living the full mountain experience and taking your time as you go. "Starting down in the valley and arriving at the summit, savoring every step of the ascent, it's a very different feeling than when you find yourself directly at the top by taking the ski lift or cable car". 
Vivian emphasizes how he is viewing these recreational activities with a fresh perspective, "I've always spent a lot of time in the mountains, and even more time recently. The more time I spend, the more I discover new things; being observant and curious allows us to see a broader picture." A hiker that often walks close to home could do this in another way, like hiking with more intensity and speed to reach the summit as fast as possible, or they could take an exploratory approach and follow different trails. Vivian's idea is to always be rediscovering the project with various itineraries or in a different way altogether.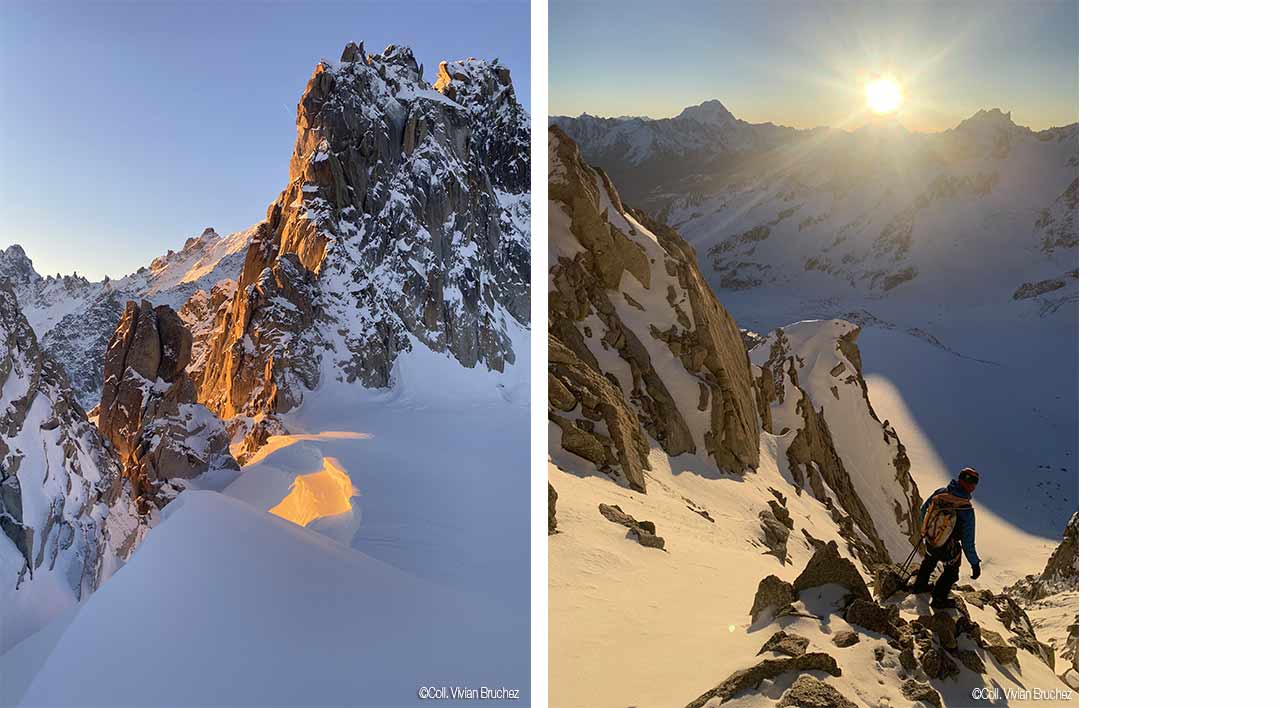 Making the Time
It takes time to change our habits. "It's the opposite of our current lifestyle. These days, we seem to have less and less time. It's not an easy change to make and it's a personal choice", explains Vivian.
He recognizes that making this kind of change is not easy, "Yes, it's more complicated, it's more strenuous, and there is more elevation gain. It means accepting that you won't go as far, but it's a real adventure. You're not filling a void, but you feel fulfilled."
If you ask Vivian, the Alps can be skied all year long! "If you're really motivated, there is so much to do in the Alps, it's never-ending!" However, this unshakeable motivation for ever-more challenging excursions has the unfortunate consequence of a dwindling pool of potential partners. "I don't prepare any differently, but the activity becomes a lot harder because I have to carry all the gear, the pack is heavier, and the days are long: 6 am to 10 pm. You have to be resilient for these missions!"
For those who are not particularly drawn to these kinds of "missions", Vivian has some advice: "You really have to love the approach of starting from the bottom. This year for example, with lift closures, everyone rediscovered ski touring! In order for this not to feel like a negative change, you really have to learn to love it. To love the different approach. One time, we had to do more than 4 km of cross country skiing to arrive at our line. It's not the most fun thing for us, but we learned to love it. We did it at night and it was awesome! Regardless of level, we're learning to love the things that we usually dislike."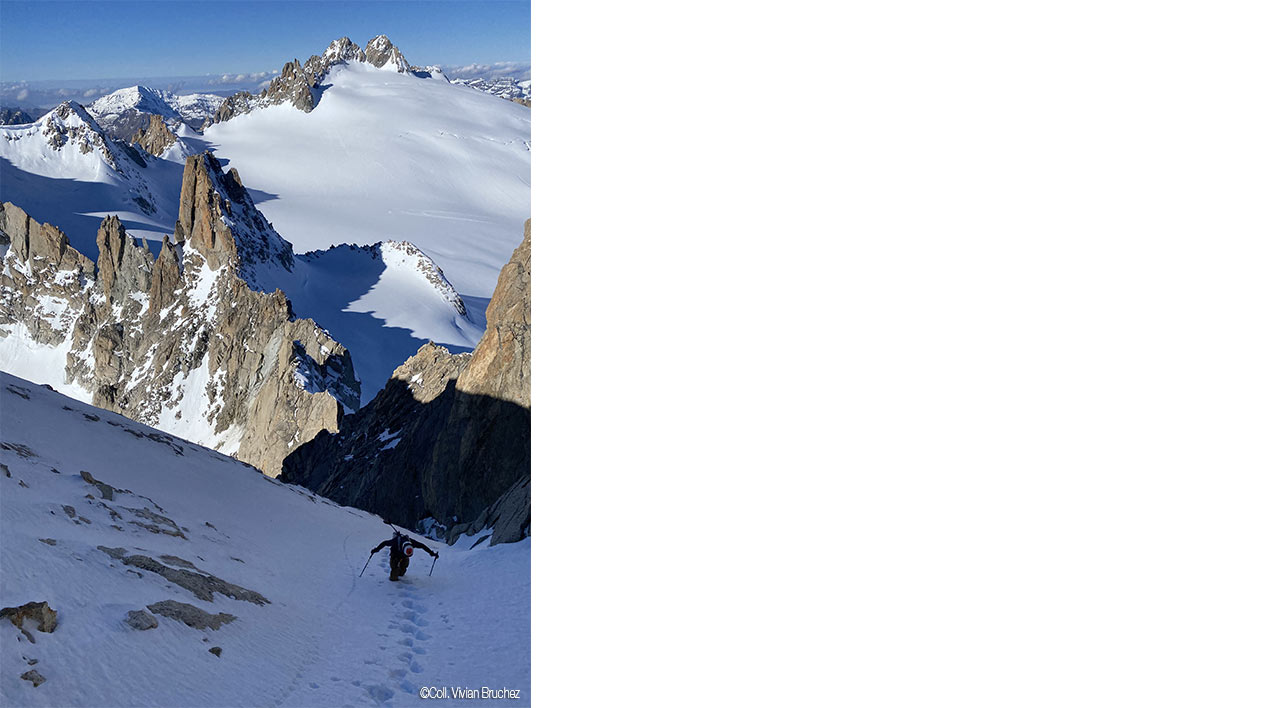 A Day Out with Vivian, Starting from His House:
• Depart at 1 am from Vallorcine
• 2 hrs of electric bike to the summit of the ski lifts in Tour, carrying the pack of gear
• 1 hr hike to the Albert Premier Hut
• 2.5 hrs of ski touring to arrive at the Aiguilles Dorées (Aiguille de la Varappe)
• 1 hr of mountaineering to ascend
• Summit! 
• 30 mins of skiing in the couloir
• 1 hr of ski touring to reach the upper saddle of Tour and head back towards the Albert Premier Hut
• 1 hr of hiking to get to the bikes
• 30 mins of biking to return to the house and take a loooong nap!

Total: 9.5-10 hrs of playing in the mountains!