WORKING A ROUTE: HOW TO
After his first steps into grade 9 this summer, Hugo Parmentier ticked his first 9b with Eagle 4, this past January in Saint Léger. It took several weeks of projecting the route to send it. Here's your "how to" for working a route.
April 27 2020
Rock climbing
Work More to Perform Better
Climbing after having worked a route means that the climber knows the route. They've taken the time to rehearse the movements to execute, the difficult sections, and the rests. If the climber stalls out, they can fall, rest in their harness, and try a move again. The goal is to optimize and retain every detail in order to successfully link all the moves until the chains. 
This practice of projecting or working a route can sometimes seem abstract to certain climbers. On the other hand, others argue that "that's climbing". In the end, the definition of rock climbing is subjective. Alex Lowe said, "The best climber in the world is the one having the most fun."
Whatever is it, projecting routes in rock climbing remains a practice in its own right that requires optimal management of all variables. In addition to searching for the limits of one's physical abilities, it is also a grueling mental exercise with repeated failure until the "sacred" day of ascent.
Visualization, belaying, training...Hugo gives us his advice for sending a project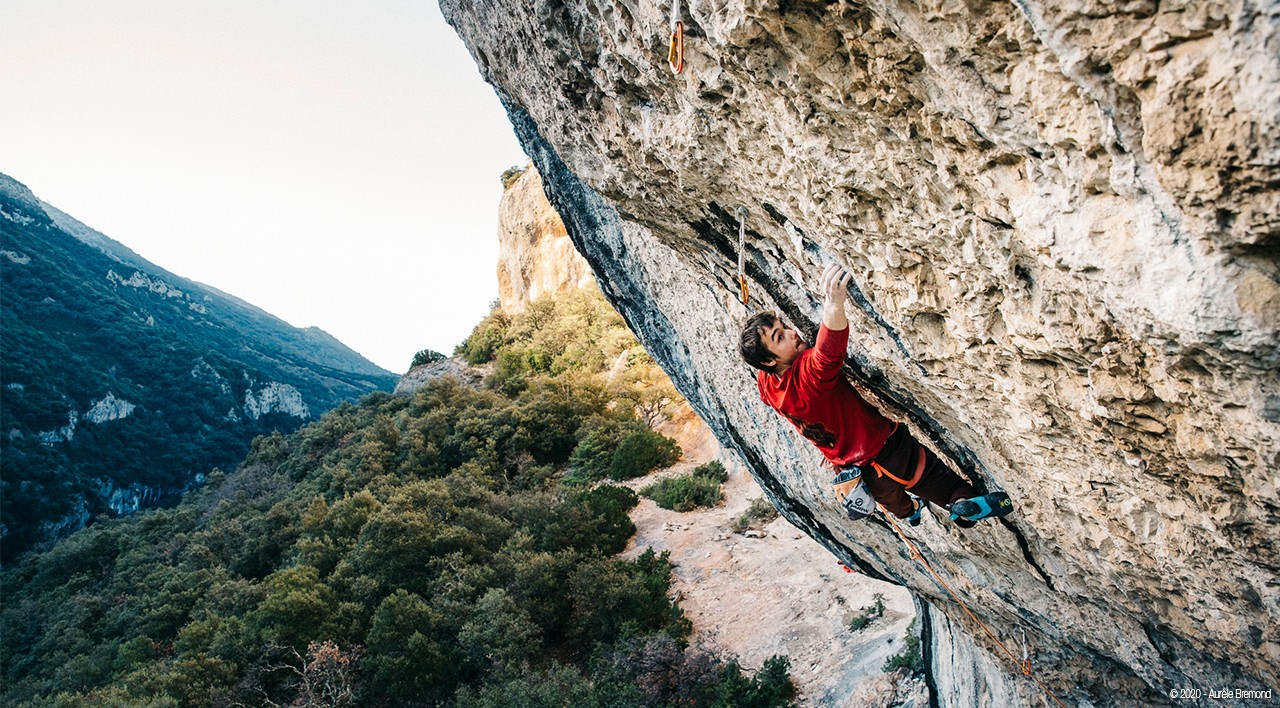 Hugo Parmentier on the 9b, "Eagle 4", in Saint Léger
The Adventurer 
The route has caught your eye and you can already feel the holds in your hands: the dream begins. The first step is deciphering the route. The goal is to find the sequence that seems the easiest to you. It's very personal. It's important to take your time and not to overlook something. You should keep in mind that every trick or slightly different method that makes the movement feel easier will be energy saved for the redpoint go (an additional foot hold, a knee bar, switching your hands, a heel, a drop knee, or a thumb catch). Figuring out the beta on a route can take several sessions. 
The first few times on the route are especially challenging because we don't give ourselves very much time to rest between moves, for fear of seeing our belayer replaced by a tree at the foot of the cliff. Think about coming down to rest (and to belay). 
Mentally, this process can be demoralizing. You can't do all the moves, you struggle through the easier sections, the chains seem like nothing but a vague memory. You get the urge to throw your climbing shoes in the vegetation below, cursing this route that is tormenting you. 
Don't give up, stay positive, recognize your improvements that may be useful on the next try, because things can change fast. 
Tips: 
Your beta, or the way in which you climb the route, can evolve over time and it is never too late to change it. 
To this end, don't hesitate to discuss with other climbers around you, they might have some good advice. 
Trying to go all the way to the chains on your first go is not always the right thing to do, you risk being too tired for the rest of the session.
 
The Shaman
The first few goes are when you will start to understand the key moves, feel the holds and the body positioning, and memorize them. Allow your mind to understand the body movement and allow your body to learn it. While you're hanging in your harness between tries, it is good to start to remember your beta, as well as the man and foot holds. 
Images of the routes are constantly popping into your head, and the desire to go back with them. That's it, you've been bitten! At the foot of the crag, at night in the shower, while you're lying in bed, visualization helps you make fewer mistakes and be more efficient. It's a constant practice. 
While doing this exercise, I try to have the same vision as when I am trying the route. 
Tips from a pro:
Drawing the route on paper can help with memorization, especially if you have trouble visualizing. 
If you just can't remember where certain holds are, you may be able to tick the hold with chalk. Not to be confused with your third grade chalkboard, however, just like in class, make sure you clean it off once you're done. 
Redo the sections that are giving you trouble, this can help you remember your beta.

Your beta can evolve over time, it's never too late to change it. 
The Weasel
It's all the little details that are going to make the difference for sending the route.
Extending quickdraws to reduce drag or make it easier to clip. 
Having a quality belayer that you trust, who belays smoothly and knows the route. 
Imagining yourself trying hard and the variations of rhythm: rest at strategic spots, on good holds before the crux, move faster during the difficult sections. 
Consistently brushing the holds. These are all things you can do that will make a difference.

Tips:
It seems that Greenspit brushes get chalk off the wall better than others. It seems...
The Heart
Climb à muerte (in spanish)
Once you have found the right method, it's time to give it your all! Without thinking about your previous tries, have fun climbing and try to go as far as possible. After falling, try to get back on and keep trying hard until the end of the difficult sections. It's in this state of mind that you'll see your progress and be able to imagine yourself sending the route. 
It's up to you to manage your fatigue the best you can throughout the day. Managing your ever-important skin, as well as muscular or mental fatigue. Mental game is crucial for staying motivated. Sometimes it is good to preserve your strength for the next day.
 
Tips:

To preserve your skin, climb when it is cooler out (avoid climbing in the sun at 2 p.m. for example). 
… of a Fighter
"One more try is never a try too many." -Hervé Solignac 
I love this state of mind and I find it extremely effective for two reasons:
The first is that we will get even more familiar with the route by giving it more geoes. 
The second is that climbing while tired improves how you feel when you are trying it while rested.
But again, you have to be able to tell the difference between feeling tired and feeling acutely lazy about having to warm up again and hurt your skin again, etc. 
"Mastery is nothing, it's only commitment that counts." -the famous Hervé Solignac

Don't forget that when Chris Sharma is climbing, he doesn't think, he charges.
The Safety Brief
First things first, check your gear and your partner's. 
Next, doing a partner check and tying a knot at the end of the rope remain the non-negotiables for every session. 
If you have any doubts about the gear already in place, like the condition of the webbing, carabiners with sharp edges, or defective gates, replace them with your own. It's better to have one less quickdraw at the cliff than a damaged rope, a ground fall, or worse. 
Tips: The tag on the Spirit quickdraws indicates their age. 
A few questions for Hugo: 
 
You sent your first 9a less than a year ago, your first 9b in January...did you eat a lion this fall?
A big salad and a few eggs! It's good to protect lions and wild animals.
 
Do you know Ray Verso? https://cutt.ly/pyiFyNd
I am desperately trying to meet him so I can introduce him to Jean-mi. 
 
Jean-mi Looktheotherway, he can't hear much either. It's a nightmare trying to pull slack. However, he is very light and very dynamic. 
 
And your best belayer? Who is it and why?
Pierre Isawnothing, he sits on the rope when I'm clipping the draws! That helps a lot. Il a aussi le dont de la parade juste.
 
A rumor is circulating that you don't bother climbing in the 8 grades anymore.
Fake News! It seems impossible to me for that to change, sniff. 
 
Did you have any moments of doubt on the project?
Yes, I took 15 days of rest after a good period of training, and when I returned to the route I had made very little progress. It was terribly depressing. But perhaps even worse was that I regressed in the same trip. 
 
Was there something that reignited your motivation?
Letting go and going to see other routes when I really wasn't making progress and the fun dissipated. Climbing something else, other beautiful lines, other beautiful sequences. 
 
Tons. But nothing really defined: "The obsession doesn't begin until after you've tried."
Everything has been a bit shaken up this year, but I can talk about Jungle Boogie in Céüse, which is a huge project. But also, Voie Petit au Grand Capucin or even a hard multi-pitch route in Ramirole. To be continued…
Text: Hugo Parmentier
Photos : Aurèle Bremond
Editing / Format : Antonin Cecchini
---
Go Further
Share our passion for climbing, follow us on Instragram!

 @Petzl_official