Mathieu Maynadier and Max Bonniot link up Meije, Bonne-Pierre, and Ailefroide!
From August 15th to 22nd, Mathieu Maynadier and Max Bonniot completed a spectacular link-up in the Ecrins Range (French Alps). An excursion made challenging not only by the difficult routes ascended but also due to the extremely unstable weather and combining several days in a row in the mountains without rest. Mathieu Maynadier provides us with a trip report of this "backyard expedition".
September 3 2014
Mountaineering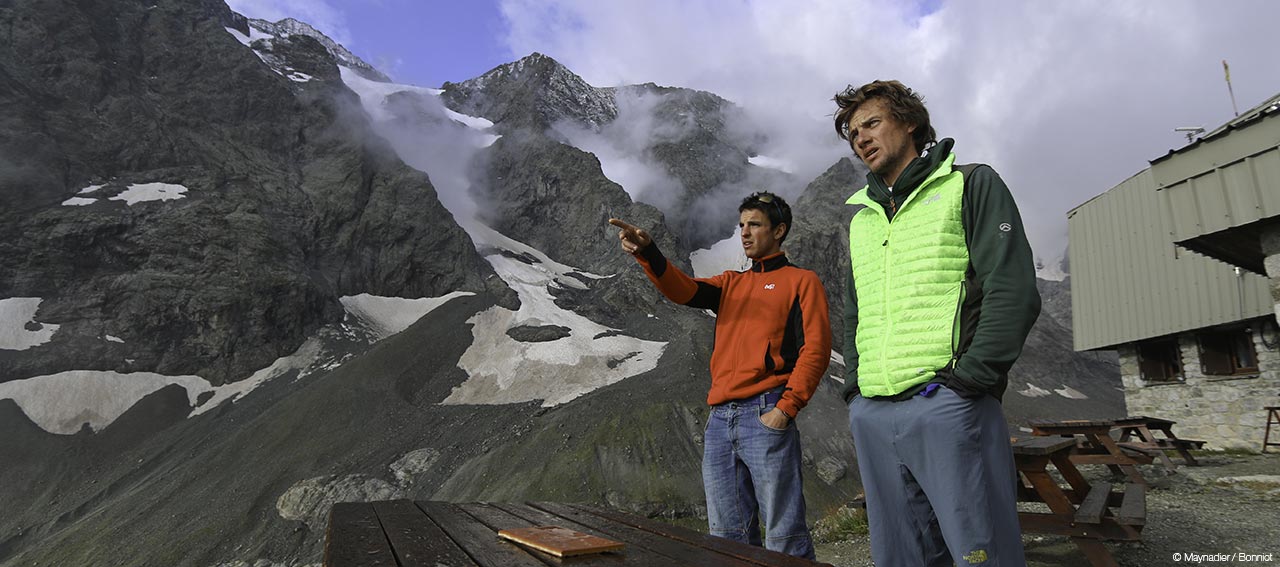 I had wanted to complete this link-up in the Ecrins Range for quite some time, to spend an extended period of time in the mountains, as well as to go on an expedition "in my backyard."
First step: finding partners
It was not easy finding the desire to head into the mountains this summer given the bad weather. Preparing for this trip turned into a lesson in patience. Waiting for the right weather window as well as finding people both eager and available was a challenge in the middle of August, especially given that most potential partners were guides. August is the high season for them! Thankfully, and always true to himself, Max was available, highly motivated, and in great shape. For everyone else, we would just wait and see depending on motivation and availability.
Waiting for good weather.
You could say that this past summer was not the most favorable for adventures in the mountains. One storm rolling in after another as time continues to fly by, and my ambition starts to become pretty water-logged. Thankfully, a window of good weather pops up in the forecast for mid-August. This will have to do; I simply cannot wait any longer. I postpone all of my plans as a guide, knowing that I will have to go back to work at some point.
Finally we're off!
The long-awaited window of good weather finally arrives. We have no idea if this will last for the length of the entire project, but it is worth a shot. We leave La Bérarde on the 14th. It is cold with clear skies, a great start! When we reach the Promontoire Hut, we feel a bit cursed! The hut manager has just spoken with the local meteorologist and tomorrow we can count on the freezing level being at 2800m, 50 km/h winds, and a wind chill factor of -20°C at 4000 meters!
At least there won't be any rock fall!
At 04:00, skies are clear and temperatures not too cold. We're off to climb a mixed route typical of the Ecrins. Mediocre rock (read chossy) and poor options for protection means that the climbing itself turns out not to be our primary concern.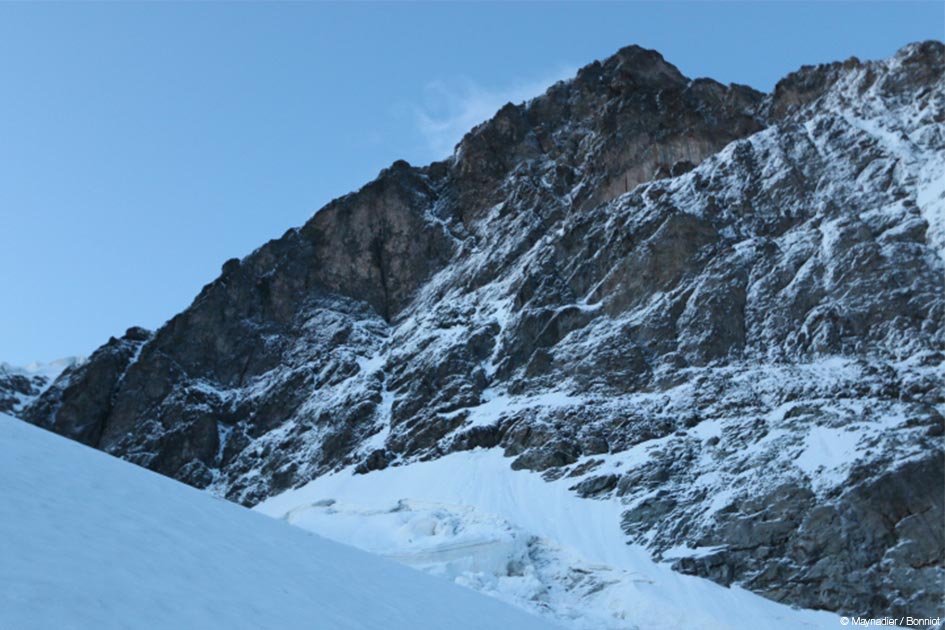 Looking up the north face of La Meije
After a few shared pitches with the Z route, we start up 7 pitches of sustained mixed climbing, with an exposed ice-free ramp as the exciting crux…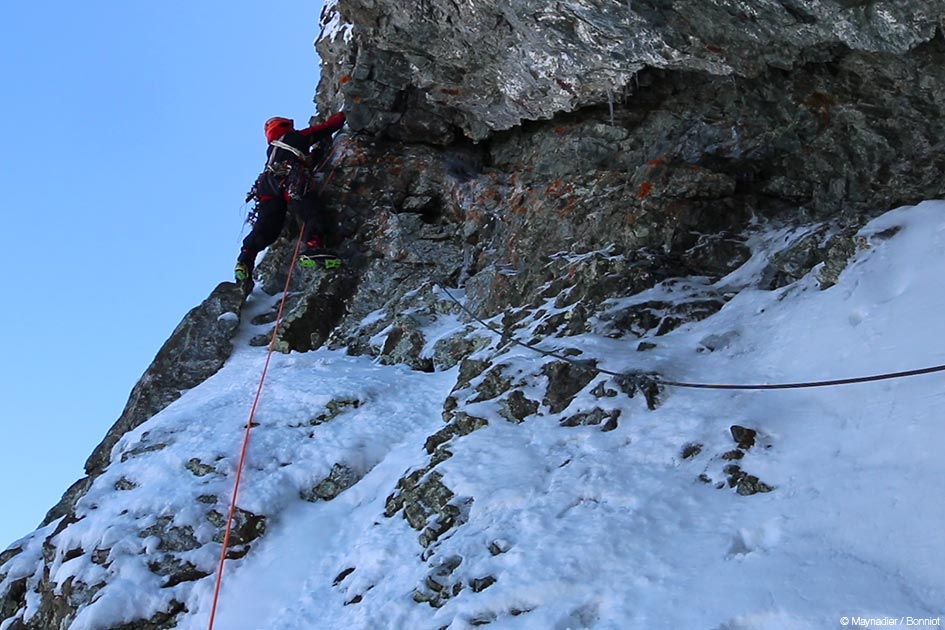 Max starting the tricky pitch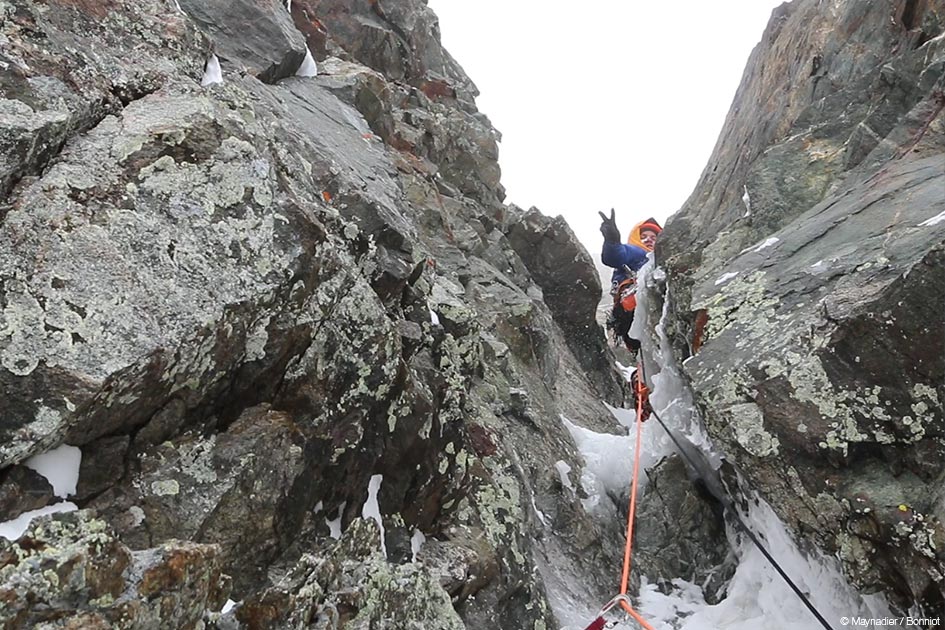 On the last few pitches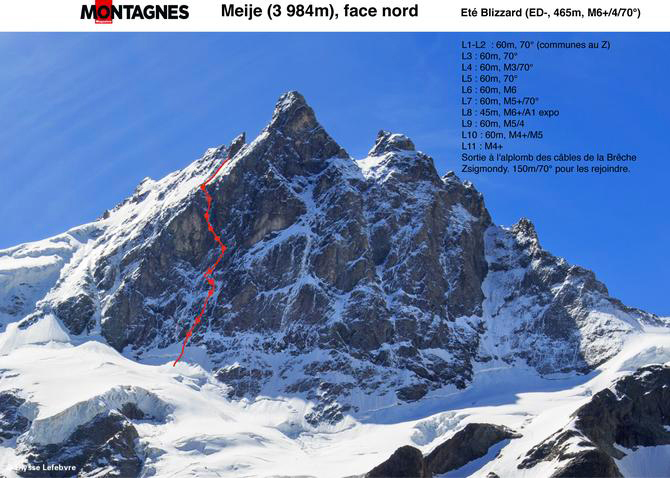 After finishing the route late afternoon in bad weather (no surprise there!), we start the classic ridge traverse with the Aigle hut as our warm and sheltered destination. Following a restless night in the brand new hut (the single dormitory gets noisy) we're off again for the next adventure, this time in the Bonne-Pierre Glacier basin. Both conditions and the weather are good, but we have a long day ahead of us. We have to go back over La Meije Notch, descend Etançons Valley, pick up our bivy gear and hike back up another valley to the Bonne-Pierre Glacier.
At 18:00 we meet up with Sylvain Digiacomo, who will join us to climb a route that Arnaud Guillaume describes as "fantastic and with great rock".
The supposed great rock is somewhat crumbly gneiss that offers little in the way of good protection…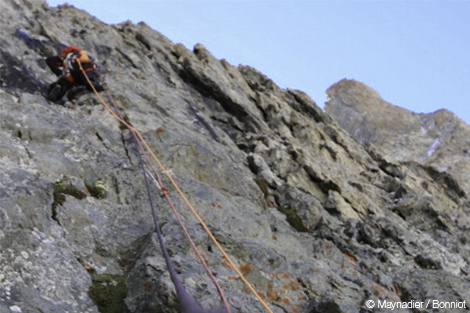 The last descent pitch before a steep and rather brittle headwall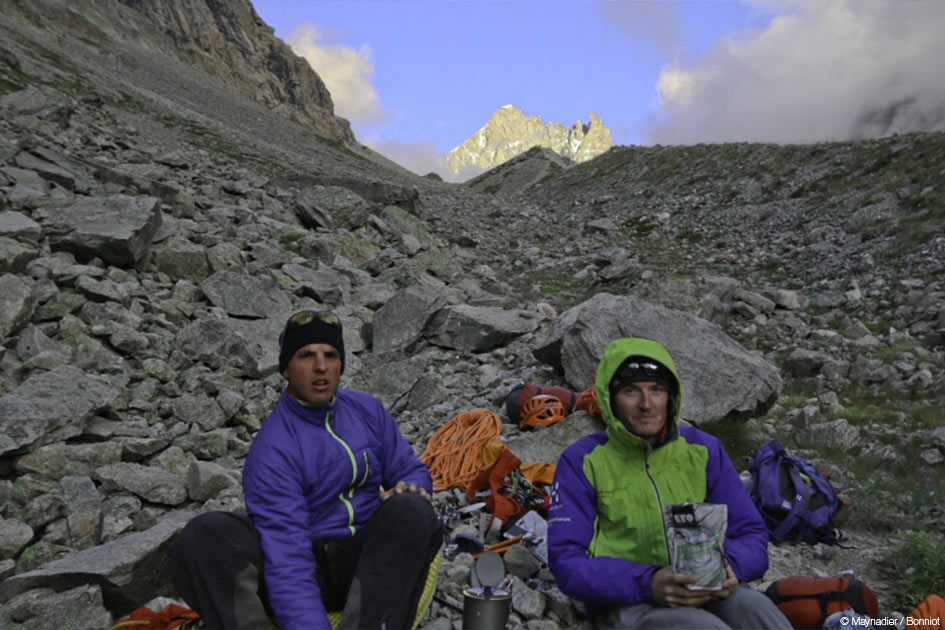 Our campsite in the Bonne Pierre Glacier basin
After reaching the summit at midnight, we flee towards the Ecrins hut for a short night's sleep. Twenty-four hours non-stop on what was supposed to be the easy day of our trip!
We head back to La Bérarde to check on the weather forecast and to determine what will be next on the agenda.
There is a lot of snow, way too much to attempt the Pic Sans Nom (No Name Peak). We decide instead to climb Ailefroide's north face.
Tomorrow the weather is supposed to be horrible. This time around the dark skies help more than hurt, providing us with a rest day. I call Pierre Labbre, who is both motivated and available. The plan is to attempt to repeat a route called Reactor, "THE" new route established this last spring. The bad weather that allowed us to rest yesterday appears to be following us, and it is in the pouring rain that we hike to the Temple Ecrins hut, arriving soaking wet and a little worried about the conditions on our chosen route. We leave at 02:00, and although the rain has stopped, the fog from yesterday's thunderstorm lingers for the entire approach. Once on the face we encounter winter-like conditions, with huge spindrifts and ice-covered rock on the beginning of the route. This summer has definitely been a weird one!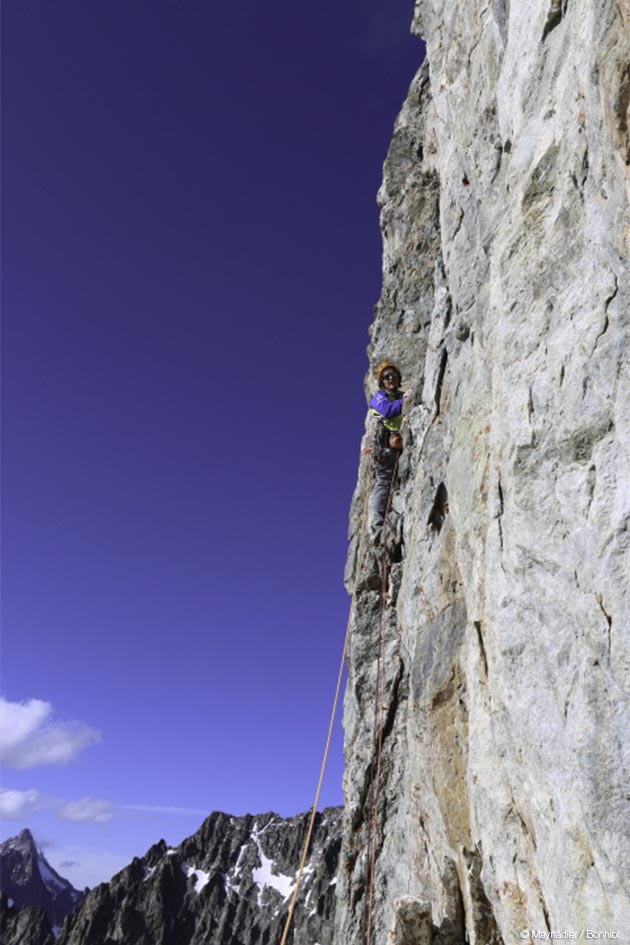 Sylvain climbing F6b (5.10d)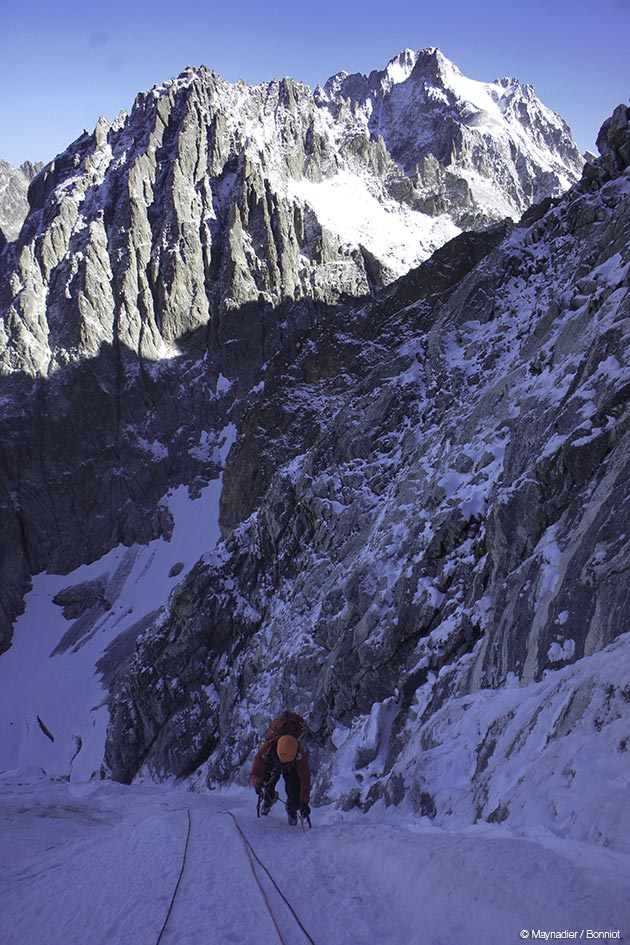 Climbing up the first section of ice
We arrive at the bottom of the headwall. The most direct line is in condition and we start the first of four pitches of awkward mixed climbing where Max gives it his all. What a machine!
When we reach the junction between "Reactor" and "Plaques" it's 14:00. Although completing the entire line to the top is tempting it means thrashing ourselves physically and mentally. Several difficult pitches remain and we have no bivy gear to speak of.
Max exclaims, "We'll just come back when we're stronger!" The full version will be a fun future challenge. In the meantime, we veer on to the "Plaques" route for three pitches, including one steep pitch on ice of questionable quality. Finally the slope angle eases off, and the upper section is even in the sun; climbing with the warm rays on our backs feels good. We reach the summit at 19:00; temperatures are relatively warm, and there is still plenty of daylight for the descent. We're pretty ecstatic!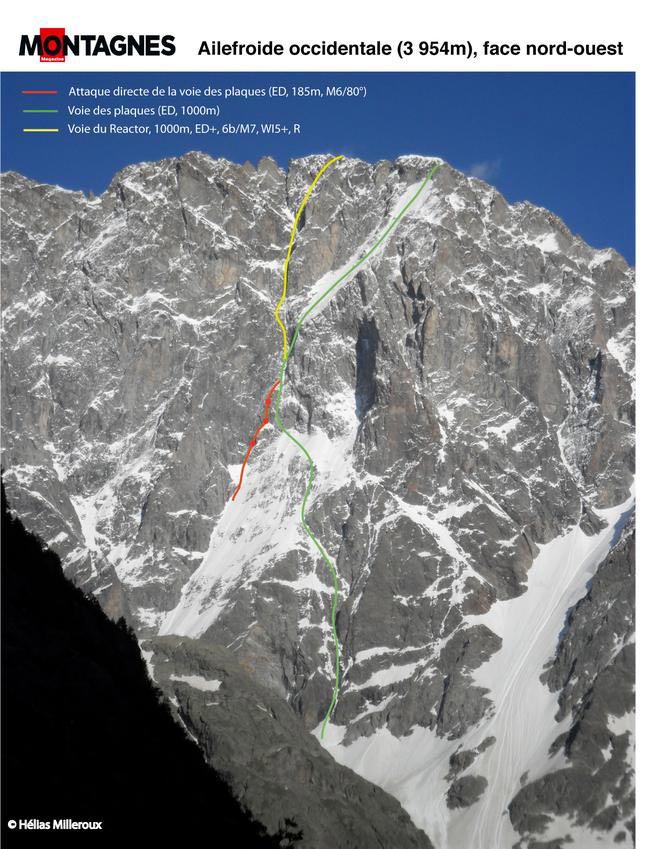 After a great meal and a few shots of genepy liqueur (as usual at the Sélé hut!), we fall into a deep sleep; tomorrow is a rest day.
Our original goal was to finish with the Sialouze spires, high-quality sun-soaked rock to escape our current routine of austere north faces. After several rounds of pétanque where we get trounced by Raoul (the hut manager) and Yann (the cook), Tony Lamiche shows up. Tomorrow is the last stage of this trip. Unfortunately the luck we've had over the last weeks takes its leave, and we wake up to a steady morning drizzle. Oh well, Hunchi Maka will have to wait for another day. Our mission has already been accomplished, and we can head home satisfied.
Thank you to Max for being so motivated, upbeat, and determined.
Thank you as well to all of the hut managers who provided us with the royal treatment.
Thank you to The North Face, Petzl, Julbo, and Scarpa whose trust allowed me to devote the month of August to this project.
Mathieu Maynadier --