What is PPE?
PPE is Personal Protective Equipment, equipment worn or carried by the user.
PPE is classified in three categories:
Category 1: minor hazards, light mechanical impacts, solar radiation (e.g. glasses, gloves)

Category 2 : serious hazards (e.g. ventilated helmets, crampons)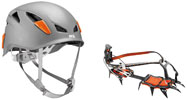 Category 3 : major or deadly hazards (e.g. harnesses, carabiners, ice axes)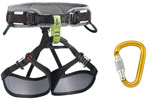 PPE helps protect a person from deadly or serious health hazards. It includes all equipment designed for protection from long falls: rope clamps, descenders, harnesses, lanyards, webbing, slings, ropes, energy absorbers, carabiners, pulleys, swivels, rigging plates, ice axes, snow stakes and pitons. It excludes anchor points that are an integral part of a structure.
Other questions :