How to get into Rope Access
Have you always dreamed of becoming a rope access technician? Here's some information to help you get your rope access career off the ground.
August 6 2020
Rope access and confined space

Can anyone become a rope access technician?

It isn't necessary to have a specific background to join the rope access ranks. Keep in mind that being a rope access technician is not just about moving along a rope. It's basically about performing a certain task: inspection, maintenance, painting, cleaning, drilling, welding, etc. The rope techniques only enable access to the work location—such as skyscrapers, wind turbines, or suspension bridges. Therefore, you also need additional professional skills apart from rope access. Don't worry about having familiarity with climbing, knots and ropes. These skills will come during training. There are also two prerequisites that you must meet:
You need to be at least 18 years old
You must be in good physical condition
In addition, you should also be willing to travel for work, be comfortable in construction-site environments, work well in a team, have excellent communication skills, show great attention to detail, and have the ability to stay constantly aware of your surroundings.
To become a rope access technician, you must complete an official certification course.
This initial requirement is achieved through a training center (the specific requirements, content, and duration will depend on your country). This certification will demonstrate that you are competent to perform rope access techniques. You will learn how to tie certain knots, use and inspect your equipment, and understand theoretical concepts like fall factor and clearance distances.  Rope ascent and descent, basic rescue techniques, hauling systems and aid climbing are also part of the practical elements of the certification. This training ensures that you've mastered the ability to work in a variety of vertical environments using specialized equipment.
What are the tools of the trade?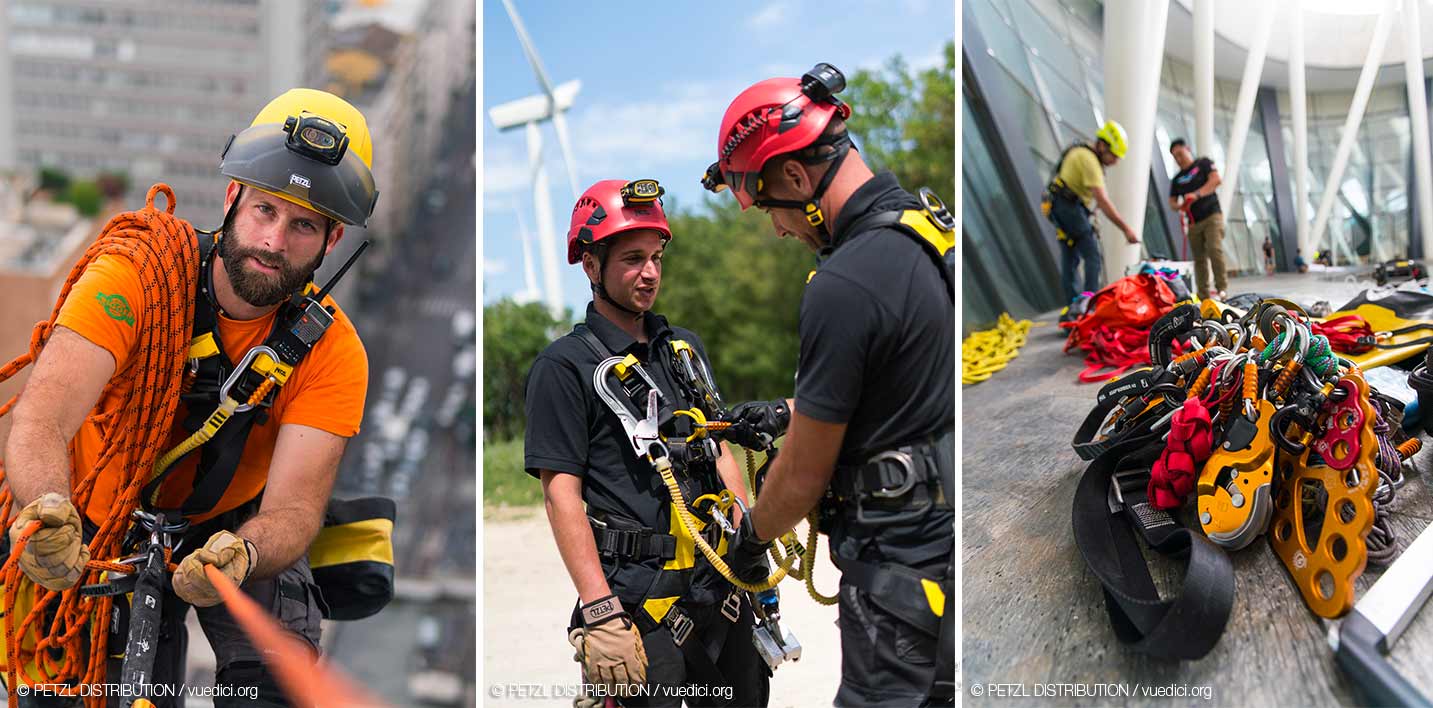 Equipment is paramount in rope access. Rope access technicians learn how to work while suspended by their equipment in order to perform tasks in difficult-to-access areas. They must always wear a helmet. On a daily basis these professionals manipulate ropes, descenders, backup devices, pulleys, rope clamps, and lanyards to maneuver into any work position that the job demands. In any rope access situation, the technician is always protected by two independent systems. All of this equipment conforms with rigorous international standards and must be regularly inspected. 
How long does it take to get certified?
It can take as little as one week to get started in the industry. However, as you progress in your career certifications will be more lengthy and intensive. Local organizations can give you a more precise time frame for your certification. This list is not exhaustive, but here are some examples of rope access training institutions:
IRATA (International) : www.irata.org
SPRAT (US) : www.sprat.org
DPMC  (France) : www.cqpcordiste.fr
FISAT (Germany) : www.fisat.com
ANETVA (Spain) : http://www.anetva.org/
Once certified, where do I apply? 

Once you have your official certification, you can begin applying for openings within a rope access company or businesses dealing with building, construction, events, etc.
It is a good idea to simply call some local rope access companies and ask if they have openings for technicians, and see what their current needs are in terms of skills. It's also usually useful to speak with the organization with which you trained, as they will have up-to-date information about employment opportunities.
If you want to learn more about the techniques that rope access technicians use, please consult our Tech Tips.