Hauling a bag: preparation and technique
In aid climbing, it is essential to organize your equipment. It is impossible to empty your haul bag at each station to find an item forgotten at the bottom. Each item must have its place. In the same way, organization for hauling should also be efficient. First of all, having several bags of 30 to 40 kg, rather than one 80 kg bag, is a good idea. It is not uncommon to see an inexperienced party leave with a huge bag and spend two or three hours hauling it up one pitch! Choosing the hauling technique best suited to, for example, a traverse or a big overhang is also key. Here are some tips for efficiency and for avoiding any serious errors. Before you head off for a vertical adventure of two or three days, practice is strongly recommended.
Warnings
Read the technical notice before viewing the following techniques.
It is important to fully understand the information provided in the technical notice before using this complementary information
Mastering these techniques requires training.
Consult a professional before attempting to perform these techniques on your own.
1. Preparing for hauling
Attachment of haul bag
The haul bag should always remain attached. The attachment knot should be protected with a cut plastic bottle to keep it from snagging in a crack or under an overhang. Between the knot and the bag, you can use a SWIVEL to avoid rope twists during manipulations. Only one of the bag's two haul straps is attached to the carabiner or quick link under the SWIVEL. This way it is easy to open the bag without dropping it. When hauling, nothing should stick out from the bag, and the sling should be folded behind the flaps. Have a lanyard ready for attaching the bag to the station (a knotted rope end is perfect).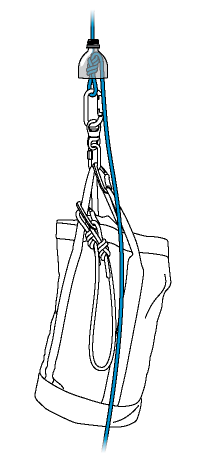 Installing a progress capture pulley
Install a PRO TRAXION progress capture pulley on the station.

2. Hauling technique
Balancier technique
The easiest and most efficient hauling technique is the "balancier" on the ASCENSION handled rope clamp. It uses the weight of the body as a counterweight to raise the bag. This technique is efficient, although it can only be used with a light bag (30 to 40 kg). For heavier bags, you can either use two climbers for counterweight or employ other hauling techniques.
Warning: during these manipulations, the counterweight climber must always remain attached to the station with a rope.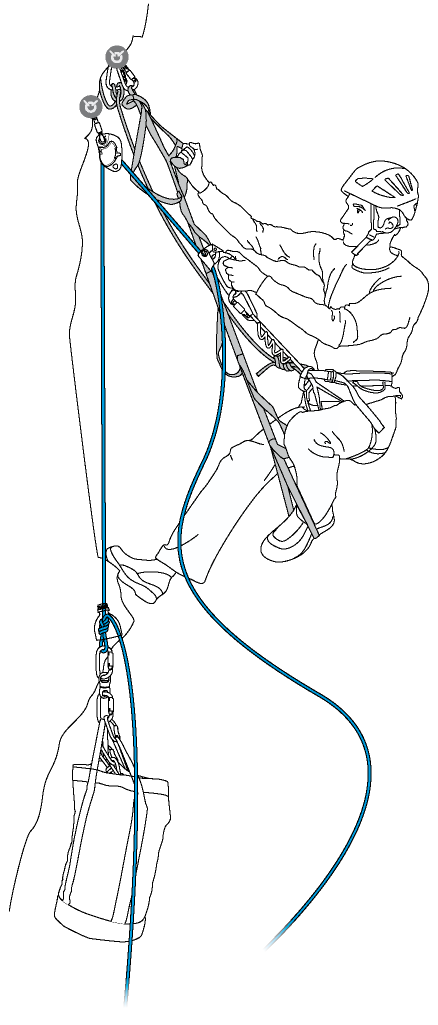 Traverses and overhangs
When the pitch is a traverse or a big overhang, the hauling technique needs to be adapted. The goal is to place the bag plumb with the direction of the hauling station to limit pendulums and stress on the anchor.
First, attach the bag several meters from the lower end of the rope. The lower climber lowers the bag on a Munter hitch while the upper climber hauls gently.
Once the bag is vertically aligned with the upper anchor, normal hauling continues.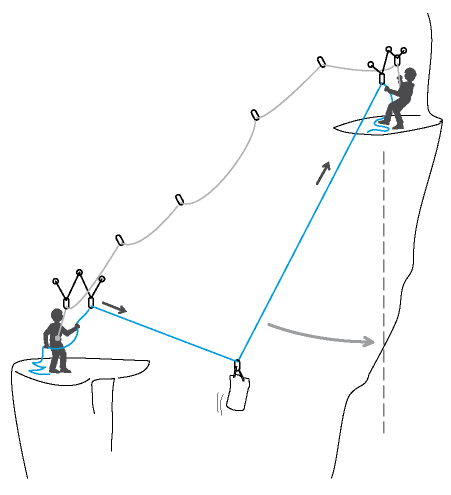 Munter hitch