HOW TO CHOOSE YOUR SKI MOUNTAINEERING HARNESS
The adventure of exploring nature in all its grandeur, making fresh tracks on a powder day far from the busy resorts and long lift lines. It's easy to get hooked. It's no wonder that ski touring is on the rise, and it's good news for the planet. But it requires special gear, and sometimes a harness is on that list. Petzl offers three models to fit all your needs: FLY, ALTITUDE and TOUR. Comfort and additional security for every outing. So, how do you know which harness is right for you?
FLY
is
incredibly lightweight and compact
without compromising technicality. Your movement remains completely unhindered. So much so, that you might even forget you're wearing it. This will make it a favorite among the most demanding mountaineers and ski mountaineers.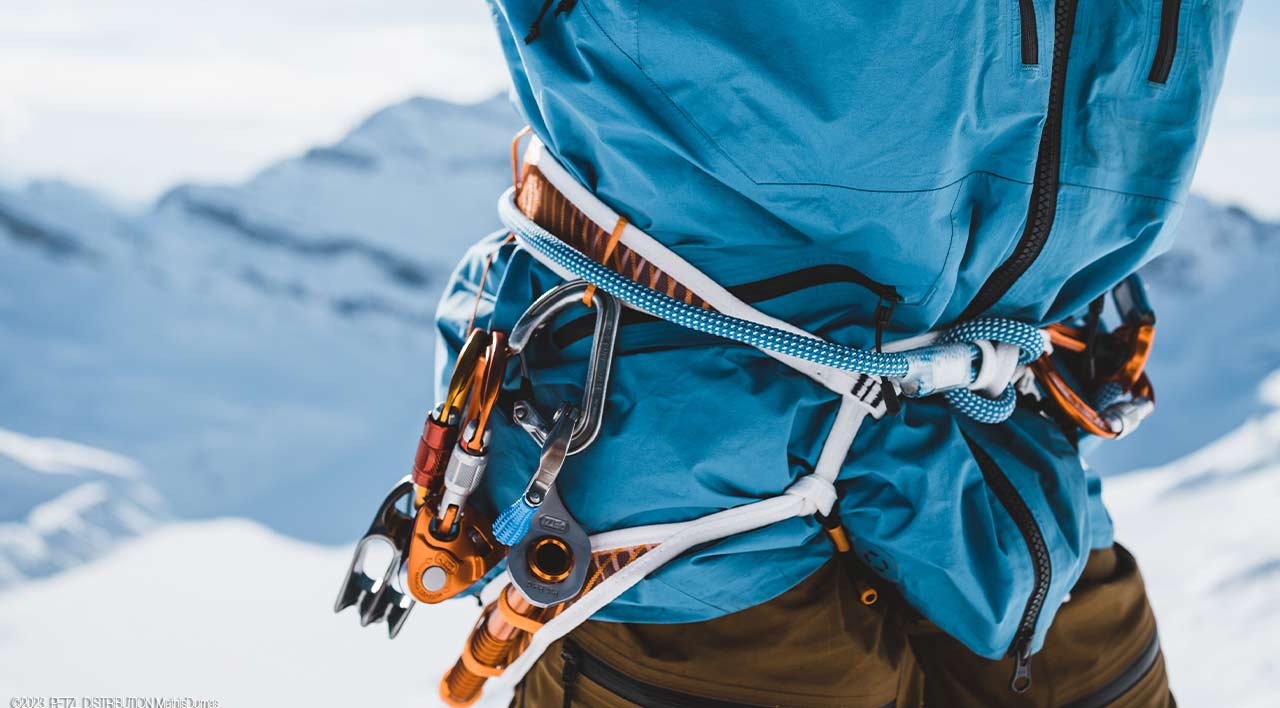 Innovative design with no buckles and removable waistbelt and leg loop foam make it the lightest Petzl harness. How light? Stripped down, this harness weighs in at just 100 grams. Practical features make it possible to put this harness on with your feet on the ground, your skis clicked in, or crampons on your boots. Two gear loops and four additional loops allow you to organize and carry all the gear you need for a technical day in the mountains. The FLY's low weight doesn't sacrifice durability, with reinforced high-modulus polyethylene (HMPE) attachment points, webbing, and gear loops for increased resistance to abrasion and friction. Let the FLY take you to the next summit!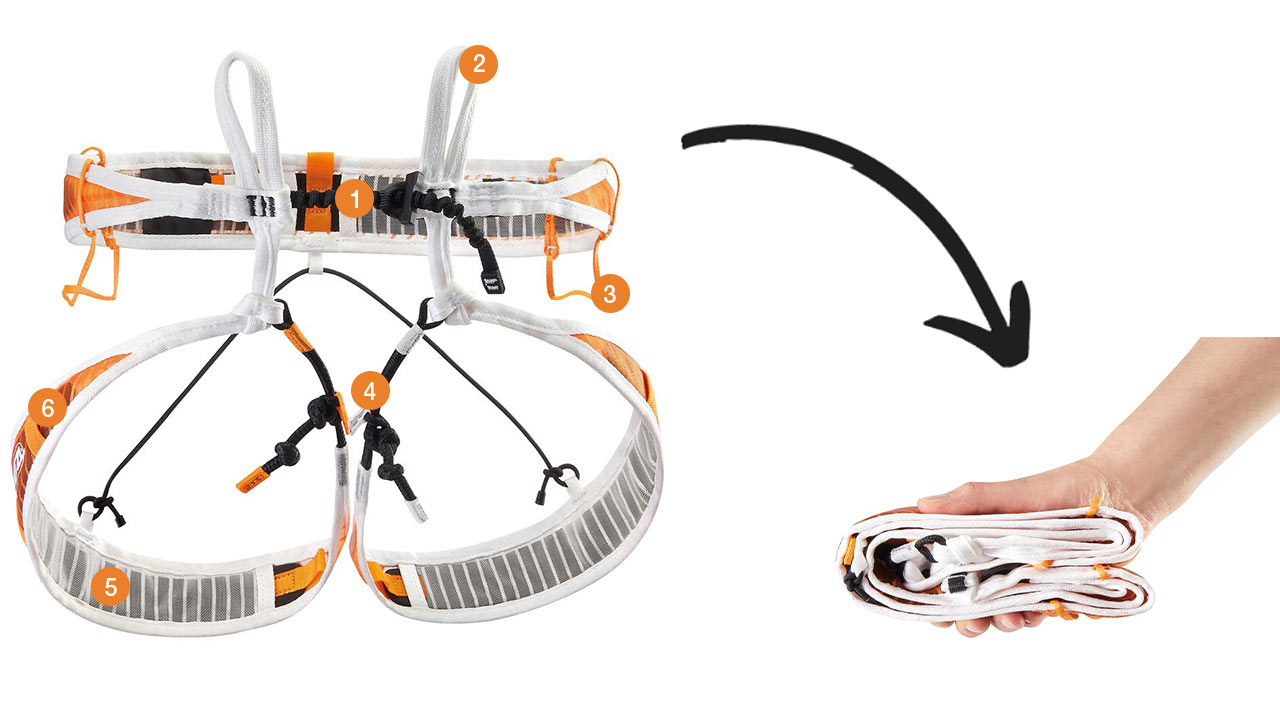 1. Sliding toggle
2. Attachment point
3. Gear loop
4. Adjustable leg loop
5. Removable leg loop foam
6. Retainer with silicone interior
For versatility, the ALTITUDE is the perfect match for those who do it all, from ski touring to technical mountaineering.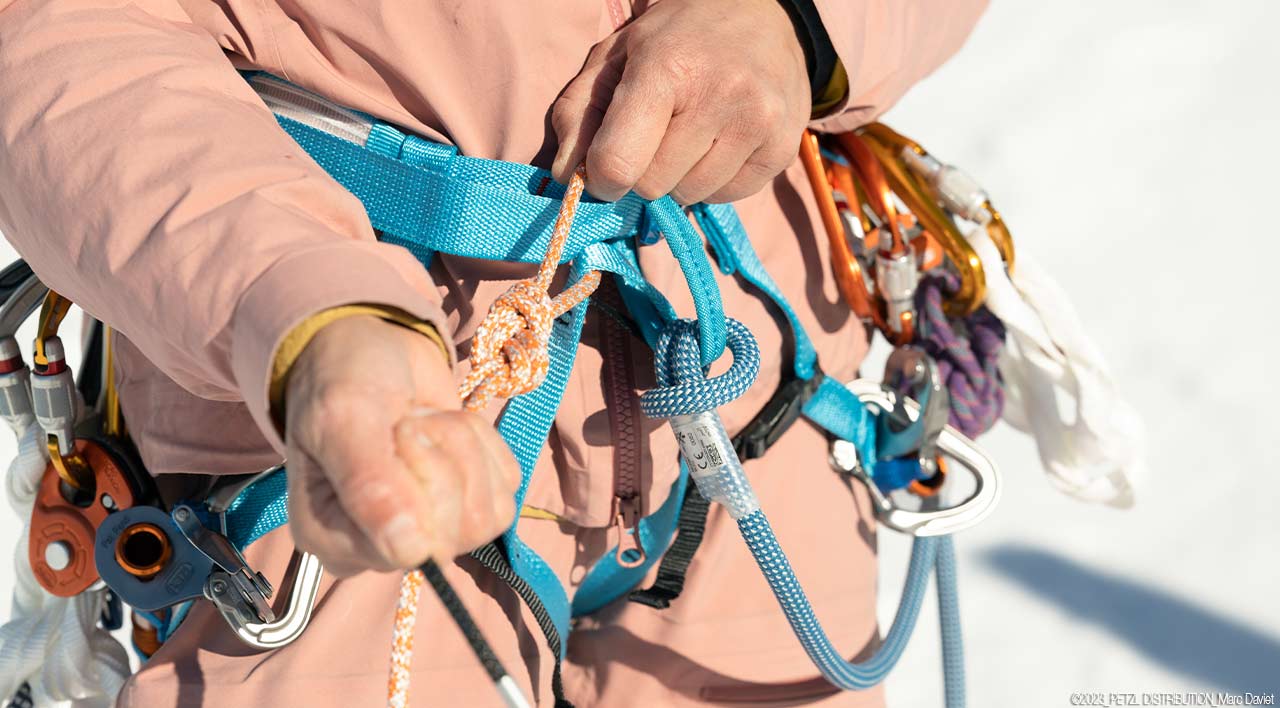 Simple and efficient, this harness remains lightweight and compact, with a more classic design featuring buckles and an attachment loop. The DOUBLEBACK LIGHT buckle and waistbelt webbing are easy to adjust, even with gloves. Comfortable while walking or hanging, it optimally redistributes the weight. And of course, it can be put on with both feet on the ground, so there's no need to take off your skis or crampons. Two gear loops to rack your gear, as well as ice crew retainers with silicone interiors on each leg loop. This harness is a lightweight and efficient solution for mountaineers and ski mountaineers. Reach new heights with ALTITUDE!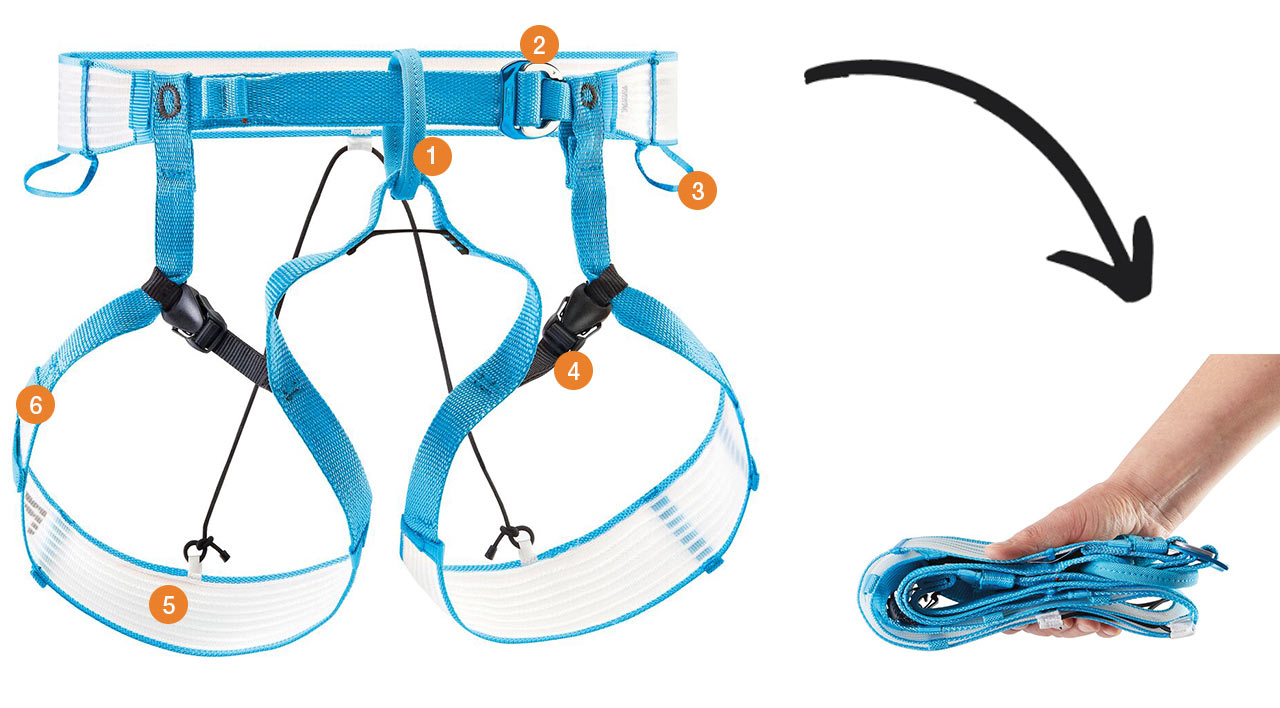 1. Attachment point
2. DOUBLEBACK LIGHT buckle
3. Gear loop
4. Adjustable leg loops
5. Leg loops with WIREFRAME technology
6. Ice screw retainer with silicone interior
The TOUR harness is a durable model and the perfect choice for glacier travel or ski touring.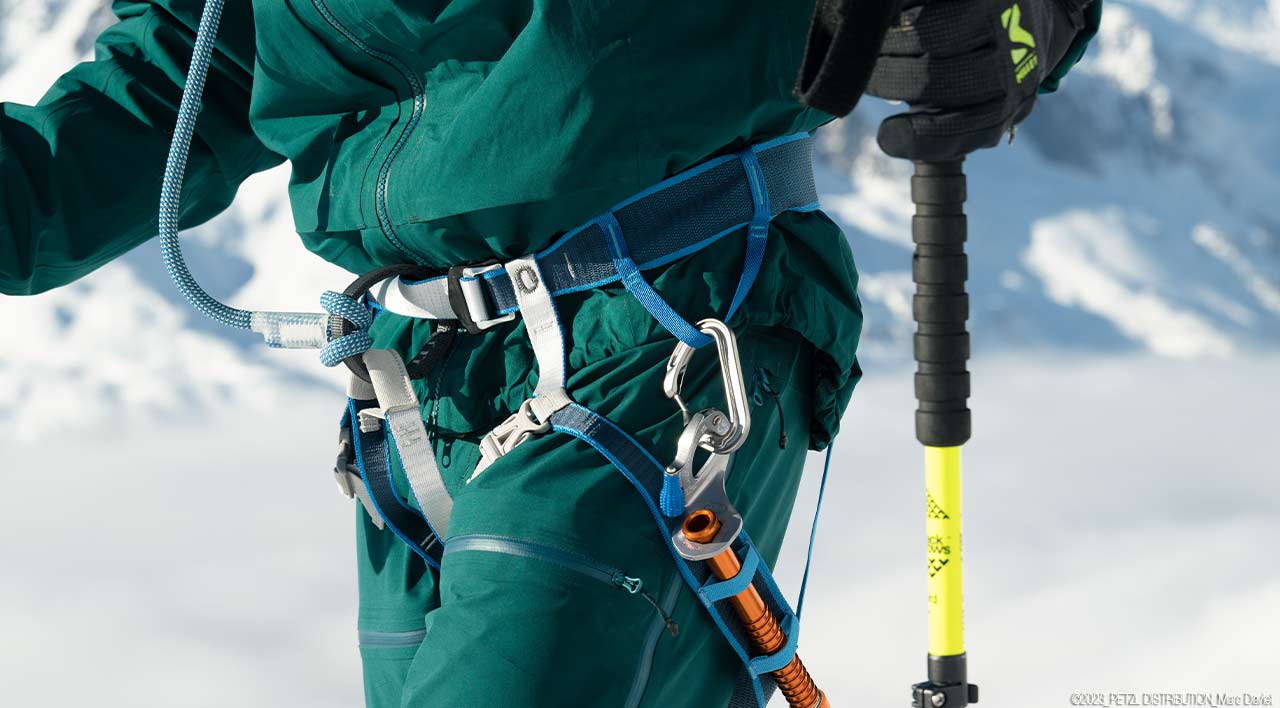 Everything you need and nothing you don't, simplicity is this harness' superpower. Quality construction and robust materials give the TOUR superior durability. Equipped with central webbing for the waistbelt and leg loops, it also features two gear loops and ice screw retainers on both leg loops to carry the gear you need. Even if you're wearing gloves, the DOUBLEBACK buckle makes this harness easy to adjust. Simplicity and efficiency that every mountain athlete will appreciate. Make your next TOUR the best one yet.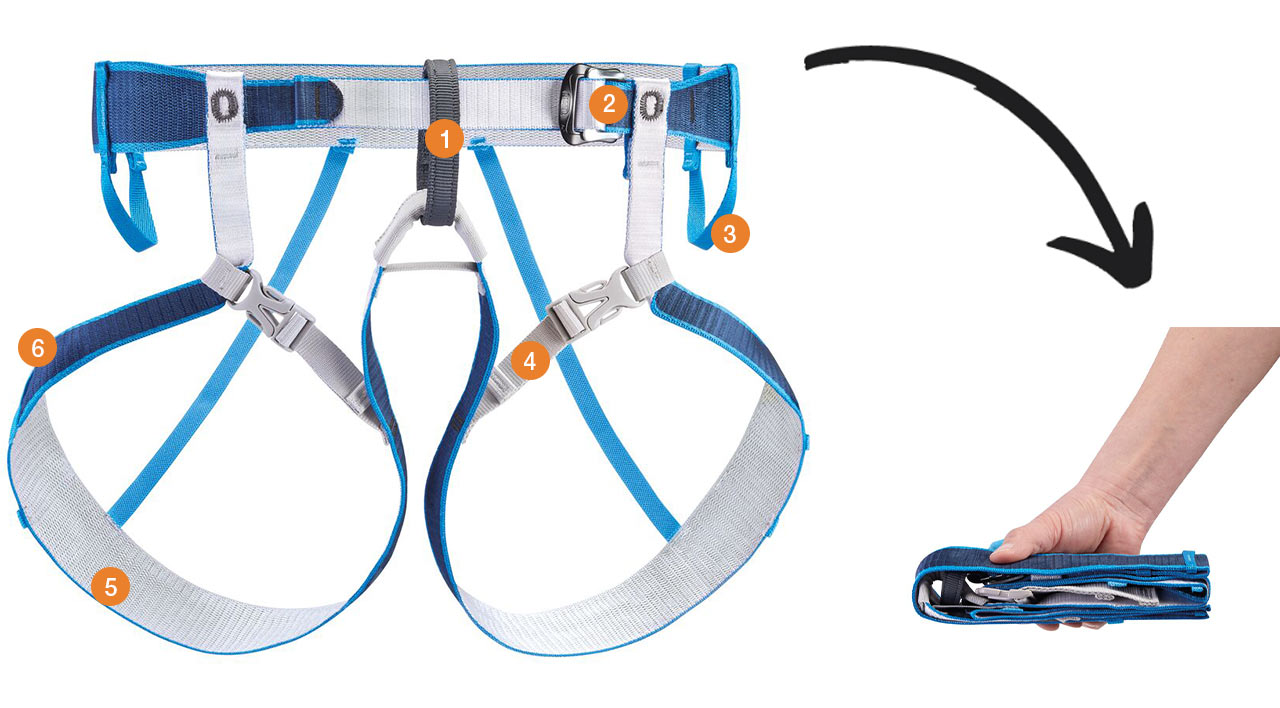 1. Attachment point
2. DOUBLEBACK buckle
3. Gear loop
4. Adjustable leg loops
5. Leg loops with FRAME technology
6. Ice screw retainer with silicone interior