What's in Fabian Buhl's pack?
Buhl is an incredibly versatile climber from Southern Germany. He gained fame as a boulderer, but after fracturing the same ankle twice in six months, he was told he could walk but not jump down from problems for three weeks. So he decided to learn how to trad climb and sent the 8b/8b+ route Prinzip Hoffnung. Since then Buhl has gone on a climbing rampage. He still boulders, but also has added alpine climbing in the Alps and Pakistan, big wall free solos, hard trad, ice climbing, and mixed climbing to his routine. Today, he gives us a sneak peek of what he carries in his pack on spring mountaineering adventures when he wants to be fast and light, but also prepared for anything.
February 28 2019
Mountaineering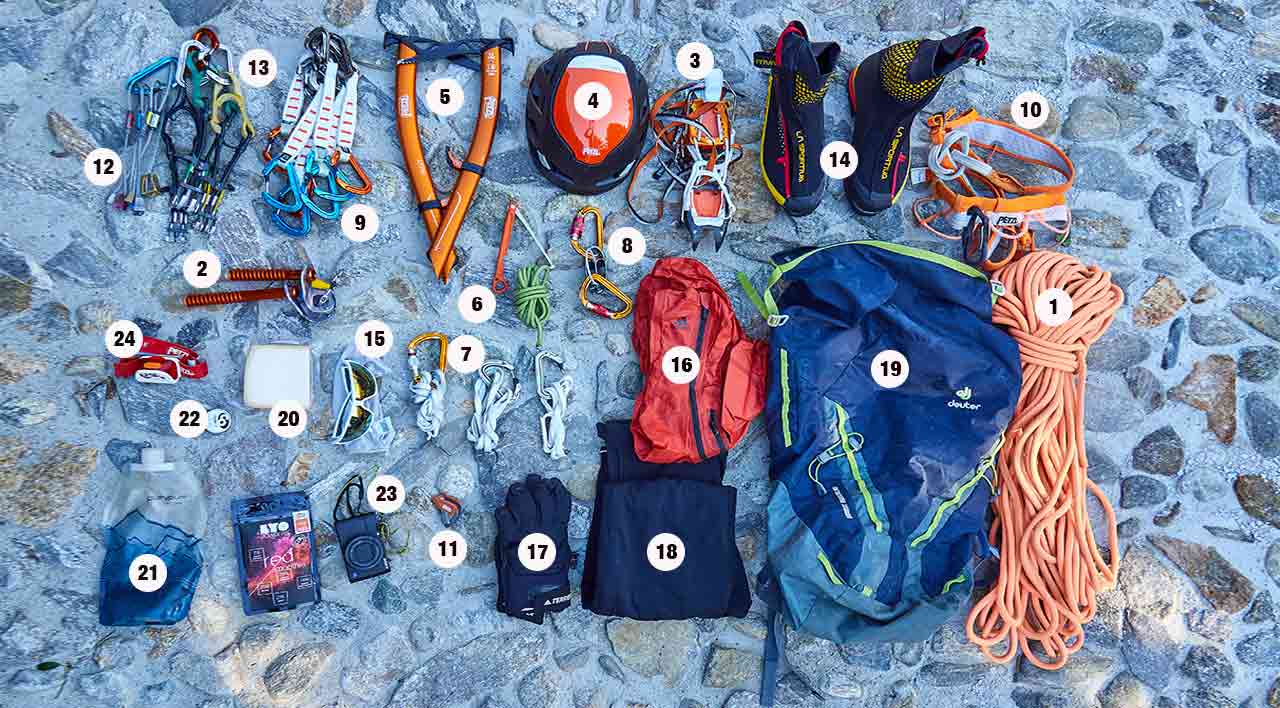 "I love gear! This is why I am super happy and proud to test prototypes for Petzl or provide my input. I like to improve the smallest details in order to create perfection; I am never satisfied with simply good enough. 
So here, I will provide an example of the gear that I would pack for all kinds of routes that are not especially difficult, but still require a bit of gear. Spring mountaineering is one of the nicest ways to get in some good mileage, since even easy routes can still be quite challenging. I try to be efficient with the gear I carry, because I hate carrying a heavy pack. Packing is a big part of fast and light mountaineering, but in order to pack only the essentials, you also need to know and trust your gear. You have to be confident that you are prepared for most situations with the gear you plan to carry. With this pack, I can climb a wide variety of routes because I am prepared for most situations that aren't very technical."
Gear:
VOLTA GUIDE 9,0 mm 60m rope: I really like this rope, since it offers the right balance of weight and safety. I use in a lot of situations as a single rope. The coating of the VOLTA makes sure that it stays lightweight even when pulled through wet spring snow. I just love the soft handling and how lightweight it is per meter.
 
Two short and one long LASER SPEED LIGHT ice screws: The LASER SPEED LIGHT represents a great evolution in ice screw design and shows how, through innovation, we can develop significantly lighter products. I always take two short and one long ice screw in order to be able to make V-thread.
 
IRVIS HYBRID crampons: Crampons are essential, since you can shut down by even just a little ice or snow if you do not have crampons with you. The IRVIS HYBRID is a crampon that I trust for climbing climb a lot of different types of terrain. The best thing is that if I don't need them, they are super light and easy to stow in my pack.
 
SIROCCO helmet: A helmet is important, especially on easier terrain in spring, as the melting snow means potential rock fall. The SIROCCO is amazing and I don't feel it on my head. Sometimes only when I reach the car after the climb do I realize that my helmet is still on! This means that my helmet is truly super comfortable.
 
GULLY ice axe: The GULLY is for me an incredibly innovative tool. It is lightweight, short, and yet still performs well on all types of ice with its sharp, technical pick. For most of alpine mixed climbing it is all I need. In spring, when I may not know how much snow or ice to expect, it the perfect ice axe to have with me. It performs well on mixed pitches or to clean out cracks for protection.
 
The new MULTIHOOK: I love this hook; it is light and versatile, either for cleaning out the inside of an ice screw or for easily pulling my accessory cord or rope through a V-thread.
 
2x PUR`ANNEAU 60cm, 1x PUR`ANNEAU 120cm: PUR`ANNEAU slings are perfect, either to thread a chockstone or to extend protection to limit rope drag. Rope drag can be quite a pain on a long route on easier terrain.
 
One REVERSO with three Sm´D carabiners: I always have this with me to anchor myself and belay my partner. It is very light and a great belay or rappel device that I always carry in my pack. Three lightweight automatic locking carabiners are enough for me, and I really like the way they handle!
 
Seven ANGE FINESSES quickdraws: This is the perfect example improving upon an already almost-perfect product. The ANGE FINESSE is a lightweight yet extremely comfortable quickdraw to handle. The new Dyneema dogbone makes it wider and easier to grab without adding weight! Most of the time, I carry three short and four long ANGE FINESSE quickdraws with me.
 
SITTA harness: There is nothing more to say than it has all of the essentials, and is both lightweight and very comfortable. I love using this harness for basically everything, and the four gear loops make it really easy to organize whatever I carry. I also use one CARITOOL most of the time.
 
TIBLOC ascender: I always carry a TIBLOC in my pack, either for self rescues or for pulling a rope. It is lightweight and extremely versatile.
 
One Set of Nuts: I always carry a small selection of offset nuts, since they are very versatile and lightweight. For an unplanned rappel anchor, they are quite cheap.
 
Three Totem cams: Cams are a good and fast way to build a belay or place a piece of protection. Totem cams work well in everything a bit more flared than usual. In limestone I choose them over anything else. Most of the time I use black (0.5), yellow (0.8), and green (1.25) to have a wide range of sizes but still save weight.
 
La Sportiva G5 mountain boots:These are my favorite boots for nearly everything in the mountains. They are light, very comfortable, and I am always confident when wearing them. Especially in springtime, if the snow is really wet, I like a boot that keeps water out for as long as possible and my feet dry the entire day. Sometimes on less technical terrain I also use a lighter shoe, such as the TX TOP.
 
A pair of Adidas Tycan Pro sunglasses: I always have a good pair of shades with me to protect my eyes against the aggressive UV at high elevation, especially in springtime with the snow that reflects even more light.
 
An Adidas Agravic 3 Layer Jacket: I always bring a lightweight waterproof-breathable jacket with me because you never know when you may need it, and you will always be happy to have the protection.
 
Gloves
 
A pair of Adidas Skyrunn pants: In spring I mostly use a durable softshell pant, since it is nicer to walk and climb in than a waterproof hardshell layer.
 
Deuter Rock ´n Roll backpack: I like wearing a simple and light backpack. If you pack correctly, there is no need for a lot of foam since it is unnecessary weight to carry. I am a big fan of having a narrow pack with no frills to avoid getting stuck in chimneys or other narrow terrain. A narrow pack has also offers the advantage of being able to access all of your gear loops while climbing.
 
Cheese: I don't like bars, but I love cheese and speck ham ;-)
 
A Platypus 1L Softbottle with Lyo Drinks: Fluids are important, and you need to stay hydrated to perform well and avoid cramps. The new Lyo Formula is all natural and provides you with exactly the energy you need. This small bottle doesn't take up space and basically fits everywhere.
 
Climb On lip balm: I always protect my lips with Climb On, which is a food grade quality lip balm. I hate getting dry lips because the next day they always crack.
 
Sony RX 100 IV camera: I am as enthusiastic about photography as I am climbing, and I really enjoy taking nice photos on a beautiful day in the mountains.
 
Petzl ACTIK headlamp: I always have a headlamp in my bag for an early-morning alpine start (or when starting in the middle of the night), or in case we take more time than expected when climbing and night falls. This headlamp offers the perfect balance between lighting power and weight.