Majestically royal, the entire Mont Blanc Range traversed
Traversing one of the most beautiful mountain ranges in the world in a single push, on skis, from the far northern to the far southern tip, is an objective as visionary as it is vertigo inducing: 89 kilometers and 6800 meters of overall vertical gain. While highly coveted, the first complete traverse of the entire Mont Blanc Range on skis only occurred last spring, where two ski-mountaineers accomplished the long-coveted feat in one non-stop thirty-two hour push. We tip our hats to Colin Haley and Ben Tibbetts, who tell the tale of their unique journey through the heart of the Mont Blanc Range.
November 22 2018
Ski touring

"While I was not born in the Alps, I still consider myself to be a ski-mountaineer." Ben Tibbetts has competed several times in the world's toughest ski-mountaineering race, the legendary Pierra Menta. He has also made an attempt to ski the Haute Route in less than 24 hours. A high-mountain guide and professional photographer by trade, Ben Tibbetts spends a lot of time staring at topographic maps and the weather forecast.
However, that just might not be enough to successfully complete a project as crazy and ambitious as traversing the entire Mont Blanc Range. A quick look back: in the spring of 2013, the snowpack had reached record depths and the mountains were covered in a deep layer of fresh snow. The idea of attempting this major traverse naturally came up.
"Two good friends, Misha Gopaul and Ally Swinton, and I decided to make an attempt in spite of the short window of opportunity."
As the three friends climbed Bionnassay's East Ridge, a huge slab released right beneath Ally's feet, and he quickly disappeared down the steep slope. After sliding more than 600 meters, he popped up out of the snow more or less unscathed. Just one year prior, in a similar situation, Stephane Brosse was not so lucky. He and Kilian Jornet were on an attempt to complete the same legendary traverse of the Mont Blanc Range on skis.
Ben decided to let time take its course before thinking about a second attempt. In the fall of 2017, he called Colin Haley. They discussed their options, including the idea of a north-to-south traverse, instead of a south-to-north traverse like on prior attempts.
"I saw Montaz-Rosset's movie, 'A Fine Line,' which tells the story of Kilian Jornet and Stephane Brosse's tragic attempt," said Colin. "I was in Patagonia when Ben asked me if I wanted to take on the challenge with him, and I accepted without knowing whether or not we'd be able to make a serious attempt, since it is so difficult to find the right conditions at the right time."
Ben explains, "I didn't want to risk it. We needed three days of stable weather, with the freezing point at low elevation, and no wind. In other words, we needed a window of great weather that doesn't occur very often!"
Colin has spent most of his life on skis, and skiing served as a stepping stone to his current passion for mountaineering. He considers himself first and foremost a skier who loves adventure. "Obviously, due to my Patagonia addiction over the past few years, my ski season does not usually start until mid-March," jokes Colin.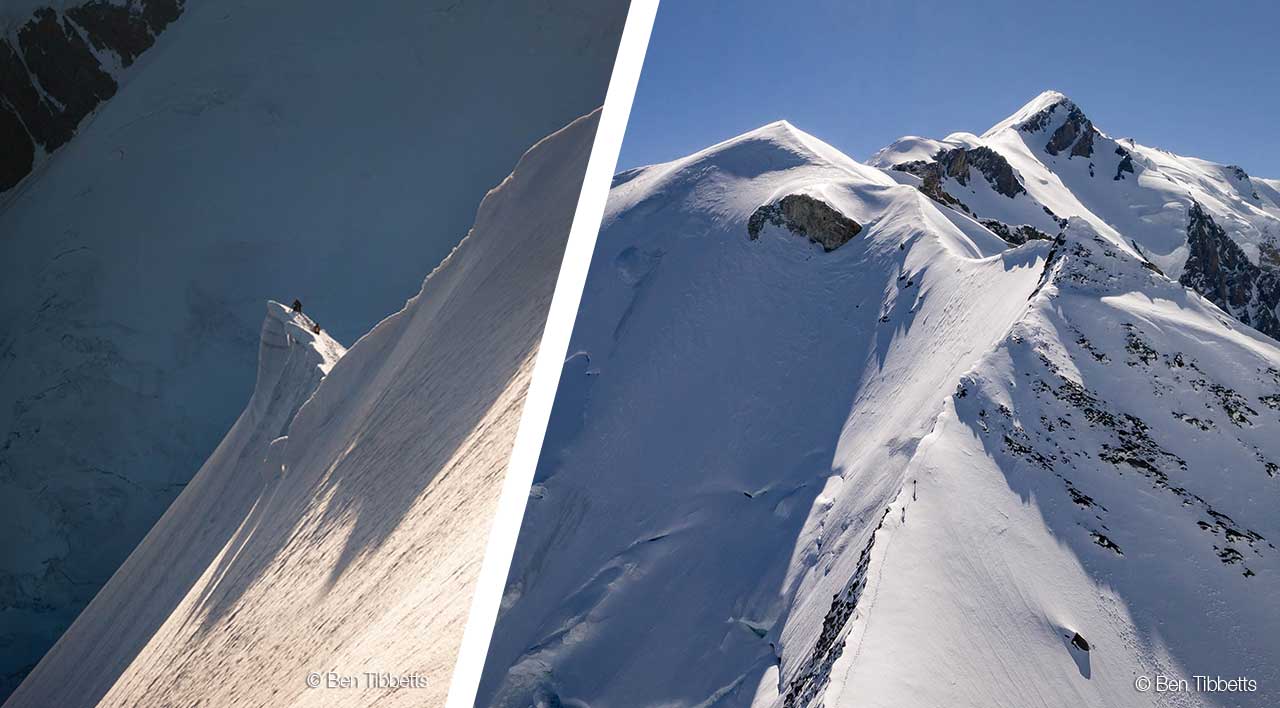 To succeed, two key sections along the traverse, the ascent to Col des Cristaux and the descent from Aiguille de Bionnassay's ridge, needed to be in good condition.
"Colin and I left Champex on April 21, 2018, at midnight, and reached Col du Chardonnet Pass at 04:00 in the morning. Sebastien Monaz-Rosset joined us for the climb to Col des Cristaux, a long 50° slope. Fatigue started to set in during the long morning that followed while skinning up the Vallée Blanche all the way to Col du Midi."
In spite of the pizzas (!) that Vivian Bruchez brought them – he took the Aiguille du Midi aerial tram – the rope team suffered on the long ascent to the top of Mont Blanc via the Three Mounts route.
Ben recounts that, "Colin's feet hurt and he wanted to stop, but in the end it wasn't too hard to motivate him to keep going! For me, when we reached the top of Mont Blanc just before the sun set I was fried."
For Colin, this represented a pretty big challenge, but the kind that he is accustomed to.
"Ultra endurance is one of my strengths. Given that I had barely been skiing a month before attempting the traverse, I wasn't going to be moving at race speed, but that didn't matter since maintaining a moderate pace is something I'm good at. I remember my first 24-hour plus day in the mountains: we climbed Mount Stuart's North Ridge (located in the Northwestern United States' Cascade Range) and when we finished I was completely destroyed. Since then, I have probably accumulated more than 60 days of non-stop, 24-hour-plus climbing adventures, and so now I'm used to it. I think that the body adjusts surprisingly well, and after thirty hours of constant effort I still feel normal and lucid," explains Colin.
However, descending Mont Blanc and the long ridge to finish the traverse proved a less than enjoyable experience.
"It was hard to stay focused and yet the tricky descent across Aiguille du Bionnassay still lay ahead. I had hallucinations. I saw the Domes de Miage right in front of me, yet they seemed so far away."
The Durier Hut was a godsend; they stopped there to rest and enjoy a cup of tea on the house. It was three in the morning and it had been twenty-seven hours since they left Champex, at the other end of the range. In the end, they reached Contamines-Montjoie on April 22 at eight in the morning, after a thirty-two hour non-stop effort where they dug deep enough to use every last bit of energy they had to keep going. They achieved a longtime dream, one shared with many others, to traverse the entire Mont Blanc Range in a single push on skis.
"I finally completed what I started. It was also a way to pay homage to Stephane Brosse, who really inspired us. Of course, I recommend completing the entire traverse in four to six days, taking the time to sleep. It is a worthy and fantastic goal for any ski-mountaineer."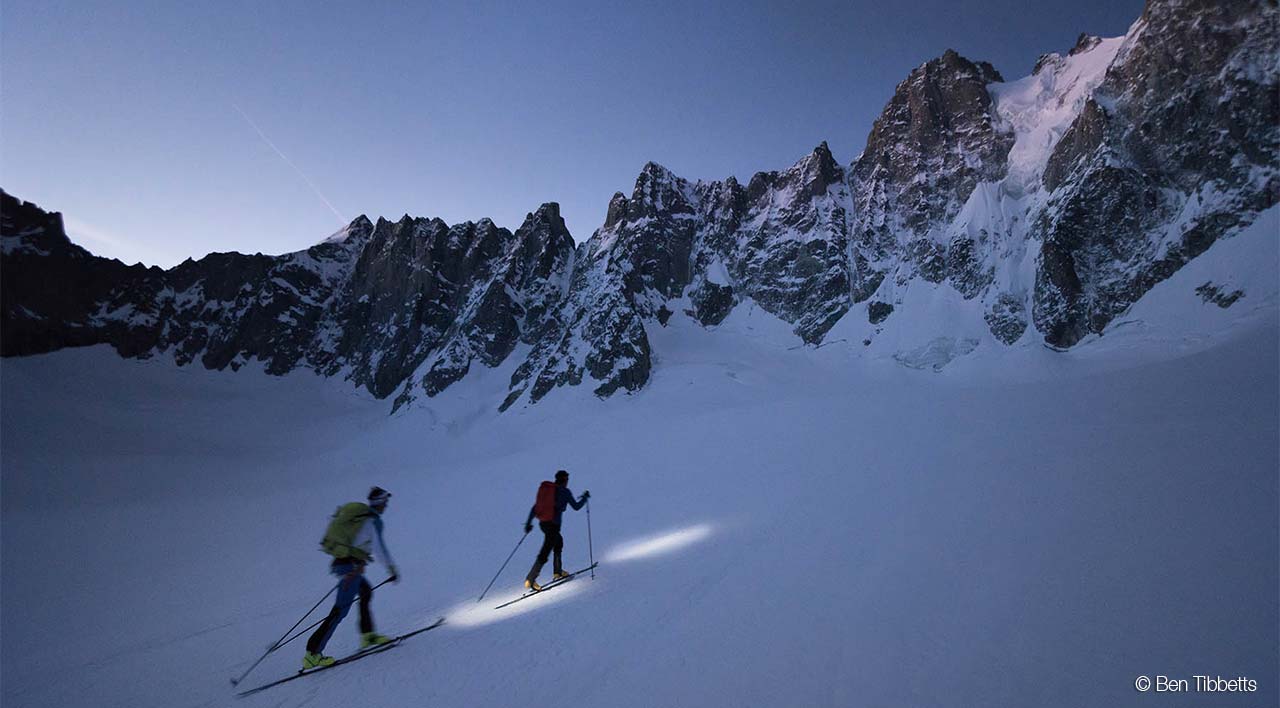 Time splits
April 21, 2018:  
Midnight, leave Champex.
03:00, Fenêtre de Saleina.
04:00, Col du Chardonnet.
07:00, Col des Cristaux.
09:00, lower part of the Vallée Blanche.
12:00, Col du Midi.
19:00, Mont Blanc summit.
22:30, Aiguille de Bionnassay summit.
03:00, Durier Hut.
04:00, Domes de Miage.
Arrival in Contamines-Montjoie at 08:00 on April 22.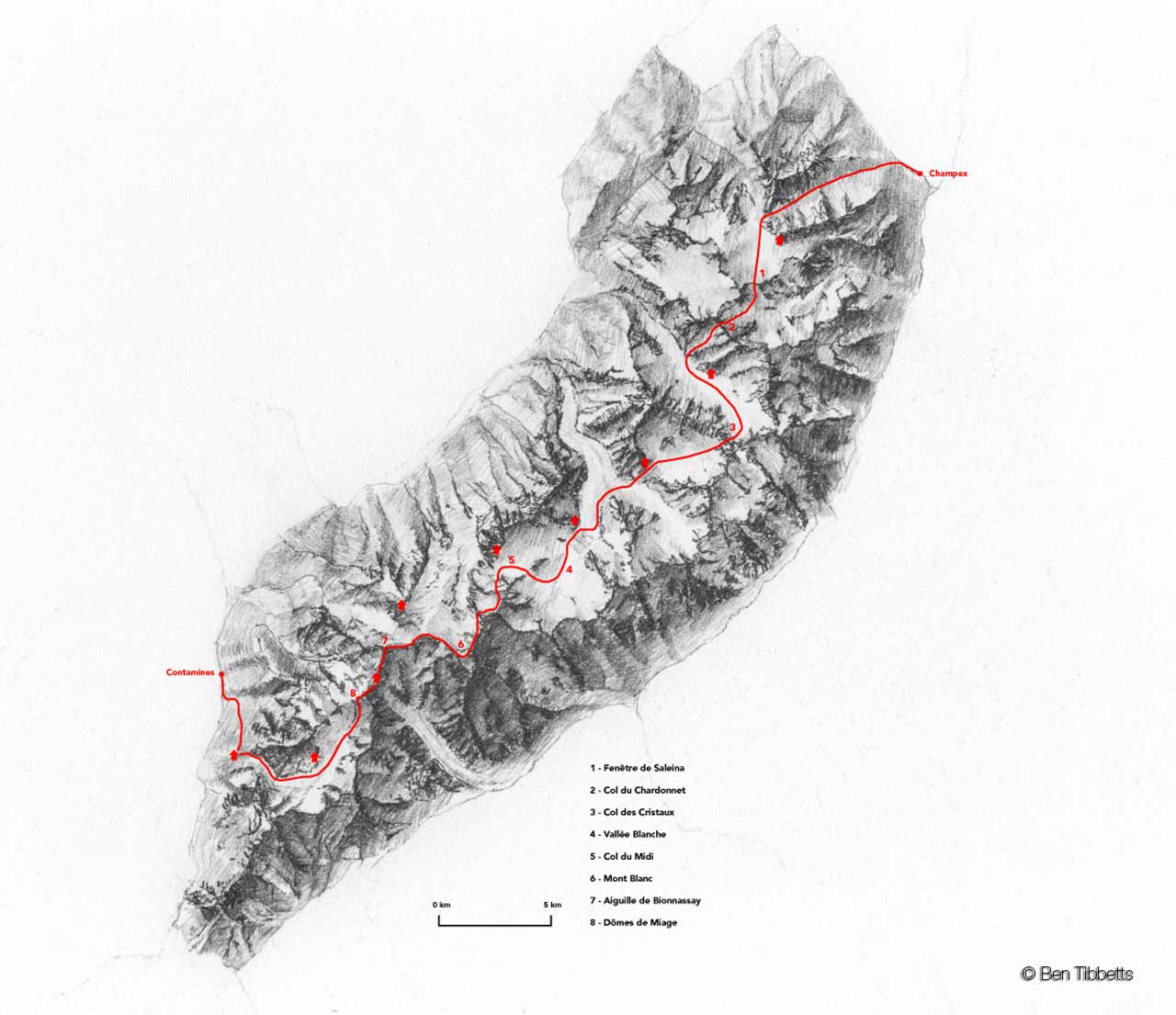 Their gear