Tips and techniques for ice climbing
Belay technique for ice climbing is very similar to rock climbing. The biggest difference is placing protection and building anchors in an often fragile medium. Proper load distribution and protecting the anchor become much more critical. To make the most of this fickle frozen substance, you need to understand how ice forms and transforms, and remember a few simple tips and techniques to increase speed, efficiency, and the overall level of fun.
November 16 2015
Ice climbing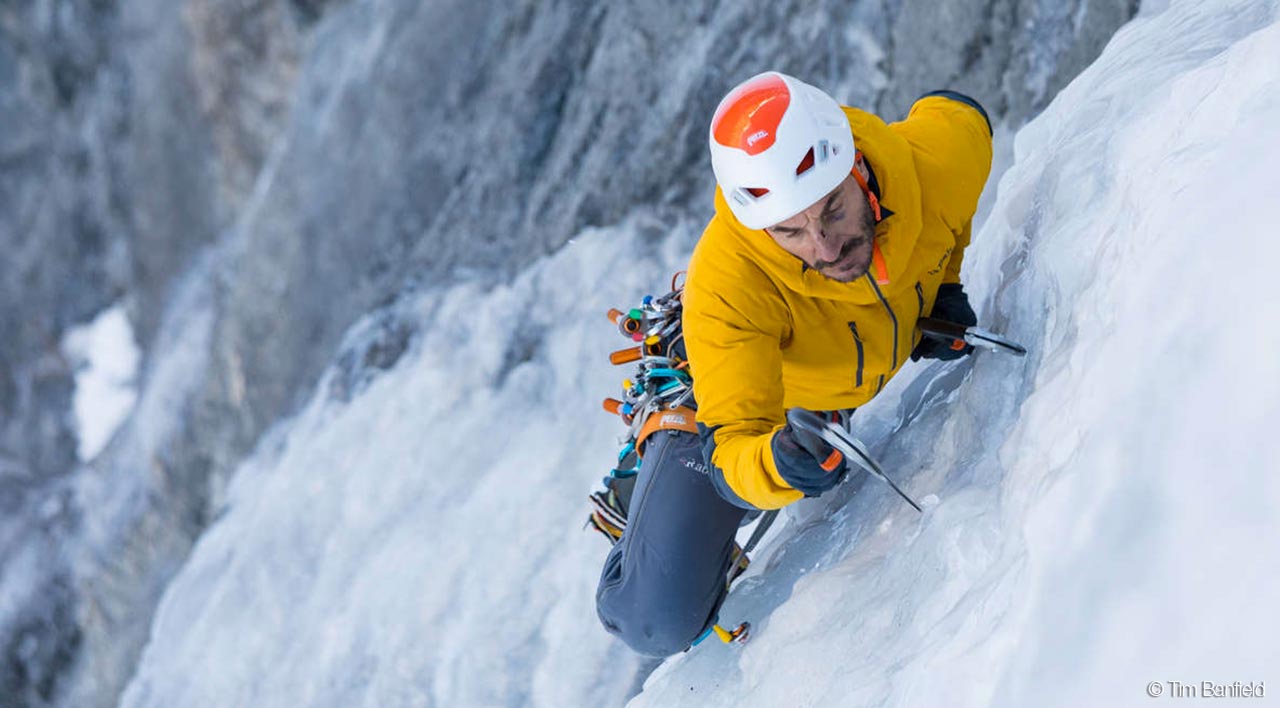 Prior to heading out, answering a few key questions will help you to choose the right gear
What type of crampons do I need?
Choose crampons with vertically-oriented front points, either mono or dual-point depending on the route and what you are accustomed to using. Mono-point crampons are better suited for mixed terrain or hard ice, and dual-points offer more stability and are more effective in brittle ice. Be sure to maintain and sharpen your front points on a regular basis, allowing them to better cut into rather than shatter the ice.
Why climb with leashless ice tools?
Leashes limit freedom of movement, make it harder to shake out your forearms, and hinder the ability to perform high-end moves. Modern ice tools are equipped with ergonomic shafts and grips that are easy to handle. Picks should be well maintained and properly sharpened. Additional pick weights make the axe easy to swing and plant into hard ice. Using a pair of tools with a hammer and adze allows you to deal with any situation.
What size ice screws should I bring? 
Always choose high-quality ice screws. Poor quality screws are difficult to place and put you at a greater risk if you need to place a screw quickly. It is up to the climber to determine the number of ice screws to carry based on the route they plan to climb. We recommend taking a variety of sizes to ensure that you have the length you need for the quality and thickness of the ice you encounter. Ice screws need to be well-maintained and sharpened on a regular basis; one dull or damaged tooth makes it difficult or even impossible for the screw to engage. Specifically-designed holders make it easier to clip and unclip an ice screw from your harness with one hand.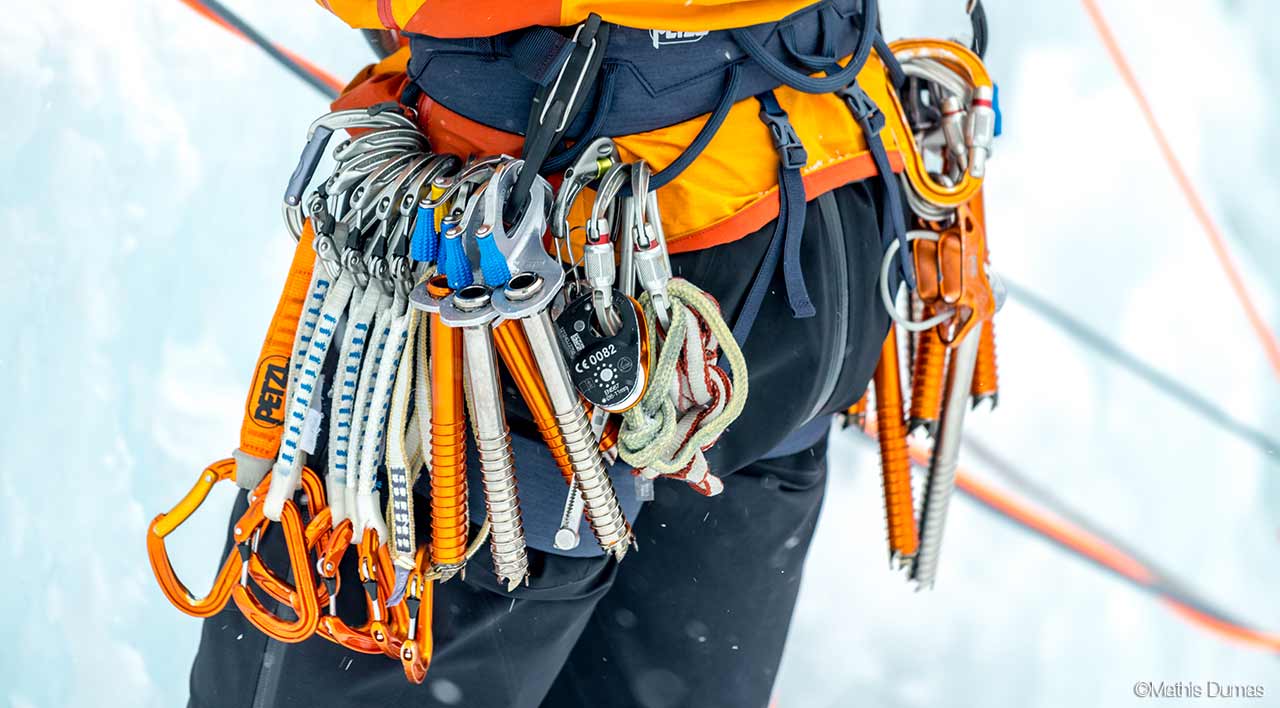 The essential kit for ice climbing
A helmet + visor for protection from chunks of ice when planting your axe
A harness with 4 gear loops
Crampons with anti-balling plates
Leashless ice tools designed for ice climbing
A rack of at least 14 high-quality ice screws: 4 XL + 5 L + 4 M + 1 S. It is up to the climber to determine the number of ice screws to carry based on the route they plan to climb.
2 ice-screw holders
10 quickdraws
4 double-length slings (120cm) racked on one carabiner: 1 for each anchor and 2 extras for other situations
4 locking carabiners for anchors
1 belay device for double ropes, to belay the leader, the second, and to rappel
1 v-thread hook, an essential tool for turning around and heading back down
1 pair of double ropes, 60m each if possible
1 pair of thin gloves and 1 pair of very warm gloves
1 headlamp
1 35L/40L backpack
1 pair of winter boots with rigid soles
1 knife
15 m of accessory cord to leave at each anchor on the descent
1 very warm parka (down or synthetic)
1 breathable and waterproof jacket and pants
1 pair of ski goggles for windy conditions
1 first-aid kit for a day trip
1 thermos filled with hot tea is a nice plus
1 hearty meal including salami, cheese, wine…
1 beanie that covers your ears and to wear beneath your helmet
How to sharpen and maintain your ice screws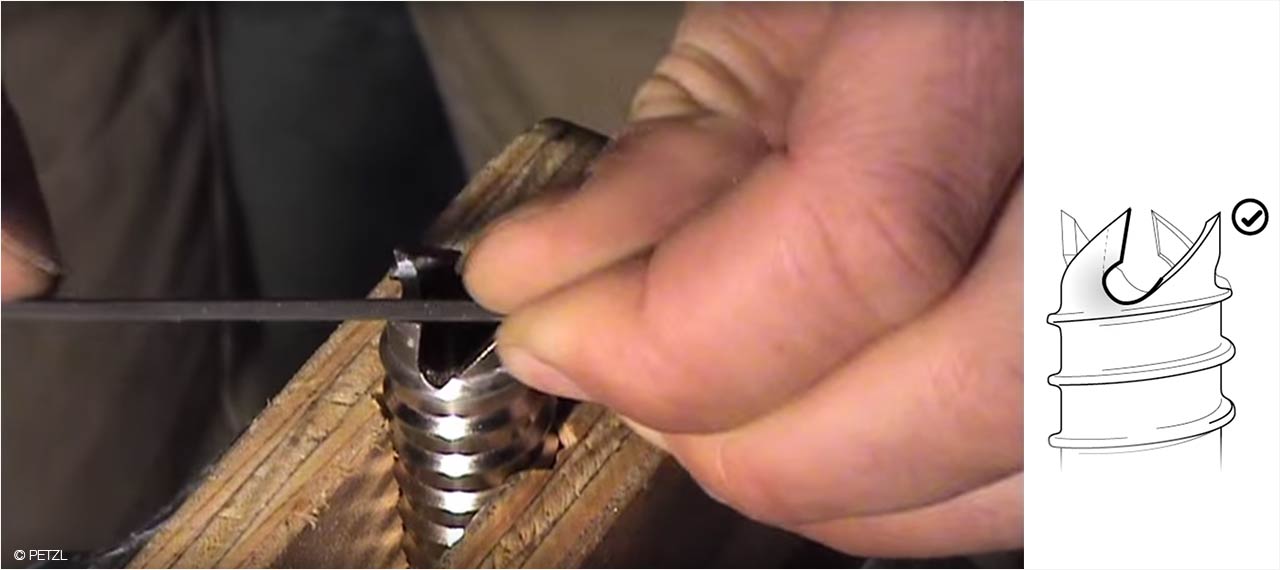 Basic ice-climbing techniques
The following film presents the basic techniques for ice-screw placements, anchors, and v-threads when ice climbing. We explain the main techniques, but remember that when ice climbing it is very important to understand the medium on which you are climbing. The quality and composition of the ice, the terrain above, and recent changes in temperature are all key elements you need to consider before starting up an ice climb.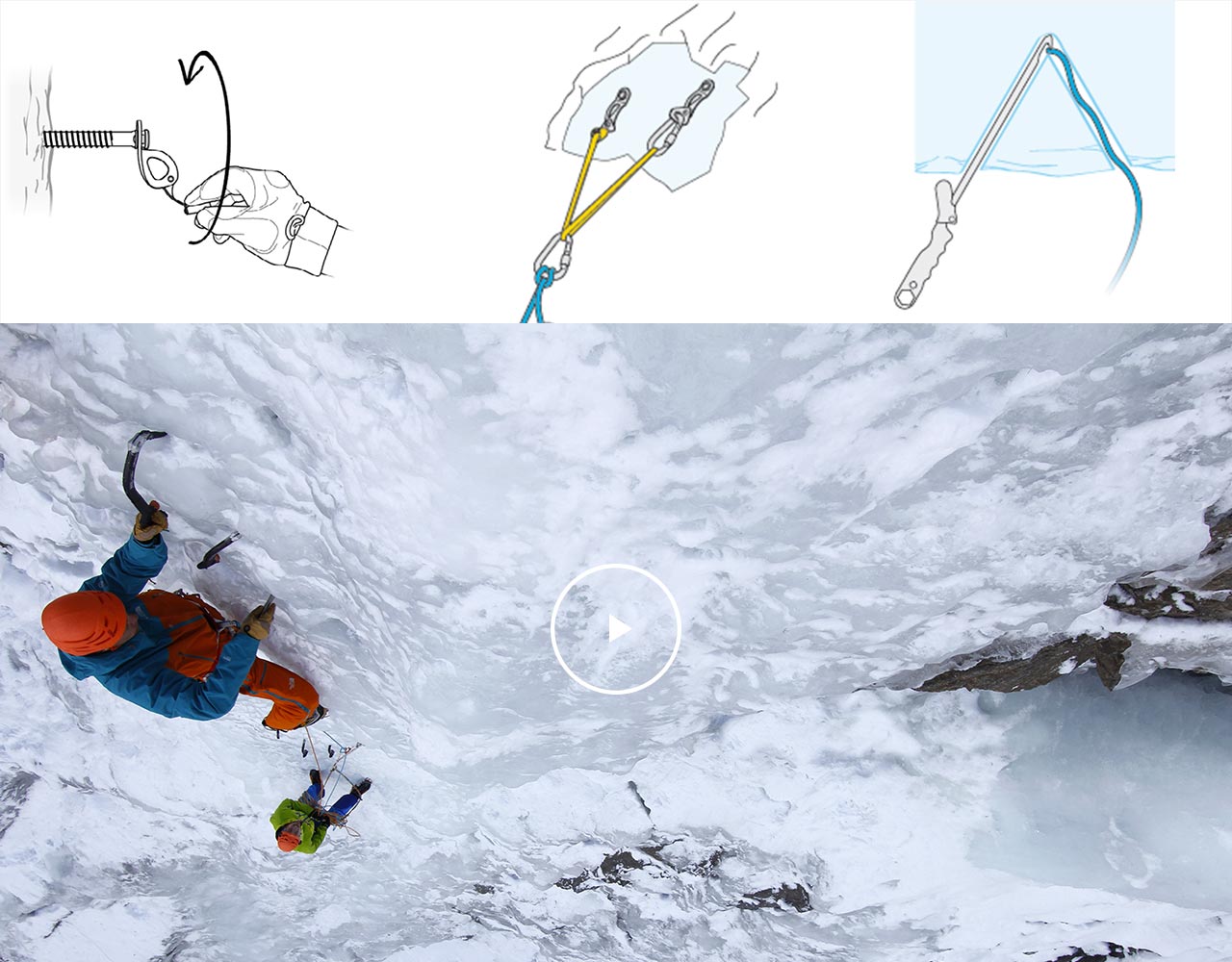 Waterfall ice study
How does ice react to different weather conditions? We might intuitively think that very low temperatures are favorable for creating good waterfall ice conditions, but is it really that simple? How do we make the link between climbers' observations and a scientific experiment? An in-depth study led by the Glaciology and Environmental Geophysics Lab at the University of Grenoble (France), with support from the Petzl Foundation, provides some answers.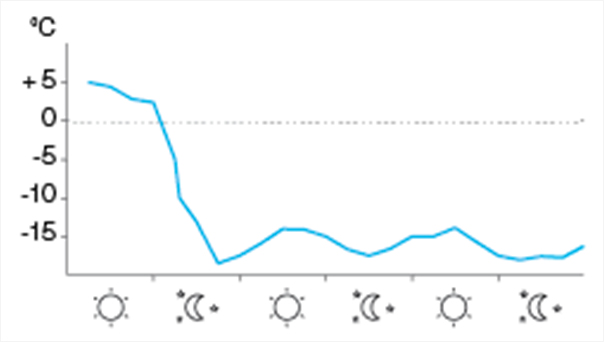 View all of our ice climbing tech tips
On each activity page, the tech tips are organized by chapter: basics, belaying, gear…

ACCESS BOOK #4: Ice climbing basics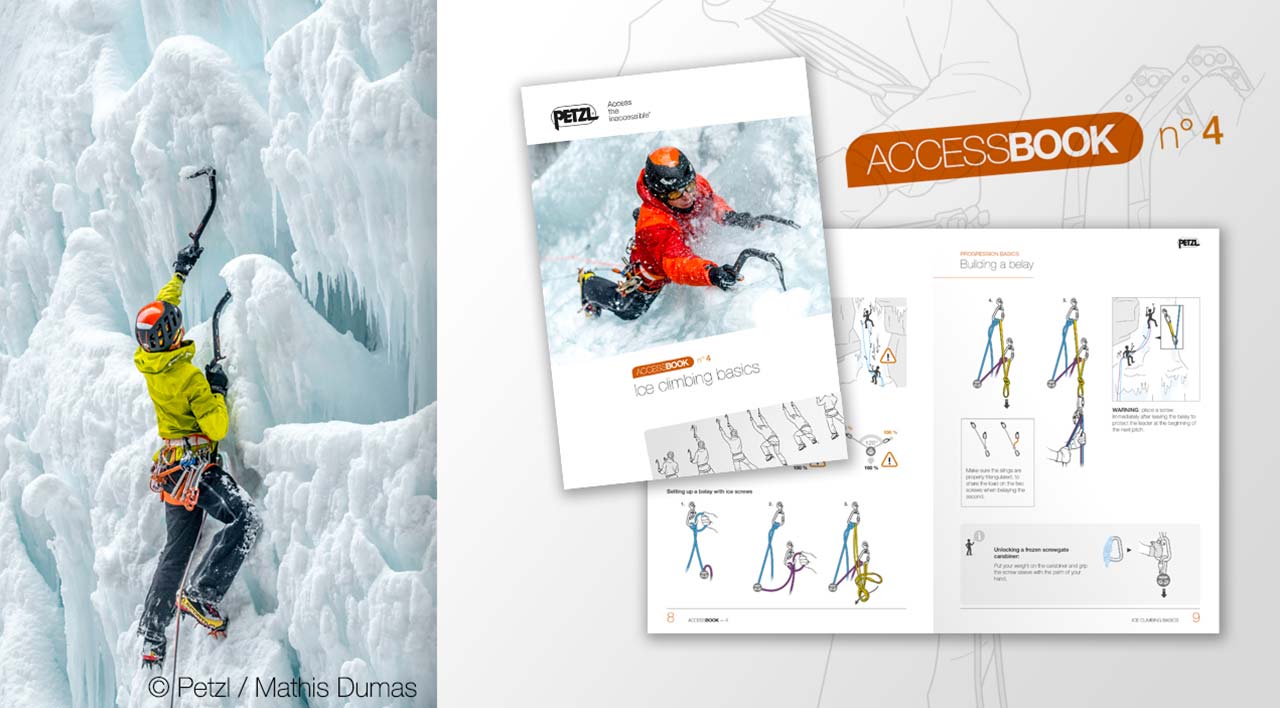 Included in this article