The 2014 Petzl RocTrip enters into orbit: Meteora
What a fascinating stopover in Meteora. While traveling through Greece, the 2014 Petzl RocTrip altered the spacetime continuum. From October 1 to 6, surrounded by six-hundred year old hermit dwellings, RocTrippers enjoyed out-of-this-world climbing.
October 8 2014
Rock climbing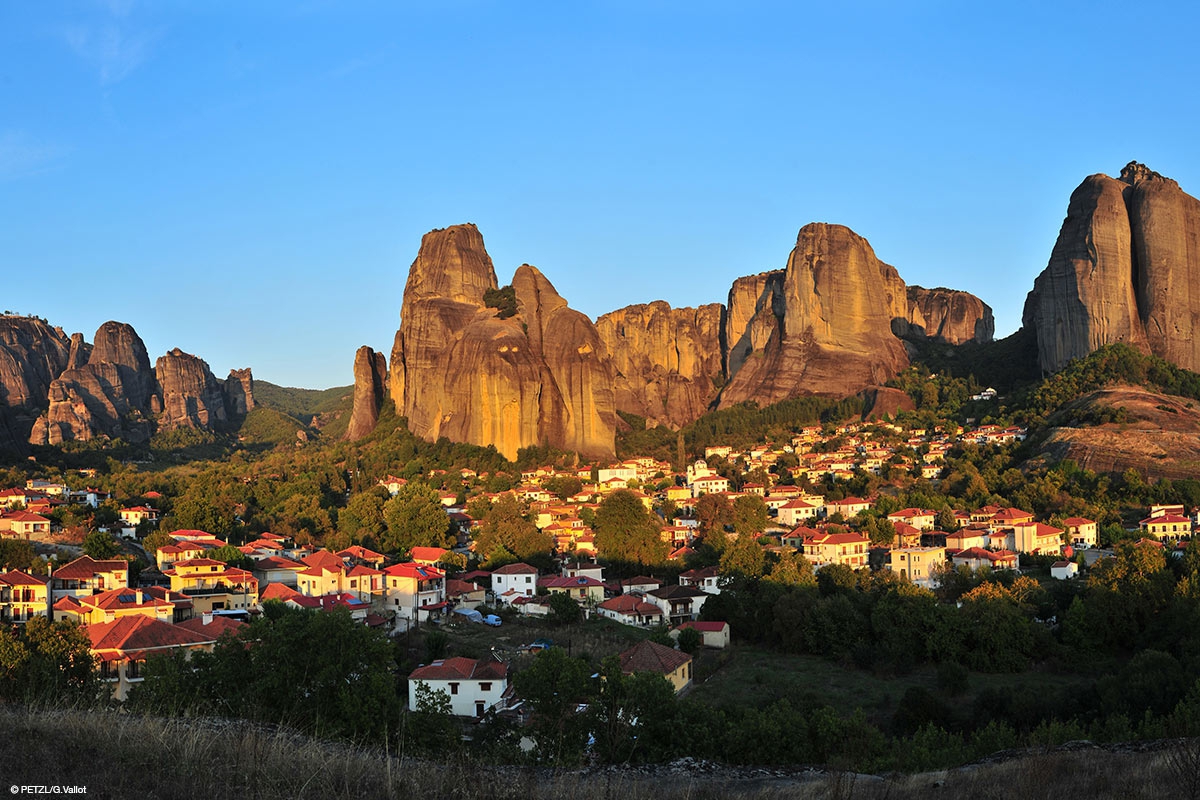 When the Pou brothers grin
- "Fantastico hermano, this is just like in Montserrat.
- Claro que si, but just a tad bit chossier.
- De verdad, Iker! I just set the record by pulling off 15 plate-sized cobblestones on this pitch. Yeehaa!"

Nothing stops Basque brothers Eneko and Iker Pou from infecting everyone with their good humor and contagious enthusiasm. Starting on the first day of the Hellenic base camp, the two threw themselves at the one of the area's most difficult climbs. Located on Holy Ghost tower, the route offers pitches of 7c (5.12d) 250m off the ground, protected here and there by extremely old bolts; enough to make a ghost turn white. Nevertheless, the Pou brothers continue to climb effortlessly up the cobblestone strewn conglomerate rock of sometimes questionable quality, and it indeed makes them grin.

The great emptiness between bolts

In a country covered with amazing places to climb, choosing the right place to set up base camp was not easy.
"I wanted each experience to be different," explains Erwan Le Lann, the brains behind this adventure, "After the golden-granite boulders in Prilep, the grey towers in Meteora were an obvious choice."
Aris Theodoropoulos, author of a brand new guidebook for Greece, sums it up, "The first climbers here were the hermits themselves. Several centuries ago they apparently climbed sections of rock that are now rated 6c (5.11b)! Sport climbing only started in 1975, when Dietrich Hasse and his high-energy crew explored the area. They held themselves to a strict minimalist ethic, placing bolts only when necessary. Today, the Greek federation is pushing to fortify the classics, since the number of climbers visiting the area has dropped considerably."
They saw little green men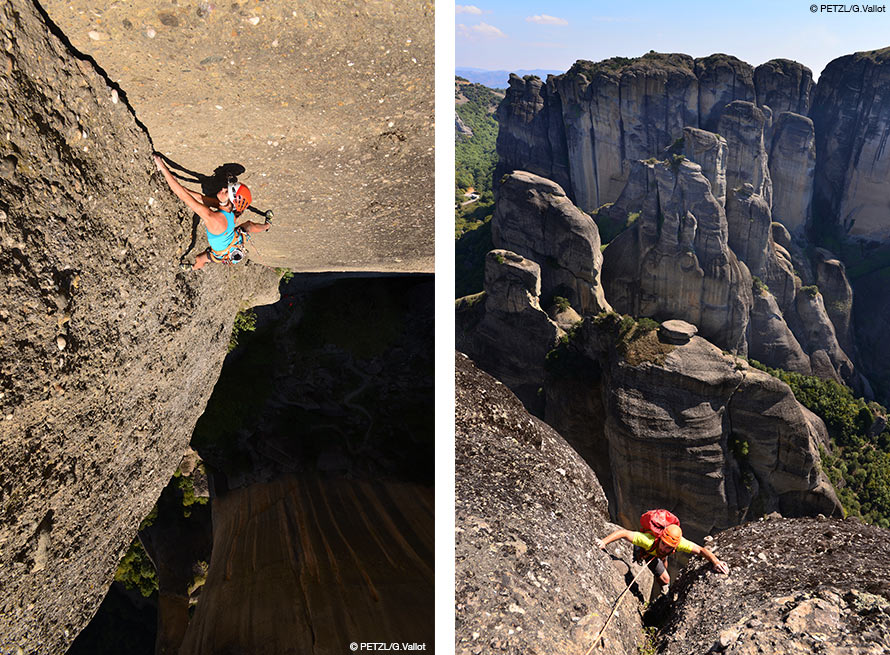 Climbers return from their first exploration of the area with stars in their eyes. Starting with the traditional tzatsiki, the meal at the Vrachos campground restaurant buzzes with stories of aliens.
"I usually onsite 7b (5.12a)," exclaims Cristina, a Moscow native who traveled to the RocTrip by hitchhiking, "But here, on 5c (5.9) routes, you step off anchors consisting of a single metal ring and climb a 45-meter pitch with only five bolts on rock where you're under the impression that every other hold will break… I thought I saw little green men!"
Whether speaking with your average climber or career alpinist and unshakeable Belgian-Irishman, Sean Villanueva, several participants discovered Meteora for the first time. "The area is truly spectacular, with incredibly pure lines. The climbing is tricky, committing, and requires technical footwork. There are a few horrendous offwidths and dark chimneys. We're all having a great time!"
UFO crashes and intergalactic conflict

One of the highlights when climbing in Meteora is being able to sign your name in the summit register. A booklet also provides key info for finding the start of the rappels. Climbing is only prohibited on the six towers where the monasteries are located. This leaves fifty other monoliths to enjoy.
"Certain members of the Orthodox clergy make regular attempts to have climbing banned in Meteora," worries Aris, "Whereas climbers have always shown a great respect for the natural setting and monastic life. The 2014 Petzl RocTrip's excellence in this area demonstrates the extent to which our community is mature and responsible."
Mélissa le Névé soars like a comet

"Mélissa le Névé frees Action Directe and rates it 8b+ (5.14a)," there is a headline that will surprise more than a few who are not familiar with the classic route on Thessaly tower. The short A0 roof section had thwarted top climbers for 20 years. Using her powers of levitation, Mélissa sent the route to the locals' delight. Two days later (supposedly a "rest day"), another old project in Meteora fell victim to her fingers of steel. Verdict? 8b+ (5.14a). Amazing!
Saint Ninja Caprez, pray for us
Was it god, the devil, or both at the same time who crossed paths at that very moment? At the third anchor on Corner of Madness, 6b (5.10d), a photographer dropped a lens case with his telephoto lens inside. Several kilos at once started freefalling straight towards Nina Caprez, at least five meters above her last piece of protection. With miraculous reflexes, she managed to stay balanced and catch the lens case. Both are unscathed. "Guigui! Go ahead and light a prayer candle in each of the monasteries," she cries out to yours truly, "And you owe me dinner at a four-star restaurant!"

To end these blessed days, RocTrippers enjoyed watching both funny and moving presentations by Slovenians Luka Lindič and Klemen Bečan, Belgian Sean Villanueva, Swiss Nina Caprez, and Frenchman Lionel Daudet. The icing on the cake was a sneak-preview showing of the first Petzl video filmed entirely in vertical format. While the road to Athens passes through the Greek countryside, everyone tilted their heads on their mobile screens towards Bafa Lake!
Guillaume Vallot