Beam pattern
Beam pattern is a key factor in lamp selection. Be sure to select a beam pattern that works well for your chosen application. A flood beam is not suitable for distance vision in the mountains. In the same way, a focused beam won't work well for proximity vision or reading a map. This is why this factor is a key design element, among others, in the Petzl headlamp line. Thus, the lamps feature different beam patterns, in order to best suit the diverse needs of our users. These range from a flood beam for proximity vision, to a focused beam to see at a distance or probe a specific location.
Wide beam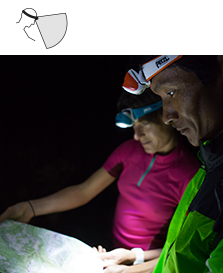 It emits uniform, close-range light for stationary activities or those requiring slower movement.
Activities: travel, family, children, camping, DIY, home use, repair work, reading...
Mixed beam (flood + focused)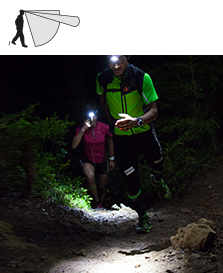 It combines a wide beam for good ground lighting with a focused beam for added depth. This beam is adapted to close-range vision and to moving around.
Activities: hiking, trekking, mountaineering, caving...
Focused beam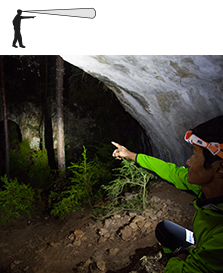 It concentrates the light to shine long distances and therefore allows long-range, precise vision.
Activities: trail running, expeditions, technical mountaineering, back-country skiing, multi-activity races, biking, orienteering...