Short lower of the load during hauling
Warnings
Carefully read the Instructions for Use used in this technical advice before consulting the advice itself. You must have already read and understood the information in the Instructions for Use to be able to understand this supplementary information.
Mastering these techniques requires specific training. Work with a professional to confirm your ability to perform these techniques safely and independently before attempting them unsupervised.
We provide examples of techniques related to your activity. There may be others that we do not describe here.
During a haul, a short lower of the victim may be required for a variety of reasons.
A short lower should be done by simply lifting the cam, without deactivating the progress capture function.
Warning: be sure you can hold the load before lifting the cam: if it takes a lot of effort to haul, you risk being unable to control the descent. In this case, add some friction or make a knot in the rope where it exits the haul system to limit the risk of letting the load slip.
Do a gentle pull while simultaneously lifting the cam with the thumb.
Warning: do not push on the button to avoid accidentally deactivating the progress capture function.
Hold the cam up with the thumb and brake the descent with the other hand.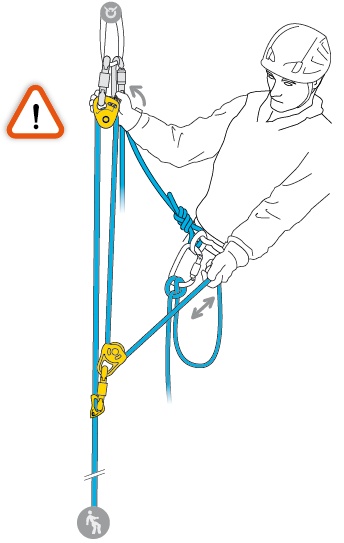 Included in this article