Para-alpinism in the Himalaya: A.Girard and J.Dusserre on Langtang Lirung
Antoine Girard and Julien Dusserre, experienced mountaineers and paraglider pilots, decided to combine their two passions during a trip to the Himalaya in the spring of 2017. Through the following trip report, experience their adventure through Antoine Girard's eyes.
October 20 2017
Mountaineering
"Julien and I both love paragliding and mountaineering, why should we have to choose between the two when the weather's great? You might as well do both. Most of the time, I combine paragliding with mountaineering simply as a way to descend from the summit. Why not give more weight to paragliding when heading into the mountains? Most first ascents these days are often on extremely hard and committing routes in remote mountain ranges; we wanted to do something new without necessarily putting ourselves too much in harm's way."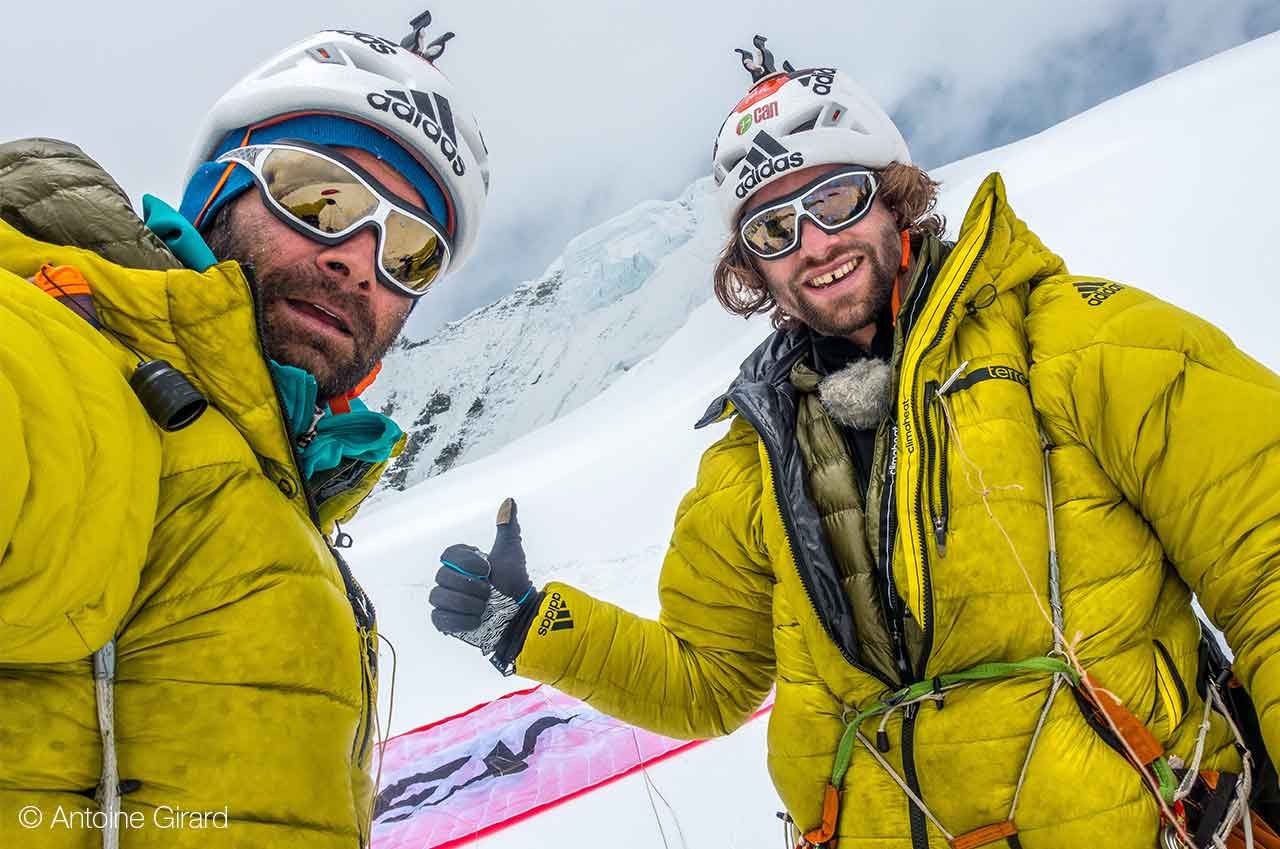 Julien Dusserre (left) an Antoine Girard (right) after landing at 5800m on the side of Shalbachum.
Using a paraglider to access new routes
"What Everest climber has not dreamed of skipping the South Col route's notoriously dangerous Khumbu Icefall? The idea is not to reduce a route's difficulty through paragliding but to reach new routes or summits that would not normally be accessible without a paraglider. With this in mind, we set our sights on Nepal's 7227m Langtang Lirung. The peak's east/northeast face has yet to be climbed. The summit, which has seen little traffic, has a potential landing area below 6000m, and thermals are relatively easy to find below 6000m in the Himalaya. There is a snow-covered face above, and then a ridge that looks easily accessible. Below the potential landing area is a jumble of ice, with constant serac fall, and where there isn't ice there's snow, which means that the lower part of the mountain is inaccessible without using a paraglider."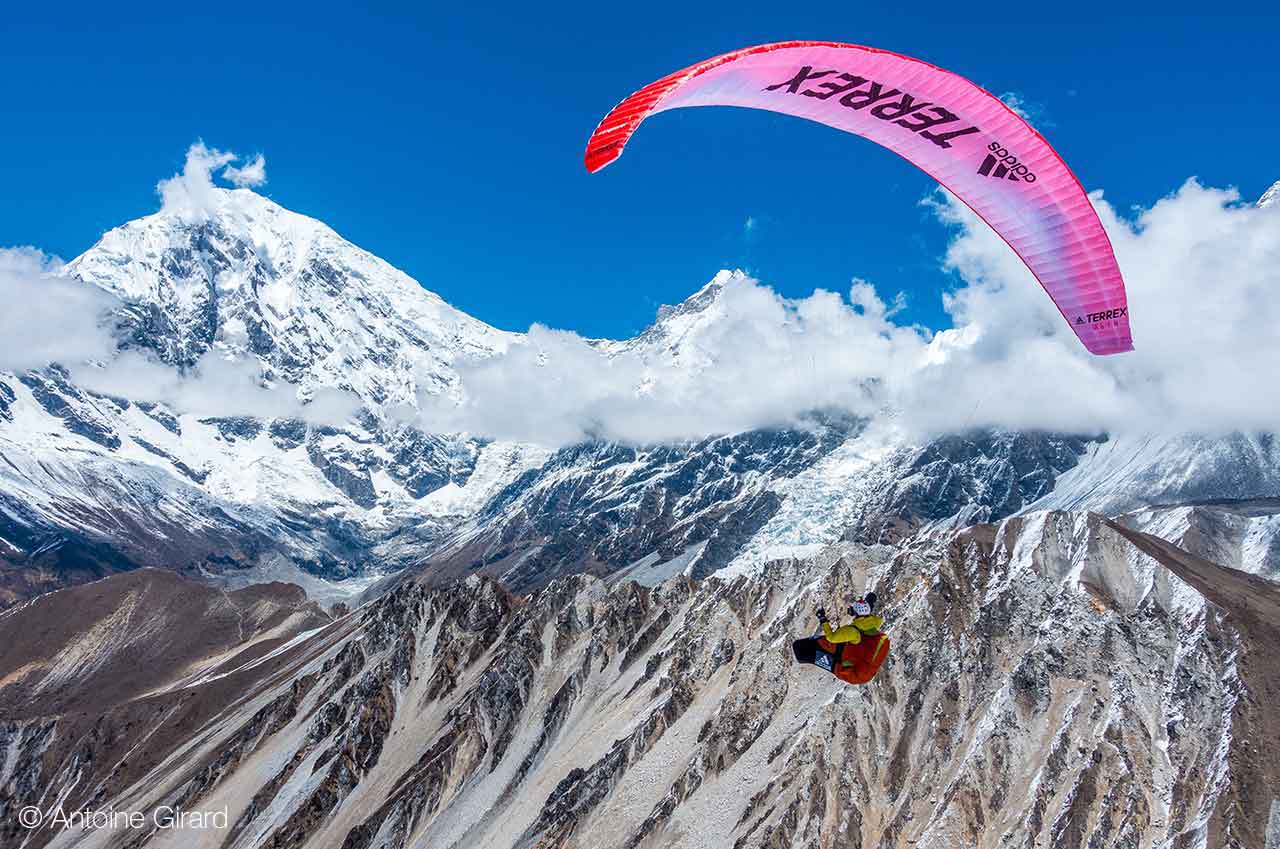 Facing Langtang Lirung while acclimatizing.
I knew it was possible
"I have flown as far as 1200km on several self-sufficient paragliding adventures. These experiences in New Zealand and in the mountains of Pakistan provided me with the confidence that it was possible. Both Julien and I are long-distance pilots in the Alps, and he had to trust me when it came to flying in the Himalaya. We pushed the project to the extreme, leaving Kathmandu on foot with all of our paragliding and mountaineering gear, to summit and then return back to the starting point in the same manner; we were completely self-sufficient and without any outside help. Our plan was to set up base camp in Kyangjing Gompa for food supplies. The starting point and takeoff area was located about 15km from the capital. From there, our paragliders carried all of our gear to base camp in two or three days. Our packs were limited to 35kg, which meant that we had to be extremely selective in the gear we brought."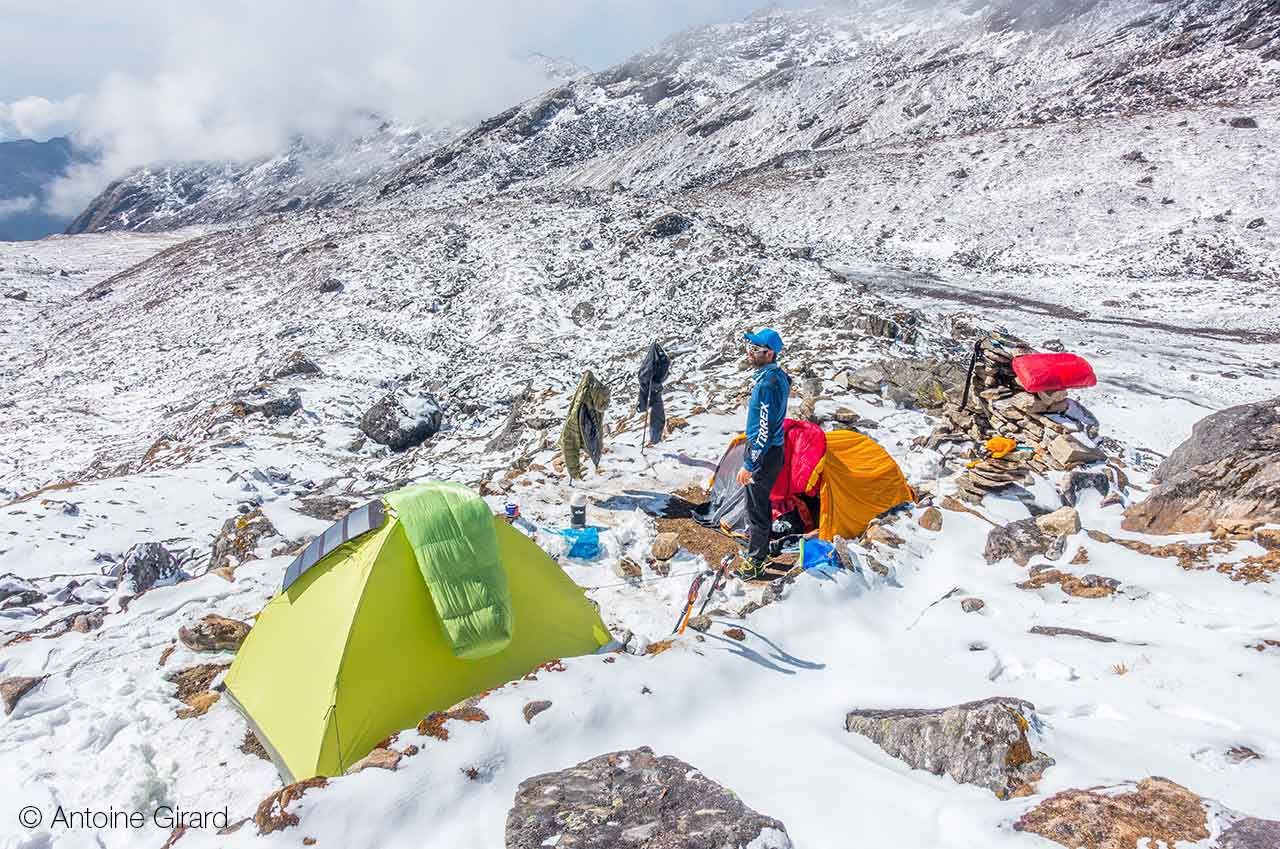 Spending the night at 4300m on the trek to Gosainkund.
Compromise was not always easy
"We took almost no extras, painstakingly preparing our gear so that it weighed less than 30kg, with the remaining weight reserve for our food at high altitude (everything came from Kathmandu) and water. We made lists with the exact weight of everything we wanted to carry, and then decided what to bring based on importance and weight. All of the paragliding gear was designed or specifically modified for this expedition. Safety in the mountains is essential, and one major challenge was not knowing what the route had in store for us: rock, snow, ice, or mixed terrain. Compromise was not always easy, and we made no concessions, opting for the lightest and most reliable gear that exists!"

One of our first attempts to land on the side of Langtang Lirung.
Only a two-day window, but no rush
"The biggest surprise was the bad weather. Over the course of one month, we had only two days without some form of precipitation. The stormy weather made forward progress in the mountains difficult. Strangely enough, we didn't really experience any other real surprises. When you head off on a new adventure, you expect to encounter a few impassable road blocks that you are simply forced to maneuver around. In our case, we seemed to have planned everything right: flying and landing with 40kg between 5000m and 6000m elevation. No surprises, just a few minor last-minute adjustments for comfort, like the way we attached our packs when flying with a minimalist paraglider harness."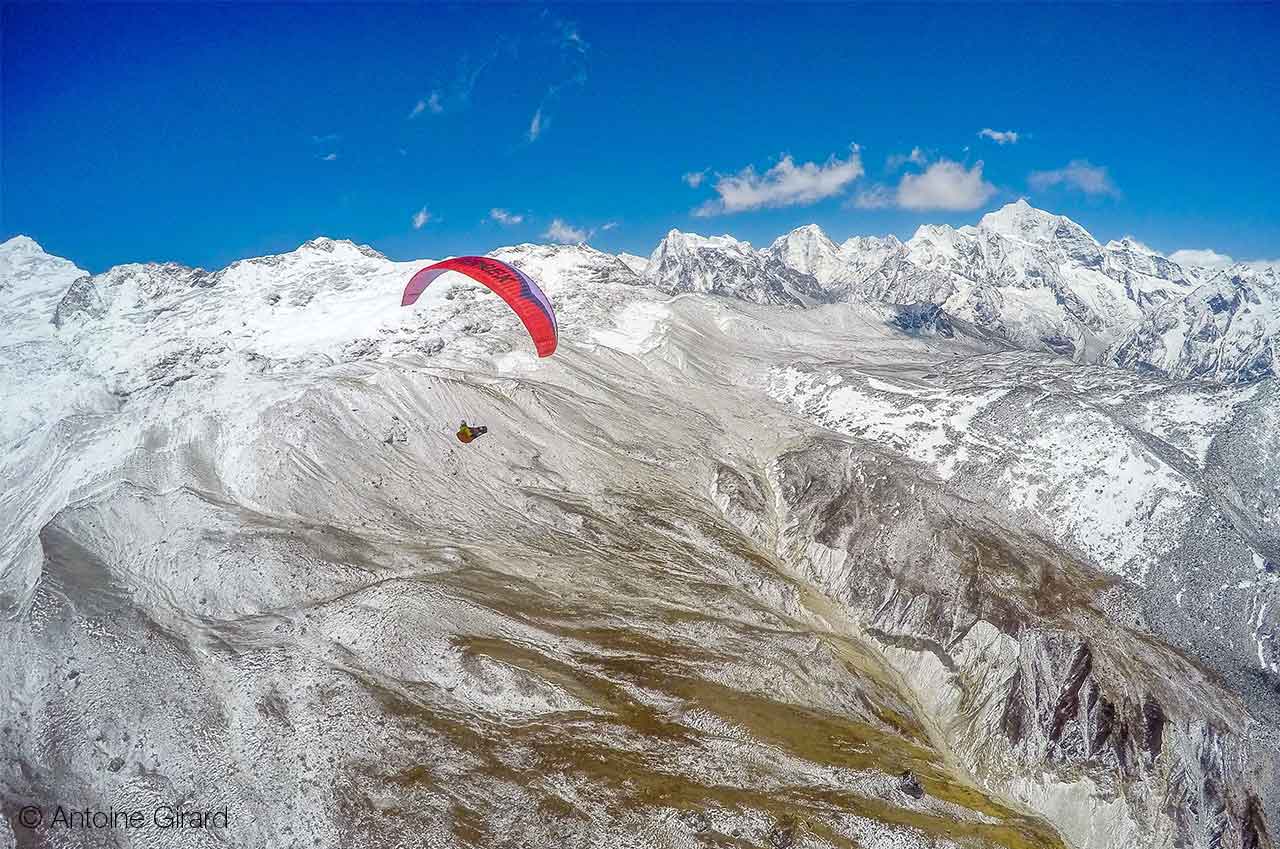 Flying towards Shalbachum after the prior evening's snow storm.
Only one try
"Landing at high altitude is stressful. Above 4000m, there is little lift and you glide fast. You need to find a landing platform with few crevasses that is relatively flat to avoid the risk of falling. You usually only get one try. In the end, the fresh snow made landing much easier. It was possible "to crash land" without getting hurt!
Once at base camp, we lightened our packs to 12kg for the climbing.
-A high-performance 3.8kg paraglider,
-A relatively comfortable 300g paragliding harness,
-The survival essentials: tent, stove, and food for three days.
During flight, we placed our crampons, ice axes, ropes, ice screws, cams, and other mountaineering gear in our packs. During the climb, the paragliders were in our packs. A small 60-liter pack was enough for the approach when we had to carry both gear and paraglider."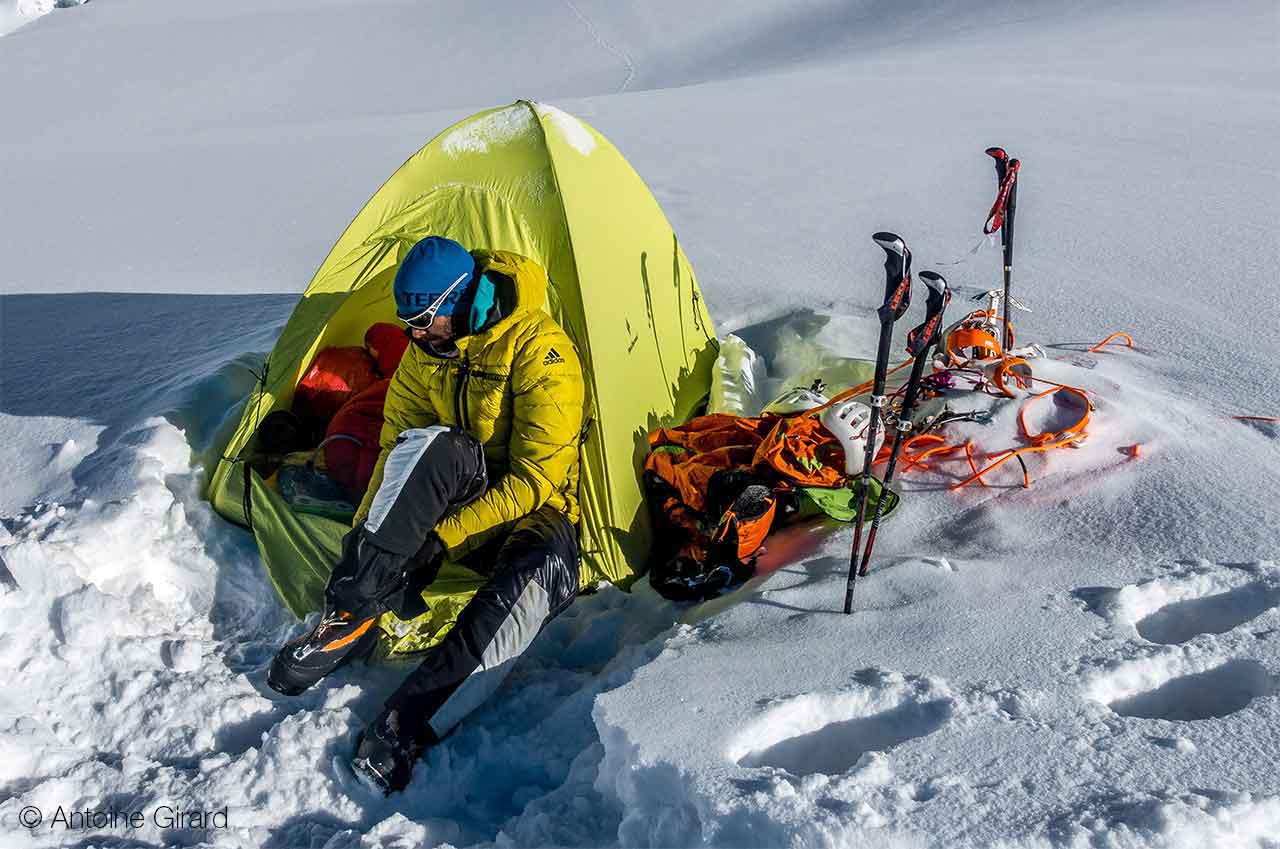 On Shalbachum at 5800m elevation while acclimatizing; we're preparing to descend in clear but windy weather.
The sheer fun of combining paragliding and mountaineering
"Even though we were unable to make a summit attempt, this type of approach to the mountains is exhilarating. On Shalbachum (6680m), we landed at 5800m in an incredible location after a one-hour hike and then a short one-hour flight. A typical approach on foot would have taken at least two days through complex terrain with potentially mediocre climbing. We could have continued to the summit the same day, but that was not our objective. We wanted to sleep at 6200m to acclimatize. It was at that very moment that we realized how much sense it makes to combine paragliding and mountaineering. Climbing in the Himalaya often requires grueling approaches. With a paraglider you can cover the same distance in two hours, and then be back down from the summit in the same day! This makes it possible to climb several peaks in the same trip!
The ability to head back to base camp in just a few minutes and with little effort is reassuring even if you sometimes need to wait one or two days for the right conditions for takeoff.
In the end, through this new approach to the mountains, there remains so much to explore and do! It's like discovering a whole new discipline."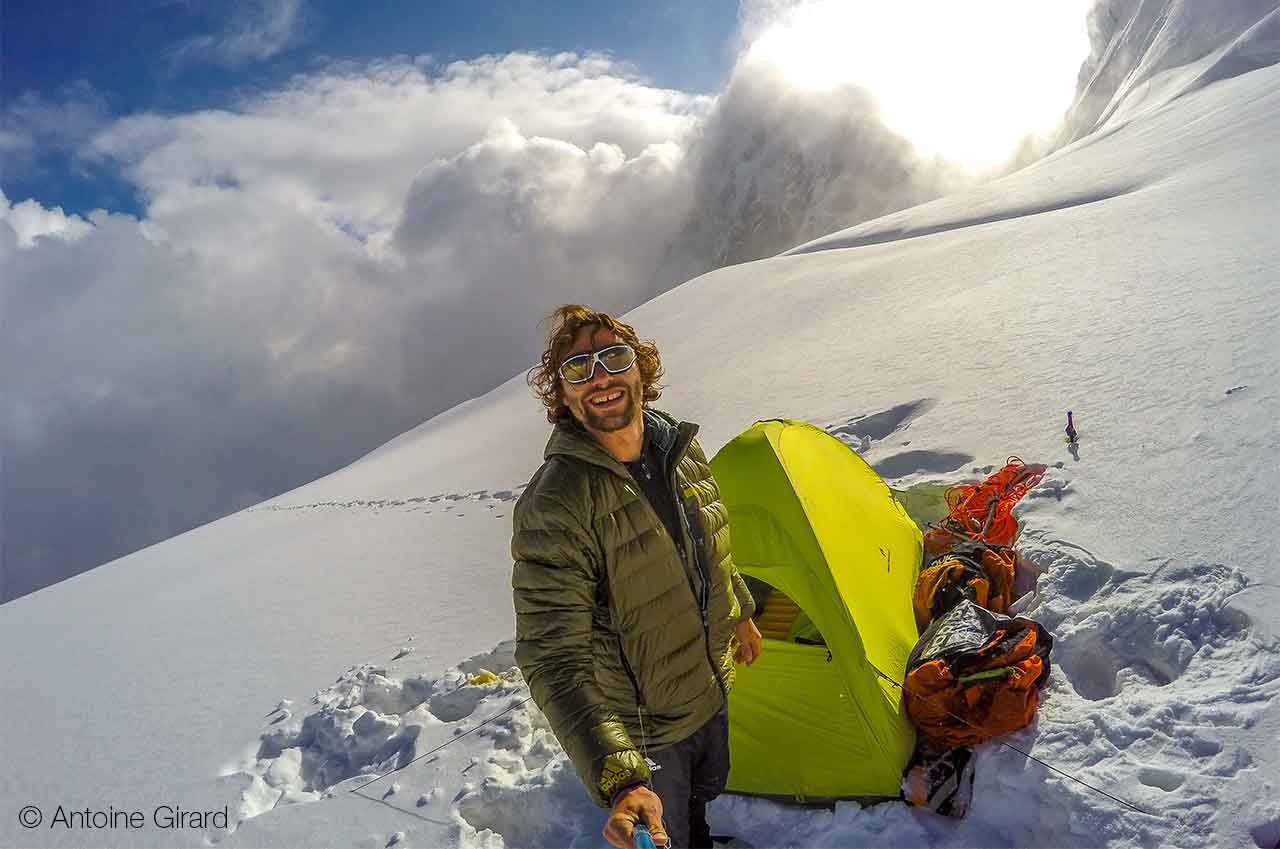 Spending the night at 6100m on Shalbachum.