Understanding HazLoc
HazLoc is an abbreviation for 'hazardous locations' and refers to an area with a potential for explosions due to the involved atmosphere.
June 22 2020
Explosive atmosphere
A HazLoc product becomes certified by meeting the applicable safety standards for products intended to be used in hazardous (classified) locations in accordance with the applicable installation codes. For the United States, the applicable installation code is the National Electric Code (NEC), Articles 500 through 505. OSHA provides accreditation to certifying bodies as a Nationally Recognized Testing Laboratory (NRTL) for issuing HazLoc certifications. The certification body must also inspect the manufacturer's factory at least four times per year for production surveillance purposes.
A product must be listed and labeled according to the HazLoc area classification in which it has been tested for and certified to be used within. These tests will differ depending on the intended Class and Division area classification of the headlamp. A few examples of differing tests are: lamp breakage tests, spark ignition tests, temperature tests and drop tests.
"We are pleased to see Petzl's continued commitment to safety with their UL/C-UL HazLoc Certifications in accordance with ANSI/UL 783 for the PIXA headlamps 1, 2 and 3 for North America. Today more than ever, the importance of safety is in the spotlight, so this demonstrates Petzl's dedication to help with worker safety," states Milan Dotlich, Vice President of Europe and the Americas for Energy and Power Technologies at UL.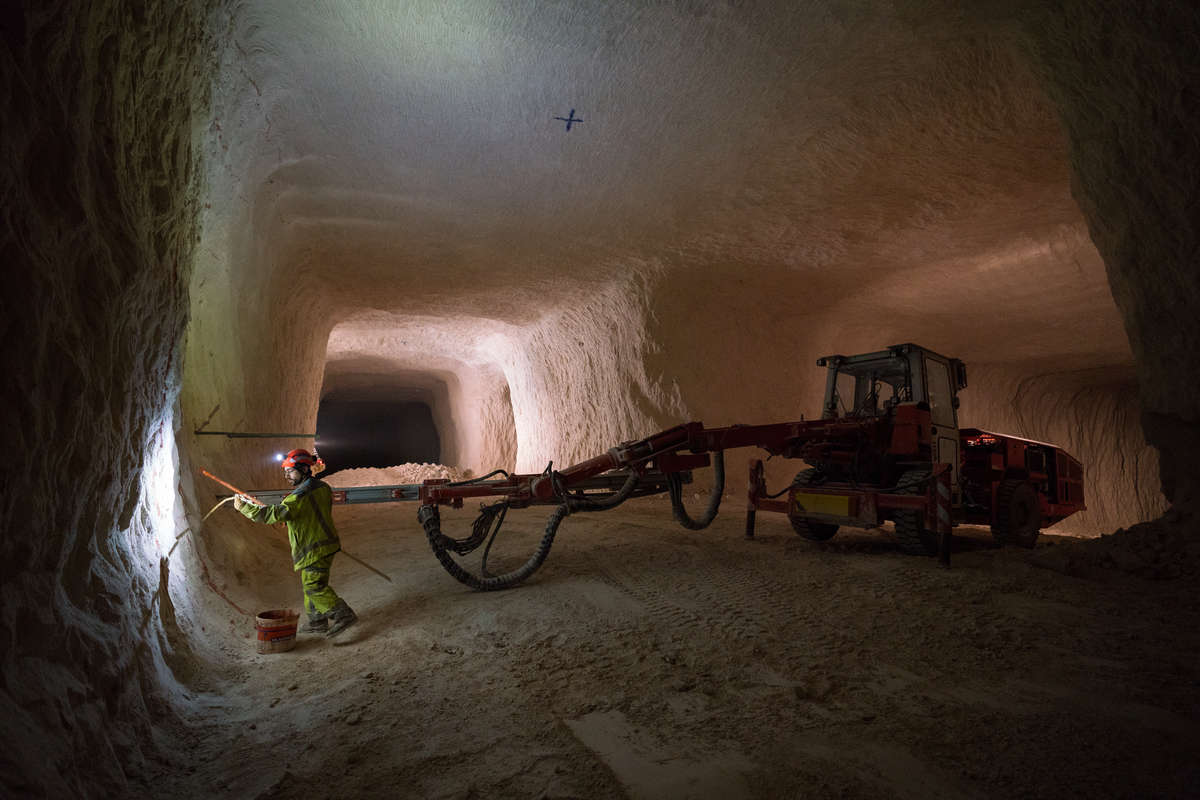 If you dig deeper in the PIXA Technical Notices, North American HazLoc certifications are explained as being broken down into classes, divisions, groups and temperature classifications. 
Classes are broken down by the type of explosive atmosphere expected to be present: 
I: flammable gases or vapors may be present 
II: combustible dust may be present
III: ignitable fibers/flyings may be present 
Divisions identify the likelihood the explosive atmosphere may be present in the area:
1: atmosphere can exist under normal operating conditions 
2: atmosphere not likely to exist under normal operating conditions 
Groups identify the ignition-related properties of material that could cause the explosion 
A: Acetylene.
B: Hydrogen, 1,3-butadiene, ethylene oxide, propylene oxide and acrolein.
C: Carbon monoxide, hydrogen sulfide, morpholine, acetaldehyde and ethylene.
D: Gasoline, acetone, ammonia, benzene, n-butane, ethanol, n-hexane, methanol, methane, vinyl chloride, natural gas, naphtha, cyclopropane, isoprene and propane.
E: Aluminum, magnesium, chromium, titanium, zinc and their commercial alloys.
F: Carbon black, coal charcoal, or coke dusts.
G: Flour, grain, powdered sugar, wood, cornstarch, plastic and chemicals.
Temperature classifications are identified with a "T-Code" or temperature that relates to the maximum surface temperature that the headlamps can reach in the Class I or Class II area, so as to operate the headlamps below the material's ignition temperature. 
T1: ≤ 450 ℃
T2: ≤ 300 ℃
T3: ≤ 200 ℃
T4: ≤ 135 ℃
T5: ≤ 100 ℃
T6: ≤ 85 ℃
Note: For Class III areas, the maximum surface temperatures under operating conditions shall not exceed 165°C for equipment that is not subject to overloading, and 120°C for equipment that may be overloaded.
The PIXA headlamps 1, 2 and 3 are UL/C-UL Certified in accordance with ANSI/UL 783, Electric Flashlights and Lanterns for Use in Hazardous (Classified) Locations, for North American HazLoc Class 1, Division 2, Groups C and D, T4 and Class II, Division 2, Group G, T4 hazardous (classified) locations.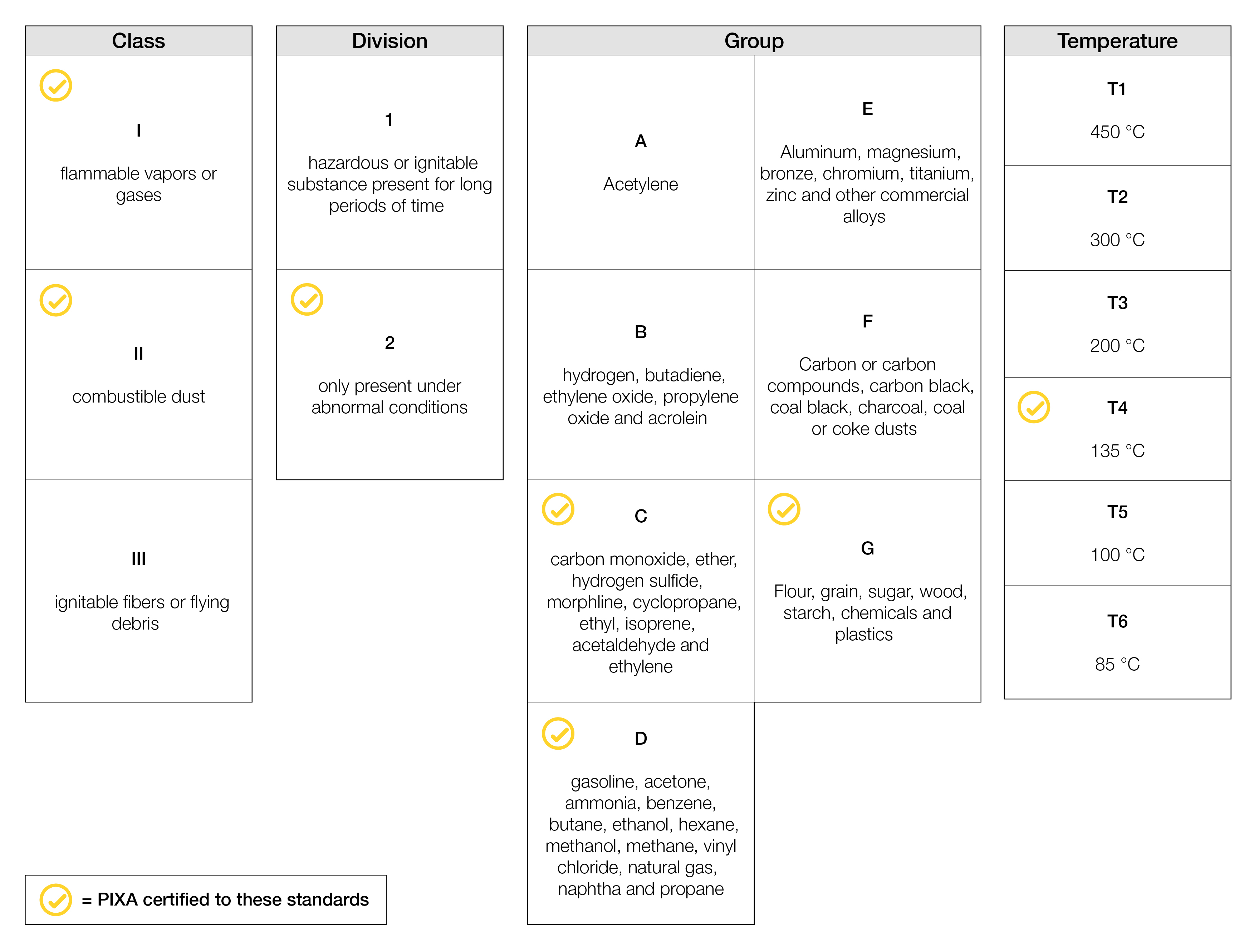 The PIXA headlamp line are durable headlamps meant for explosive environments. The lamp portion can be attached to a helmet using a mounting plate, and the CONSTANT LIGHTING feature ensures that brightness isn't affected as the battery drains. An ergonomic rotary switch is usable with gloves to adjust lighting preferences.
Learn more about the PIXA headlamp line:
For more information on UL HazLoc Certification: