Aging Anchors - Unsung Heroes
Walk up to the crag. Drop your rope. Tie in, check your partner, on belay. Hand, foot, hand, foot — clip. Wait. Who put that bolt there? Who's managing all the fixed hardware we climb on?
November 2 2022
Rock climbing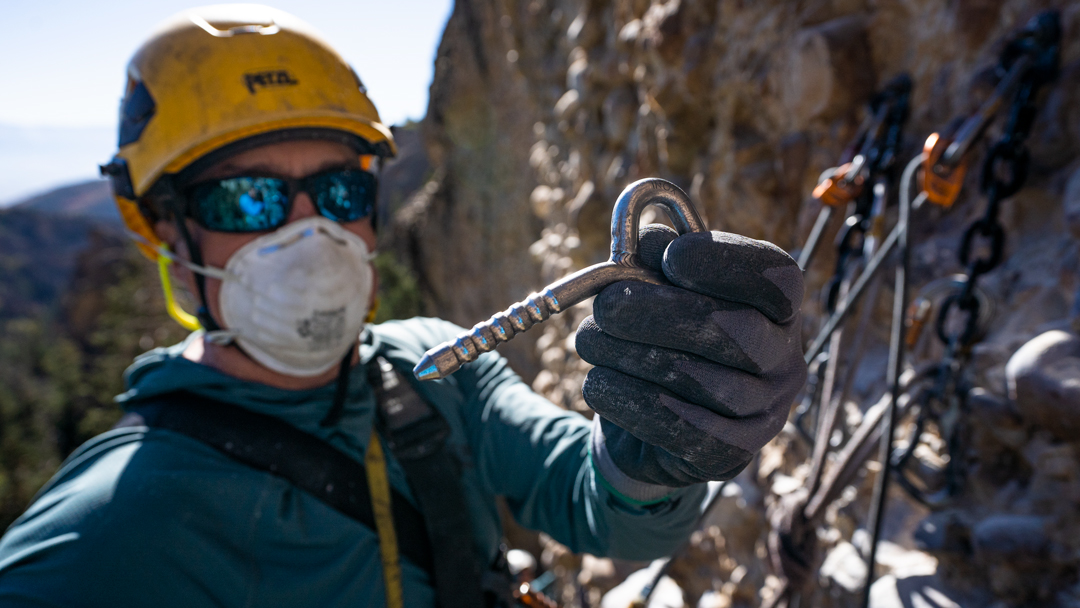 @ Jonathan Vickers Photo
In part-two of our Aging Anchors series (click here to read part-one) we are exploring the often thankless work that goes on behind the scenes at your favorite crag. From the moment the community decides a bolt needs to be replaced, to when the work is actually finished; what does it take to maintain our favorite crags? 
What does it take to REBOLT a crag? 
The Salt Lake Climber's Alliance (SLCA) is a prime example of a local climbing organization (LCO) that works tirelessly to serve as many climbers as possible. One of their biggest ongoing projects is maintaining and replacing the fixed hardware in the Wasatch Range. The program they've established has proven an effective approach to addressing the questions surrounding aging anchors. The insights below from SLCA's Anchor Maintenance Coordinator, Andrew Brodhead, may provide a better understanding and appreciation for the unsung heroes quietly replacing aging hardware at your local crag. 
---
SLCA's Professional Anchor Maintenance Crew
SO HOW DID THE SLCA ANCHOR MAINTENANCE CREW GET STARTED? 
"...we had WARI (Wasatch Anchor Replacement Initiative) the volunteer crew. And it really wasn't until 2019, 2020 that we decided we wanted to be a little more legit about this. Changing our mindset to include the landowner in the conversation. So we went to the forest service and said we want to do this legitimately on your land, what do you need from us? 

WITH THIS TYPE OF WORK WHERE DO YOU START? WHAT COMES FIRST?
"Each year in early spring we start looking through our observation form. Throughout the year we encourage the climbing community to fill it out if they come across an aging anchor or bolt. They don't even have to know what they are looking at…so we take that and come up with a game plan about different areas within the canyon that we want to look at. We also go on Mountain Project and scour the internet.

We also incorporate a prioritization checklist into our decision making process. This checklist includes: age of route, FA, usage and popularity, who the land owner is, rock type and historical factors. This helps us narrow in and make better decisions when it comes to the resources.

We're not just going willy nilly out there, we're looking at the greater picture to be able to do what's best for the route, resource and landowners. We start targeting different crags. Our goal is to hit every canyon [around Salt Lake City] twice a year. The technicians will actually go and do a recon…With our program it's more of a maintenance thing, if it doesn't need it, we aren't gonna do it…They will come back with a report."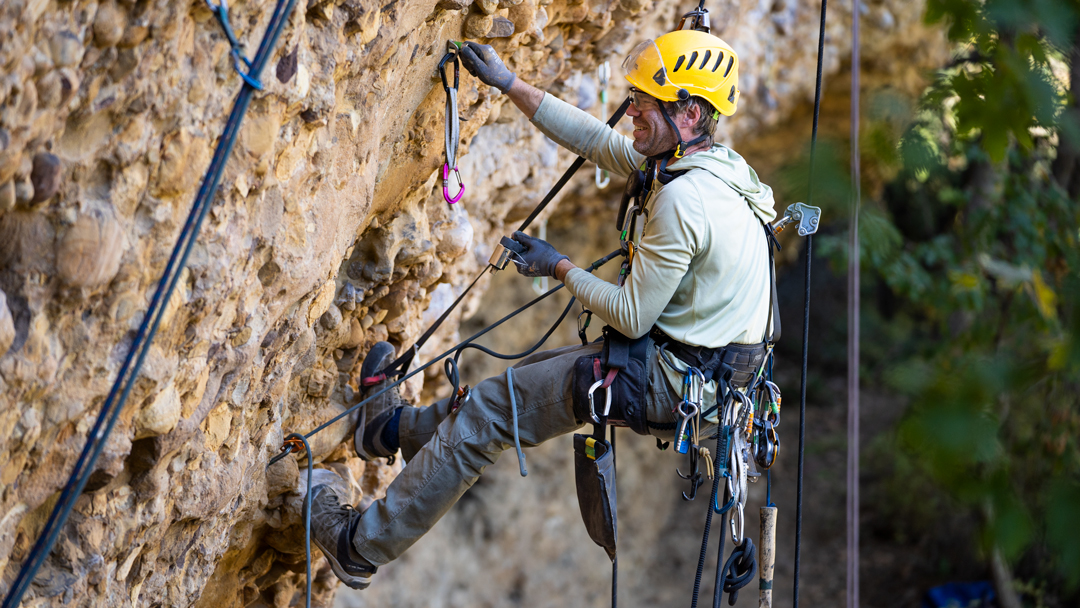 @ Jonathan Vickers Photo
HOW DO YOU GO ABOUT DETERMINING IF A BOLT, OR A WHOLE ROUTE, NEEDS TO BE REPLACED?
" Yea…what they'll do is start re-torquing everything to the manufacturer's specifications of how tight they should be. And if things are re-torquing fine, they're not spinning, and no signs of visible rust, we'll leave it. 

Other times if they can't re-tighten it, they'll take it out and look at what type corrosion is happening…Sometimes they will take it out and realize 'oh yea, this is kind of bad' and if we start seeing 2-3 corroded bolts on a route, they will probably go and redo the whole thing because there are enough warning signs."  
WHAT ARE SOME OF THE MOST CONCERNING HAZARDS WITH THIS TYPE OF WORK?  
" We really try and take a proactive rather than reactive approach to hazards. We're definitely worried about dropped items…in the past we've had a drill dropped with a drill bit on it, I would say that's probably the number one hazard. The second most concerning hazard would probably be a cut rope…that's the main reason we have the two-rope system. If you're drilling a bolt in quartzite (or other hard rock) your drill bit is going to be flaming hot, if you nick your main line, you could bust through that pretty quickly.  

Sometimes, we also need to bust out the grinder because we can't get a bolt off…you could so easily cut your rope in that situation…but also walking to the cliff with a 70lbs pack over scree and talus…sun exposure, hypothermia, dehydration…we go through a lot. 

That's why we try to be proactive rather than reactive to these areas that are outdated and starting to see high corrosion."  
WHAT ARE SOME SPECIFIC CHALLENGES WITH REMOVING AND REPLACING FIXED HARDWARE?
"One big challenge is that the first step to removing a bolt properly is you have to reset it. You loosen the bolt up, and then you hammer it in…One issue we have right now is that bolts place in the 80' and 90's is that they weren't drilling the holes deep enough to hammer bolts in…so when we are replacing bolts we are making sure to drill those holes deep enough so that they can be replaced in the future…

Another problem is mixed metals and corrosion, sometimes when we try to take that out the bolt will snap, and once that happens, we have to drill a new hole."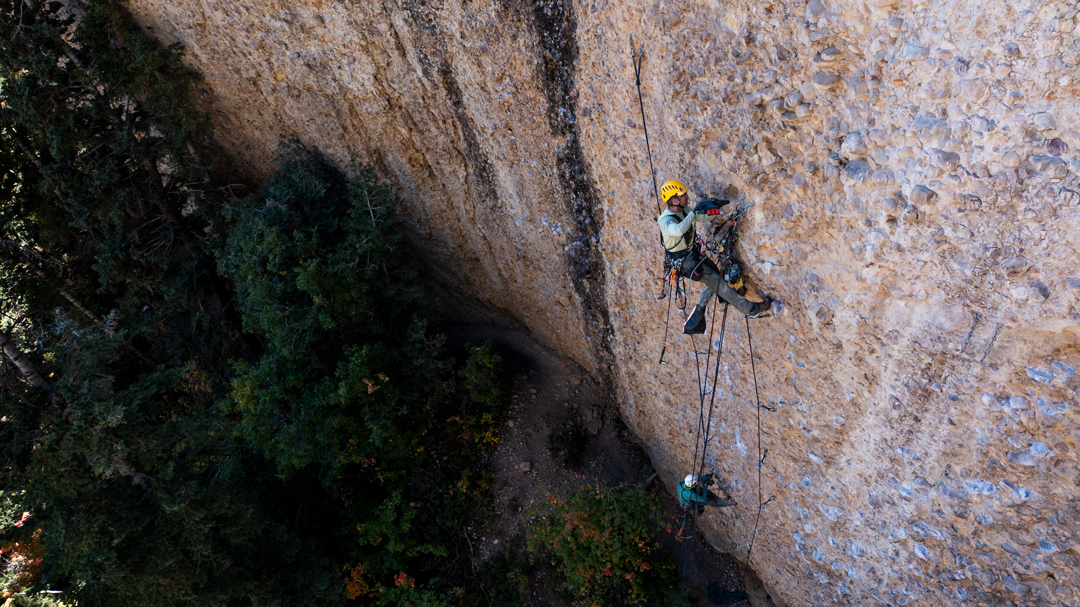 @ Jonathan Vickers Photo
SO IS THAT COMMON PRACTICE? POUNDING AN OLD BOLT BACK INTO THE HOLE AND PATCHING IT UP?
"It should be…there's some routes where you'll be climbing and you will see two or three old bolts, you will just see the metal stud sticking out and there is no patching, so I think that is a thing of the past. One thing that we are trying to push is patching these holes. 

I would like to think that 50 years from now when another generation is climbing, that they won't see the mess that we've created, all these old bolt holes and all this metal sticking out. Everything is going to be patched and disguised and all you'll see is that one bolt there.

 Another big reason is to hold the integrity of the route for when it was first established. By not removing old studs and patching them, it's taking away from the original integrity of the route." 
WHAT WOULD YOU ENCOURAGE CLIMBERS TO LOOK FOR WHEN MAKING OBSERVATIONS ABOUT AGING HARDWARE? WHAT SHOULD CLIMBERS TAKE AWAY FROM THIS CONVERSATION?
"...It's easy to think that every bolt is safe, and generally they are. But we have so many bolts that we pull out and we're looking at it head on and it looks great, but you take a deeper look and it can be scary. 

If anybody starts seeing rust or things are spinning…I think people can do a lot of maintenance on their own when they are at the crag, if they show up with an extra quicklink or an extra hanger and a crescent wrench. Sometimes with a spinning bolt all it needs is a little tool tightening and then you're fine. We are starting to encourage the climbing community here to take some of these things upon themselves. 

But if you come across something that you don't have the knowledge or equipment, get a hold of your local climbing organization and say 'hey, this is what I've observed and I think it should get taken care of'.  

…it's the least we can do to keep this climbing thing going…"

The SLCA is not the only LCO out there tackling the aging anchors around North America. Many LCOs are trying to find ways to make similar programs work in their areas. However, many LCOs don't have the money or personal to effectively carryout impactful anchor management programs. This is where the climbing community can get involved; making donations and volunteering time to their local climbing organization. In fact, Petzl has joined forces with the Southeast Climbers Coalition this year to create some great opportunities for you to help with the aging anchors in Tennessee, Alabama, Georgia, North Carolina, South Carolina, Florida, and Arkansas. Visit rebolt.petzl.com to lean how you can get involved.
---
COMING SOON: Aging Anchors - Petzl Takes Action 
In part 3 of our Aging Anchor series, we will continue to interview advocates working behind the scenses as well as highlighting Petzl's 2022 REBOLT TRIP in Chattanooga, Tennesee. REBOLT TRIP is an initiative aimed at helping local climbing organizations to replace aging anchors and maintain their local climbing areas. The first ever Petzl REBOLT TRIP will take place in Chattanooga, TN from November 11th-19th.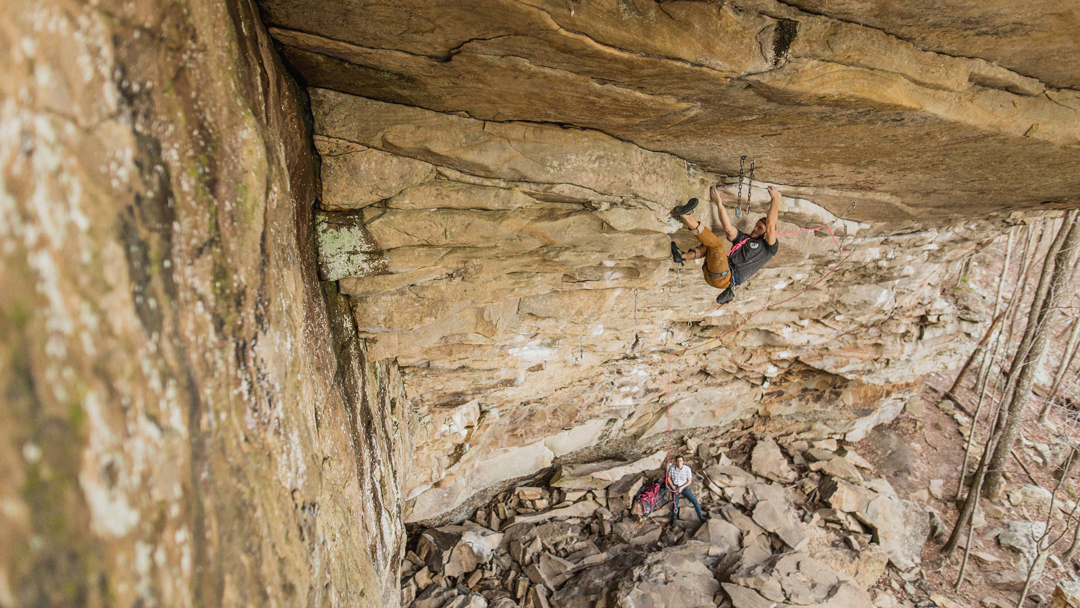 @Caleb Timmerman 

Disclaimer: Petzl does not represent or guarantee that climbing environments with fixed Petzl hardware are safe and free of risk. Before climbing with any fixed hardware, every climber must conduct their own safety risk inspection and assessment for hazards, including without limitation, product wear and tear; faulty installation; insufficient or improper maintenance; unstable or deteriorated rock; broken, corroded, used, worn-out products; and appropriate product selection. You are responsible for your own actions and decisions when climbing. Failure to conduct proper inspections and to use Petzl products according to Petzl technical information and instructions for use may result in severe injury or death. See Petzl product technical information found on www.petzl.com