Photo Essay: Jon Glassberg's Mostly-Bolted V7
Twelve thousand feet up in the Rockies, Jon Glassberg and friends stumble across a spectacular pinnacle in need of a first ascent.
August 23 2021
Rock climbing

Photographs by Jess Talley (@jess_talley). Climbing and story by Jon Glassberg (@jonglassberg).
Perched high on a Colorado ridgeline overlooking the world famous Mt. Evans bouldering area, you will find a collection of spires dotting the skyline.  At 12,200 feet, one such 25-foot needle of rock juts out like a finger, begging to be climbed. I stumbled on this feature while looking for an easier approach to a popular bouldering location — and as soon as I found the line, I dropped everything to equip it.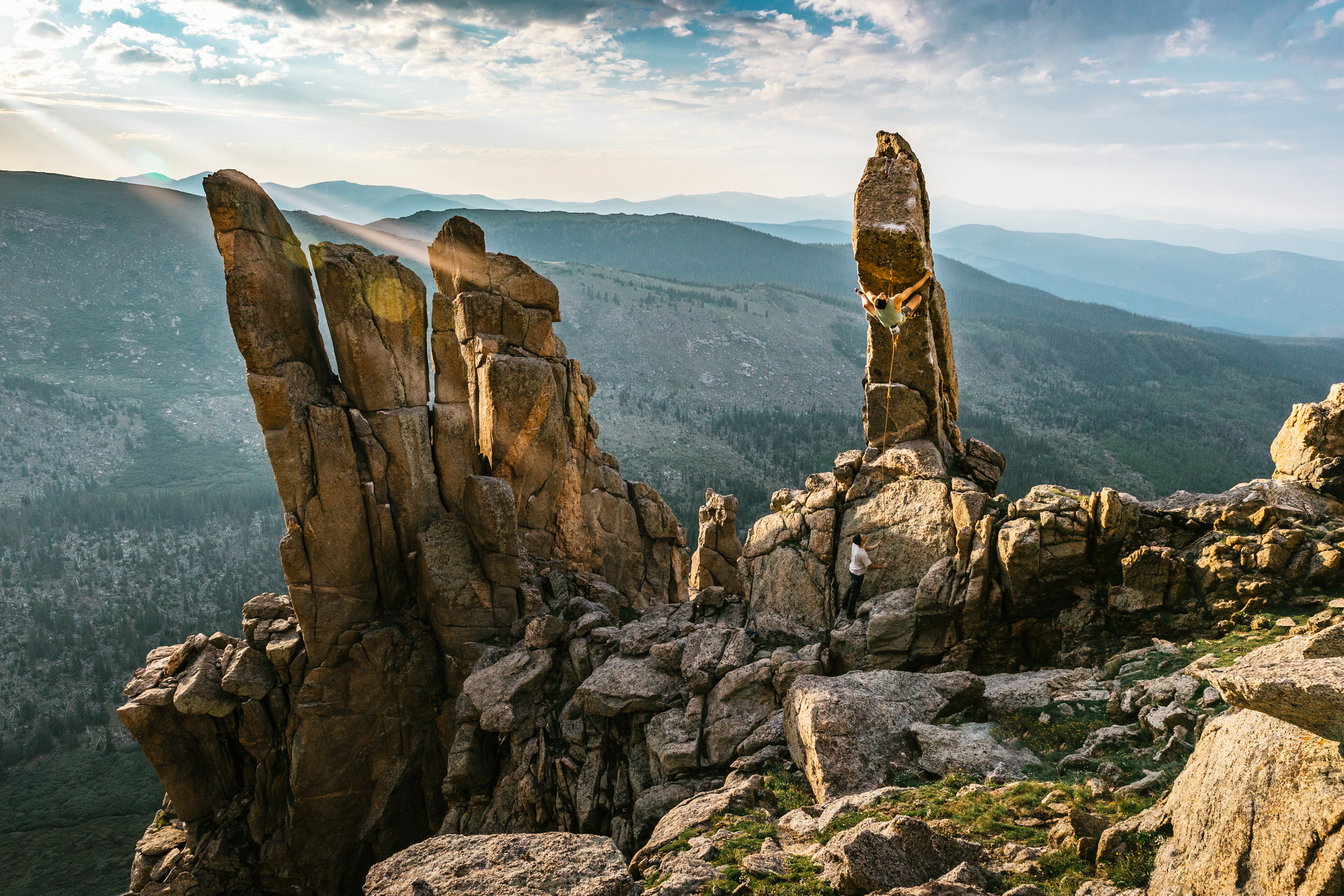 The intimidating feature would be a fantastic highball boulder problem, but its position makes it more of a free solo route.  The lack of landing is horrific: a 70 degree avalanche gully that would send you cartwheeling hundreds of feet to the valley floor below. The obvious solution was to add some bolts and make this spectacle of rock into a sport climb that was accessible to everyone. It's just barely inside the Mt. Evans Wilderness area, so hand-bolting the anchor and two bolts was the only option. After a few days of effort and some scary thunderstorms, the line was cleaned and ready to climb.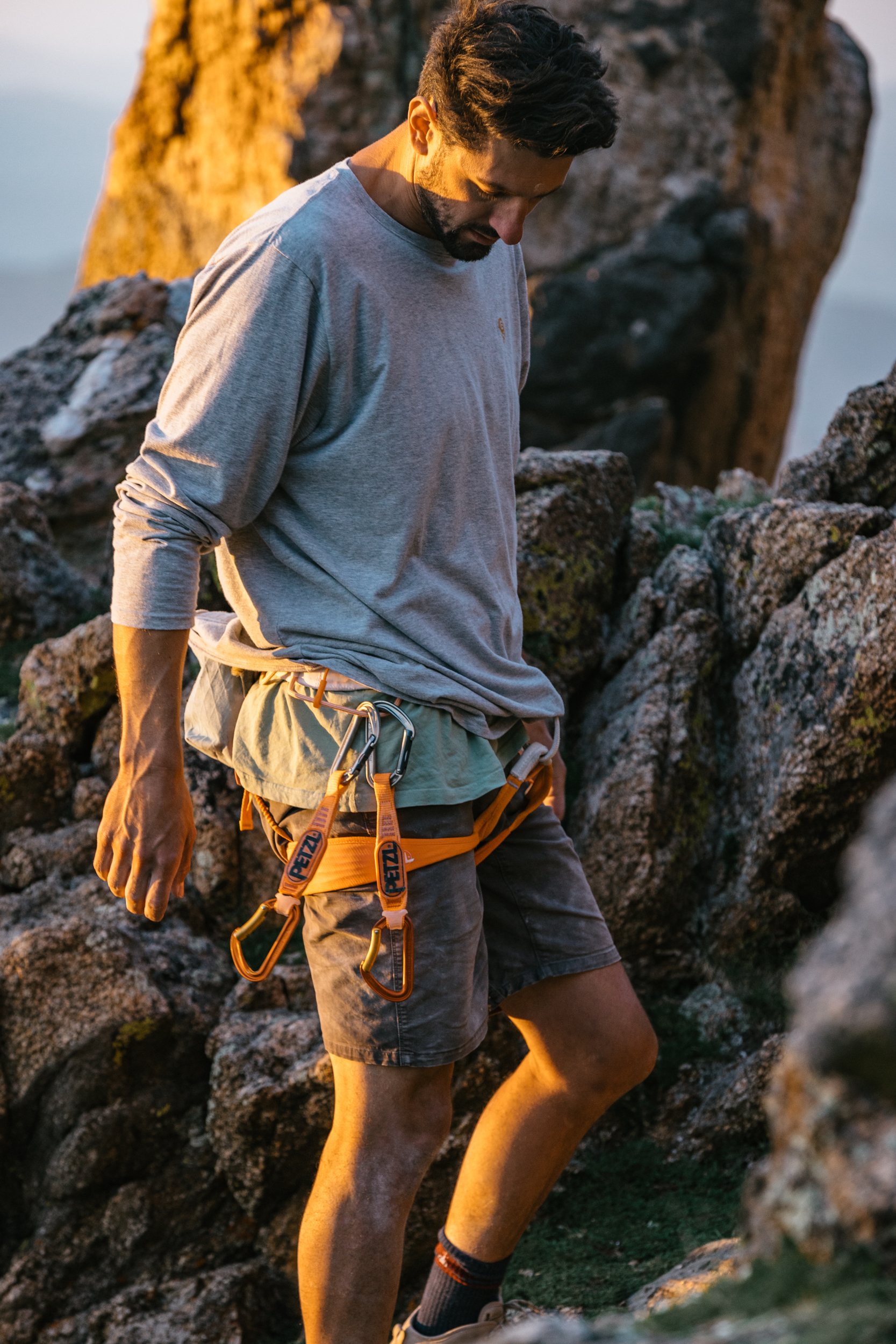 For protection, the line takes two quickdraws and a well-placed .75 cam at the start. This is the dream rack for a nice, short compression climb!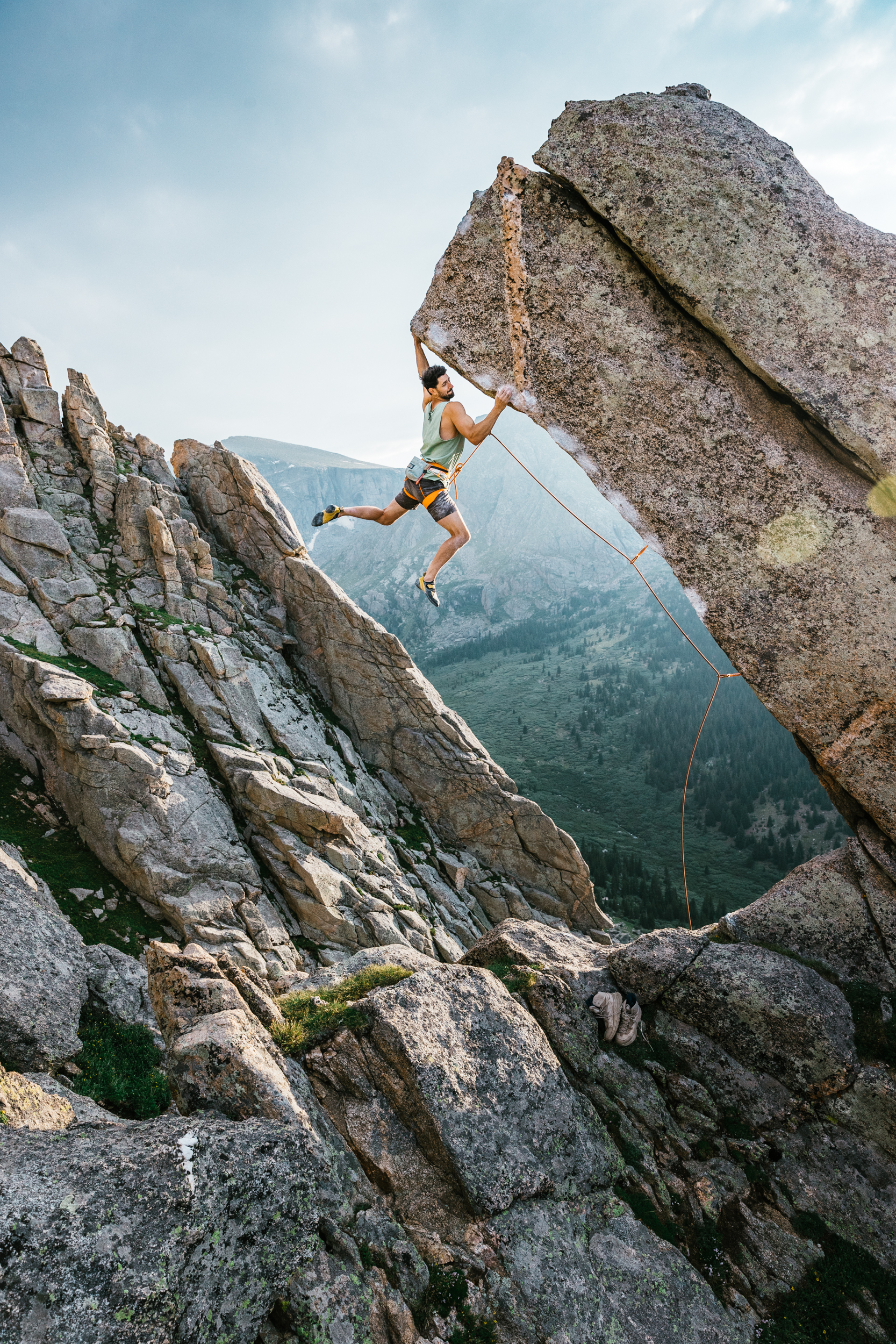 The crux revolves around this super fun dynamic move to the lip of the boulder that feels absolutely glorious.  In the background of this image, you can see The Black Wall of Mt. Evans, as well as the summit of the 14,265' mountain. Bolting by hand was a lot of work — and a bit scary, with afternoon thunderstorms rolling in as we sat on top of the feature with a hammer and bolts.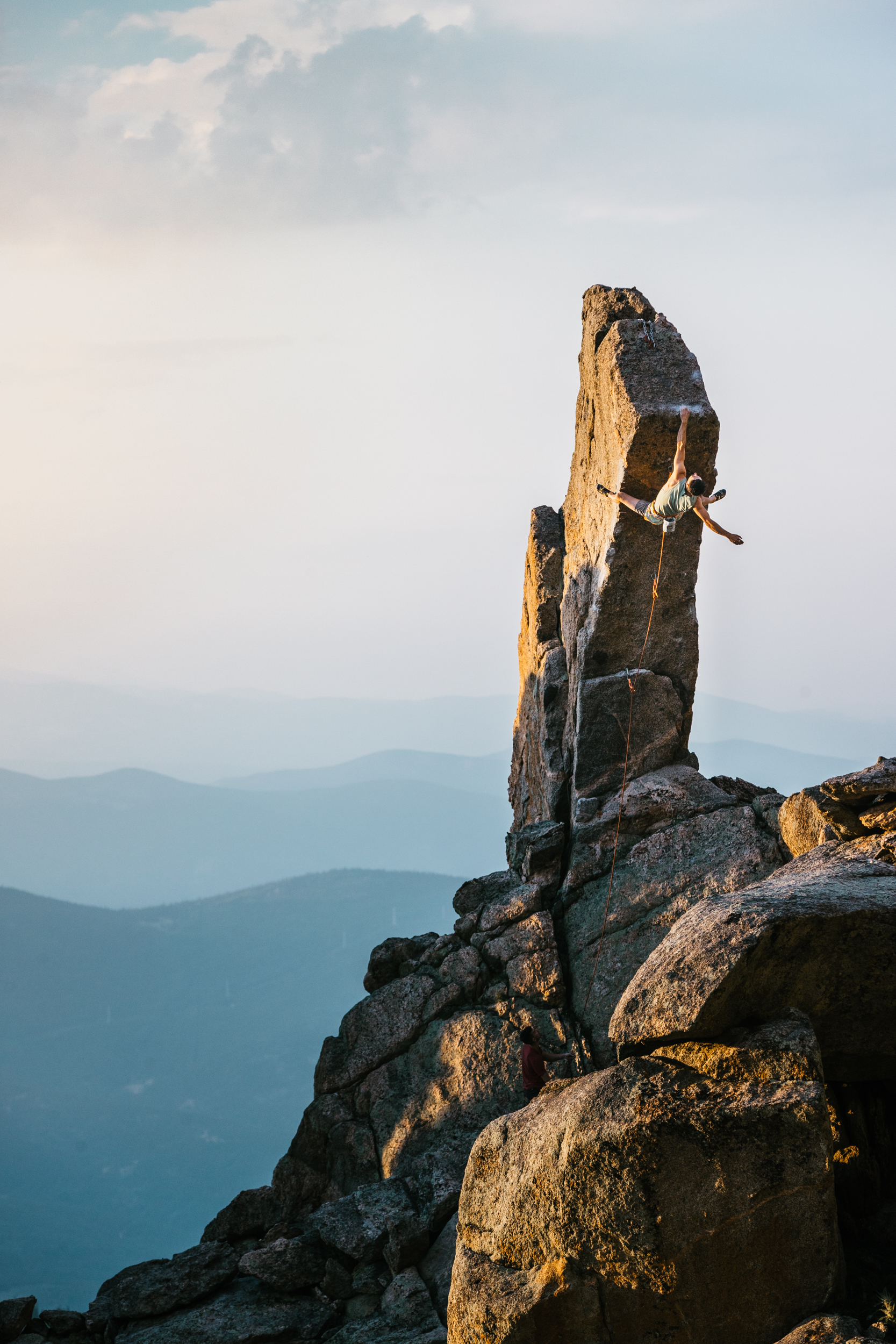 How do you grade a 25' sport route?  Do you give it a sport or bouldering grade? "Rock Hard" climbs like a boulder problem, with insecure compression and no down-pulling holds until the top, so it certainly feels like a boulder problem. I decided to give it a sport/boulder hybrid grade of 5.13a/V7 so that the climbers can decide what grade they want to take.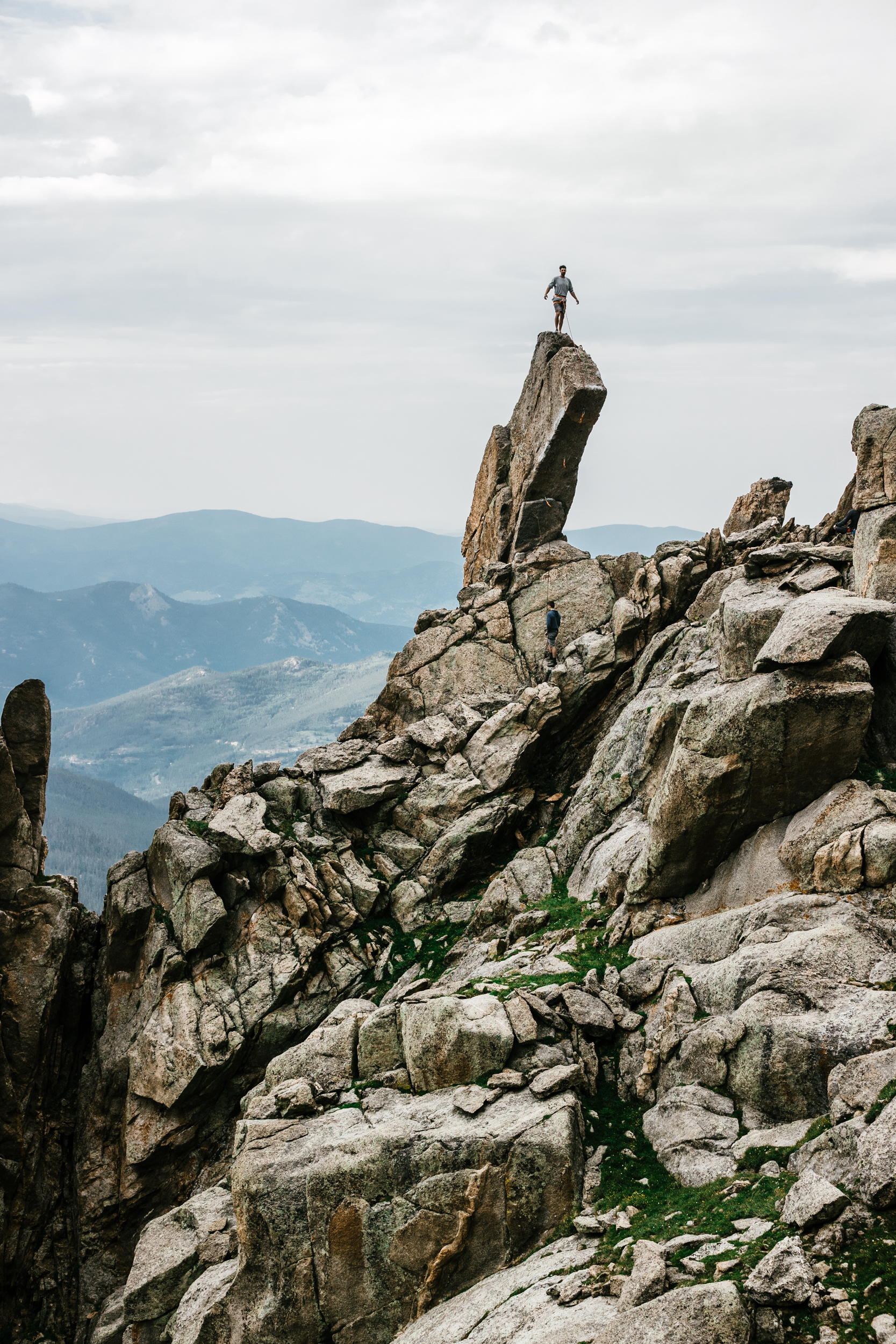 There is nothing better than standing on top of a proper summit.  For those who are looking for an adventure, these coordinates will lead you right to the spot: 39°37'26.1"N 105°37'17.9"W.  All you need is a sport kit, a .75 cam, and a good bit of compression climbing experience.