Sleeping on the wall with Conrad Anker
From comfortable portaledges to body-width rock ledges and small snow caves, Conrad Anker has experienced it all while accessing the inaccessible. Throughout the years, his love for climbing has taken him to the most amazing and extreme locations where he spends countless nights scaling unclimbed faces. Conrad's vast wisdom is inspiring to anyone that wonders what it's like to sleep on the wall.
September 14 2018
Mountaineering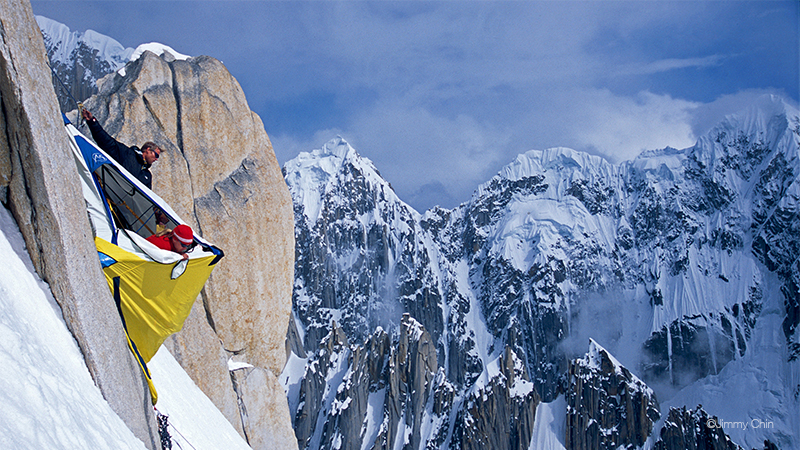 First experience sleeping on a cliff
My first cliff bivy was during an ascent of the South Face of Washington Column in Yosemite Valley. The South Face is the first "building block" for many big wall climbers. We set out with the intention of sleeping on Dinner Ledge. After a leisurely climbing three pitches, we rolled out our sleeping bags, enjoyed some canned food and drifted off to sleep. In hindsight, we could have done the route without the bivy as we were off the route before noon the second day. Yet the experience of watching the sun set on Yosemite Valley as the cars whirled around the smoke laden campgrounds was proof that what we were doing was the best way we could spend our time.
Longest stint on the wall
During the fall of 2008, I visited Meru, a 6,310 meter peak in the Indian Himalaya with Jimmy Chin and Renan Ozturk. We figured we would need a week on the wall. Twenty-four hours into our capsule style attempt, we were pinned by a four-day storm. It was 17 days before we were on horizontal ground again.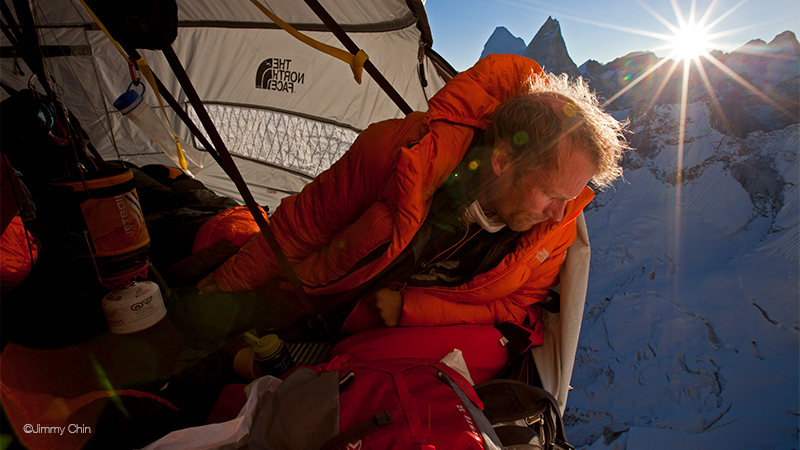 Taking care of yourself at the bivy
On a dry wall like El Capitan, plan on taking 4 to 8 liters of water a day, per person. On an alpine wall, budget 250 cl of fuel per person per day. Take food you are comfortable with. I happen to like simple grains and nut butters on longer routes. A bit of chocolate and coffee go a long ways in keeping your engine running. On El Capitan, I bring one lemon a day as a treat.
On the ledge you'll need to be comfortable using a pee bottle and getting comfortable with your partner using one. Personal waste bags are required on popular walls. To make hauling a bit less odiferous and if weight isn't too much of an issue, try sealing the bag with duct tape. They are less likely to burst open.
Safely sleeping on the cliff
When sleeping on a natural ledge or a portaledge, I wear my harness. It's comforting to know that you are secured to the wall with full-strength gear. Gravity plays for keeps.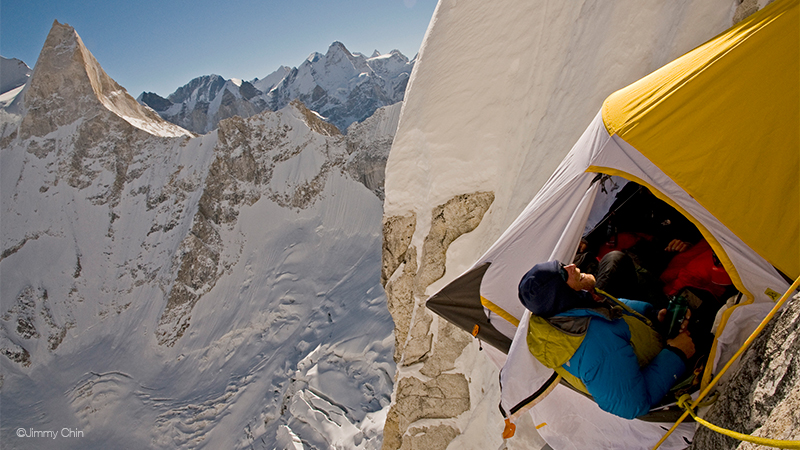 Organizing the gear at the bivy
Organizing food, clothing, and other essentials in stuff sacks ensures that they are accessible and secure. The rack lives outside unless it is snowing. Clipping it all underneath the bed is a great way to get it out of your way.
Natural ledge vs portaledge
Both types of bivies are enjoyable. A star filled night on a made-by-nature ledge is always a soothing experience. The improbability of a portaledge ledge on a cliff makes for an amazing night as well. As long as I'm outside I'm happy.
To bivy or not to bivy
What are you waiting for? The cliff isn't going anywhere. Enjoy the process and be safe.