What is in Sasha DiGiulian's backpack?
Professional climber, women's rights activist, and entrepreneur — Petzl athlete, Sasha DiGiulian, is determined and committed to climbing and life in general. Find out what she takes with her to the crag!
October 22 2021
Rock climbing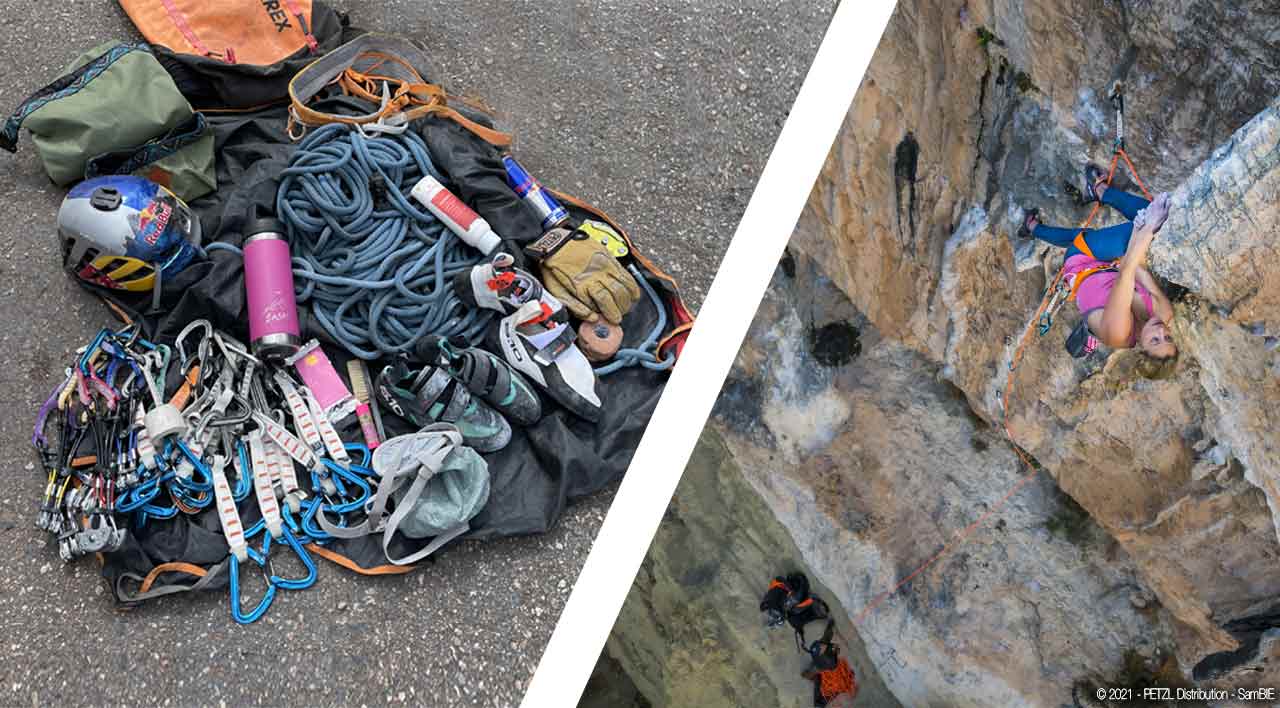 Adidas TERREX 70L backpack…

 

Petzl SITTA harness, the most comfortable, lightweight harness for single-pitch climbing!

 

Petzl BINDI headlamp and Petzl IKO headlamp (fits perfectly on my helmet); both are super light weight and have a great rechargeable battery life. I always think it's a good idea to bring a headlamp; even if I'm planning to be done climbing sooner than nightfall!

 

Petzl CONTACT 9.8 mm: this is my favorite rope to climb with. It has a soft, durable sheath that is reliable to take big whips on, yet it also is light and easy to manage; I like the extra diameter for an extended life span!

 

Petzl TARP — I normally toss my rope into my bag to have the most efficiency with space, so folding this awesome tarp in with it is a practical way to pack in as much as I can to my pack, without sacrificing the integrity and cleanliness of my rope.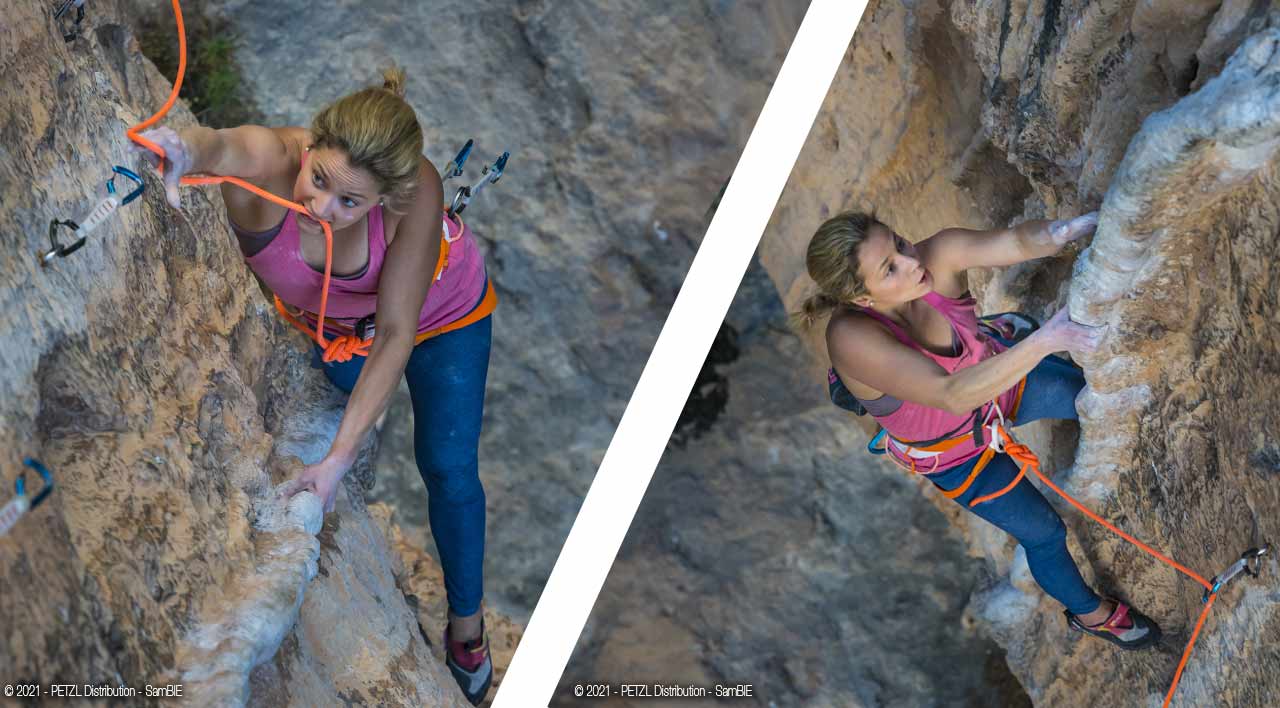 SEND Bars + fruit; I have been making my own bars for over 10 years, since I was consistently disappointed in the options that existed on the market. What I looked for in a bar was something that tasted really good, had a full serving of greens in it (since it is otherwise pretty tough to get good plant nourishment while out all day), and be 100% plant based with no added sugar. So I started manufacturing my own bars, which are not for sale yet, but stay tuned :) I also like to pair the bar with either dried fruit or a honey crisp apple.

 

A can of Red Bull to lift me up in the evening around 4pm for the final pitches. + pink YETI 18oz Rambler bottle with a special engraving by Conrad Anker. When I've had a long day either at the crag or on the wall, I find my secret weapon to having more 'send' goes in me is a can of Red Bull. Then, my Yeti that Conrad gave me keeps me hydrated with refreshingly cool water, or hot tea if it's a cold day.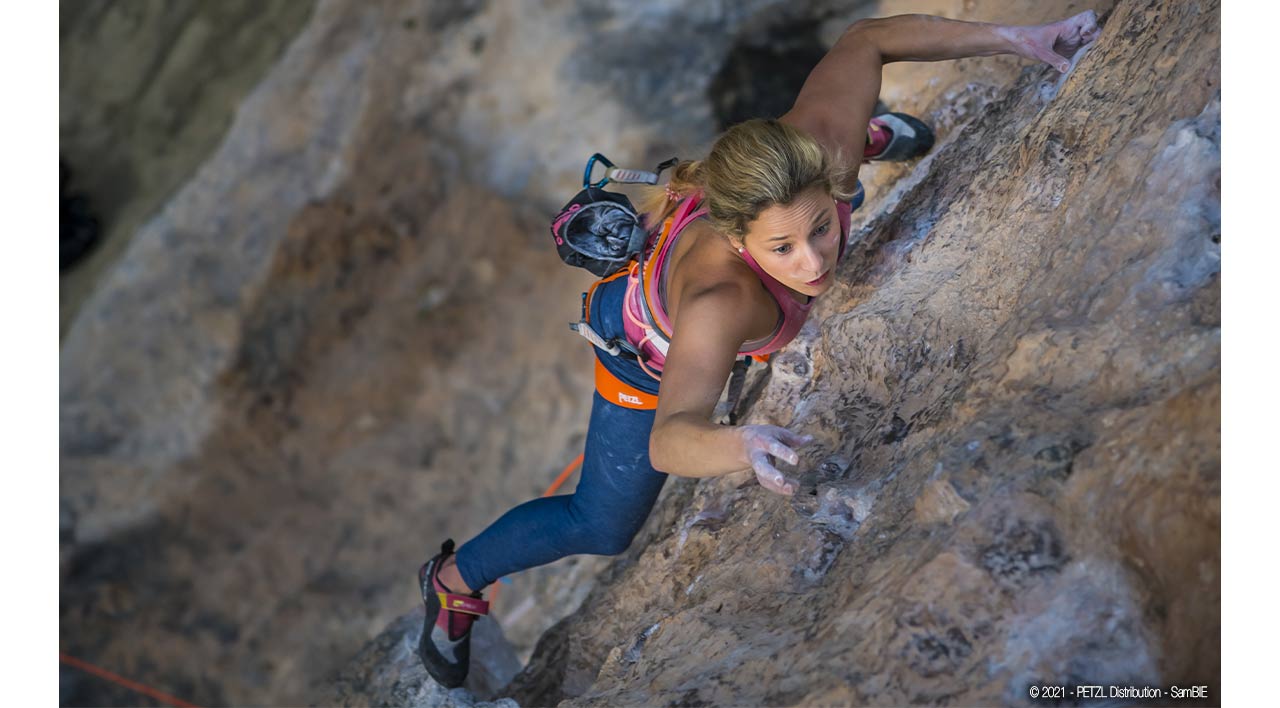 Petzl METEOR helmet — Red Bull has wrapped my METEOR helmet with the top design of a recent climb I did on El Gigante, "Logical Progression", which resembles to me persevering through hard times (5 hip surgeries later), believing in my own potential, and putting myself on the line. Each significant climb I've done, I have a specific graphic designed helmet to resemble this memory and to motivate me for my next goal. I always keep a helmet with me in my bag because I believe that it is important for safety while climbing. I even recently added a helmet to my climber emoji that I designed, to reflect this.

 

Petzl GRIGRI belay device: the GRIGRI is my preferred device for belaying. I've been using it since I was 7 years old and learned how to belay, and it is the most reliable device on the market.

 

Petzl CORDEX belay gloves — save your skin for the climb, and eliminate any risk of rope burn, by using belay gloves.

 

Petzl ANGE draws — These are my favorite, lightweight draws that are awesome for sport, big walls, and alpine. They hardly weigh anything, yet they are also super easy to climb with and to clip the rope into!

 

FiveTen Niads and

Hiangles Five Ten

— my current two favorite shoes on the market, the Niad performs really well on technical climbs and crack climbing. It has a stiff, precise edge, and fits a narrow foot, which is what I have. I like to have the HiAngles with me, too, for steeper climbing with heel hooks, toe hooks, and precise edging.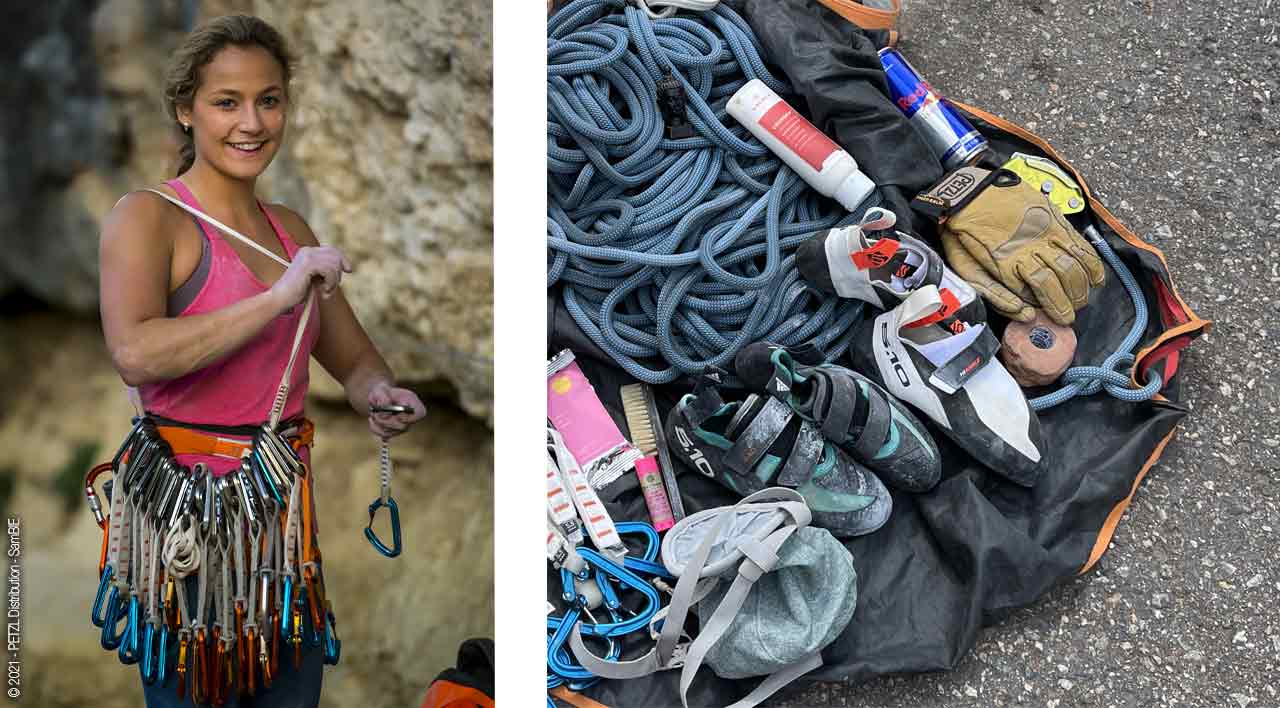 Petzl CRUNCH chalk and OnCrux liquid chalk — the two of these create an awesome combo. I like to do a base layer of OnCrux, which uses all natural ingredients, and then keep Petzl CRUNCH in my chalk bag for climbing.

 

Totem cams — lately I've been doing more trad and mixed climbing, and the totems are the most adaptable gear to use — they are loadable on just two lobes, and I really like their expansion range.

 

Nail clippers and file (often I use this for my skin) + Rhino Skin recovery kit, Super glue and Leukotape, emergency med kit + lip balm — I keep all of this in a little pouch, which I add to and refine according to the trip. I really like the Rhino Skin products and have found my skin does really well sustaining long days when I use their hand salves.

 

8B+ SASHA monster + Petzl SAKAPOCHE chalk bag — I keep my extra chalk in my 8B+ SASHA bag, which is a monster adaptation that I designed to raise awareness and funds for Right to Play International; and my go-to climbing chalk bag is the SAKAPOCHE bag — it has a good size opening for my hands to dive into when I'm pumped and desperately trying to chalk up for the next move; yet it's lightweight and I don't notice it.

 

Exercise bands to warm up my shoulders, hips, glutes — I like the Theraband set — I'll do a series of exercises before I start climbing to make sure my joints and muscles are warmed up before diving into climbing.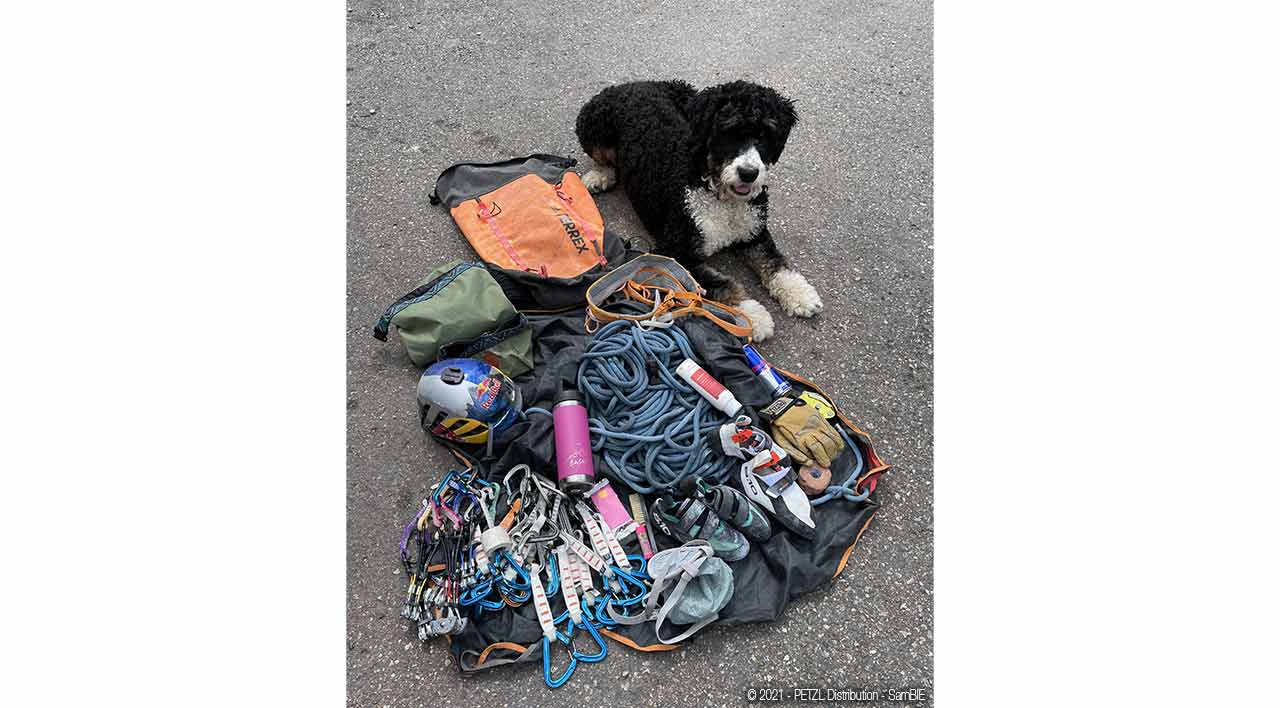 Collapsible doggie bowl (Wilderdog) + a bone for Moose… If I bring my pup to the crag, I need to make sure he stays hydrated and happy!

 

Petzl SPATHA knife: I think it's a good idea to have a knife on hand in case of any emergency situation, or just to cut off stubborn tape, renew the end of a rope, etc.

 

Hand warmers: I have a condition called Raynaud's in my fingers and toes, which means that I lose circulation very easily to the point of complete numbness. In order to avoid this happening, I try to stay proactive about it and keep my core temperature and my extremities warm.

 

YETI water bottle engraved by Conrad Anker — to keep my water cold or my tea hot!

 

My lucky buddha. If anything is worth doing, do it with all your heart. Buddha