Petzl reinvents the headlamp – LIKE NOTHING ELSE
Petzl is the pioneer in turning darkness into an opportunity rather than an obstacle. Our work in inventing the first modern headlamp furthered the growth of outdoor activities such as caving, mountaineering, and even running. Today, Petzl is shifting the headlamp paradigm forward to establish a new standard for hands-free lighting.
July 1 2020
Night running
In 1973, the Petzl family invented the modern headlamp. Paul proposed the idea of a personal electric light source worn entirely on the head, Fernand repurposed lamps and battery packs from Petzl's helmet-mounted lights, and Catherine sourced hundreds of elastic straps for the first production run. The design was an immediate hit. More importantly, it was such an elegant solution that it defined the very formula for a headlamp for decades to come: A lamp body, a battery pack, and an elastic headband.

All headlamps share these three components, and careful headlamp design means paying close attention to the relationship between them. As battery technology and lighting technology improved, the battery pack and lamp body were often combined — but a simple headband can only comfortably support so much weight. This requires a smaller battery or more support. Mounting a higher-capacity battery in the rear can help a powerful lamp last longer — but it also means dealing with a bulky pigtail wire and carefully balancing the design with a bulkier headband. Shrinking the elastic strap to a tiny shock cord can make a lamp comfortable, lightweight, and packable — but you won't be able to pair it with an extremely powerful lamp. 
For more than forty years, headlamps have been constrained by this triangular push and pull: How do you balance a headlamp to simultaneously be powerful, long-lasting, and comfortable?
At Petzl, we found our answer in
IKO
, a new way to think about headlamps that revolutionizes the genre with the same elegance that helped us define it all those years ago. IKO was designed to eliminate the boundaries between you and your light by bringing together innovations in each of the three headlamp components: 
the AIRFIT headband, a completely new concept that avoids the limitations of an elastic strap; 
an array of seven LEDs in a tiny lamp body for extraordinarily optimized light output; 
and an advanced HYBRID CONCEPT power system, which accepts AAA batteries as well as the Petzl CORE rechargeable battery.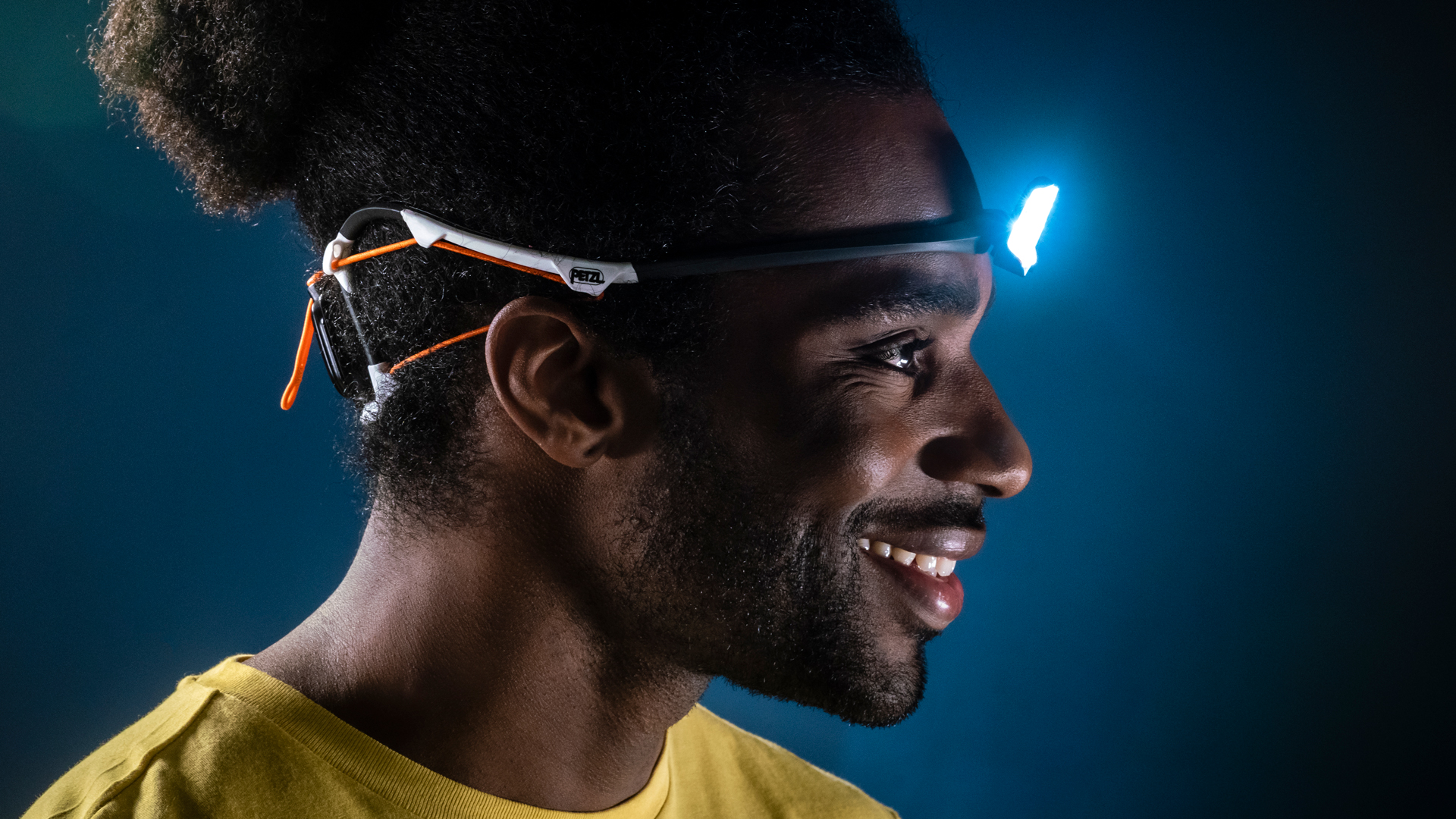 AIRFIT System Redefines the Headband
To better understand the AIRFIT headband, consider the status quo: the elastic strap has major limitations for headlamps. An elastic strap absorbs water and sweat, often making it uncomfortable or loose. If it supports a powerful, heavy headlamp, it needs to be wide, bulky, tightly adjusted in order to feel secure. It can wear out after long use and it only keeps the lamp steady when there's something to wrap it around. There's a reason elastic headbands are so common: there hasn't been a better option...until now.
The AIRFIT headband sidesteps the concept of an elastic strap entirely. Instead, it draws inspiration from crowns and tiaras. Made from semi-rigid material and shaped to follow the contours of the head, it settles into place instead of tightening into place. The result is an extraordinarily comfortable suspension system that perfectly balances and evenly distributes the weight of the lamp body and the rear battery pack, making it almost imperceptible. The AIRFIT headband also boasts a 75% reduction in contact area when compared to a traditional elastic strap, resulting in better air circulation and fewer pressure points. It's also hydrophobic to repel sweat and rain. What's more, the body of the suspension system is molded around the wires running from the battery compartment to the lamp body, so there are no external pigtail wires to snag or break.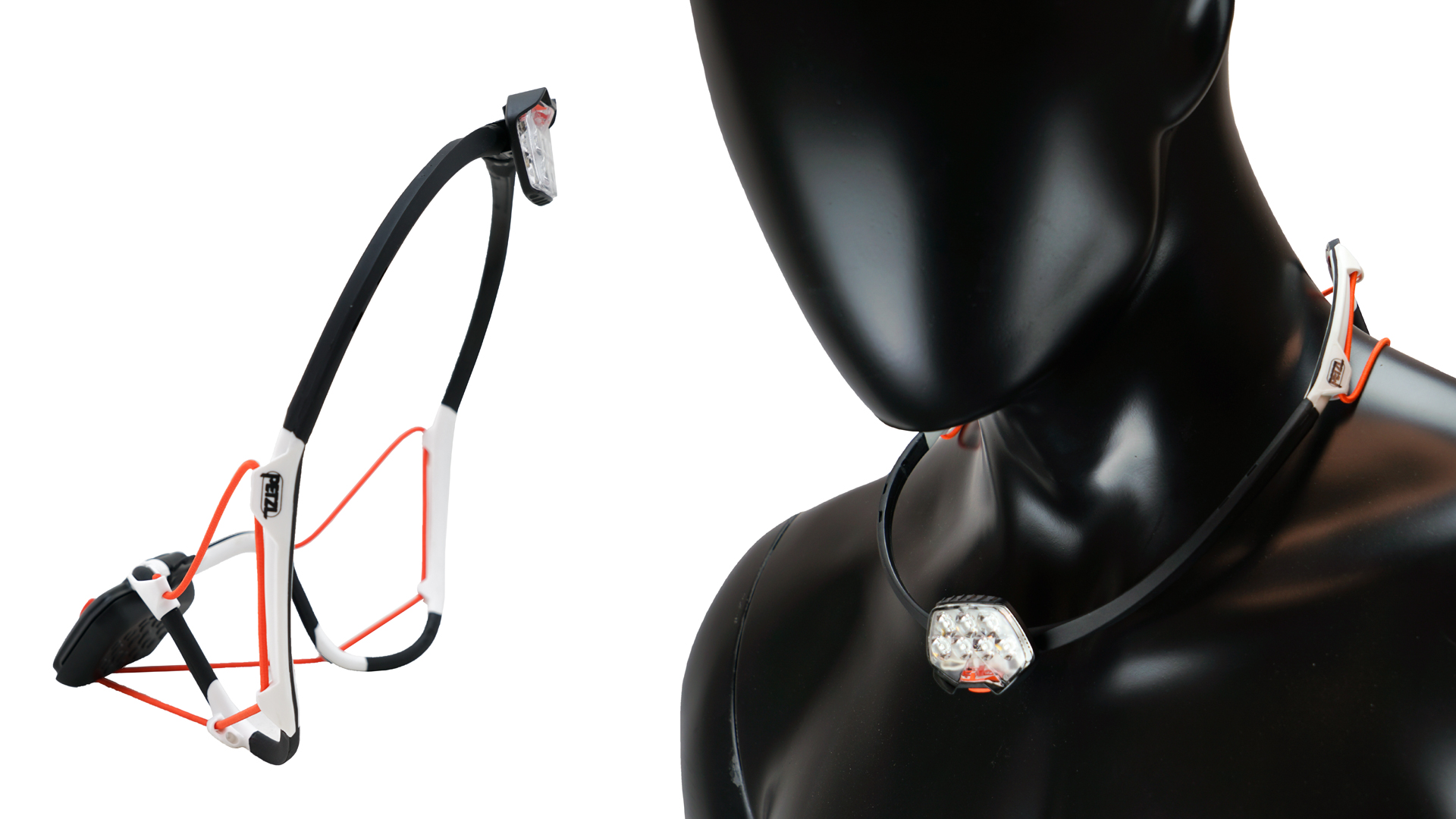 Once we had the AIRFIT headband in hand, we realized that the semi-rigid design solves even more problems once you take it off your head. It's rigid when you need structure, and it's flexible when you need to adapt it or pack it away. It stands up on its own, instantly turning IKO into a lantern or spotlight for reading, bouldering, cooking, and more. It retains its rigidity when worn around the neck, allowing you a hands-free option to direct light in front of you independently of the movement of your head. It wraps around branches and poles for a mounted overhead light. It collapses neatly into itself to fit inside the included diffuser pouch for storage and transport.
Comfortable and versatile, the AIRFIT headband provides an innovative starting point for the rest of IKO's ingenious tech.
Clear, Powerful Light from a Tiny, Lightweight Lamp
Counterintuitively, putting a single powerful LED in a headlamp often introduces more problems than it solves. The design of a single-LED headlamp must adapt to account for challenges associated with size, heat dissipation, beam pattern and optics, adjustability, energy requirements, and more. This can lead to sacrifices in comfort, weight, and performance. On the other hand, however, increasing the number of LEDs beyond two or three requires meticulous optimization of separate beams to provide clean, clear light. 

IKO's breakthrough lamp body finally brings together the best of both worlds: The small, lightweight array of seven LEDs is just as powerful as much heavier lamps, and our optical engineers were able to fine-tune the overlapping beams until there were no more irregularities to interfere with your ability to read terrain. Combined with the AIRFIT headband, the lamp body can rotate almost 180 degrees, allowing you to point the light in many different directions.
A Better Battery Solution
Powering a headlamp presents obvious problems. A more powerful battery — one that can run a brighter, longer-lasting light — will add weight and bulk. Weight and bulk often lead to a less comfortable headlamp; in particular, a heavy battery on the front of the headlamp is uncomfortable and can cause the light to bounce and jostle during activity. Different battery chemistries introduce their own problems: rechargeable batteries are only useful when you can recharge them, and single-use batteries are only useful until you run out.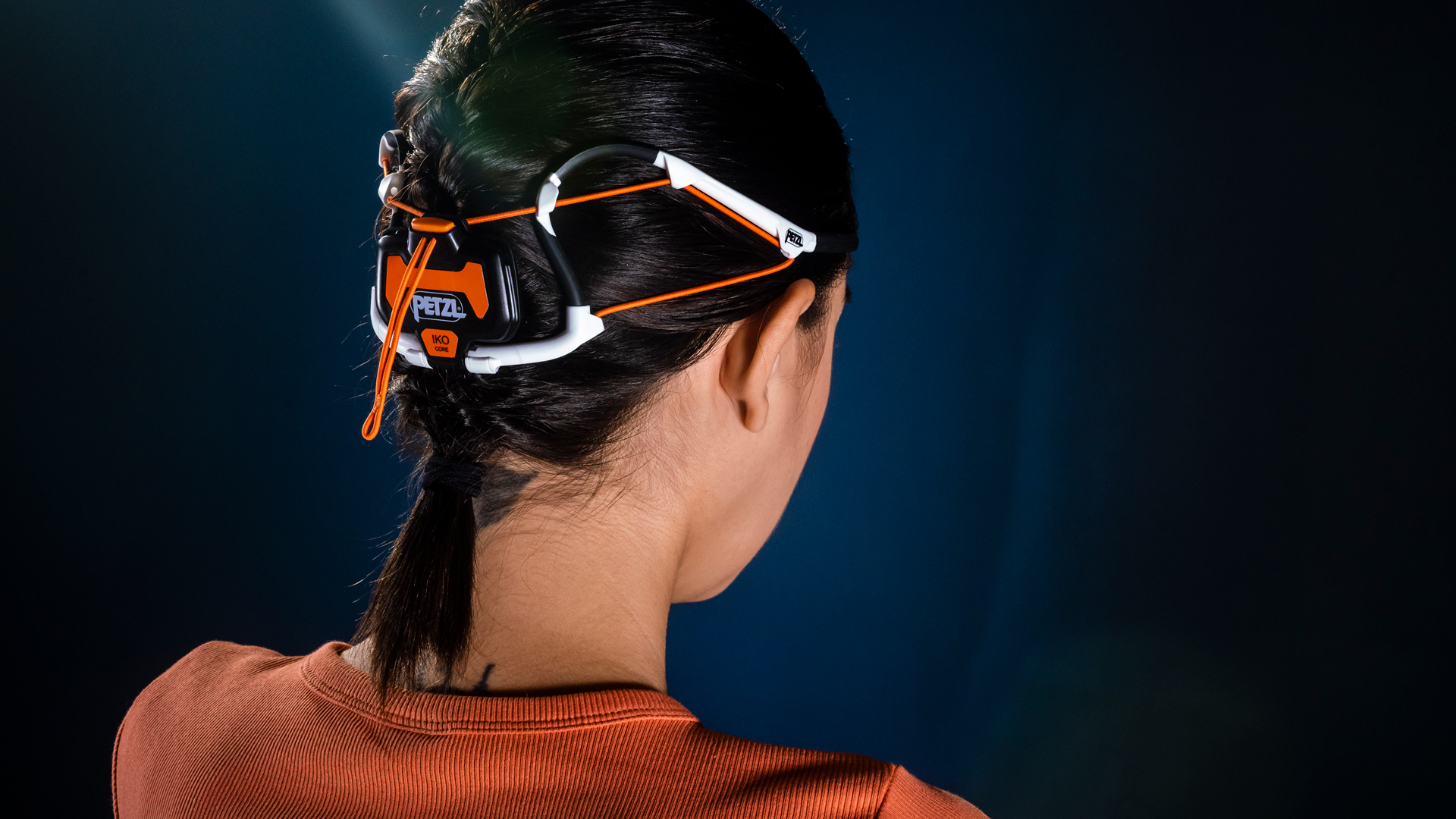 To solve these problems, IKO gracefully synergizes power, weight, comfort, and performance with a rear-mounted battery pack that improves on our existing HYBRID CONCEPT design. All of Petzl's HYBRID CONCEPT headlamps accept AAA batteries as well as the CORE rechargeable battery. For IKO, we added an automatic battery detection feature that helps optimize performance based on the available power source. Using the CORE battery in an IKO or IKO CORE headlamp bumps the maximum brightness from 350 lumens up to 500. This new feature adds another reason to choose the CORE battery, already a less wasteful choice when compared to disposable batteries.
Built to Disappear
If a hand tool is an extension of the hand, then a headlamp should be an extension of the eye. Mounted on your head to follow your gaze, a great headlamp should make your world brighter without getting in the way. All the innovation and careful design of the
IKO
is focused on eliminating the boundaries between you and your light, and the end result is a headlamp that performs and functions LIKE NOTHING ELSE.