Fabi Buhl & Alex Huber Find Pakistan's "Big Easy"
In 2018 Petzl Team members Fabian Buhl and Alexander Huber traveled to Pakistan to climb a stunning 2200 meter arete on Suma Brakk above the Choktoi glacier. For Alexander Huber this line is another notch in a career of climbing in the greater ranges, but for Buhl, this trip marked his first experience both at altitude and in the Karakoram. Experience the climb from Fabi's perspective as he transitions from the world of bouldering to alpinism. Enjoy!
September 28 2018
Mountaineering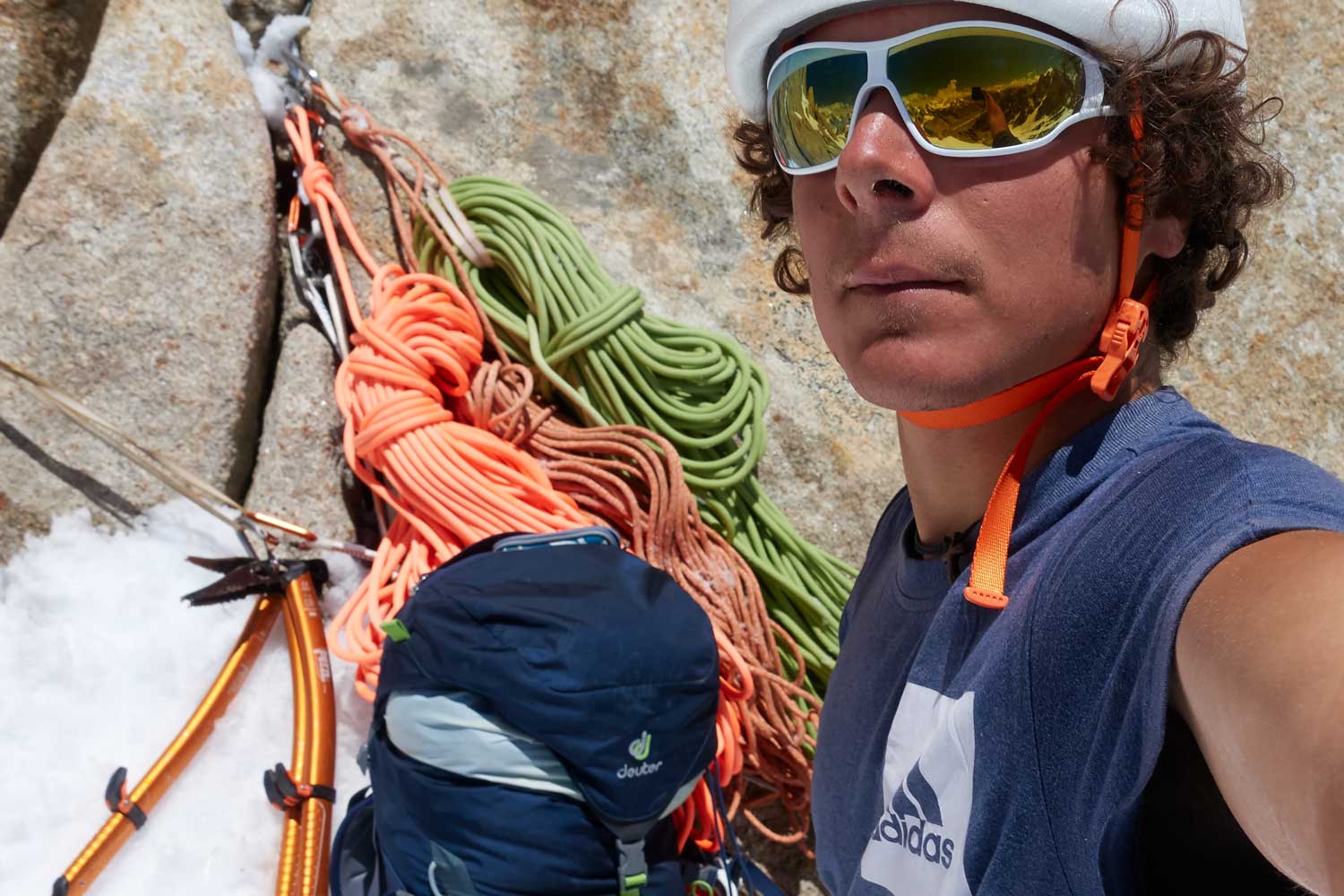 When I first began my career, as a boulderer, the world of my climbing was small, complex, and very difficult. But over the last few years, I have devoted a lot of time to expand my world into the larger, untamed playgrounds of the alpine.
That all started in 2013 when my relentless desire to learn took me into the realm of trad and multi-pitch climbing. Over many months, and with much trial and error, I began to repeat many of the more difficult multi-pitch lines in my home range of the Alps. Repeating these test-pieces gave me the impetus to begin looking for my own challenges in the alpine playground. 
I became completely absorbed with solo-climbing and devoted both the winter and summer of 2016 to pushing boundaries in this rarely played game. As it had in bouldering, my failures gave me more motivation and energy to improve and showed me the weaknesses in my solo system. 
The alpine trickery, rope tricks, and minute details meshed perfectly into my methodical thought process. A boulder is physically difficult and mentally complex, but something in bouldering was missing for me. In my new world of the alpine, I found satisfaction in the incredible complexity of the skills and organization as well as very different, but still highly physical challenge. But I find more in alpine climbing than just the sense of complete exhaustion after a hard day of effort. Alpine climbing lies in contradiction to our world where we try to protect or insulate ourselves from everything and everyone. In alpine climbing it is different. You are absolutely responsible for your own actions, and you must assume the consequences of those actions, and you cannot insulate yourself from the risks. 
Likewise, we come to one of the most important dynamics I found in alpine climbing, the absolute trust you must have with your climbing partner. This trust is sometimes the only insurance you have during long, strenuous days in the mountains. Even if your chosen line keeps placing new and different challenges in your path, a strong bond with your partner is where you find the confidence to keep suffering through, regardless of what the peak throws at you. Only a strong partnership with the trust that each will give their best and stay positive and can keep a team together in these most difficult situations. 
 
After repeating Alexander Huber's alpine, multi-pitch Nirwana (8c+), I met up with him to discuss the climb. It was quite apparent that we had a similar way of thinking. Within a year we traveled to South Africa together. Since then we've traveled and climbed together and found that we make a great team whether in Naranjo de Bulnes, Taghia, or Patagonia. And from these trips, I took the next logical steps, into the greater ranges. 
Ironically, we determined the style and time scale (small, fast, summer of 2018) before we actually had the objective. It had to be interesting to both of us and we wanted it to be mostly technical rock. Luckily for me, Alex has spent a vast amount of time in the greater ranges and was able to remember an elegant arete he'd seen above the Choktoi.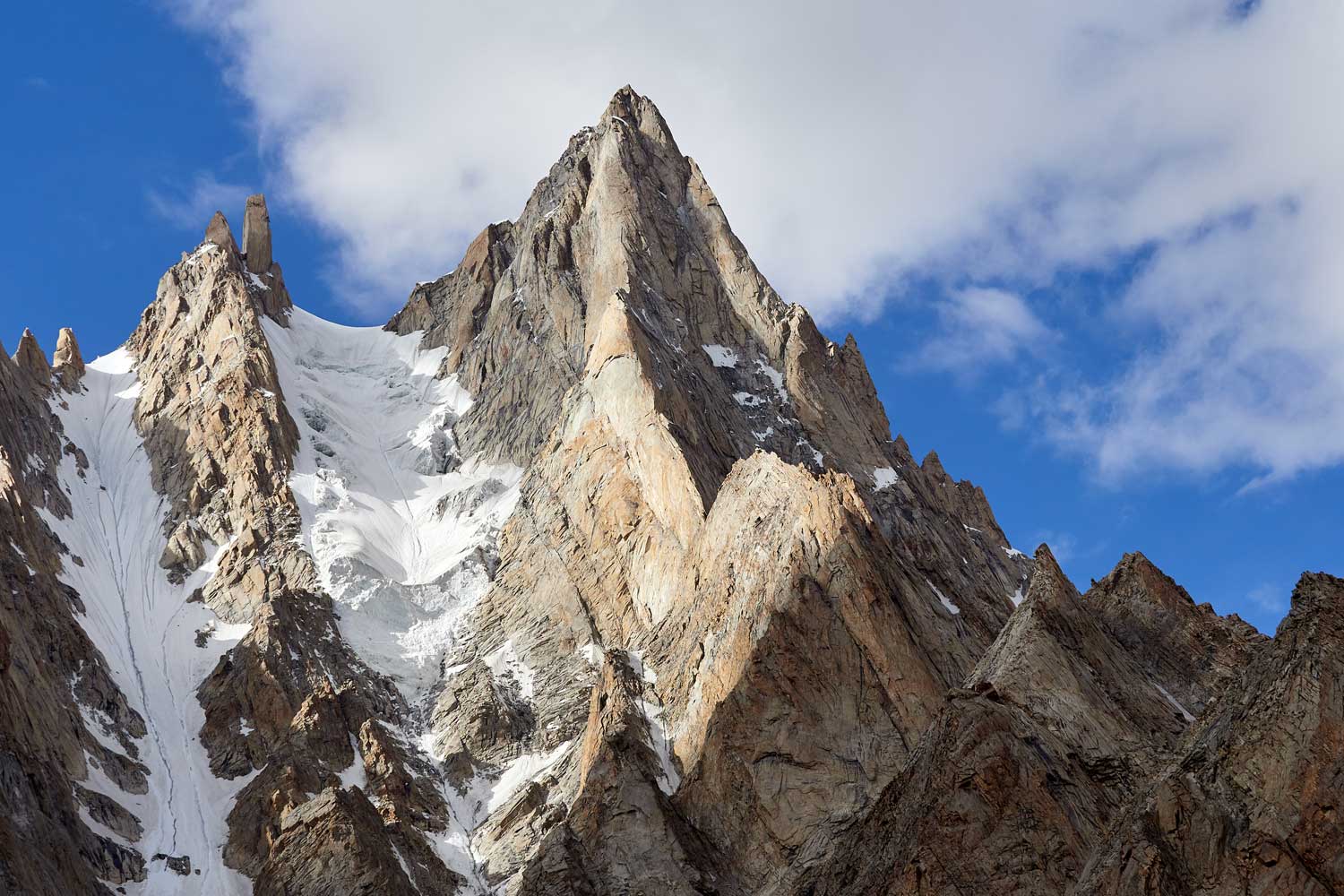 After some research, we learned that this amazing line was still untouched. I was quite surprised. The mountain is called Summa Brakk, because of its three summits (the Americans called it Choktoi Ri because it is the highest peak of the Choktoi range). The arete we declared as our target is 2200 meters long and receives direct sunlight from dawn to dusk. It is one of the most prominent and obvious lines in the Choktoi valley.
To climb it we needed to have relatively warm and rather dry weather, so we bought plane tickets for July. 

Arriving in Islamabad was very shocking for me. It was hot, hectic and I was, due to our late arrival, very tired, but the next day we were in Skardu loading our gear into a vintage Toyota. Here the outdoor adventure really began by driving 100 meters above river Braldo on a so-called "road." In the fading light, we reached Aksole. Aksole is the most remote village in the valley that's inhabited year round.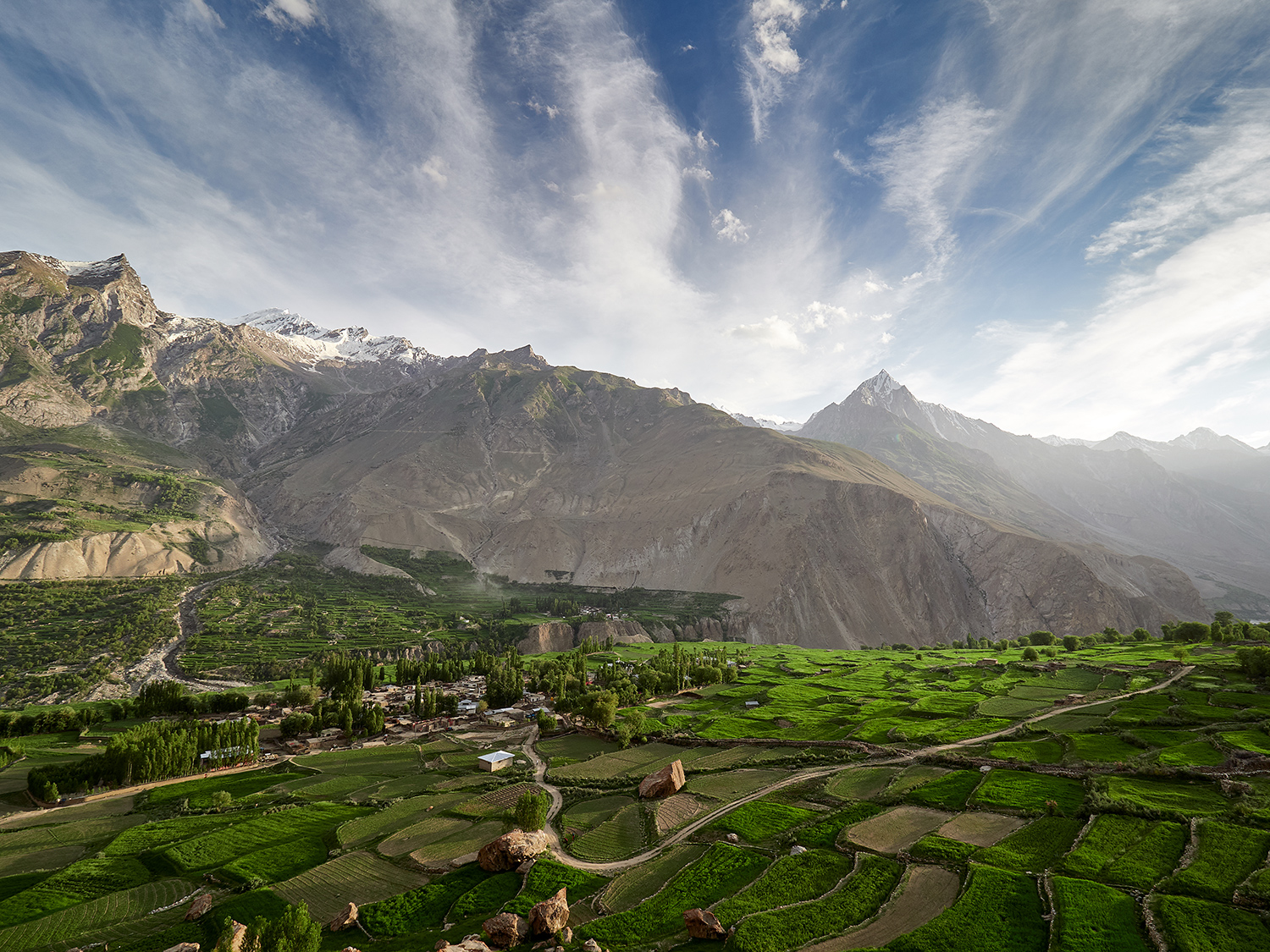 The Baltis have learned over centuries to live in this vast and very dry region, with a clever ecological irrigation system. They are able to sustain agriculture and live fully independently. Never before I have seen a place, that so clearly explains the phrase, "Where water is, there is life". Askole is the perfect village and shines in most picturesque nuances of green I can imagine. A complete contrast to the surrounding brownish sand and rock landscape surrounded by glaciated peaks. Our cook Ibrahim and Sadar Salman, calmly arranged our team of porters and early morning of the next day we started our four day march to basecamp. I felt a bit weird, strolling leisurely with my day bag upstream of the River Braldo, while the porters overtook me with 25kg backpacks. Soon I realized that already the altitude of 3500m takes its toll and it is better to take it easy and acclimatize properly and gradually. 
 
On the third day we saw our line and were fascinated by the elegance of it, it shined all day long in the sun. After a short walk on day four, we arrived at would be our base camp. Ibrahim was also happy, as it was a huge plain with plenty of running water. For us, it was even better as we could directly go up the couloir, which leads straight to the glacier basin below our adventure.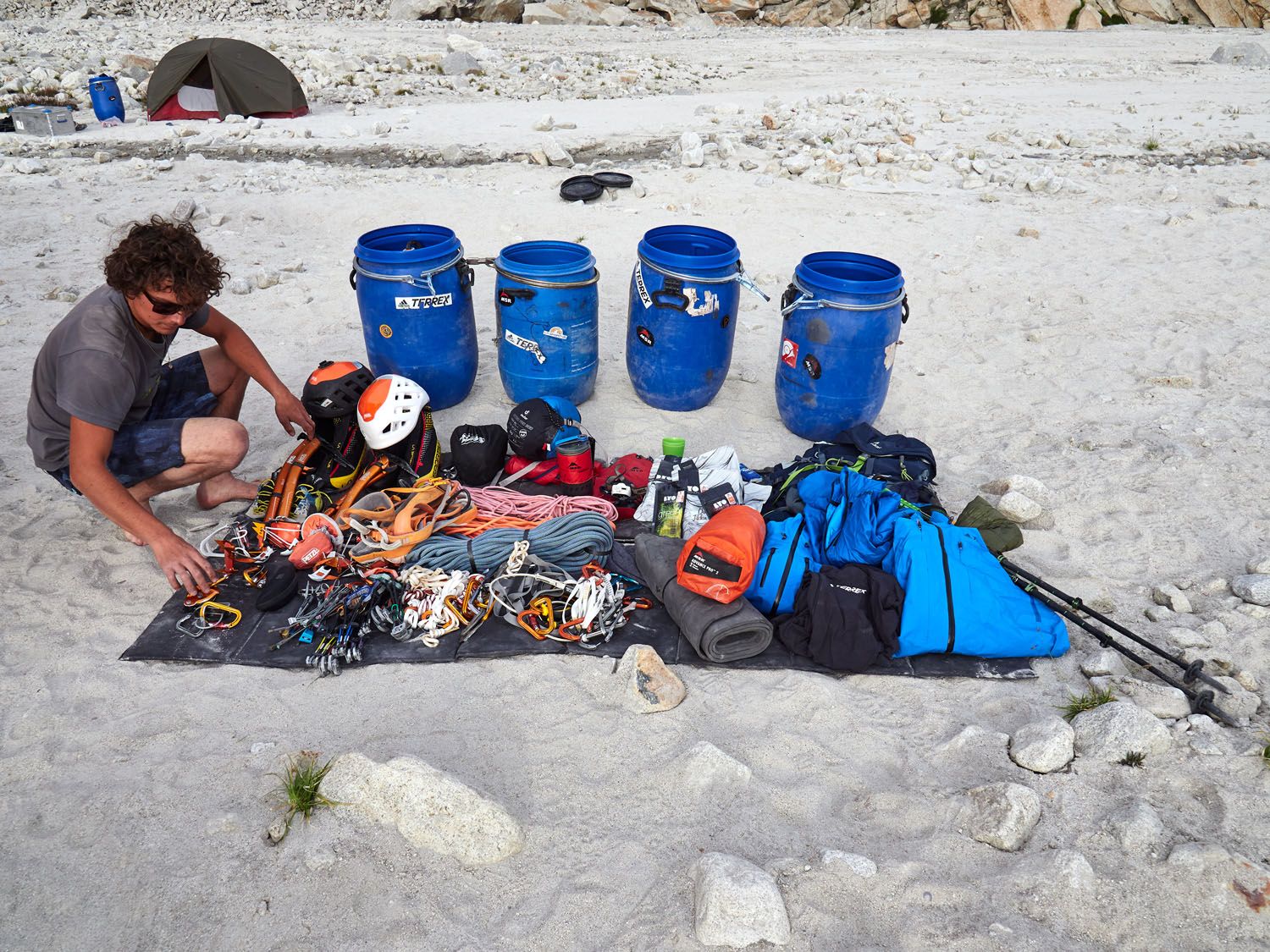 We established our spartan but very comfortable basecamp and it offered all we needed. Luckily the weather stayed good, so there was enough time to rest and get a better acclimatized to BC level. The first gear transport went as scheduled and we established an ABC at 5000m. It was a tough day because gaining nearly 1000m without proper acclimatization leads most of the time to headaches. 
As I had up to that trip no experience in altitude climbing, I was constantly waiting for signs of altitude effects. Fortunately, until the end of the adventure, I never got handicapped by altitude and was very pleased to see that my body can handle it well.
 
With a good forecast, we returned to ABC for another couple days of acclimatization. Within this stay at ABC we climbed the first of our line's three major waves. Already after the first pitches, we realized that the route will take much more commitment and energy than we thought. 
The first arete was not really difficult climbing, but we needed all our alpine trickery and route finding skills in order to navigate through this enormous sea of perfect granite.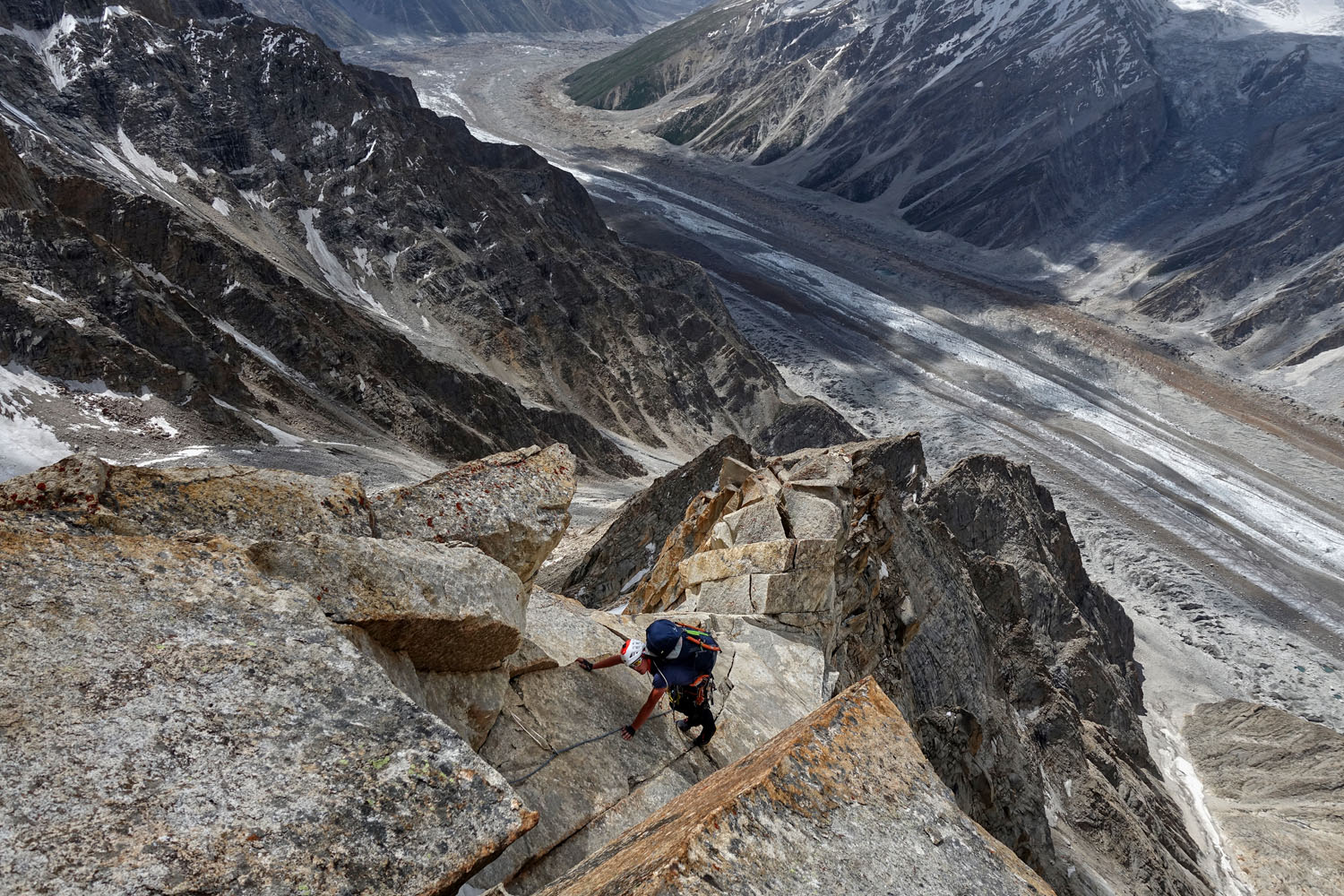 Jumaring up 200m of fixed rope in order to make a descent line from the col to the glacier, took very much energy as well and had me pretty out of breath. On that evening we had completed our mission for the day and were ready to descend and to sit out the bad weather in BC. Here we get some well-earned rest and Ibrahim served us one delicious meal after the other. By accident, they were mostly vegetarian because a mountain fox had a feast on our chicken and did not leave us a single one.
 
After the bad weather, we recovered and were super keen to go up the mountain and started to work on the main part. We agreed in this round to call it Pillar Rouge. We ascended our previously fixed rope and climbed the whole middle part of a quite flat arete until we established our Camp. The Camp was a jackpot, as it was the only flat spot on the entire ridgeline with an incredible panorama at 5500m with the Latoks and Ogres range just across from us.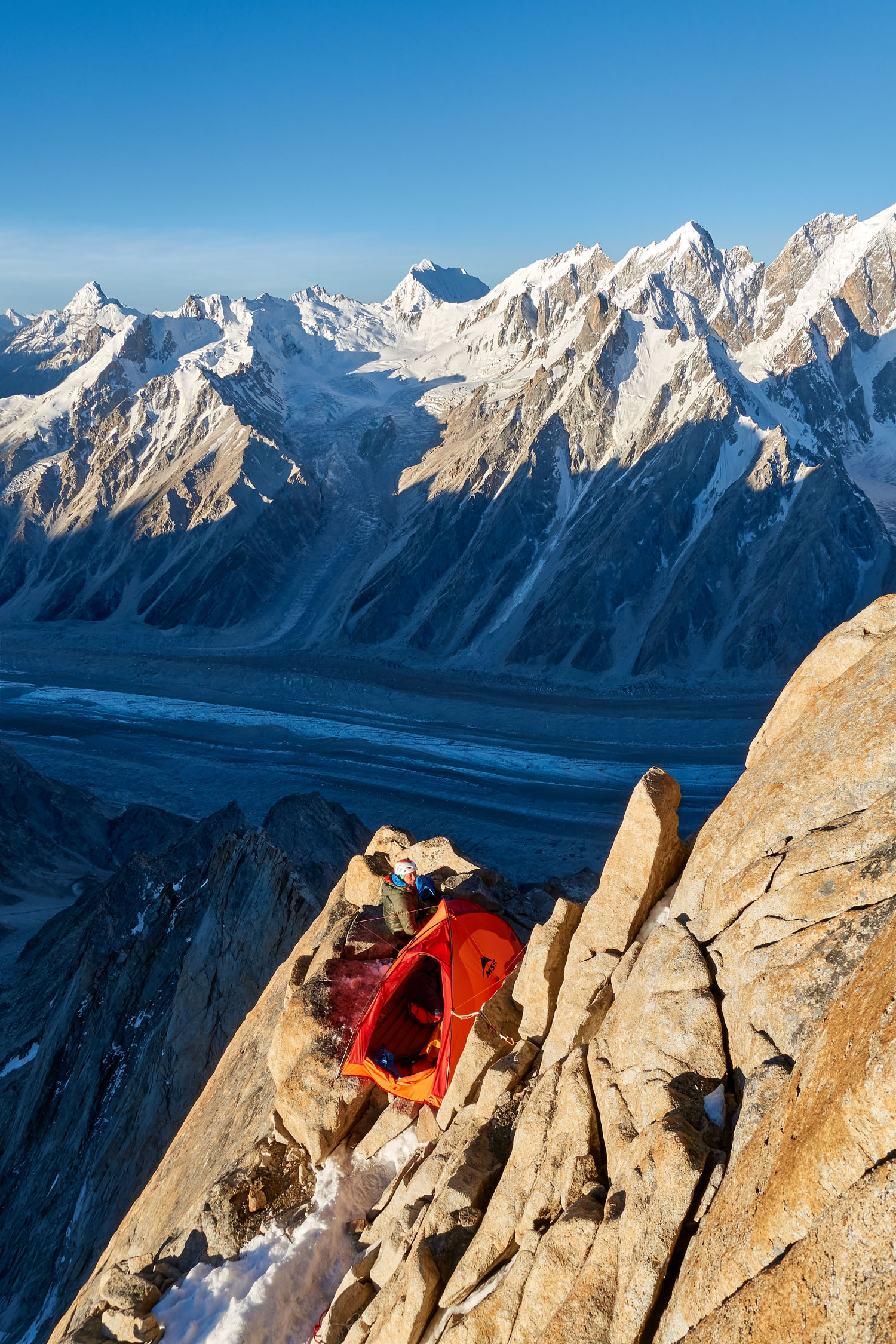 Even better, splitter cracks streaked the granite just above us. They were as impressive as in Yosemite and it was a pure gift finding this perfect rock and beautiful line in the heart of our route at 5500m. We went to bed, excited like little children for the first ascent of these perfect looking cracks. The next morning we found the weather as stellar as the climbing, one pitch after the other, not even stopping to smile. That evening we bedded down with thoughts of reaching the headwall the next day but were awakened to the sound of snow. Our optimism vanished and we even considered bailing. In the end we tried it anyways. It snowed all day, but since the rock was already covered in snow while tricky was rather flat, it was okay. (Honestly, I liked the little alpine weather and constantly changing from crampons to rock shoes, it was the perfect contrast to the previous Yosemite-style day.) It showed us once more how complex the route would be. Arriving below the headwall, it was clear that it was the crux. It was also completely snow covered, steeper than we'd imagined, and frightening. The weather turned against us, and we turned back to our base camp to wait out the storm. 
For a week we were stuck in basecamp, reading books, playing chess, with our thoughts on the headwall and the accumulating snow and ice (which at 6000m meters would stay for some time). Therefore we waited for the first 48 hours of good weather to let the mountain shed its winter coat. It sounds like a waste of time but was completely necessary. Then with a four-day weather window, we set off on our summit attempt. The sun blazed down onto the valley, so we waited until dusk to set off, and then jugged our ropes in the dark.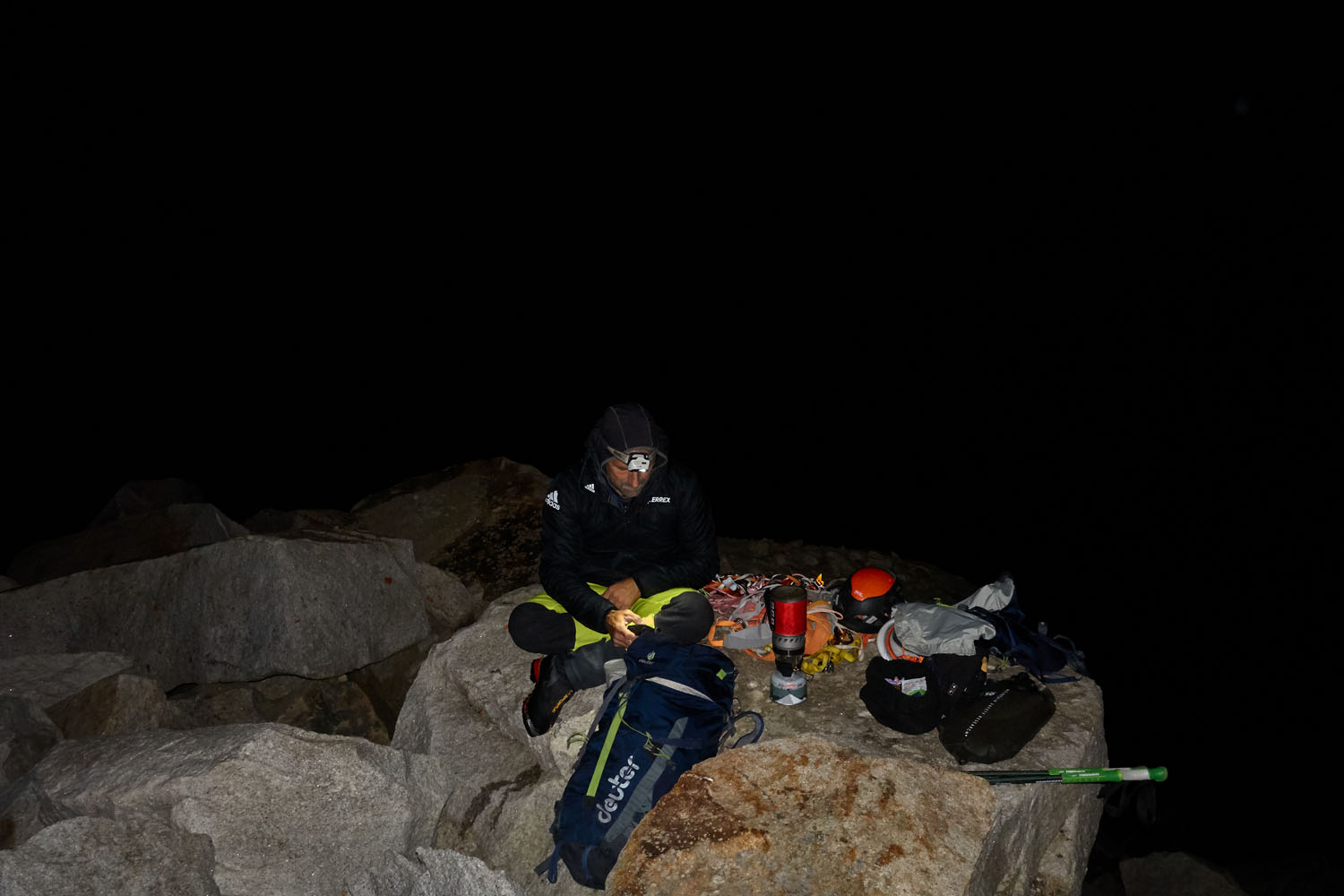 Being in the middle of the night in a huge wall like this, not seeing further then the light of your headlamp is very peaceful and makes you feel pretty little. Arriving in camp we made a little brew and went straight to bed, four hours later we were having breakfast on our terrace with an incredible sunrise. What a beautiful start of the day! Soon we'd flown up the beautiful cracks, crossed the flat spot, and were back at the base of the headwall. Our goal for the day was to climb the first 200 hundred meters. A few pitches at home, but as we'd expected the cracks were totally iced up and the terrain was still much steeper than we'd planned. 
The exposure while looking down was tremendous, we could directly look down to ABC on the glacier. It was very challenging, but this is what we came for.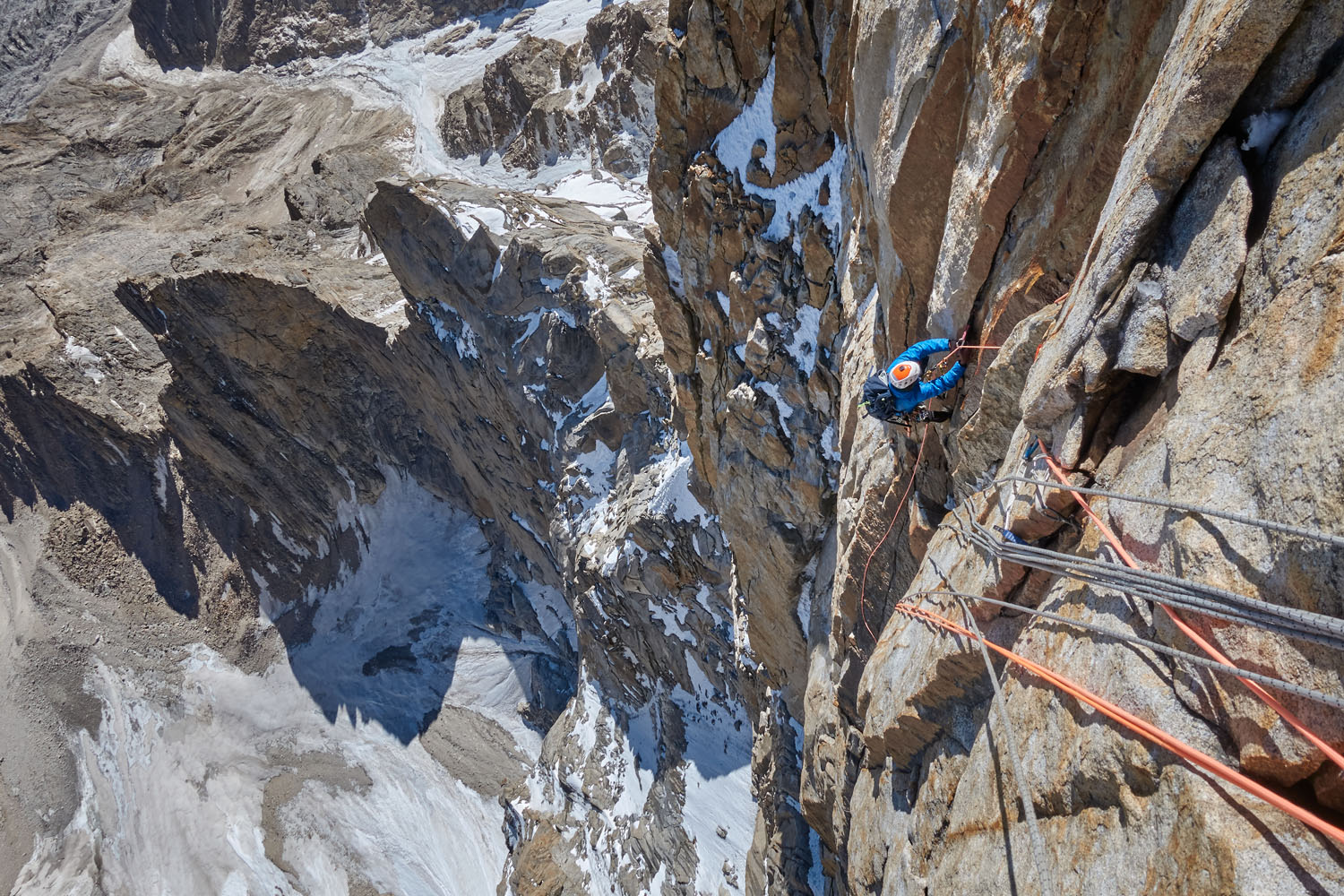 As we found no other bivi spot we needed to go all the way down to camp again. Anyway, we knew that if everything worked out we could make our summit push the next day, that is why we did not really care. The next day we climbed up to our highpoint again, from here we wanted to follow a corner system. Again, it was totally iced up, but it still looked like the easiest option, so I got some really nice mixed pitches, before standing on the pre-summit. 
The poor conditions of the climbing made us go slow, and it was already quite late. It was already quite late, because climbing took much longer, due to the bad conditions. 

From the presummit we needed to rappel to the col, then follow a long snow arete with some climbing to the main summit of Choktoi Ri. I wanted to belay Alexander directly, sitting on the summit, when I realized the summit was actually a big cornice. A little unsure about my stupid behavior, I went down, made a better belay. We took a little break on the main summit and enjoyed the great view towards China and the Karakoram.
As Choktoi Ri is the highest peak of the range we were really freestanding. Reflecting the line on the summit, we realized how fortunate we'd been, with being able to first ascent this prominent line.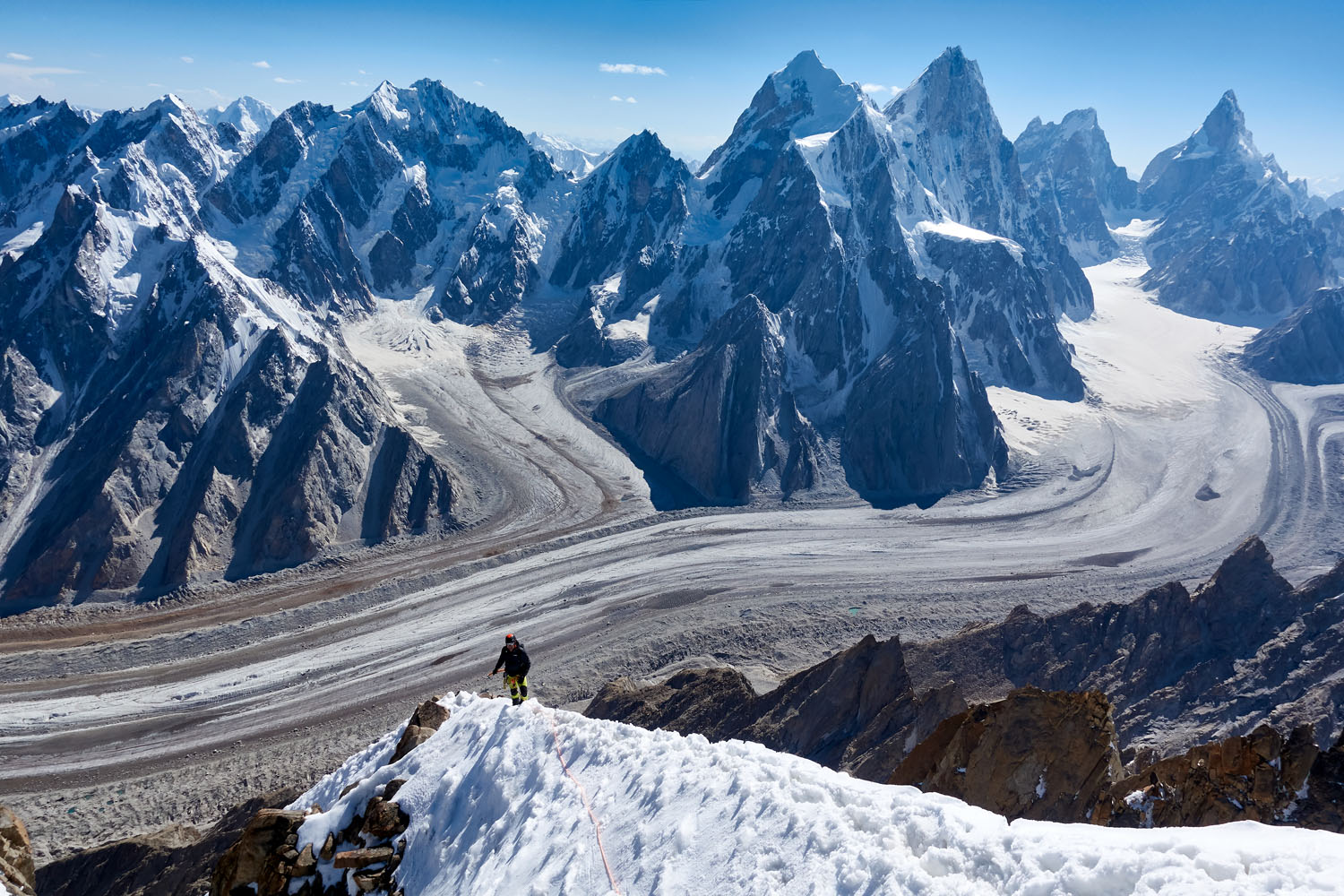 In the end, we needed all our skills to complete "The Big Easy". The most important is, that we have had an amazing time, with a lot of laughs and without any bad mood, in the peaceful and calm Karakoram, because we just did what we like and for what we live for. It clearly showed me the smaller the expedition the richer the experience!