Michaël Fuselier
My first summit "My first climbing experience was an ascent of a summit, but not just any summit. I discovered climbing through John Bonin, a very good family friend who took me up the classic route of Mont Aiguille (Vercors France). It was 1995 and I was 16 years old. How was this passion born in me that day? The Mont Aiguille was everything I thought a summit should be, it was really important to me. On the other hand, I don't like to use the word 'summit' and I refuse to look at a summit as if it's a ceiling that can't be passed. Mont Aiguille marks the first memory I have of climbing, along with my first rope that my Mother gave me, and all the kilometers I traveled on my old mobylette to go climbing around Grenoble."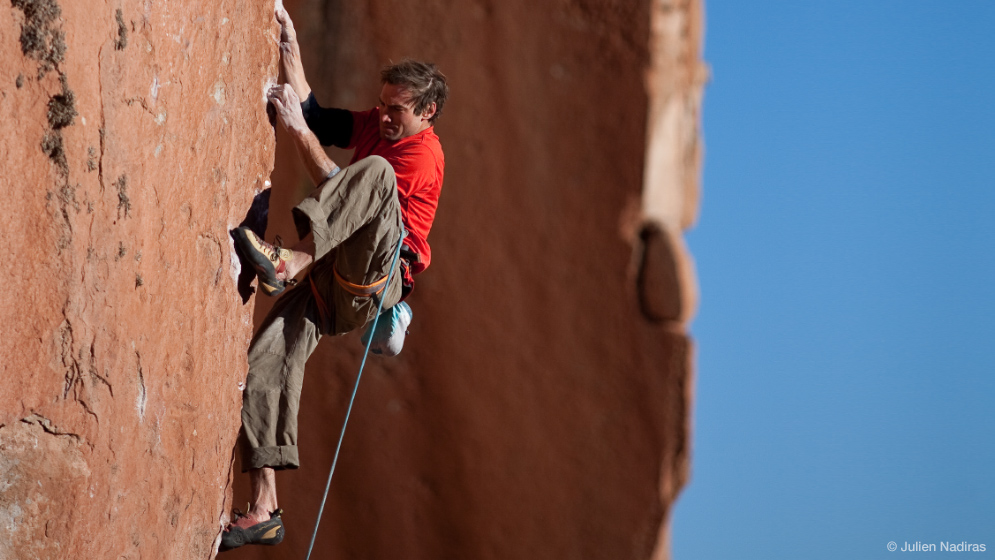 Profile of Michaël
Date of birth : January 4 1981
Current status : Maurienne climbing club coach, route setter for national climbing competitions
Hometown : Grenoble (France)
Activities :

Rock climbing, Bouldering

Training : Business degree, licensed climbing instructor
Joined the Petzl Team : January 1 2005
Presentation
Towards grade 9
"This quote by Marc Twain has always inspired me: "They didn't know it was impossible, so they did it". Competition climbing has given me so much in both a sporting and a human way. Through training, I learned discipline and the fighting spirit. I have met a lot of good characters with great attitudes, most notably Laurent Boudier, my trainer and someone who has given me vision for my climbing and life in general. My training can be described in a few words: perseverance, discipline, focus, curiosity and passion. I regularly go running. The continuous effort it requires to stay focused while exhausted. As well as the solitude is an excellent way to think. But with bouldering you are never alone. I am always crazy for rock and always on the lookout for a new boulder or a new problem. The grade 9 challenge is always on my mind."
Photos
Videos
Discover, Deliver, Expand
"The recipe for a perfect being is to find a certain balance. Life for a climber isn't always flowing like a calm stream. There are thousands of drawers to open and close. It's a bit like the good and the bad; there can be a fine line between what is there and what is not! Experiences will aid progression and a good memory never forgets experiences. I like the feeling of being part of a kind of tribe. A group of people joined by their activity, their connection with the environment, and their mutual respect for some unwritten rules. I like the social side that surrounds climbing and making friends of all generations. It's a good mix. At a new spot, we discover things together and everyone has their own kind of fun. These days as an instructor, I try to be an example to the younger generation through my life experiences. To do so makes complete sense. It's my duty. I try to explain and share the many choices that are available. I like to construct and make the ideas real, the ones that inspired my own life experiences. Preparing a route is a little like how a carpenter makes furniture and what's more I love working with wood!"
Travel
"I don't have a favorite climbing spot. Everywhere is different and that's the best thing about climbing. In the United States I really like spots like Smith Rock and Red River Gorge. Climbing a few days in Hampi (India) or in the dessert of Algeria and the Tassili plateau is all so amazing. It's amazing to love such different places but for me they form a whole. These mineral landscapes with their animals and flowers are unique and unforgettable. It's all about discovering new areas and understanding their fragility and vulnerability. The inhabitants of these places have their own cultures and their own outlook on life. It's rewarding to rub shoulders with people who live in an environment that is totally different to ours. I am totally up for meeting these people."
The search for something real
"If anything was possible, I would travel the world. I would travel back in time and see the world as it evolved with my own eyes. How, why and above all, who is real and who is not. My life is a continuous questioning of what is written. I would like to see from the beginning, for myself, what is real, how everything started and why it started. It's an impossible experiment in our present understanding but after this, I am happy to be where I am and see nature evolve day by day. With the skills, methods, and understanding I have learned my mistakes become more relevant. I really like analyzing my experiences, both good and bad. The more places I climb and the more the more climbers I meet the more I enjoy other views and the contradictions surrounding them and the more I can conceive what might seem inconceivable. The more I look into things and try to work them out the more possible they seem to the more I discover, the more curiosity I have to push further."
Other informations
Films, videos
Major ascents
Competition
2007 French Climbing Champion (lead climbing)
2009 French Climbing Champion (lead climbing)
2 x medal winner in 2003 World Cup Edinburgh and also in 2005 in Valence, Spain
Sport climbing
Red River Gorge (Kentucky USA) "Fifty Words for Pump" (5.14c) 2008
Presles (Vercours, France) Pierrot Beach sector "Nice to Eat You" (8c+) 2007
Included in this article