Ueli Steck
The spirit of climbing: "I grew up close to the mountains and started climbing at 12 years old. I discovered the cliffs alone, by myself, which was a big accomplishment. Mountaineering is the perfect place to think and learn. The rules are simple and very clear. I like that, it's easy to understand. If you don't bring a sleeping bag that's warm enough, you'll be cold. If you're not strong enough, you won't succeed in the ascent. It's important for me to share the good spirit of climbing with other people. I like to be with people who pay attention to the way they climb. The style, the attitude, the way in which of the ascents areconducted, are all very important facets of a climb."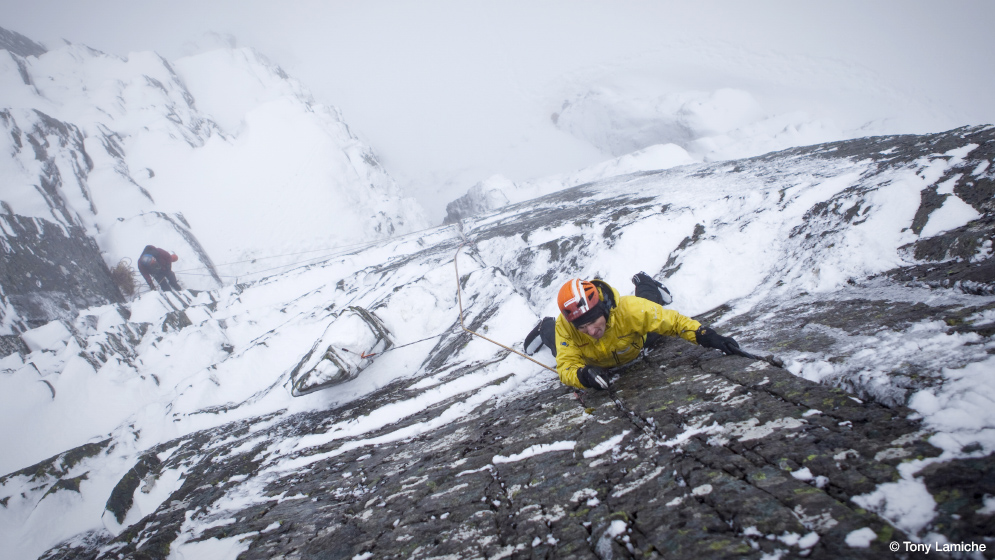 Profile of Ueli
Date of birth : October 4 1976
Current status : Professional mountaineer
Hometown : Ringgenberg, Switzerland
Activities :

Mountaineering, Ice climbing

Training : Carpenter
Joined the Petzl Team : January 1 2007
Presentation
Focus on excellence
"I am a multidiscipline climber. I love rock but also ice and my primary objective is to be at ease in the big mountains, like for example the Himalaya and beyond. I want to be at ease in all facets of climbing in which I may find myself, from the easiest to the most extreme. I love to push myself and test myself against nature, but I do not like to compete against other climbers. My biggest problem is finding the balance between pushing myself enough and risk. Finding that balance feels a little bit like a game. The important question is 'How do you weigh this balance?' and not 'Why do I risk my life?' I accept a high level of risk, but within the limits of my ability. Trying to master something that is essentially uncontrollable is not easy to manage. From my experience in the Himalaya I have learned that you have to be very fast while you are onsighting and climbing in more and more difficult terrain. To me, to master this game seems like a focus on excellence. My primary goal is to strengthen my mental game, and I'm happy to live an intense life. It's by forging that one becomes a blacksmith. A climber becomes a Himalayan expert step by step. To be able to think of setting speed records while soloing I have to improve at both rock climbing and ice climbing, and above everything else, endurance. I train almost every day just above where I live by running or ski touring 1600 meters of elevation gain."
Photos
Videos
Video playlist featuring Ueli Steck
Himalaya
"I like Nepal and the Himalayas a lot. They are real mountains and I like to be there. We have to hike multiple days to arrive at base camp because there are no cars. If we want to go somewhere or visit someone, we goon foot. I like the country's culture. The people are optimistic even if their life is very hard. In general, I like people with a lot of character. People who actively choose their own lives, not people who follow others."
To keep growing
"I need to renew myself regularly and spend some time at home, just to have a few moments of calm and be able to concentrate on a dream. But I am also very determined. If I have an idea, I go for it. My main source of inspiration is a thirst for learning. Knowledge offers freedom. To acquire this knowledge, you have to learn. To be free, you have to be at ease and to be at ease you have to train often and hard. To become proficient in many disciplines, at a high level, you have to understand the sport completely, you have to be passionate and you have to accept, above all, that you might find yourself feeling at times like a beginner, like a student, and to continue to learn. This is important to understand if you wish to be good at many disciplines and your primary objective is success."
My motto
"Everything I can imagine, is possible."
Other information
Publications
National Geographic: Solo, Ueli Steck, 2005
National Geographic: Speed, Ueli Steck, September 2010
Major ascents
Mountaineering
West Face of Pumori (Nepal) (7161m) with Ueli Bühler, 2001
Mount Dickey (Alaska) 2001
North Face of the Eiger (Switzerland) "The Young Spider" with Stephan Siegrist, 2001
North Face of Jannu (Nepal). Two attempts in 2003
North Face of the Eiger (Switzerland) "La Vida es Silbar". Free with Stephan Siegrist, 2003
North Face of the Eiger, the Mönch and Jungfrau (Switzerland). Link up in less than 25 hours, 2004
Wendenstöcke (Switzerland) "Silberfinger" and "Pilier Excalibur". Solo, 2004
North Face of the Eiger (Switzerland). Solo in winter, 2004
North Face of Cholatse (Nepal) (1500m/6440m). First solo ascent completed in 37 hours, 2005
East Face of Tawoche (Nepal) (6505m). First ascent solo, 2005
North Face of the Eiger (Switzerland) "The Young Spider".Second ascent and first solo ascent, 2006
North Face of the Eiger (Switzerland) "Direct Route", 2006
East Summit of Gasherbrum II (Pakistan) "Magic Line" (7710 m) 2006
North Face of the Eiger (Switzerland) "Heckmair Route". Solo in 3 hours and 54 minutes, 2007
West Face of Pumori(Nepal) (7161m). Solo in 24 hours round trip, 2007
North Face of the Eiger (Switzerland). Speed climbed solo in record 2 hours, 47 minutes and 33 seconds.13 February 2008
North Face of Tengkampoche (Khumbu Valley, Nepal) "Checkmate" (2000m/ altitude 6500m/VI, 85° ice, M7+/6A0) April 2008. (Ueli Steck and his partner Simon Anthamatten were awarded the Piolet d'Or in 2009 for this first ascent)
Grandes Jorasses (Mont Blanc Range) "Colton Macintyre". Speed record of 2 , 21 minutes) 2009
North Face of the Matterhorn(Italy). Speed recordof 1 hour, 56 minutes. 2009
Yosemite (USA) "Golden Gate", "California Sun" 2009
Gasherbrum II (Pakistan) (8035 m) 2010
Makalu (Nepal) (8485 m) 2010