Daila Ojeda Sanchez
Climbing is formative: "I started climbing when I was 19 years old, after having watched a bouldering competition in the village where I was born. It completely changed my life. Before, I participated in mostly sea-oriented sports such as bodyboarding and surfing. I was always at the beach, which is perfectly normal when you live in the Canary Islands. My friends from Gran Canaria taught me that climbing is more than a sport, that it is a true way of life. This experience changed me. I temporarily left the island and moved to Catalonia, one of the best places in the word for rock climbing. I went from a maritime paradise to a rock paradise. I have always had a passion for the outdoors. In the Canary Islands, both the ocean and nature are an integral part of the culture. I started surfing when I was very young. I've always been linked to this sort of activity, where the rules and traditions form a union between nature and oneself."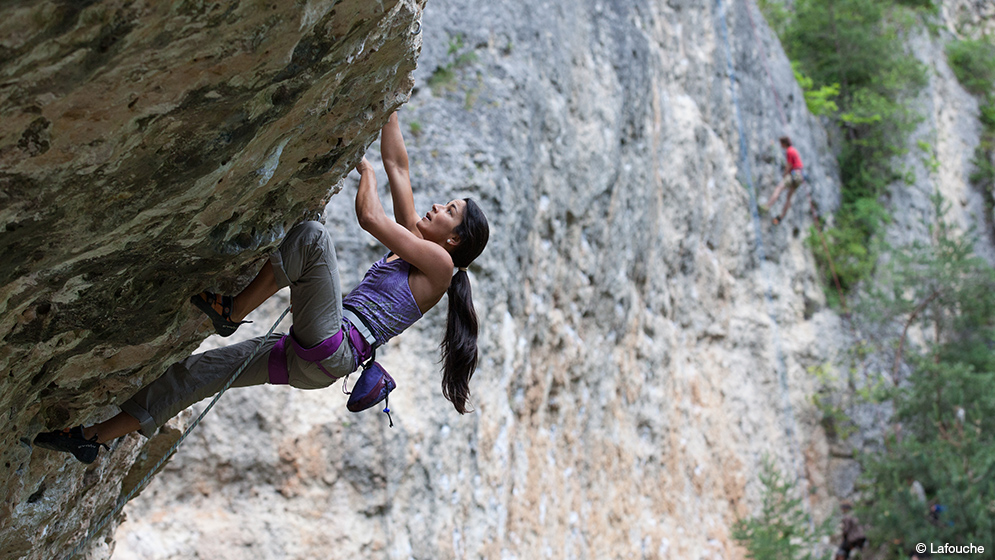 Profile of Daila
Date of birth : June 30 1981
Current status : Professional climber
Hometown : Catalonia (Spain)
Activities :

Rock climbing, Multi-pitch climbing, Bouldering

Training : Training for climbing instructor certification
Joined the Petzl Team : January 1 2007
Presentation
"With the exception of family, climbing is the most important thing in my life."
"Thanks to climbing I met the most incredible people through climbing. I've been to places that you just can't experience if you don't climb. In the end climbing allowed me to become who I am today. I've been lucky to be able to experience this discovery. For me climbing is a special kind of physical activity, formative activity that teaches you about the absolute. Climbing keeps me in contact with nature and teaches me to respect the environment. It allows me to discover who I am each and every day. Climbing helps me to persevere, to not give up or to succumb easily, to overcome my fears. I'm good at climbing multi-pitch routes that require a lot of stamina. These types of routes allow me to endure, to commit."
My favorite places
"In general I prefer places that are calm, far from the city, where I can listen to the silence. My favorite places are on the island of Gran Canaria, where there are waves, the smell of the Atlantic Ocean, and a strong-willed local population. In addition I like the Spanish countryside and of course my memories of childhood. I also like where I currently live in Sant Llorenc de Montgai in Catalonia, with its unbelievable rock walls that extend as far as the eye can see. My life is simple and laid-back. I enjoy drinking a cup of coffee in the morning, walking my dog, and going climbing with Chris."
My goal
"To bring kids climbing to the most spectacular routes possible and to teach them to respect nature."
Photos
Videos with Daila
Major ascents
Sport climbing
Oliana (Catalonia, Spain) "Paper Mullat" (8b+) 2009
Oliana (Catalonia, Spain) "Full equip" (8c) 2010
Margalef (Catalonia, Spain) "Aitzol" (8c) 2010
Oliana (Catalonia, Spain) "Fish eye" (8c) 2010
Yangshuo (China) "Lightning" (8b+) 2011