Chris Sharma
For me, climbing is a liberating activity: "Climbing has been my life since I was 12 years old, and has allowed me to discover the most beautiful places in the world. My specialty is hard new routes. This pursuit provides me with concrete goals in life and allows me to channel my energy. It's my own personal way of being a part of society. I think it's really important in my progression for climbing to stay excited and feel like you're doing new things, and not get stuck in a rut..."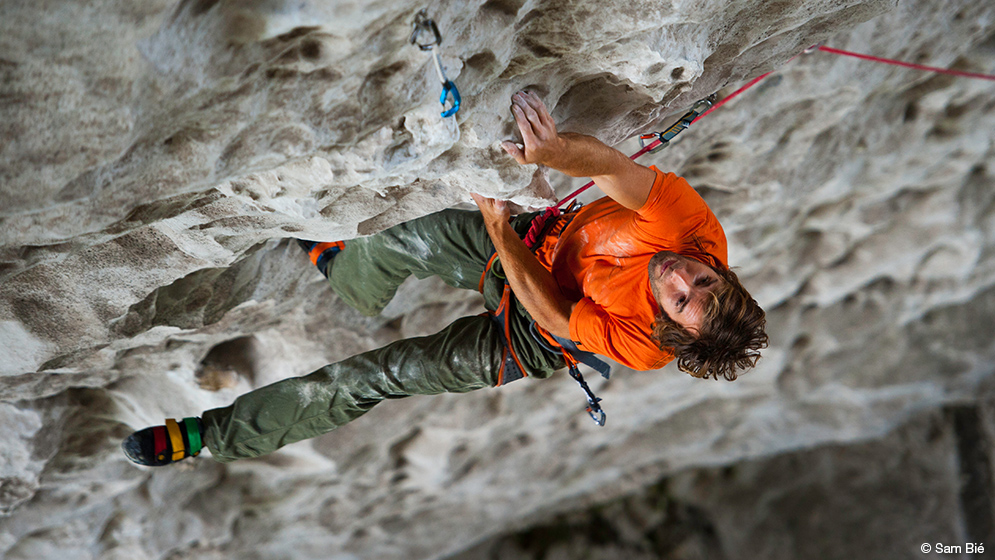 Profile of Chris
Date of birth : April 23 1981
Current status : professional climber
Hometown : Sant Llorenc de Montgai (Spain)
Activities :

Rock climbing, Multi-pitch climbing, Bouldering

Training :
Joined the Petzl Team : January 1 1995
Presentation
"This year has been really cool, kind of branching out. In particular I've been really psyched on applying what I've been doing sport climbing to bigger walls, so I've been working on a couple multi-pitch projects, one that's near where we live and another one in Mallorca. It's been a whole new world and a totally different experience and really inspiring to do something new and something that's similar at the same time. I'm really excited about taking my climbing more in that direction and at the same time, still working on some really hard projects. That's the most important thing with your climbing, to continue climbing through your whole life. Keep renewing your inspiration someway. A big part of that is the progression, you know, trying to get stronger and do hard routes. The interesting thing in climbing is that we can keep progressing not only just in difficulty but like in our experiences, travelling and see new places and putting up new routes, just the process of doing a new first ascent and discovering the new line, that's just a huge feeling of growth, even if it's not the hardest route you've ever done, it's still feel like you're learning and you're progressing in some way..."
Your favorite place?
"My favorite place is Spanish Catalonia. I moved here in 2005 and have never left. It's now home for me. The region is unbelievable and has a huge potential for new, difficult routes. It seems like every 10-15 years the hot spots will kind of move around. Fifteen years ago, the Mecca was climbing here in southern France. Recently, in the past several years, everything's kind of moved to Spain... it's become this destination. It's really a special time there. For me, when I started climbing in Catalunya, meeting Dani Andrada, it was super inspiring to climb in places like Siurana, Margalef and see all this potential at different crags, like Oliana and Santa Linya . There so many people coming through, there's lots of fresh motivation. And for me it's really cool, because, even though I sometimes miss living in CA and feel far away from home, I probably see my friends and family more than before because having a home base. Lots of people come and visit us and always have friends over, between September and May."

Other activities?
"Other activities that I enjoy include working on my house and in my garden. My lifestyle could easily be defined as a sort of constant improvisation. My motto: be yourself. Everything that I do is linked. I try to be as genuine as possible. As with all Team Petzl athletes, I love the outdoors and I strive to be the best I can be."

Do you prepare yourself differently when climbing multi-pitch routes compared to shorter routes?
"I'm still learning so much about what it takes to climb some of these bigger walls but it's just at least the process of establishing the route and bolting a new line, it's way more complicated because you're way higher off the ground, and a 7 pitch route is essentially 7 routes so the logistics and the time it takes to establish the lines, it's a lot more involved. But sure, strategically, when it's time to sending as well, it's going to be a lot more complicated. I think for me, they totally compliment each other. Maybe I'll go climbing some of the multi-pitch projects for a couple of days and get really inspired again by doing some new things and then it'll get me really excited to go back and try some of my single pitch projects again. And the same way, I'll try some of these really hard projects that are really at my limit, that I've been working on, that are maybe around 9b+ or something; it's hard to maintain that motivation all the time, to try such hard moves. So it's really cool to mix it up and to go back and climb on something that's equally challenging but in a different way."
Are hard multi-pitch routes the next progression in cutting edge climbing?
"I definitely see taking what we have been doing sport climbing and applying it to bigger walls as being a natural progression. I guess in the same way that I was really focused on bouldering for quite a few years, and applying those gymnastic sequences to longer sport climbs. So it's just the progression of that. Taking all the experiences we had, mixing them all together and applying them to do something new. I'm definitely excited about that. And as I said, just to mix it up and to keep rejuvenating your approach to climbing. And you know, after several years not focusing on bouldering, am also really excited to get back into bouldering a little bit more just to keep it fresh, you know. And at the same time, bouldering is really the essence of hard climbing and so, some of these really hard single pitch projects, I feel like that's going to be the way to progress is to go back to the bouldering roots, working on that pure power, and mixing it back up and always try to recycle your ideas and your motivation so it doesn't get stale."

So you'll be doing more bouldering?
"One of the things I really love about bouldering is just the ability of being really spontaneous. Climbing shoes in your backpack and see what happens, you know. That's intriguing. With route climbing, it definitely requires more planning, so… but it's interesting, like with bouldering, because, a lot of the intrigue to bouldering for me was the spontaneity of being able to go wherever you want and, to a certain extent it's true, but at a certain point, the boulders start getting so big and the landings start getting so bad that you know you need maybe 10 - 15 crash pads for a boulder problem. At that point, it's a lot less cumbersome to have a backpack with some climbing gear and climb with a rope. So, you have to find the balance, I guess."

Any message to younger climbers?
"I would encourage all the kids out there that have been climbing for several years or just getting into climbing to focus on having a good time. For me, it's about finding the quality routes and not necessarily about just the big numbers but really about your experience and enjoying the climbing. I would encourage them to get out and climb on all those cool routes that they get a chance to do. Climbing is such an amazing sport in that way. It's more than just a sport, it's a lifestyle, you can travel and see so many beautiful places, meet so many cool people, so I think we're all really fortunate to be involved in such a great sport."
Photos
Videos
Chris Sharma featured videos - from BigUP productions

Major ascents
Sport climbing
Ceüse (Gap, France) "Biographie" (9a+) first ascent, 2001
Cala Santanyi (Mallorca, Spain) "F.A of Es Pontas" (9b) deep water soloing, 2006
Oliana (Spain) "Fight or Flight" (9b) 2011