What's in Emily Harrington's pack?
This is the first in our Crag Pack series, in which Petzl athletes lay out the contents of their packs and explain why they carry what they do. For this installment, Emily Harrington of Boulder, Colorado, gives us a look at the standard sport-climbing kit she schleps to places like Ceüse, France, where she recently climbed to get in shape for her big project in the Verdon Gorge called Tom et Je Ris (5.14a). (She sent on June 4, 2014—congrats, Emily!).
July 9 2014
Rock climbing
Emily Harrington's crag pack and its contents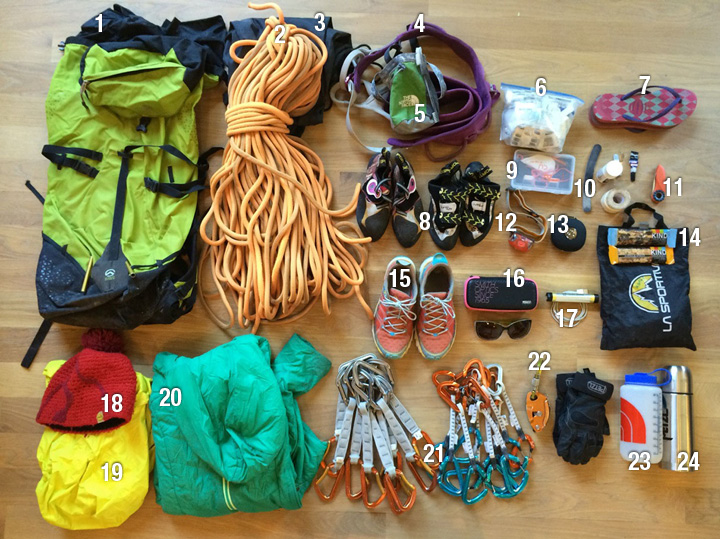 1. Pack: The North Face Shogun 42L pack has a lightweight and simple design built to fit all the essentials and carry comfortably.
2. Rope: The Petzl VOLTA 9.2 (80m) is ideal for long sport pitches and sending your project!
3. Rope tarp: I don't carry a rope bag, but I like to keep my rope out of the dirt and as clean as possible, extending its usable life.
4. Harness: The Petzl SELENA is my pick—it's comfortable and lightweight.
5. Chalk bag: I keep mine full of loose POWER CRUNCH.
6. Minimalist First Aid kit: Because you never know…
7. Flip flops: If it's warm enough, I prefer to wear flip flops at the cliff as opposed to changing in and out of my approach shoes. It lets my feet breathe after being crammed in tight rock shoes.
8. Climbing shoes: I always bring two pair of shoes, just in case. Often, I bring a broken-in pair and a pair that needs to be broken in, which I warm up in. Pictured here are La Sportiva women's Solutions—a high-performance, downturned shoe for steep sport climbing—and the La Sportiva women's Muira VS.
9. Belay glasses: These CU at the Wall belay glasses let you see your climber without craning your neck to look up—a huge game changer in sport climbing.
10. Skin kit: File, tape, nail clipper, super glue, ibuprofen, etc. To help maintain your skin and repair split tips while at the crag.
11. Knife: you just never know when you'll need to trim the frayed end of a rope or perform other gear maintenance. The Petzl SPATHA knife is small yet versatile item to have, and it clips to a biner for easy carry.
12. Headlamp: Always. I carry a TIKKA XP. So key in case you get stuck out after dark.
13. Headphones: I like the JayBird Bluebuds X bluetooth wireless headphones. I wear them on the hike and can listen to my phone while it's in my backpack. If you're the kind of person who likes to zone out with music while trying to send, these actually do stay in your ear and you don't have to carry your music device.
14. Food: In my reusable La Sportiva ski skin carrying bag. I usually make a real lunch and pack extra snacks as well. KIND bars are some of my favorites.
15. Trail runners: I rock the La Sportiva Helios lightweight mountain running shoes, which I also use for approaching the cliff.
16. Sunglasses: Smith Optics shades with ChromaPop lenses.
17. Battery pack: I use a Goal Zero battery unit for recharging my phone after listening to all that music. I also keep photos of the topo and sometimes mapping on my phone, so it's pretty important that it doesn't die.
18. Warm hat/beanie: For belaying.
19. Rain shell: Pictured here is The North Face Verto Storm jacket, for when the weather rolls in.
20. Belay jacket: The North Face Victory Hooded jacket is a heavier puffy for belaying and staying warm between burns.
21. Quickdraws: 15-30, depending on the nature of the climbing, pictured are 10 SPIRIT EXPRESS and 10 ANGE FINESSE draws.
22. Belay kit: A GRIGRI 2 with ATTACHE biner, plus CORDEX gloves, for keeping my hands clean while belaying.
23. Water: 1-2 liters, at least.
24. Thermos of tea or coffee: When cold, this really helps keep you warm from the inside out!