Helmet Story - Ryan McCauley
Ryan McCauley was rappelling off a route in South Platte, Colorado, when things went wrong. She credits her helmet with limiting the damage in one very important way. She sent us her story in the hopes that others might learn from her experience.
November 5 2014
Multi-pitch climbing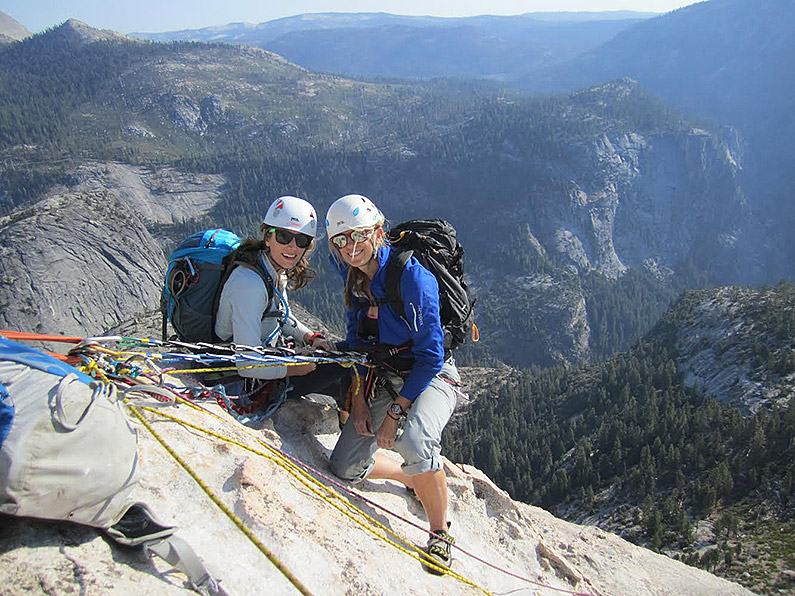 I remember to tie safety knots at the ends of the rope about 80% of the time I rappel. If I'm being honest with myself, that's about how often I wear my helmet. I've been climbing for almost five years--toproping 5.12s, sport climbing comfortably into the 5.11s, and alpine climbing across different regions of the country--and never had a situation where forgetting either caused me any real distress. The most action my helmet ever saw was a desperate moment in a narrow chimney onEpinephrine, in Red Rocks, where I stood up into a rock ledge. I've been trying to get into trad climbing, so when I decided to try a 5.7 crack in the South Platte region of Colorado, I didn't think twice about the dangers. Aside from one section where I was supposed to lay back and instead cheated and burrowed my body inside the flake to get a piece of gear in, I made to the top without too much trouble. Eager to get down and dislodge a stuck nut before moving onto the next climb, I threw my rope down and started to rappel without knotting the ends. It can't really say what I was thinking at the time, as I don't have another memory until about a week or so later, when the meds wore off in the hospital.
Forgetting to use rappelling safety knots significantly cost me that day. The two-pitch route wound slightly left, making it impossible to see the belay area below. My rope lacked a midpoint marker, so I can only imagine I misjudged the distance to the bottom and was too distracted with gear to check that both ends were at the ground. I rappelled off my rope with 20 feet to the next rappel station, hit a ledge, and ricocheted another 40 feet to the ground. Paramedics airlifted me to the nearest level I trauma center, where they documented my injuries. I broke both femurs (my right side in two places), shattered my kneecaps, broke the ball of my right hip clean off, fractured my left ankle, my right arm, broke multiple ribs, fractured my collarbone and shoulder blade, sustained compression fractures on my lower spine and chipped something in my neck, as well as partially deflated a lung and suffered lacerations to my liver and spleen. I had three major surgeries while in the ICU, where I stayed for a month and a half to recover and begin physical therapy. There were setbacks along the way, such as pneumonia and a condition called heterotopic ossification, where your body grows unnecessary bone outside of the skeleton. However, despite all the frustrations and pain of learning to bend my knees again, I am forever grateful that I was wearing my helmet that day.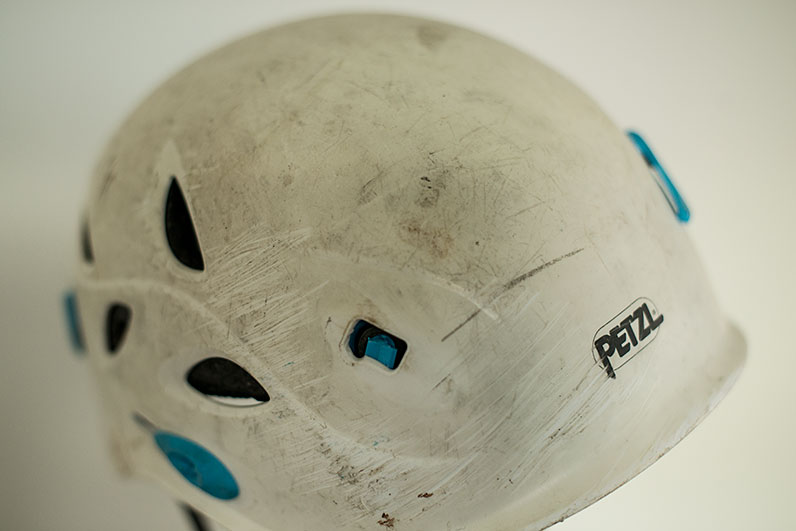 The blood splatter on the inside of the Elia helmet was evidence alone that I would not be the person I am today had I forgotten to wear it. I took countless cognitive tests during my stay in the hospital and made incredible progress in a short period of time. As a 7th grade science teacher, it initially enraged me to fail math calculations that I knew were at a middle school level. However, within just a few days, things became easier. By the end of my stay, I tested above average for someone at my age level who has been knocked unconscious. Regaining my personality has only made me more determined to conquer the hurdles that lay ahead so I can get back outside. Knowing how ridiculously lucky I am to be able to one day walk again, I celebrated with an outing to The North Face store after being discharged from the hospital. The salesperson watched me awkwardly try on down jackets in my wheelchair and replied "that one is great for wearing around town." I stared at her, confused. "Oh no. I'm buying this for alpine climbing."
For more #HelmetsMatter stories - Click Here.
Warning: Climbing, mountaineering, and the activities described in this story are inherently dangerous. You are responsible for your own actions, decisions and safety. Wearing a helmet can significantly reduce the risk of head injury, but does not ensure protection against all impacts.