China Jam expedition: big wall climbing in the Tien Shan range
This year Belgian big wall climbers Sean Villanueva O'Driscoll, Nicolas Favresse and Stéphane Hanssens decided to embark on a new project, making a slight exception to their usual rules by bringing Frenchman Evrard Wendenbaum in tow to take photos and video of their adventure. Read the expedition report about their trip to a relatively unknown region along the Chinese-Kyrgyz border, as told by Evrard and Stéphane.
October 14 2013
Mountaineering
A new objective on the Chinese-Kyrgyz border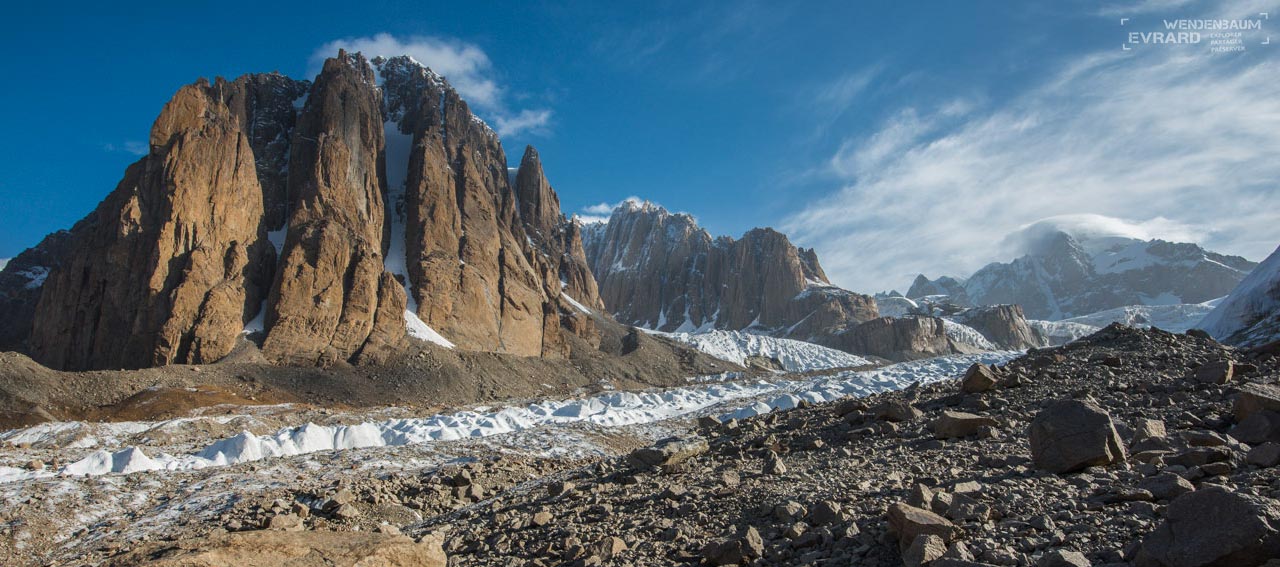 At the end of June 2013 a horrific series of terroirst attacks shook Pakistan and the entire mountaineering community as well. Sick to our stomachs, we decided to cancel our trip. It was time to find a new objective.
Western Kokshaal, the Tau mountain range
We searched far and wide, recruiting all of our climbing and mountaineering friends to help us to find THE big wall, but nothing really fit what we were looking for. In the end, an article in the American Alpine Journal, written by Mike Libecki, put us on route for Western Kokshaal's Tau mountain range. We knew little to nothing about the area's true potential, about the range's weather, or about other important factors for a well-organized expedition, but a few emails back and forth with Mike, although somewhat vague, were enough to convince us to go. All was well underway.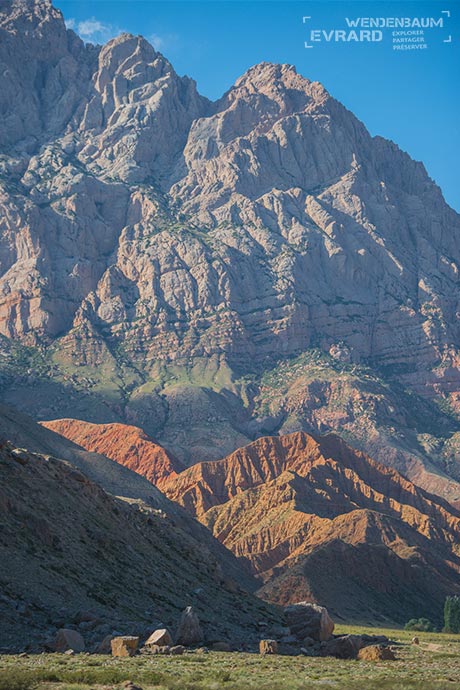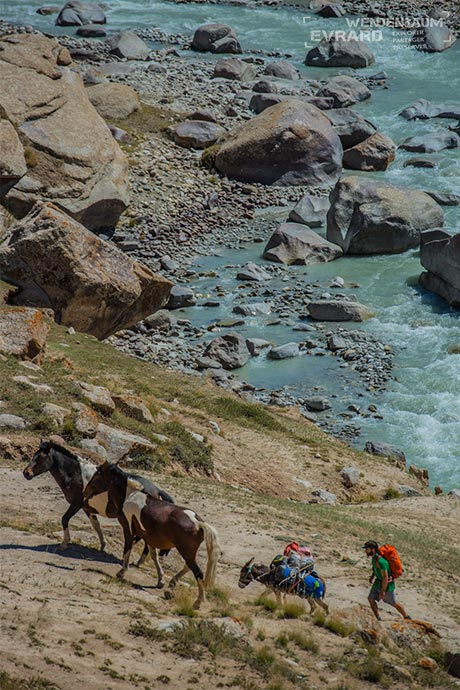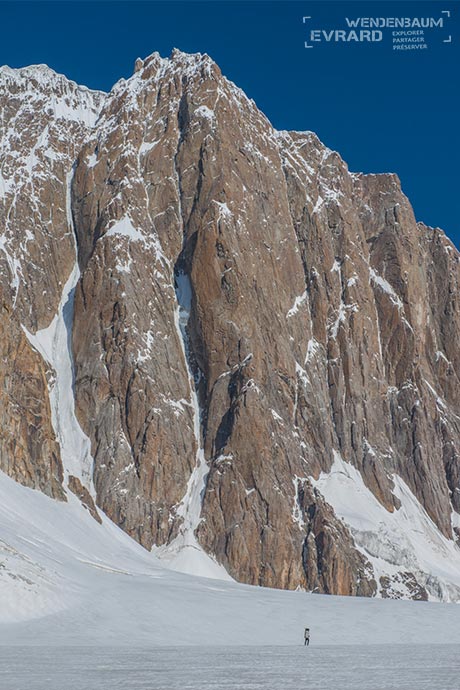 The Tau mountains, straddling the Chinese- Kyrgyz border, are a sub-range located in the Tien Shan range, with several summits close to 6,000 meters high. These mountains remain largely unknown to mountaineers, especially on the Chinese side of the border, and for good reason: the Xinjiang province is similar to Tibet, a wonderful and vast region, filled with an infinite number of landscapes, but also theater to an often bloody repression of the local indigenous population. The Uighurs, Muslims of Turkish-Mongol origin, are frequently brutalized by an omnipresent Chinese army. The region is closed to foreigners and one needs a special permit to travel there.
By camel ...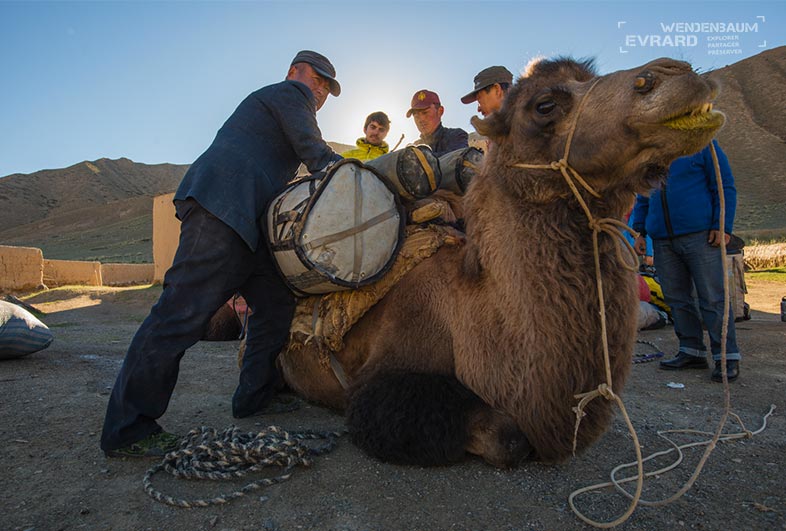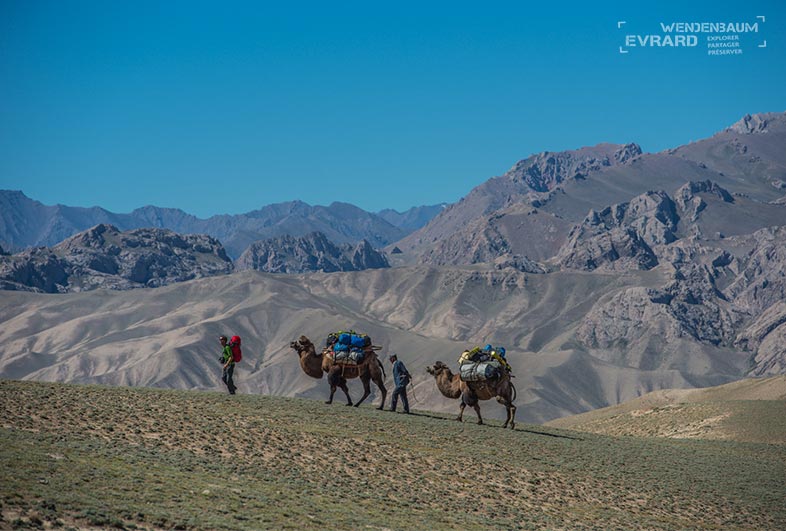 By the time we finalized logistics with a local agency, obtained the proper permits, and rearranged our schedules, it was already the end of August when we flew to Urumqi, the capital city of Xinjiang. A few days later, after several incidents, administrative hassles, and checkpoints, we finally reached the moraine of a beautiful glacier. We left the camels there, which, with their long teddy-bear like hair and their stately demeanor, had carried our hundreds of kilos worth of gear and food without flinching. We set up base camp right there, in the freezing cold at 3600 meters elevation.
An administrative maze
Truth be told, there were not four but six of us at base camp. A Chinese liaison officer and a Uighur translator-guide had in fact joined our group. They seemed unusually tense. After a friendly discussion we realized that our agency had provided us with a trekking and not a climbing permit, and both the liaison officer and translator came to understand that our plans clearly did not involve simply hiking through the area. In addition, the permit stipulated that we had to stay at least five kilometers from the border, and the two both knew that the most spectacular summits of the range were along said border. To add insult to injury, we were not allowed to take pictures or film anything even though we had brought no less than six cameras and video cameras, microphones, a slider...
Crazy weather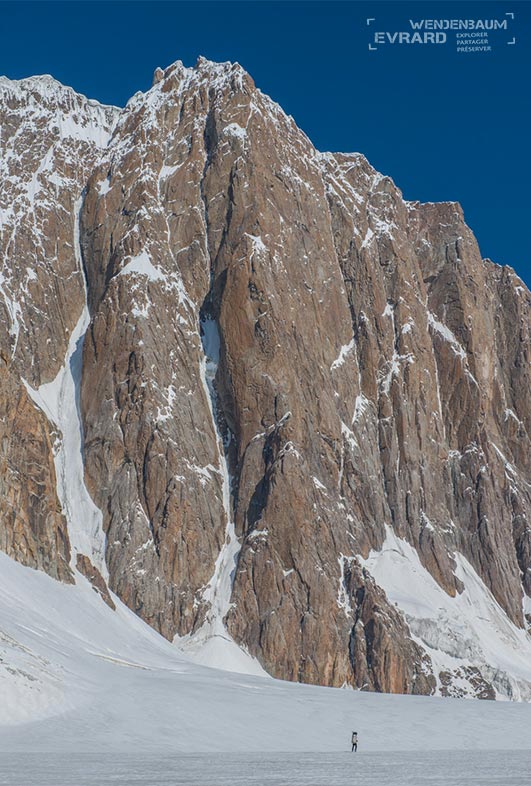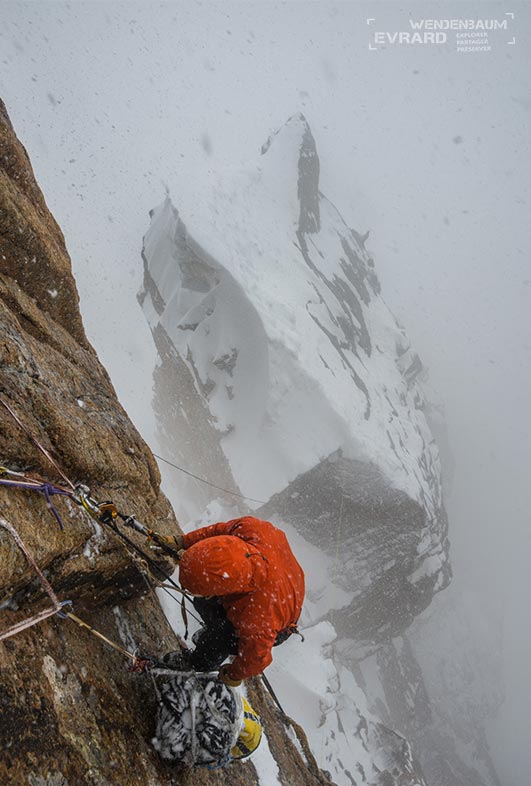 During the first four days to acclimatize and to explore the valley, we quickly understood that the only predictable thing about the local weather was its unpredictability. Every morning the weather was great, or almost, and ever afternoon the weather worsened with the four of us finishing the day shivering through wet snow showers that left the mountainsides caked in snow for the next morning. It was only during a lucky clearing in the weather that we spotted a worthy goal: a gigantic south-facing rock face, marked by a distinct pillar, whose base was located at approximately 4600 meters and which topped out at more than 5800 meters on the summit of the second highest mountain in the range, Kyzyl Asker (or Red Soldier).
Moving gear between camps
From there we started moving gear between camps; first from base camp to advanced base camp near the bottom of the wall. This "dance" took six days. We planned to take fifteen days' worth of food, 800 meters of rope, two portaledges, a sizeable number and variety of cams and nuts, photo and video equipment, warm clothing and sleeping bags, ice axes and crampons since the top of the wall looked completely white from below, and of course our musical instruments. Both the weather and altitude had us thinking that we would probably spend a fair amount of time in our portaledges.
Trials and tribulations during the ascent
During the initial days of the ascent, the altitude took its toll. First, everything occurred at a slower pace: ascending the rope, hauling, climbing of course, but also the simple acts of getting out of one's sleeping bag or making a decision.
Next, our hands suffered quite a bit. The slightest scratch refused to heal and would turn into a rather unpleasant infection. Imagine the joy felt climbing cracks of all sizes that required every jam in our quiver: finger locks, hand jams, and fist jams.
Last but not least, our digestive and respiratory systems failed to function properly. We each enjoyed our turn so to speak, and both the anti-diarrheal medication and antibiotics proved a big help for everyone.
Between joy and suffering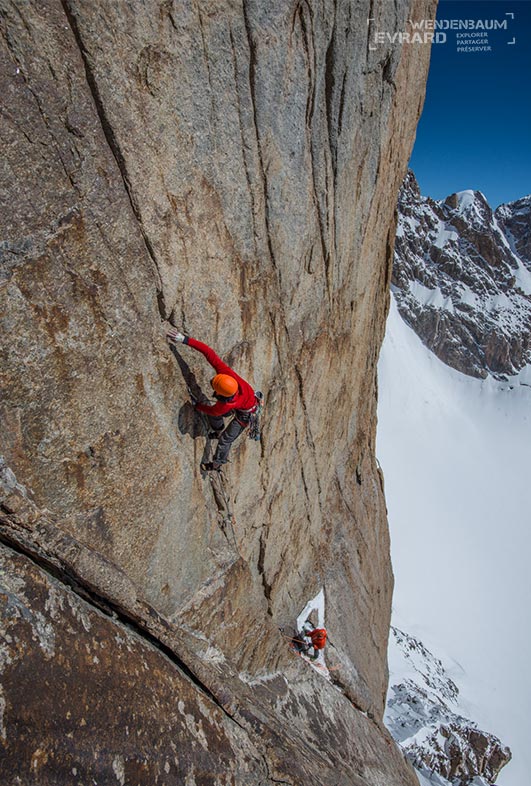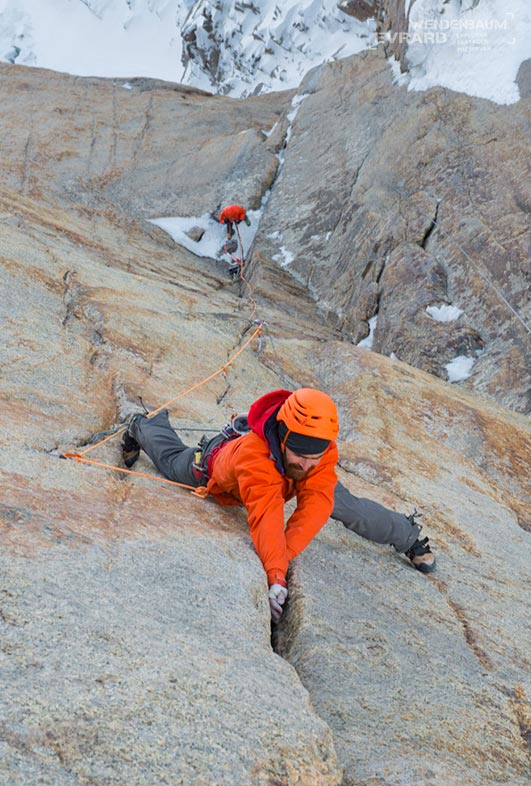 The cold, an integral part of being at high altitude, really wore us down. To such an extent that sometimes, even when the sun was shining brightly, the cold was so intense that we could not climb. At night temperatures almost always plunged to -15°C. Even in our portaledges, the air rarely warmed to more than -8°C. Sean made it more than clear that he took pleasure in suffering, and when watching him climb, so enthusiastic and full of energy, it appeared that he did truly seem to enjoy it.
Bavella !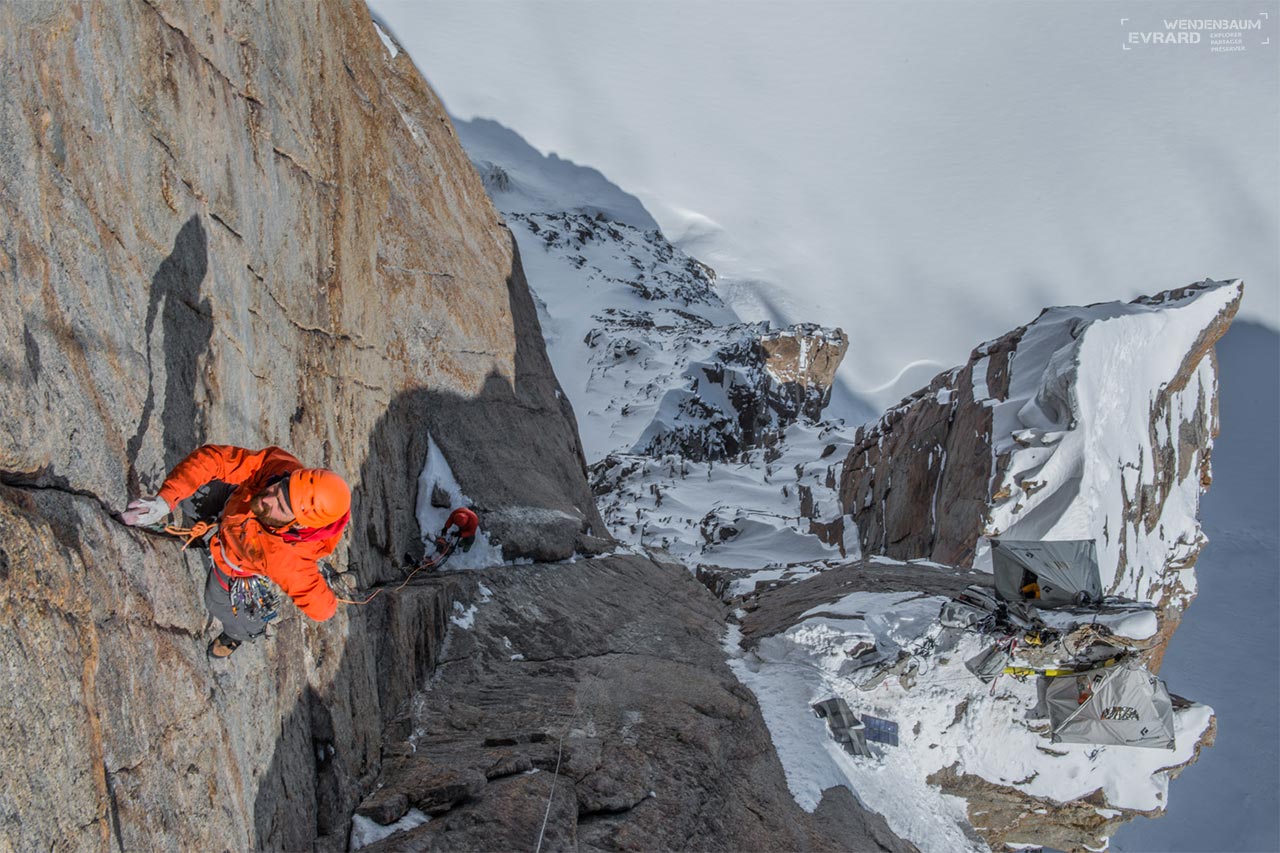 "Hey guys, the pitches above, they're just like Bavella in Corsica, the climbing is going to be fantastic!" Sean shouted from an anchor. The rock was indeed of exceptional quality. Each pitch was a pleasure to climb and we almost "onsighted" all of them. They were not extremely difficult, up to 7b, and the pillar was interspersed with ledges like so many stairs, providing us with superb and comfortable places to set up camp.
Preparing to summit
After a dozen days of climbing, ascending almost 700 vertical meters and moving our camp three times, the time came to plan our summit assault. Given the extreme cold and unstable weather we feared the worst and wanted to limit the amount of time spent away from our fixed lines, which allowed us to quickly descend to our portaledges, our only true refuge from the elements.
False start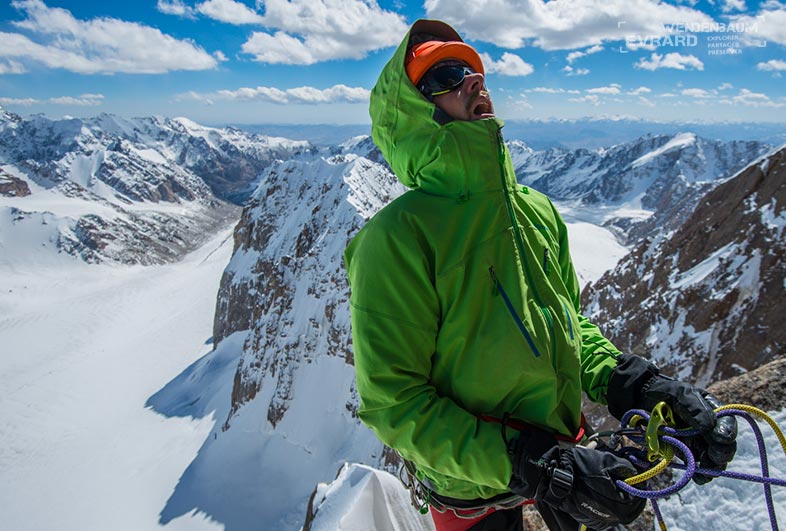 On September 21, everything was ready for a summit attempt, but when we woke up it was snowing. We waited awhile and then decided to postpone our attempt for the following day. That evening it was still snowing and we feared having to let another day pass by to allow the face to "melt out." The only problem was that our rations were dwindling. But the next morning Nicolas shouted, "It's beautiful out guys!" and off we went!
Frigid winds...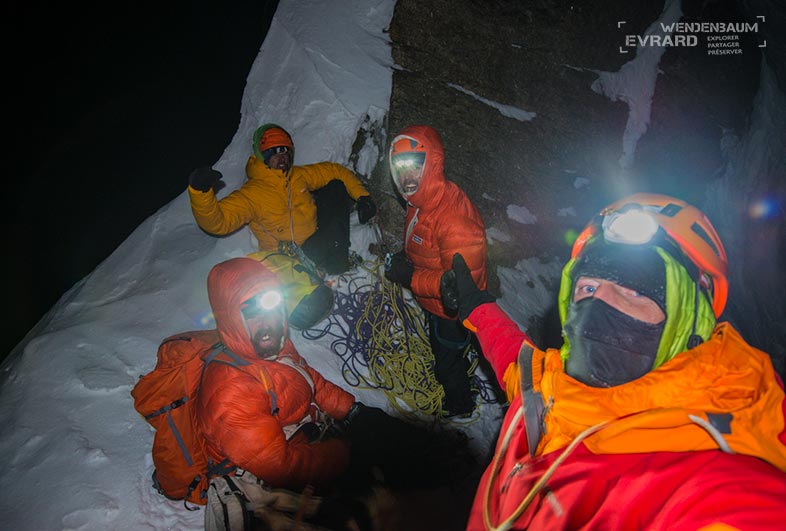 What a fantastic day, one of the best that we had had since being there. The last 300 meters consisted of amazing ice and mixed climbing (albeit sometimes a little sketchy – M7?) before having to traverse slopes of loose and unstable snow beneath huge cornices. We reached the summit after nightfall. The wind was frigid, and in spite of our desire to descend as quickly as possible, we did not get back to our portaledges until four in the morning. The roundtrip took 19-hours of non-stop effort.

Time to meditate
The next day we were completely worn out, sleeping in until 14:00 and waking up to only partly sunny skies that we thoroughly enjoyed from inside our warm sleeping bags. Still camped at 5200 meters elevation, it was time to meditate, to relax, to rest, and to enjoy this timeless moment. It felt like we were a bunch of good-for-nothings… other than for lounging around! Sean was still sleeping. I could hear the stove burning in the other portaledge when all of a sudden Steph broke the silence and said: "I have frostbite and I can't feel my feet, this isn't good." We called Ifremmont's SOS Gelures hotline [editor's note: Ifremmont is medical research lab in Chamonix that focuses specifically on mountain medicine; "gelure" means frostbite in French] and the doctor explained that given the symptoms Stéphane needed to descend as quickly as possible and return to Belgium to receive proper care*.
All for one and one for all
Since our permit did not allow for one member of the expedition to leave the area without everyone else, this marked the end of our adventure. We were of course a bit disappointed, but teamwork and team spirit are the most important elements of an expedition.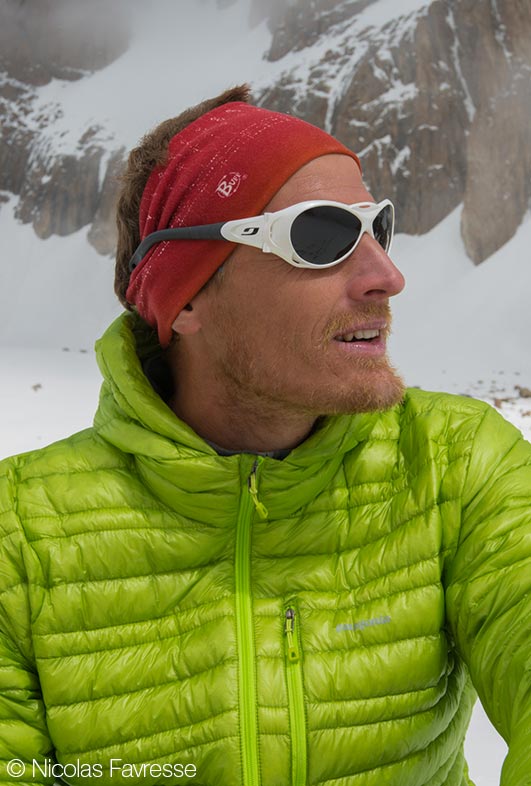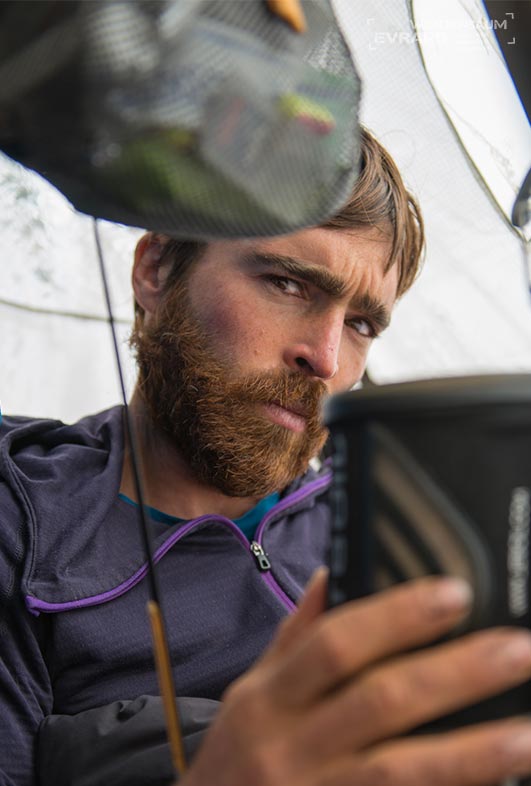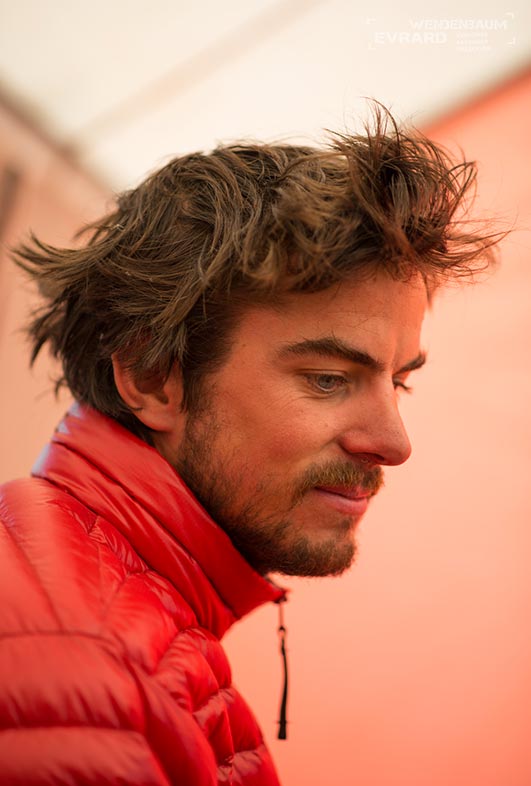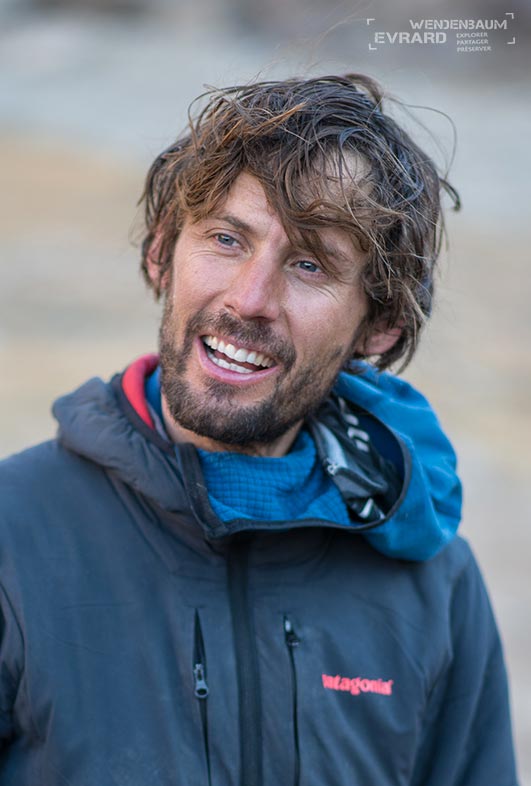 After 14 days on the wall, we were able to bring all of our gear back to base camp in just two days. The camels were there waiting for us. After a full day's hike through high alpine pastures covered with amazing looking boulders (just waiting to be climbed), we feasted on an evening meal of shish kebabs, intestines with rice stuffing, soups and other local delicacies, enough to prolong the intestinal troubles of certain team members just a little bit longer.
Stéphane Hanssens and Evrard Wendenbaum
* On October 8, after spending a week at the hospital, Stéphane returned home with a rather encouraging prognosis. He will not lose any toes, just a bit of skin. In time his feet will completely heal. Patience, Steph!
Stay tuned for the full version
China Jam - Short Song from Evrard Wendenbaum on Vimeo.
Included in this article