Sam Beaugey
I learned about myself by growing up in the mountains: "My father was a high mountain guide and he taught me about his mountain. This experience continues to add meaning to my life. The purpose of my own climbing is to conquer the useless, but more importantly to share the essence of the adventure and at the same time respect nature with a big smile and loads of good times. The main value that I share with my climbing partners is commitment. I want to show that mountaineering is not limited to a single discipline, but that it's lots of different practices and there is always something new to discover. The joy of flying after a nice climb has become essential for me and my goal is to make the descent as significant as the ascent. The most difficult part of that is all the different injuries that come from the landing accidents."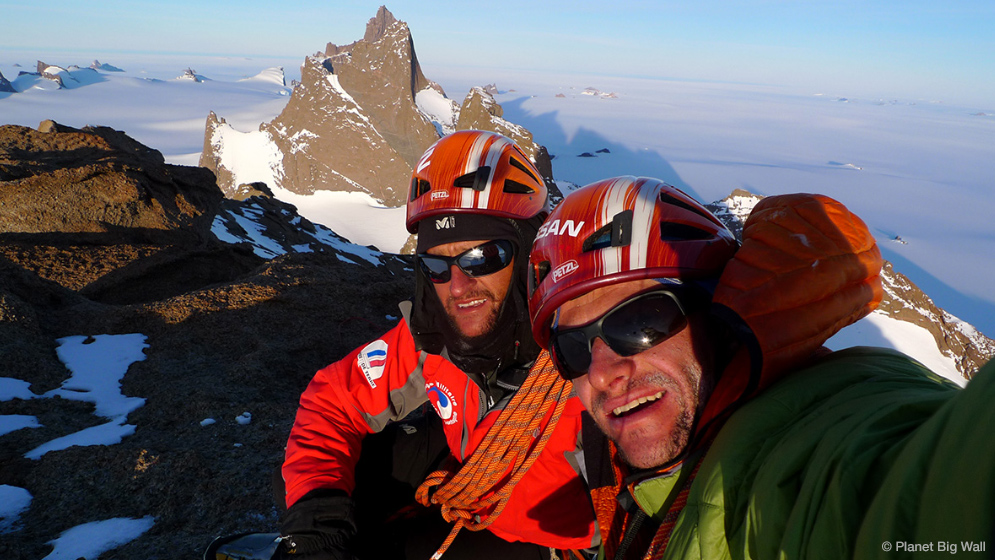 Profile of Sam
Date of birth : June 3 1971
Current status : Mountain guide
Hometown : Chamonix, France
Activities :

Mountaineering, Skiing

Training : ENSA (National Ski and Alpinism School)
Joined the Petzl Team : January 1 2000
Presentation
My circle of family and friends provide a strong foundation
"I am very close to my family and friends and especially my parents because, thanks to them, I can travel to the end of the world. The people I am closest to now are my childhood friends: Jérôme Ruby because he's Jérôme, Dean Potter because of the dream he is living, my brother for his life that is similar to mine, Erwan Le Lann and Manu Pellissier because these guys are like brothers to me, brothers of the mountain. My inspiration comes naturally through all the other climbers and I have enormous respect for the older generation. They make me dream. I admire them. Through them I have learned to be patient. And in the same way I appreciate the work of all climbers who have contributed to the progression of mountaineering particularly through the development of gear. I think about the pioneers tinkering with their headlamps after a good caving session and I know that it's because of the dreams of our adventurous fathers that we are able to have our own dreams today."
Photos
Video playlist featuring Sam Beaugey
An evolutionary process
"It's obvious to everyone that I participate in the evolution of mountaineering but I am also tuned into gathering all the information whether it's about new spots, walls, beta from everyone, and weather forecasts thanks in part to this incredible medium to exchange and share information called the web. The entire Alps, for example, are an extraordinary playground for kids like us. We can no longer talk about exploring the area itself but we can continue to explore things like techniques and skills in new ways. I don't consider mountaineering to be an activity, but more like everything that can be done in the mountains. The word 'everything' should be understood as being a lot of different activities with each activity having the same level of commitment, positive attitude and good vibes. If I can contribute towards the invention of serious new products for sport that's not serious, then that's awesome. Sport is not serious because in the end it has no value in and of itself. However, if it is one of the best schools for learning discipline."
As if planet Earth was my own backyard
"I don't think I'm crazy but rather that I have an open frame of mind that allows me to think of planet Earth as my own backyard, or at the very least, as an incredible playground. The places I enjoy most on Earth are the polar regions and the Canadian territories. For example, my wildest dream is to go on a space shuttle and boost a little jump of 20,000 meters off a cliff on Mars. But seriously, an idea that's more in line with what I do would be to leave for three years to climb from the Antarctic through the Americas to the North Pole then back to Antarctica through Asia and Africa."
Communicate
"With the Lineprod company we organize events, business seminars and conferences. We also partner with organizations that help kids experience the mountains through events like the 'Raid Choucas', a free adventure race for kids from France and Switzerland. Another example of the kind of things we do was during our Antarctic expedition in 2010 when we had online discussions via satellite phone with Swiss and French schools in Vallorcine and Maurienne."
My motto
"Tell your story and split."
Sam's anecdote
"I have always had a special relationship with bears. I have never seen a blue bear but there has been a polar bear near my tent. He took a bath, dried himself, then sat on his haunches and looked at us with a sneer. Another time in western Canada I walked for six hours without water in full winter to get past an avalanche that had blocked the route. There were grizzly tracks and although I never saw him I was afraid every step of the way."
Other informations
Films
"Azazel", Petzl video, 2005
"Québec givré", Production Sevendoc, 2005
"Baffin, l'île aux enfants", Production Sevendoc, 2006
"Holtanna, l'aventure Antarctique" www.lineprod.ch, 2005
Major ascents
Mountaineering
Grandes Jorasses (Mont Blanc range, France), "Linceul", first ski descent, 1995
Kwangdeshar (Nepal) "Extra bleu ciel", first ascent, 1995
Trango Pulpit (Pakistan) "Azazel", first ascent, BASE wingsuit descent, 2005
Baffin Islands (Canada) "Fous ta cagoule", first ascent, BASE wingsuit descent, 2006
Holstinndand Holtanna (Antarctica), first BASE jumps, 2010