Heather Weidner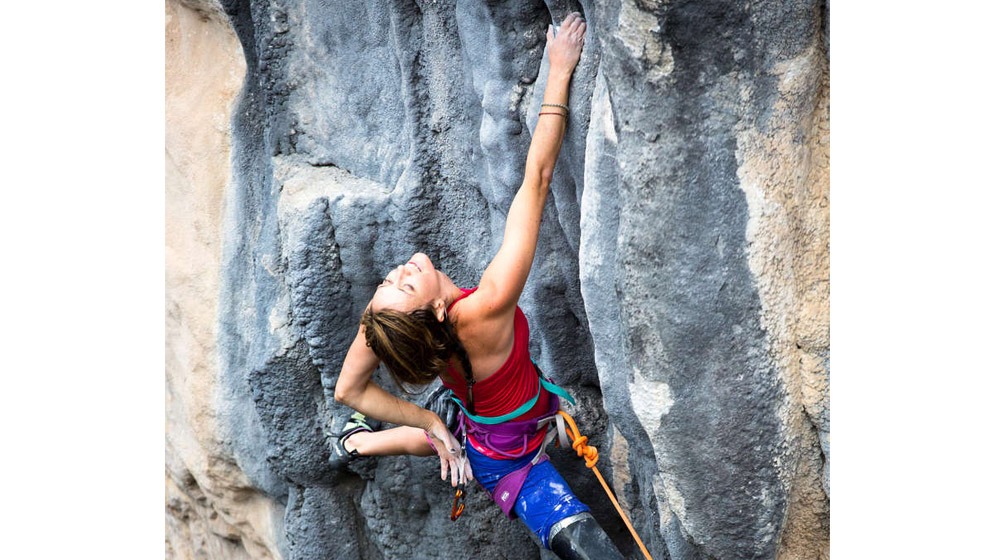 Profile of Heather
Date of birth : April 23 1980
Current status : Veterinarian
Hometown : Vegas
Activities :

Rock climbing

Training : Veterinary School
Joined the Petzl Team : January 1 2016
Presentation
Other Sponsors:
Evolv, Rab, Clif, ClimbOn, Smith
How did you get into climbing?
In undergrad I had a boyfriend who climbed and he showed me the ropes. My first outdoor climb was in Vedauwoo, WY.
What's your claim to fame?
If there's a kneebar I will find it and use it.
What is your favorite piece of gear?
Hirundos harness
How do you maintain motivation?
Every year I set one big climbing goal that I think is just within the realm of my possibilities. If I'm feeling lazy I just think, this isn't helping me reach my goal. Make every climbing day count.
If your climbing was a style of music what would it be and why?
Trance/electronic- sometimes I listen to this while climbing to help get "in the zone," especially at crags like the VRG where the traffic noise is super loud.
When were you the most scared climbing?
Last fall leading my current project, China Doll, a 14a traditional route. There's this V5 right off a ledge with crap gear. I placed a 000C3 (smallest cam made) and two small offset cams. I fell and both offsets ripped, I fell upside down and smacked the ledge, being held up by the smallest cam made. I try not to fall there anymore.
Fred Beckey or Fred Nicole?
Fred Nicole- I'm so NOT an alpinist or mountaineer, although I respect it tremendously!
Power, enduro, or technical climbing?
I'm more technically and enduro-inclined, but love it all.
What's the most challenging part of your training?
Being consistent in the gym! I love climbing outside, maybe too much.
If you couldn't climb, what would you do?
Yoga and horseback riding.
How long have you gone without climbing?
Maybe 2 weeks in the past 9 years?
What's your favorite type of rock?
Limestone
If you could only have one, would you choose pizza or beer?
Beer, duh.
Do you have a nickname?
H, Hache, H bomb, H-Ro.
What was your least favorite subject in school?
Statistics- yuck.
Figure Eight or Bowline?
Bowline! I fall too much and it's epic untying a figure eight.
Describe your perfect day climbing?
Being in a beautiful place with good friends, feeling healthy and climbing well.
If you could go back in time and give yourself one piece of advice what would it be?
Don't be so hard on yourself!
Could you give us two truths and a lie?
Odd jobs include milking cows, cocktail waitressing, and HIV research lab assistant.  
What do you do when you're not climbing?
Yoga, read, hike with my dog, cook yummy vegetarian meals.