Emily Harrington
Climbing is a unique sport because it is also a lifestyle and a lifelong journey. There is always a new place to visit, a new style to learn, a new way to experience climbing and explore the world. For example, I climbed an artificial wall when I was 10 and begged my dad to take me to the climbing gym after that. Since then, I have primarily sport climbed, but more recently I've gotten into mixed and ice climbing, as well as some minimal mountaineering (summited Everest and Mt. Blanc in 2012).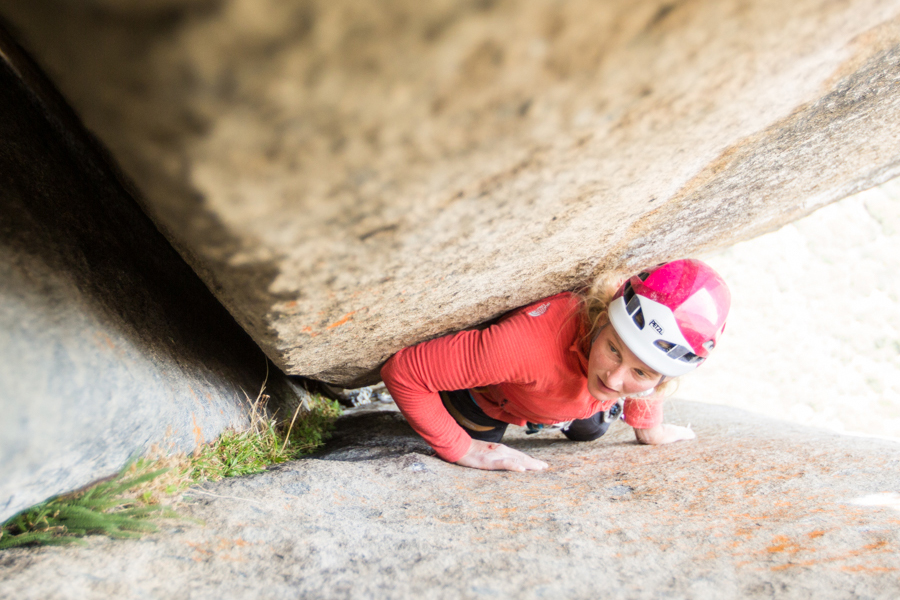 Profile of Emily
Date of birth : August 17 1986
Current status : Professional climber
Hometown : Berkley, California
Activities :

Rock climbing

Training : B.A. International Affairs
Joined the Petzl Team : January 1 2002
Presentation
Snapchat:  @emilyaharringto
Where to climb? Where to live?
Spain, of course, is my favorite spot for sport climbing, because it's just that good. I love visiting the Himalaya, in Nepal, because of its insane beauty and rich culture. I just recently moved to California to live because, in my opinion, it has everything: good weather, beaches, and mountains.
Sources of inspiration
I find strength, energy, and inspiration through traveling, meeting people, having adventures, and experiencing new cultures. Sasha DiGiulian is also an inspiration for stepping it up for all females and doing what she loves without concerning herself with negativity. I consider Conrad Anker, our team captain on The North Face Team, to be a mentor. He's a badass and loves what he does. I was on Everest with him this past spring. I've never seen someone so psyched to be suffering. He's passionate and motivated to share his love for the outdoors, which I think it super inspiring.
Personal motto 
Do not accept unwanted advice; write your own story.
How did you get into climbing?
I was a gym kid. I started because my two cousins climbed the wall first and I couldn't stand them trying something without me. We were a tad competitive. I was instantly enthralled and begged my dad to take me to the gym everyday from then on.
What's your claim to fame?
I'm pretty funny on Snapchat and I can tell good jokes appropriate for all ages. (Didja hear about the scarecrow who won employee of the year?…..He was OUTSTANDING in his field.) - I have way more that are just as good.
What is your favorite piece of gear?
The Micro-Traxion is remarkably versatile for such a small item. I also feel like a badass when I'm carrying it.
How do you maintain motivation?
I mix it up - ALOT. I ski, trail run, kite surf, and practice different forms of climbing so as to not get bored.
If your climbing was a style of music what would it be and why?
Some sort of Taylor Swift dance mix.
When were you the most scared climbing?
Rappelling off the top of El Cap is horrifying and I'll never get used to it.
Fred Beckey or Fred Nicole?
Beckey - because he's a total legend and I suck at bouldering.
Power, enduro, or technical climbing?
I guess all of them? Gotta aspire to master them all.
What's the most challenging part of your training?
Finding the time to do it all.
If you couldn't climb, what would you do?
I'd probably obsess over skiing and trail running.
How long have you gone without climbing?
Two months to climb Mt Everest. I guess that's sort of still climbing, but it really doesn't feel like it.
What's your favorite type of rock?
Granite - even though it's scary and harder for me, I think it makes me a better climber.
If you could only have one, would you choose pizza or beer?
Pizza. Beer makes you fat.
Do you have a nickname?
Danger Mouse.
What was your least favorite subject in school?
PE - felt like a waste of time.
Figure-eight or bowline?
8!!!
Describe your perfect day climbing?
A Sierra Eastside big wall - maybe a link up of a few routes. It would be an epic long day - starting well before sunrise and ending in the dark, for maximum exhaustion - which also means ultimate satisfaction and tired stoke, which is my favorite feeling ever. There would be a lot of good snacks, maybe some tequila, a summit or two would be reached, and an alpine lake jumped in.
If you could go back in time and give yourself one piece of advice what would it be?
Have more fun damnit!
Could you give us two truths and a lie?
I ran away from home when I was seven because I wanted to go to space camp and become an astronaut. I dressed up as a washing machine for Halloween in 4th grade. I used to want to be an actress and was in a theater group called "The Peanut Butter Players."
What do you do when you're not climbing?
I like to run and ski. I'm learning how to fly airplanes. I like to listen to podcasts and go on road trips and visit hot springs and sleep in my car. I love drinking coffee and baking cookies. I make the best cookies.
Major ascents
Climbed eleven 5.14s (two of those 5.14b)
5x US National Champion
2x North American Champion
1st Place - Serre Chevalier Invitational 2006
2nd Place - World Championships 2005