Charlie Odette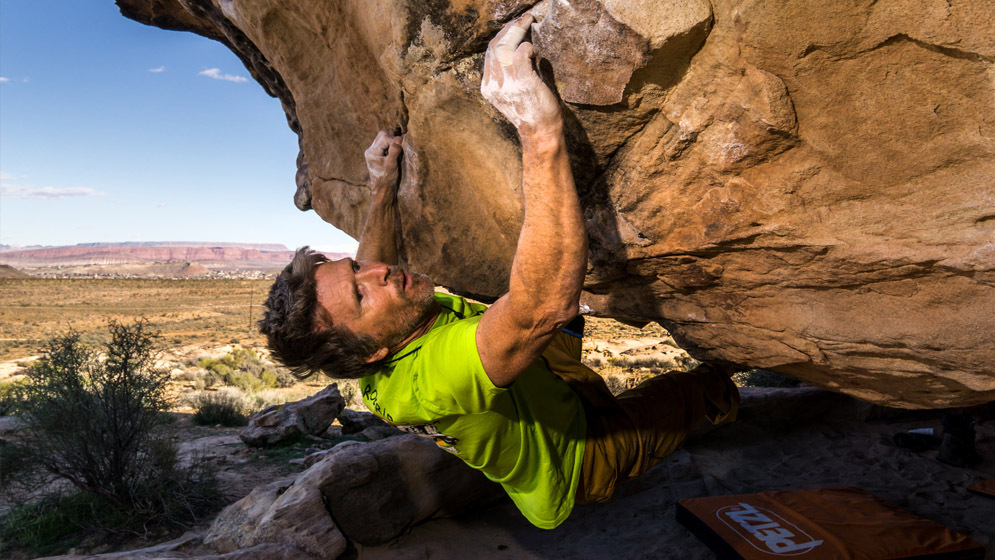 Profile of Charlie
Date of birth : December 12 1955
Current status : Professionally Retired
Hometown : Anywhere, USA
Activities :

Rock climbing

Training : The American West
Joined the Petzl Team : January 1 2004
Presentation
Hometown:
Born in Battle Creek, Michigan, but now reside in a 13' Scamp trailer in Anywhere, USA!
Other Sponsors:
FiveTen, GoalZero
How did you get into climbing?
In 1978 I visited Devil's Tower national monument and saw real rock climbers for the first time (age 22). It prompted me to attend a 6 week long Wilderness Leadership course held in the Tetons in 1979. This program was organized and run by Paul Petzoldt. Through his wilderness leadership certification training I was introduced to rock climbing, mountaineering, survival and minimum impact ideals.
What's your claim to fame?
I seem to be aging like a fine wine… the older I get the better I become.
What is your favorite piece of gear?
Grigri 2! Best belay device ever made, NO doubt. 
How do you maintain motivation?
I've always been passionate about climbing and it's easy to stay motivated about things that you are passionate about. The moment that is no longer true, I'll take up a new life pursuit fueled by my passion at that moment in time…
If your climbing was a style of music what would it be and why?
Smooth Jazz. Think elevator music or Starbucks on a Sunday morning. I'm slow and methodical with my climbing due to my advanced age.
When were you the most scared climbing?
Probably while I was on the Cassin Ridge of Denali in 1990. I went 5 days near the summit without food while a raging storm pinned us down. The temps were below 0-degrees F and winds were 50-60mph with gusts even higher. Each day I thought the conditions couldn't get any worse and yet, they got worse. Finally, on day six we shot (crawling at times!) to the summit of Denali (20,320') from 19,000' level on the Cassin during a brief lull in the storm. We staggered down the West Buttress making it to the 16,400' camp lucky to be alive…
Fred Beckey or Fred Nicole?
Fred Rouhling actually… LOL I love both Fred Beckey and Fred Nicole equally. Both have contributed so much to climbing and have been inspirational to me throughout my personal climbing life!
Power, enduro, or technical climbing?
I'm best at enduro due to age, but I love gymnastic steep routes which require all three. Yes, there is a "technical" component to steep or horizontal roof climbing!
What's the most challenging part of your training?
Working the weakness. It's hard since my ego tends to want to pursue its strength. When I let go of ego and work my weakness it makes me exponentially stronger in the long run!
If you couldn't climb, what would you do?
Belay my strong and lovely wife, Maggie. Support other climbers while sharing my experience with those who are receptive to learning.
How long have you gone without climbing?
Typically, I take off a week or two from climbing every 4-6 months to allow the body to recover completely and regain motivation. This helps me to avoid "forced" breaks due to injury or illness so long absences are rarely needed.
What's your favorite type of rock?
Anything overhanging. I love the Red River Gorge steep sandstone most of all. Maple's steep cobbles are a close second. My guess is that Kalymnos (steep limestone) would be my favorite if I ever had the chance to experience it!
If you could only have one, would you choose pizza or beer?
Beer! I can make it fit my Zone diet with a 4 ounce serving of chicken and a handful of almonds… yum, yum!
Do you have a nickname?
Charlie… Sensei…
What was your least favorite subject in school?
Psychology
Figure eight or bowline?
Bowline… it fits my minimalist lifestyle!
Describe your perfect day climbing?
Anywhere steep with my wife Maggie on a dry sunny 65f day!
If you could go back in time and give yourself one piece of advice what would it be?
Let go of "ego"… wish I would have had that knowledge at age 20 (40 years ago)!
Could you give us two truths and a lie?
1) Chris Sharma gave me the crux draw from Jumbo Love after he red-pointed it.
2) I use performance enhancing drugs to help me climb harder and stay ripped.
3) I redpointed a 14a/b at age the ripe old age of 57.  
What do you do when you're not climbing?
Ashtanga Yoga and reading. I value the knowledge gained from reading a good book nearly as much as I enjoy working a hard route!
Included in this article