THE SWITCH SYSTEM WILL CHANGE HOW YOU BUY CRAMPONS
Experience ultimate modularity with crampons that adapt to any ascent.
December 10 2019
Ice climbing
Every Petzl crampon is your ticket to a completely modular platform—the Petzl SWITCH SYSTEM—that allows you to reconfigure any single pair of crampons to various styles of climbing. The SWITCH SYSTEM offers interchangeable bindings for any boot; cross-compatible front sections for any terrain; steel or aluminum heel sections; and a variety of linking bars, storage solutions, and replacement parts that work together seamlessly. It means you can adapt to any ascent without ever buying additional sets of crampons. New for winter 2019/20, the DART crampon utilizes every benefit that the SWITCH SYSTEM has to offer. Designed for high-performance ice and mixed climbing using technical mountaineering boots, the DART is only a few spare parts away from tackling other challenges that the mountain throws at you.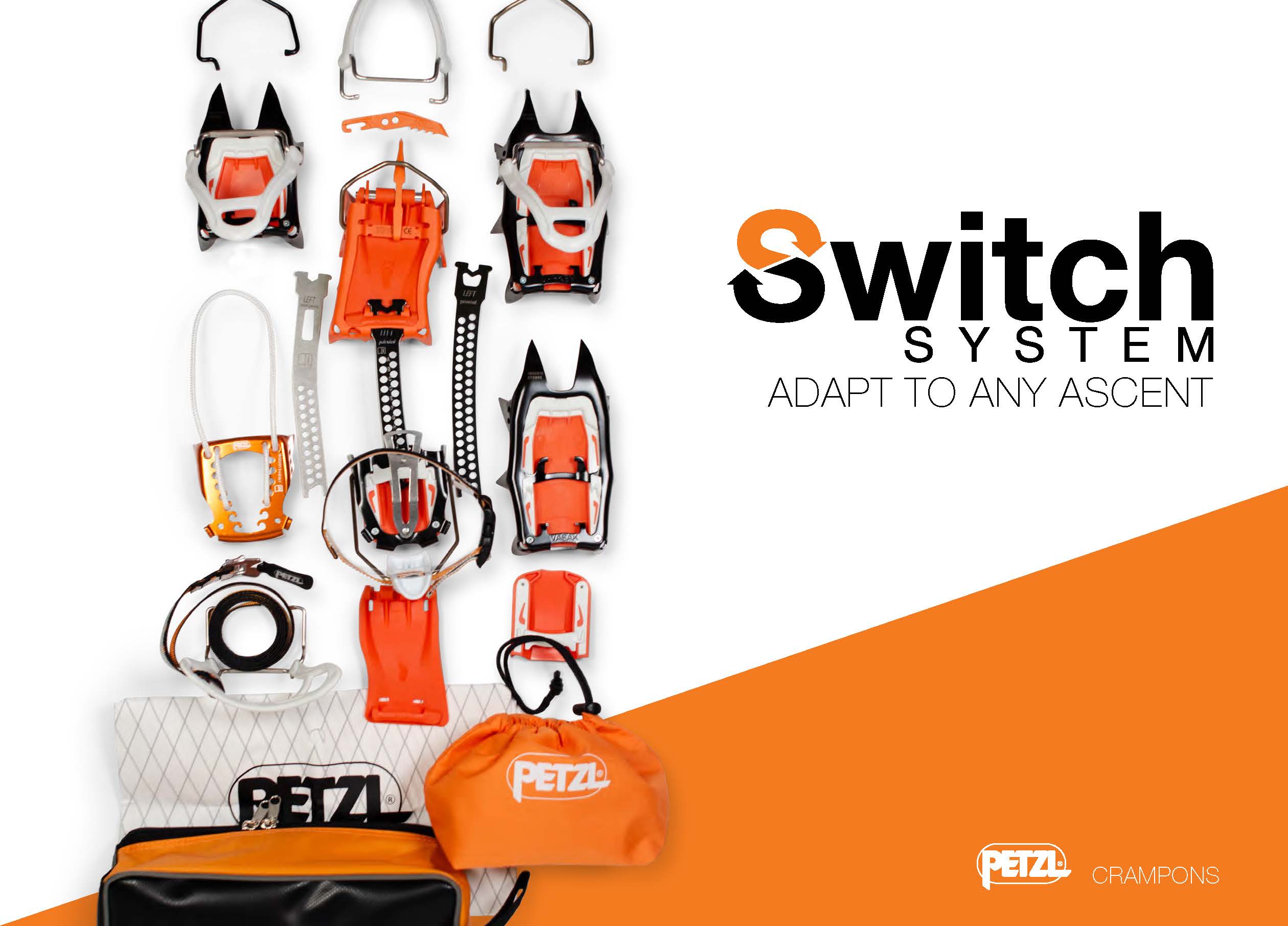 ANY BINDING, ANY CRAMPON, ANY BOOT
The DART ships with Petzl's FIL toe bail and BACK LEVER heel bail for use on boots with toe and heel welts. For boots without toe welts, throw on the FIL FLEX toe bail; for boots without heel welts, add a BACK FLEX heel bail. Petzl even offers a FIL SMALL for boots with narrower toe welts and a FIL TELEMARK for telemark ski boots. When used with an appropriate linking bar and binding system, any Petzl crampon is adaptable to any boot.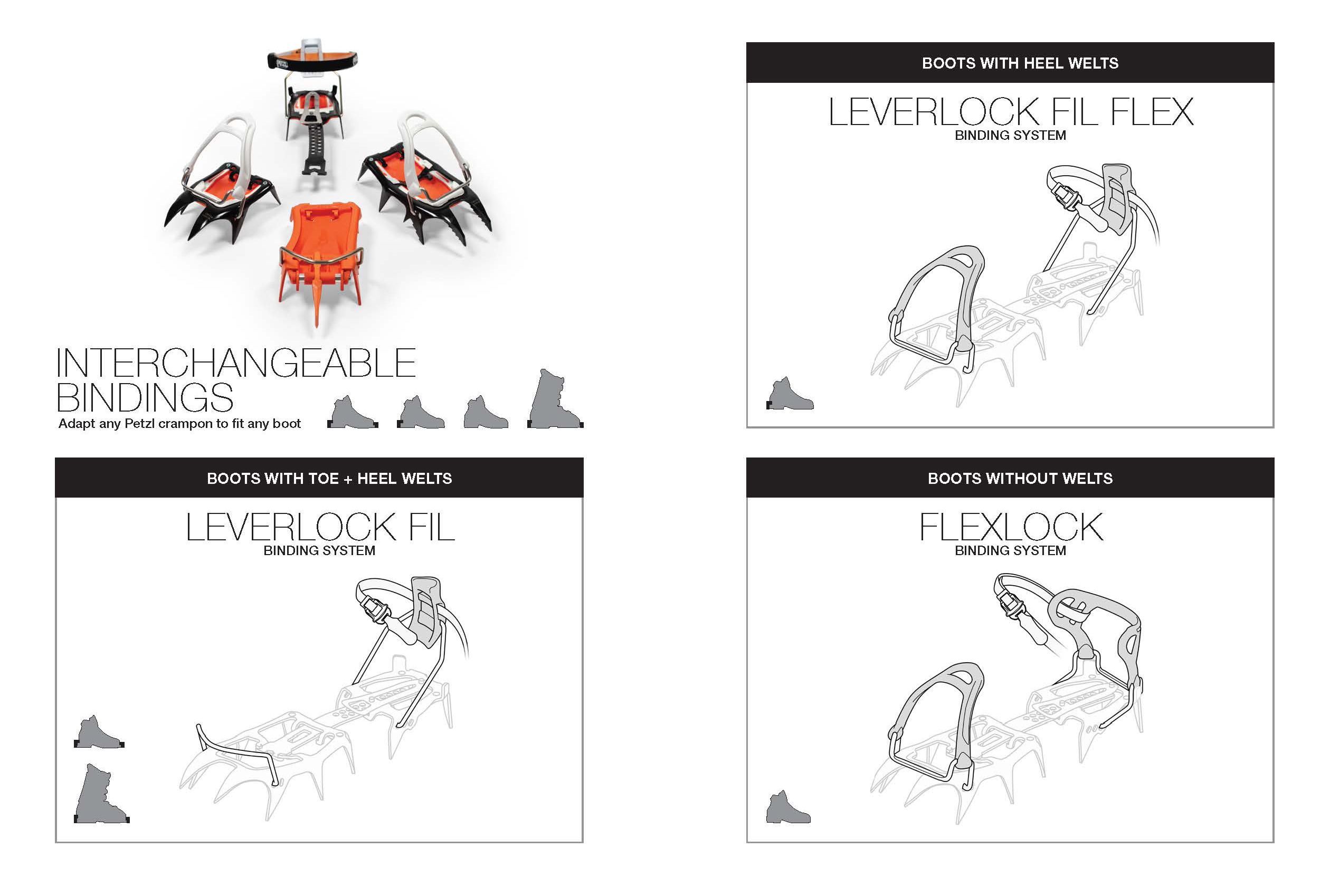 FRONT SECTIONS FOR ANY TERRAIN
The DART's modular front points allow you to switch between mono or dual point configurations for climbing a wide variety of technical ice and mixed terrain. But vertical front points aren't always the best choice for everything you'll encounter in the mountains, which is why the entire front section of the crampon is easily replaceable: Simply choose the appropriate front section for your new challenge and install it onto your existing crampon. If you start with the DART crampon, you can purchase the IRVIS, VASAK, or SARKEN front sections separately and tackle snowier endeavors. If you already own another modern pair of Petzl crampons, purchase the DART front section separately to upgrade to the newest model.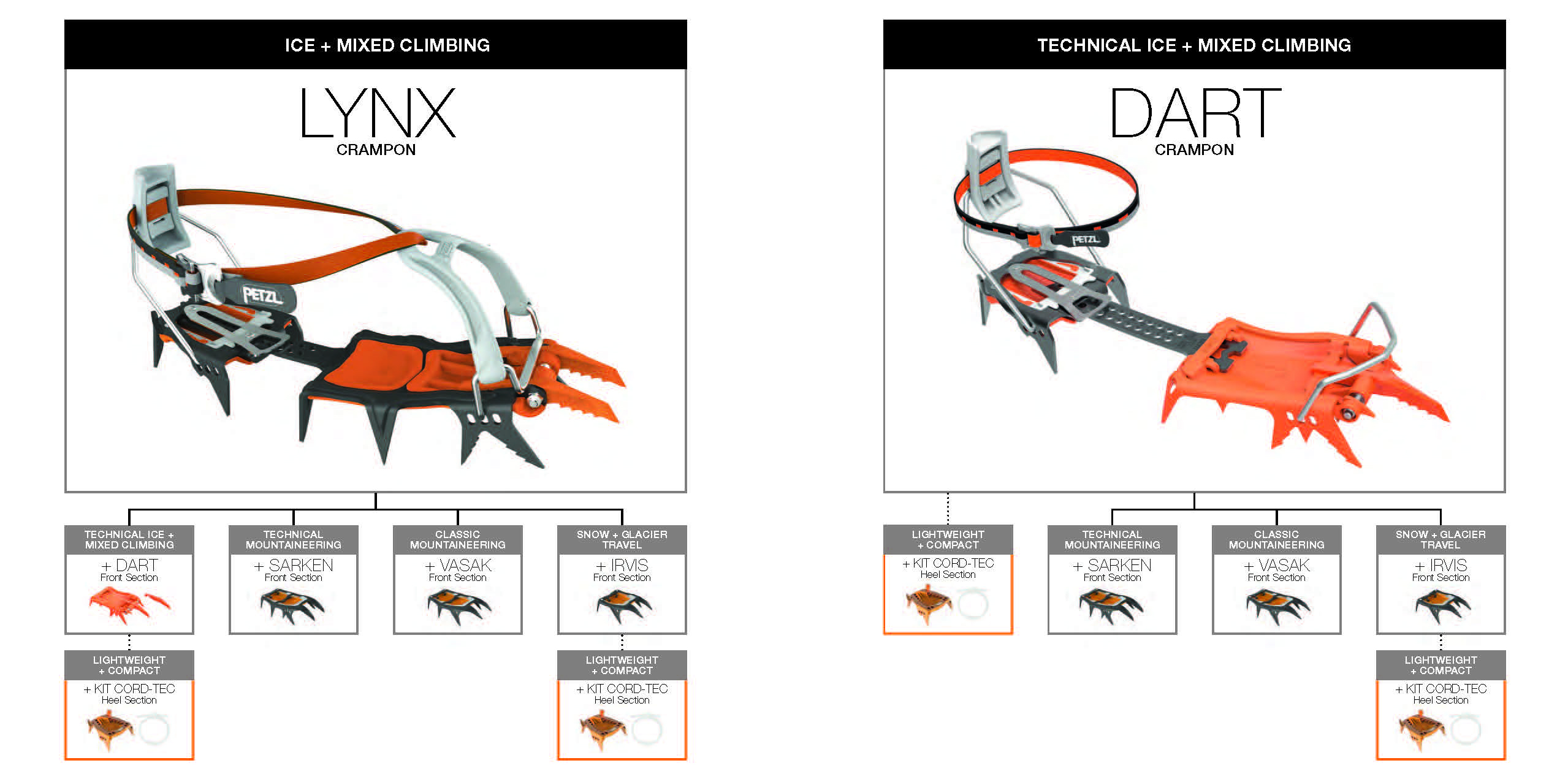 HEEL SECTIONS: TOUGH AND DURABLE OR FAST AND LIGHT
Each Petzl crampon comes standard with a universal steel heel section that is compatible with all front sections (except the LEOPARD). For an ultralight and compact setup, Petzl's aluminum heel section, sold separately as the KIT CORD-TEC, connects with the DART and IRVIS front sections using Dyneema cord.
BUILD YOUR KIT
Instead of buying a different set of crampons for every boot and terrain, buy a single set of crampons and expand from there. For example, with a pair of DART crampons, the FIL FLEX and BACK FLEX bindings, the IRVIS front section, and the KIT CORD-TEC aluminum heel section, you'll be prepared for any boot and a variety of terrain. No single crampon is the right choice for every ascent, but with the SWITCH SYSTEM, the right choice is never more than a few components away.