UIAA GUIDE DRY
Petzl is excited to announce UIAA Guide Dry treated ropes.
May 27 2016
Mountaineering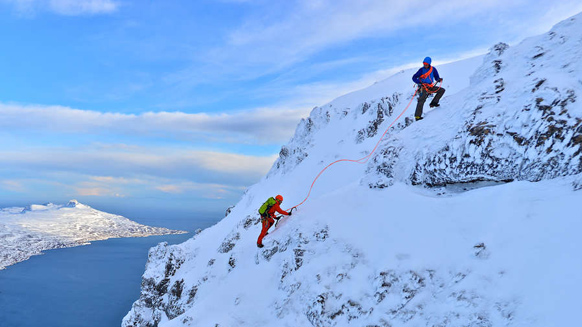 Petzl is proud to announce new additions to its rope line-up, these are the UIAA Guide Dry treated PASO GUIDE (available in July) and VOLTA GUIDE (available now).
Ropes with the "Guide" name meet or exceed the UIAA certifications of retaining less than 5% of the rope's weight in water according to the UIAA testing procedure. Both the VOLTA GUIDE and PASO GUIDE (coming in July) absorb less than 2% of their weight in water. 
How does Petzl achieve this?
The manufacturing process for UIAA Guide Dry treatment has two stages: the core is treated before the rope is braided, and then the entire rope is treated in order to minimize water absorption and penetration by fine particles. Petzl's dry treatment process protects the ropes from abrasion in addition to repelling moisture. Water absorbtion by a rope can increase its weight and make it difficult to use in freezing conditions.  
All of Petzl's dynamic ropes, including the UIAA Guide Dry treated ropes, bear the bluesign® product label. bluesign® products are manufactured to conform to the independent bluesign® standard. 
bluesign® is the strictest textile standard for protection of the environment , the consumer, and the worker. 
All aspects of of production related to the environment are critically controlled and optimized: use of materials, energy, wastewater, air emissions, and the use and handling of hazardous chemicals.