Managing energy: different approaches
A headlamp's energy source can be managed in a number of ways.

STANDARD LIGHTING
Principle: the headlamp supplies energy "directly" to the light source
Light output decreases progressively as the energy source discharges. The headlamp lights very intensely for the first minutes, and then decreases gradually over time
The rated brightness is the maximum light output, measured when the lamp is first turned on. This is the initial light output.
Notes:
The greater the initial brightness of a STANDARD LIGHTING headlamp, the faster it decreases.
When the performance ratings indicate a very high brightness with a very long burn time, one must be aware that these figures often correspond to light output in maximum mode and to burn time in minimum mode. These two characteristics can not be obtained simultaneously

CONSTANT LIGHTING
Principle: the headlamp has an integrated electronic regulation system
Light output is constant during a predetermined period. The duration corresponds to true usable burn time (and does not include reserve lighting).
Constant lighting allows the light output measured during this period to be specified. This is the guaranteed brightness.
Most regulated headlamps move to reserve lighting mode when the energy source is nearly depleted (up to several dozen hours for certain products).
Notes: To obtain 100 lumens of brightness for 50 hours, for example, the equivalent of 75 AAA batteries would be required, translating to 1.1 kg on the head! Therefore, Petzl recommends that the user use caution when interpreting the impressive lighting performance claims made for some headlamps.
---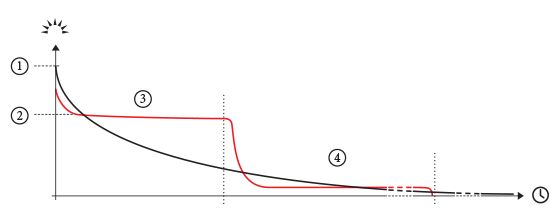 Brightness

Burn time

CONSTANT LIGHTING

STANDARD LIGHTING
1. Initial light output
2. Guaranteed light output
3. Guaranteed burn time
4. Reserve lighting

Note: it is not possible to directly compare the lighting performance of CONSTANT LIGHTING headlamps (guaranteed light output over a given length of time) with that of STANDARD LIGHTING headlamps (high but brief initial light output).