Haul system with the RIG
Warnings
Read the technical notice before viewing the following techniques.
It is important to fully understand the information provided in the technical notice before using this complementary information
Mastering these techniques requires training.
Consult a professional before attempting to perform these techniques on your own.
The RIG can be used in a haul system. It serves as a progress capture device for hauling or freeing a person.
It functions as a progress capture device without damaging the rope in case of overloading. If you want to stop the haul, you can lock the device in the work positioning mode. Warning: the RIG starts to slide at around 5-6 kN depending on the rope used.
For greater efficiency, install the RIG at the head of the haul. This avoids efficiency loss due to rope stretch.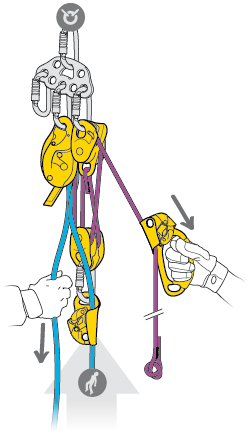 Related products