GRILLON lifeline - Weight: 100 to 140 kg
Warnings
Read the technical notice before viewing the following techniques.
It is important to fully understand the information provided in the technical notice before using this complementary information
Mastering these techniques requires training.
Consult a professional before attempting to perform these techniques on your own.
SOLUTIONS:

Solution 2:
For users weighing more than 100 kg with their equipment, Petzl recommends increasing the energy absorption capacity of the system.
Use:
An ABSORBICA-I or Y lanyard (L58 or L70150), with EN 362 connectors to attach yourself to the lifeline.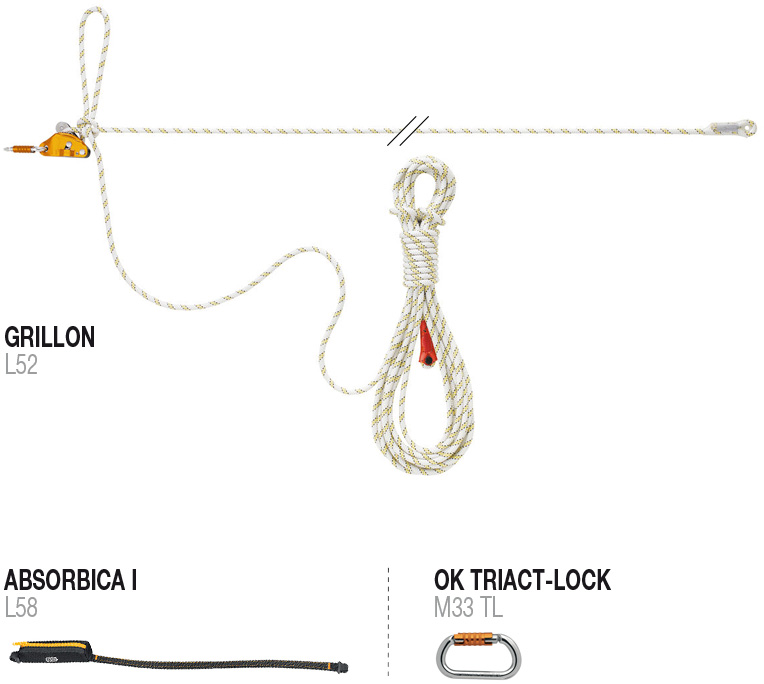 Never climb above the lifeline.

Download the Petzl certificate pdf
LEARN MORE:
Anchors for a lifeline are subjected to high loads: in a fall without an energy absorber, up to more than 10 kN. The use of an energy absorber, attached to the user, helps limit the loads on the entire system.
It is also recommended to use anchors designed for 15 kN and more.
| | |
| --- | --- |
| User weight | 100kg - 140 kg |
| With absorber | |
| Without absorber | |
User weight
100kg - 140 kg
With absorber
Without absorber