GRILLON, double mode - Weight: 120 to 140 kg
Warnings
Read the technical notice before viewing the following techniques.
It is important to fully understand the information provided in the technical notice before using this complementary information
Mastering these techniques requires training.
Consult a professional before attempting to perform these techniques on your own.
SOLUTIONS:

Solution 1:
For users over 120 kg with their equipment, Petzl recommends reducing the potential fall height.
Use:
GRILLON double lanyard (L52)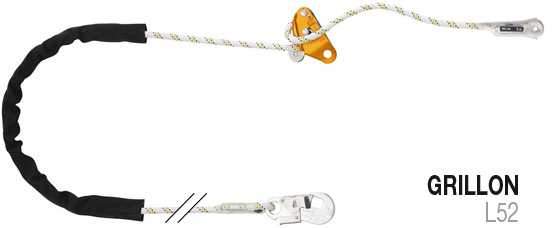 Limit the fall potential to 0.3 m maximum.

Download the Petzl certificate pdf
LEARN MORE:
The GRILLON, used in double mode, has less absorption capacity than when used in single mode: with two ropes the stiffness is doubled and the absorption due to rope slippage in the device is halved. The 0.5 m fall, allowed for users weighing less than 100 kg, would produce an impact force too high for 120 to 140 kg users (with their equipment): 9 kN. In limiting the potential fall height to 0.3 m, a 140 kg user is exposed to an acceptable maximum impact force of 8 kN. (See the chapter on the strength of the human body.)
| | | | |
| --- | --- | --- | --- |
| | GRILLON L52 | GRILLON L52 | GRILLON L52 |
| User weight | 140 kg | 140 kg | 140 kg |
| Conditions | | | |
| | |
| --- | --- |
| | GRILLON L52 |
| User weight | 140 kg |
| Conditions | |
| | |
| --- | --- |
| | GRILLON L52 |
| User weight | 140 kg |
| Conditions | |
| | |
| --- | --- |
| | GRILLON L52 |
| User weight | 140 kg |
| Conditions | |